LOVING TURKEY LEFTOVERS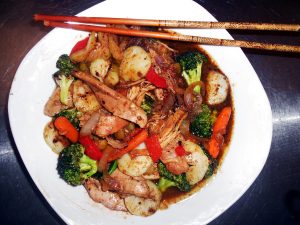 I love leftovers. In fact, I buy larger roasts than I need, especially poultry, to make sure I have some. However, with leftovers, as much fun as it is to try and/or devise different ways to use them, knowing how to handle and store them, a category of 'safe-serve' as it's called in the food industry, is the most important thing. Reviewing my holiday leftover articles in past years, I realized that I've focused too much on that aspect and offered too little recipe variety.
So this year I'm taking another approach by concentrating on a wider variety of ways to serve turkey leftovers. I'll also include a list of my past postings and the information in each, where you'll find the recipes named directly below. They're easily accessed by either clicking 'Archives' on the Main Page Header or clicking 'Blog' and selecting the correct month from the Archives menu box on the right margin. You can also go directly to chosen posts through the panorama on the top of the Main Page. Many may have December dates since I also serve turkey at Christmas.
Past information includes choosing, stuffing and cooking the bird, stripping the roast, stock making and storing the meat. The recipes specifically listed as leftover suggestions in those posts are: Stuffing Soup, Chicken a la King Pierre, Turkey Curry, Chicken with Olives, Turkey with Walnuts, Classic Fajitas, Hot Chicken Salad, Stuffed Portabellas, and Chicken Salad with Craisins, plus several recipes for party dishes using leftovers. There also are more in other postings on sauces, cold dinners and casseroles.
When it comes to using leftovers, the first thing to understand is that there is no rush. They don't have to be overkill. Stored correctly, frozen they can be enjoyed for several months. Moreover, there are short cuts for the busy person or the novice, just become acquainted with Uncle Ben and his 'sides' shelf-mates, and remember their quantities should be doubled for entrée servings. They frequently list suggestions on the box, but also offer room for innovation. For example, for 2 servings: to 1 box of brown and wild rice mix add 1 onion in large dice, strips of roasted red pepper(jarred is fine) and serve topped with 1-1 ½ cups turkey, sliced mushrooms(canned) and sauce from a mix or leftover gravy, with optionally, green beans or broccoli flowerets added in. To give an adult note, thin the gravy or replace some of the sauce liquid with wine.
You can work similar easy fixes with pasta sides, but, as a tip, I've found the pasta in the mixes is brittle It's better to use regular pasta with the sauce for entrees and save the boxed stuff for soup fillers, but the ingredient proportions remain the same.
The recipes below are geared for convenience, simple enough for everyday but elegant enough to be presented to guests. Don't forget to check the postings directory which follows for more ideas.
Enchiladas: Serves 4— Freezes*
(8) 8 inch flour or corn tortillas
8 oz. Ricotta cheese
(1) 4 oz. can green chilies
½ lb. or 1 cup sliced, cooked turkey leftovers
6 scallions chopped
½ cup chopped green bell pepper
1 ½ cups shredded Monterey Jack Cheese
½ tsp. red pepper
Cooking spray
½ cup chopped fresh cilantro
(1) 20 oz. jar of salsa
If using raw, ground meat, spray a skillet with the cooking spray and sauté the meat over medium heat until no longer pink. If using leftovers, cut them in thin strips about 2 inches x1 inch. In a bowl, stir to combine, Ricotta, scallions, ¾ of the green chilies (Add the rest to the salsa), the green pepper, the red pepper, ½ cup of the Monterey Jack cheese and the meat. Spread half the salsa in the bottom of a 12 x 8 inch ovenproof pan. If using corn tortillas, wrap them in plastic wrap and microwave for 1 min., or until pliable. This step is not necessary with flour ones. Dip the tortillas in the salsa in the pan to soften them to the point that they can be rolled. Spoon the filling down the center of the tortillas in equal amounts, about 3 Tbs. per tortilla and roll it up. Place the rolled tortillas, seam side down, on the salsa in the pan. Pour the rest of the salsa over them, and top with the rest of the Monterey Jack cheese and half the cilantro. Cover and bake in a preheated 350 degree oven 20 min. Uncover and bake 10 min more. Serve from the pan, and pass the rest of the fresh cilantro to garnish.
*This can be made ahead and frozen, after the salsa is added, but before the cheese and cilantro. To reheat:- if frozen, bake in 350 degree oven 30 min uncover, add cheese and cilantro, recover and proceed as directed above. If thawed, just proceed as above.
Turkey with Sundried Tomatoes and Sour Cream:– Serves 4-Freezes*
1 ½ cups leftover turkey
¼ cup sundried tomatoes in oil – or reconstituted – see below
1 medium onion in large dice
2 cloves garlic chopped
1 cup water
1 envelope chicken bouillon granules
½ cup white wine
2 Tbs. capers
½ cup sour cream
2 Tbs. butter
2 Tbs. oil
¼ cup flour
Salt and pepper
10 oz. sturdy, shaped pasta, rigatoni, penne, or shells
If tomatoes are dry pack, microwave them in enough water to amply cover, for 1 min. then allow to sit in the microwave, for 5 min. Melt butter in skillet over medium heat and sauté the onion. Drain tomatoes, and sliver them. When onions are soft, add garlic, oil and cook for 1 min., add tomatoes, water, bouillon, capers and wine. Simmer for 5 min or until sauce reduces slightly, add meat, heat for 1 min. correct seasoning, stir in sour cream and heat through, about 1 min. then serve over cooked pasta. Do not allow cream to boil or it will separate.
*Freeze before adding sour cream. Thaw and reheat on stove top, stirring. Add sour cream, heat through and serve over pasta.
Lasagna: Serves 8—Freezes*
We're going to try the easy type made with uncooked noodles. Any brand will work. However, if you have time to boil the noodles, by all means do. They tuck better around the ends of the casserole and give a more finished appearance. Moreover, if you want to make extra to have ahead, Lasagna does freeze beautifully, if done so before it's baked, but the pasta must be cooked. The recipes are the same, only the baking time is increased if the noodles are not precooked. On the other hand, the time difference is nearly erased if you take into account the time needed to boil the pasta. If using uncooked pasta, though, be sure the noodles are covered with the sauce or they will dry and burn. As for the filling, there are so many variations that you can have fun experimenting if you wish. I've given two optional additions.
9 Lasagna noodles
2 cups chopped leftover turkey
(1) 2 lb. 3 oz. can whole Italian tomatoes
1 medium onion chopped
3 cloves fresh garlic minced – or 2 tsp. jarred
½ cup olive oil
1 tsp. dried oregano
1 tsp. dried basil
1 tsp. ground black pepper
Salt to taste
1 pint Ricotta cheese
1 lb. Mozzarella cheese
½ cup grated Parmesan cheese
2 eggs
Cooking spray
OPTIONS
(1) 10 oz. box frozen chopped spinach – thawed and drained
(1) 4oz. can mushroom stems and pieces – drained
Spray a 9"x 13" ovenproof dish or baking pan with cooking spray. Heat oil in a skillet; add onion and garlic, and sauté for 3 min. Add tomatoes and seasonings and continue to cook until tomatoes are broken and sauce is slightly reduced, about 10 min. Remove from heat and spread a thin layer of sauce in the bottom of the prepared pan, then stir meat into the sauce. Meanwhile mix the ricotta and eggs and spinach, if using, in a bowl. Place 3 noodles over the sauce, pour 1/3 of the meat sauce over them, then dot with ½ the ricotta mix, and scatter half the mushrooms, if using, cover with a layer of the mozzarella and a sprinkle of Parmesan. Repeat this layer again. Top with noodles, sauce, mozzarella and Parmesan.
Bake in a preheated 350 degree oven for 1 hour. (30 min if using cooked pasta) until browned and bubbling – If frozen do not thaw. Bake at 350 degrees for 1hr. 15 min.
Turkey Divan: Serves 4*
(1) 10 oz. can condensed Cream of Chicken soup +
½ can = 4-5 oz. milk
(1) 1 lb. bag frozen broccoli florets
1 ½ Tbs. white wine-optional
6-8 large pieces or slices of turkey = 4 chicken breasts
1/3 cup grated Parmesan cheese
(1) 8 oz. Can sliced mushrooms- optional
Thaw broccoli and pat dry. Make a sauce by mixing the soup and milk, with wine, if using, stirring until smooth. Lightly butter a 2 qt. ovenproof casserole and place half the broccoli in it. Cover with the meat and, if using, scatter the mushrooms over. Pour on half the sauce and scatter with half the cheese. Top with the rest of the broccoli, then the rest of the sauce and finally, the remainder of the cheese. Bake at 375 deg. for 40-50 min. until bubbling and slightly golden on top.
*If made with fresh broccoli, cooked to crisp tender, this dish can be frozen.
Thaw and bake as directed above.
Italian Chicken Bundles: Serves 5—Freezes*This recipe is adapted from The U.S. Personal Chef Ass. collection
1 ½ cups chopped leftover turkey
1 medium-large onion in fine dice
(1) 10 oz. box frozen chopped spinach, thawed and drained
1 Tbs. oil
¼ tsp. garlic powder
2/3 cup grated Parmesan
8 oz. Ricotta
¼ tsp. EACH dried oregano and nutmeg
Salt and pepper
2 Tbs. butter-melted
10 egg roll wrappers
(1) 16 oz. jar pasta sauce—Red or White flavors acceptable
Microwave onion in oil on high for 2 min. stir in garlic powder. Combine all the ingredients, except wrappers, sauce and butter in a bowl add salt and pepper. Brush some butter into 10 of the 12 cups in a muffin pan or in 2 pans. Place a wrapper in each buttered cup and divide the filling among them. Fold over tops and brush with the remaining butter. Bake in a preheated 350 deg. oven for 20-25 min. until tops are golden. Serve at once, drizzled with the pasta sauce and garnished with the remaining Parmesan.
* To Freeze: Cool bundles and wrap separately in foil; store in a zip lock bag. To Reheat: Unwrap put on a plate and microwave on high 2-4 min. Drizzle with sauce and microwave 1 min. more, Garnish with Parmesan to serve.
Ravioli with Lime-Balsamic Dressing: Serves 4
1 cup minced cooked turkey
1 tsp. orange zest
2 tsp. dried basil
1 egg lightly beaten
½ cup grated parmesan
9 oz. wonton wrappers
2 Tbs. lime juice
2 Tbs. Balsamic vinegar
1 Tbs. oil
½ tsp. honey
Combine the first 5 ingredients and place 1 heaping Tbs. in the center of half the wrappers. Lightly brush the edges with water and top with a second wrapper, pressing the edges together to seal. Boil raviolis in a large pan of salted water for 5 min. Whisk the remaining ingredients together to make a dressing. Serve the drained ravioli drizzled with dressing and garnished with slices of lime and chopped chives.
Turkey, Pear and Pasta Salad: Serves 6-This recipe builds on the classic pears, blue cheese and walnuts salad combination.
1 lb. fusilli or penne
1 ¼ cup cooked turkey
2 pears-cored and sliced in size to equal the meat pieces
4 scallions – sliced
3 Tbs. chopped toasted walnuts
3 ½ oz. blue cheese*
3 Tbs. sour cream*
3 Tbs. ice water*
Cook the pasta al dente drain and rinse in cold water, drain again and cool. Arrange pasta on plates, top with meat, scallions and pears. Whisk the cheese, cream and ice water until smooth and drizzle over salads, Garnish with nuts.
*This dressing can be replaced with a good bottled blue cheese one.
Leftover Turkey Stir-Fry: Serves 4-6- This is a meal that can be altered to serve the number of people by adjusting the ingredients, not simply multiplying them; perfect for a fast supper of leftovers.
1 ½ cups cooked turkey
10-14 oz. bag of frozen broccoli florets
10-14 oz. bag of frozen stir-fry vegetables
(1) 8 oz. can mushroom slices-drained
6 baby carrots in quarters OR 2 medium carrots in 2" Julianne
2 stalks celery sliced diagonally AND/OR 8 oz. can sliced water chestnuts-drained
1 tsp. garlic powder
1 tsp. ground ginger
1 Tbs. Soy sauce or to taste
2 Tbs. oil
1/3 cup Teriyaki Sauce OR chicken broth + 1 tsp. cornstarch
Heat oil in a non-stick skillet and dissolve ginger and garlic. Add carrot and celery and stir 3-4 min. until crisp tender, add frozen vegetables and cook, covered 5 min., add mushrooms, water chestnuts and soy sauce, stirring to combine. Finally add Teriyaki Sauce and meat and stir 2-3 min. to heat through. If not using sauce, dissolve cornstarch in broth and add to skillet, Stir until sauce thickens, about 3 min. Then add meat and heat through. Serve over rice—precooked works fine here.
Posting List:
DECEMBER 2011
21) Suggestions and Tips for Christmas Leftovers–This post will concentrate on offering a wider variety of ways to serve turkey leftovers.
NOVEMBER 2012
15) Let's Talk Turkey – Information on choosing a turkey
19) Happy Thanksgiving – A discussion of stuffing (or filling or dressing)
29) After the Ball – -Leftover recipes
DECEMBER 2013
2) Recipes for Thanksgiving Leftovers
NOVEMBER 2014
20) Great Gravy—Detailed information on how to make a perfect gravy this Thanksgiving and how to correct errors.
27) How to Deal with Leftover Turkey
DECEMBER 2014
4) How to Make Simple Pan Sauces to Dress up Any Meal Anytime
12) Sauces Part II– The Classic Sauces are Real Holiday Helpers-How to make and use classic sauces
NOVEMBER 2016
24) How to Make Magic with Leftovers— This posting isn't about using up leftovers, but about saving them to enjoy in various ways later, or, in short, freezing them.
DECEMBER 2016
29) How to Put a Party Face on Leftovers— Shopped out, tired of cooking, with a refrigerator full of leftovers and no desire to add more? What to use and how to re-purpose leftovers quickly for late holiday entertaining.