Loving Turkey Leftovers- a la King, Curry, Fajitas and More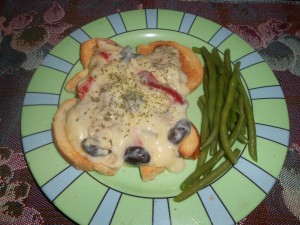 I love leftovers, especially turkey. In fact I buy larger birds than I need just to have leftovers, because they offer so many options for quick dinners on busy days. Aside from their own recipes, like Turkey Tetrazzini, they can substitute in dishes calling for cooked chicken as well as sautéed chicken in most recipes involving a pan sauce. Good examples are the Chicken a la King, and Chicken with Olives below.
In fact so popular are these recipes in my house that I only serve a rerun of the holiday meal once, usually the next day or so, when I'm relaxed and can appreciate the food and the effort I put into preparing it. Even then it's a modified version of the big meal, with less carb overload; just the turkey, stuffing, a green vegetable and salad. The other sides I pair with different meats in the coming days. I plan to offer some tips on using them in my next posting.
The stuffing, I freeze in two serving size containers. It's a welcome change with chicken dinners in the weeks and months to come.  I strip the turkey from the bones and freeze the meat in two portion packages according to size of pieces, large, medium and small, to be used according to recipe.  The large pieces do well in creamed dishes, the medium ones in stews, casseroles and salads and the small ones in sauces, soups and fun food like fajitas, and pizzas. Incidentally, both meat and stuffing thaw well in the microwave, to further speed up future prep times. The two portion size for freezing accommodates recipes which are always presented in even number of servings.
I boil the bones and skin, covered in water, for a couple of hours. Strained and frozen the broth forms the base of two or three soup based meals.  I have learned over the years, that it's better to let the fat form and freeze on top of the containers rather than trying to remove it first. It makes a good seal and it's easier to simply scrape it off before thawing, than it is to try to separate it before freezing. Remember that if planning a soup with rice, either precook the rice or allow enough extra broth to let it absorb the proper amount of liquid for the quantity being used. The same is true of pasta to a lesser degree but not of vegetables.
I'm giving some recipes below to show that planning ahead for leftovers can be as stress relieving and economically time and money saving as prepping ahead for holidays. What's more, it can provide meals to anticipate, rather than creating problems in using them up.
With the exception of the Turkey Curry these recipes are adapted from my Menu-Cookbook DINNERS WITH JOY available on this site's Bookshelf. For lots more neat leftover recipes check out past posts; just click on Table of Contents, and then on the appropriate article titles.
Chicken a la King Pierre: Serves 4
This is adapted from the dish as served in the Café Pierre, in the hotel of the same name in New York City.
4 boneless skinless chicken breasts
(2) 4 oz. cans button mushroom caps – drained
(1/2) 8 oz. can whole, pitted, black olives cut lengthwise in half
4 jarred roasted red peppers in slices ½ inch by 1 ½ inch.
1 envelope chicken bouillon granules
(1) 10 ½ oz. can chicken broth
1/4 tsp. curry powder- or to taste
1 cup milk- divided
½ cup light cream
3 Tbs. cornstarch
Poach the chicken in the broth until done @ 10 min. Remove and measure broth adding water to make 1 1/2 cups, return to the pan. Divide each chicken breast, lengthwise, cutting on an angle with the grain, into 3 large pieces. Add ½ cup milk, bouillon envelope, curry, mushrooms, and olives to the pan. Dissolve the cornstarch in the other ½ cup milk and add to the rest. Over medium heat, stirring constantly, bring the contents just to a boil. Reduce heat and stir until sauce thickens. Add cream and incorporate, then chicken and peppers and heat through, but do not allow to boil. Adjust seasonings. If at any time sauce seems too thick, add a little milk to thin, not water.
NOTE: If using leftover turkey: Replace cooked chicken with equal amount of cooked turkey, thawed if frozen. Otherwise follow above directions.
Serving suggestions: Cook 4 frozen patty shells according to directions, and have waiting, with tops or "caps" on the side. Fill shells and garnish with tops. Alternately, serve on toasted slices of an artesian bread.
Turkey Curry: Serves 4
In the 1960s this was a featured dish at the Strand Restaurant in Atlantic City, N.J. They roasted turkeys especially for it.
3 cups large turkey pieces white meat is best
2 apples peeled, cored and cut in 1 inch cubes
1 stalk celery in thin slices
1 envelope chicken bouillon granule
1 cup apple juice or cider
2 cups milk
½ cup half and half
2-3 tsps. curry powder or to taste
6 Tbs. flour
Place celery and apple juice in a microwave safe bowl and cook on high 1 min.; add apple and cook 1 min. more. Remove fruit and reserve; check juice measure and add more to bring to 1 cup if needed. Place juice and milk and half and half in a pot with flour, curry and bouillon and whisk to dissolve. Put pot on high heat and whisk until liquid is smooth, about 30 sec. Add fruit and celery and stir with a spoon until mixture begins to thicken, about 2 min. Do not allow to boil. Reduce heat to medium, add turkey and continue stirring gently until mixture is thick and meat is heated.  Check seasonings and serve at once.
NOTE: Serve over rice and pass chutney on the side.
Chicken with Olives:  Serves 4
4 boneless, skinless chicken breasts
¼ cup flour
20 green, pimento stuffed olives, cut in half
2 Tbs.  oil
(½) 14 oz. can diced tomatoes
1 onion diced
2 cloves garlic mashed or equal amount jarred
½ cup White wine
3 oz. tomato paste
½ envelope chicken bouillon granules dissolved in – -1/4   cup water
2 tsp. olive juice – from the olives
Prepare chicken breasts by pounding thin, and coat in flour. Heat oil in a skillet over medium heat, and brown chicken on both sides @ 6 min. total.  Remove chicken. Add onion and sauté 2 min. add garlic and sauté 1 min. more. Add rest of ingredients, and stir to combine, making sure tomato paste is incorporated. Return chicken to pan, cover and cook about 10 min.
Remove lid and cook 3 min. more to let sauce thicken, if needed.
NOTE: If using leftover turkey: Replace chicken with equal amount of turkey, thawed if frozen.
Start by using the 2 Tbs. oil to sauté the onion and proceed as directed above adding turkey in place of chicken at the time it's returned to the pan.
Turkey with Walnuts: Serves 4
4 turkey cutlets cut in 1×2 inch strips @ 1 ½ lbs.
1 green bell pepper
2 medium onions in 8ths
4 celery ribs
2 tsp. Soy Sauce
(1) 10oz can chicken broth – divided ¼ cup reserved (This is the Condensed found with the soups, rather than the 14 oz. broths)
2 Tbs. butter
½ cup cream sherry
2 Tbs. cornstarch
½ cup walnut pieces – toasting optional
Salt and Pepper
Melt butter in skillet over medium heat. Brown turkey; add vegetables and sauté until soft. Add ¾ cup chicken broth and Soy Sauce, cover and simmer 8 min. Add sherry and cook 1 min more, add cornstarch dissolved in ¼ cup broth and cook 3 min., stirring constantly, until sauce thickens. Serve over orzo garnished with walnuts.
To toast walnuts- place on foil in 350 degree oven for 5 min.
NOTE: If using leftover turkey: Thaw if frozen. Proceed as above from the point of adding the vegetables. Add the turkey about 1 min. after the cornstarch and stir gently to avoid breaking the pieces, but to insure cooking long enough to heat through.
Classic Fajitas: Serves 4
2 cooked, boneless, skinless chicken breasts OR 12 oz. beef for stir fry (see chart) cut in
2 inch strips
1 red bell pepper julienne
1 green bell pepper julienne
2 medium onions halved and sliced thin
3 Tbs. cooking oil
1tsp coriander
1tsp cumin
Salt and pepper
(8) 8" flour tortillas
(1) 8 oz. jar salsa
(1) 8 oz. container guacamole
1 cup sour cream
(1) 8 oz. pkg. "Mexican 4 Cheese Blend" – or shredded "Monterey Jack"
Heat oil in a large skillet over high heat. Add onions peppers and spices, and if using, chicken. Cook about 8 min., until the chicken is done and its juices run clear, and the vegetables are crisp tender. If using beef, cook vegetables about 4 min and add beef the last 4 or 5 min, so that it browns but stays tender.
NOTE: IF using leftover turkey: Proceed as directed above, but add thawed, if frozen, turkey meat at the very end and cook just long enough to heat through.
Meanwhile, cover tortillas with a dish towel, place on a plate and warm in the microwave on high at least 1min—test to make sure they're warmed through.
Place the toppings – salsa, guacamole, sour cream and cheese on the dining table. Add the warn tortillas, and bring the sizzling meat mixture to the table in the skillet—making sure that it's on a board or trivet—and let everyone dig in.
To eat a fajita—Lay a tortilla flat on your plate, and spoon the meat mixture in a line across the center of the tortilla parallel to you, leaving a 2inch margin on each end. The julienne cuts make this easy. Put on the toppings of your choice—I like them  all—and fold those short sides over the filling squaring them off. Then roll the first long side, the one near you, over the filling, then roll the whole thing over on the other side to make a compact  bundle—–and enjoy ! ! !