HOW TO PUT A PARTY FACE ON LEFTOVERS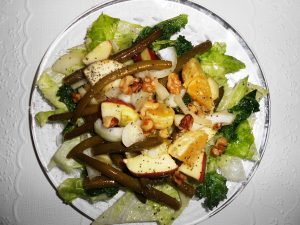 Here we are in the last, and arguably the most festive week of the most festive month of the year in many countries, especially this year with Hanukkah beginning Dec. 24th. It's also a unique time because it's transitional. On the one hand, it's hard to believe that the long holiday season, six weeks in the U.S., is over in a few days, yet the transformation to a normal lifestyle has already begun, at least in the food world. Markets aren't featuring baking supplies, or even sweets, and the food gurus are now preaching how to deal with the effect of party over-eating not how to avoid it.
On Dec. 23, 2015 I wrote: "The pressure of the big dinner is gone but we're still in holiday mode because New Year's is coming up. It's the perfect time to make good on all those promises to "Get together over the holidays." Whether we have time to plan these gatherings or they're impromptu we want whatever we serve our guests to be welcoming and well received, but we're shopped out, tired of cooking, with a refrigerator full of leftovers and no desire to add more. The solution is to use some of the leftovers and/or pantry items, but what and how to do it quickly is the question."
In that post, available in the site archives, (click 'Blog' on the header, then pick month, and year from the drop-down menu on the right side) I give a lot of recipes on re-cycling leftovers into fresh party foods. I'm adding several more, but the best answer to the above question is in how we serve them. Carbs are donning the black hat again. I've always been surprised on my New Year's Day open houses how little of the breads and rolls are consumed. Slivers of the Christmas cakes are still popular, but often just a cookie with coffee or a cup of eggnog is enough.
People are bypassing the sauces, pastries, rich casseroles and au gratin dishes in favor of salads and plain presentations. They prefer simply sliced meats, seafood, salads, greens, fruits and vegetables with cheese only crumbled as garni. The old idea of 'passing off' left-overs in a sauce or paired with a starchy food doesn't play. What's needed now is a 21st century take on using fresh ingredients to create taste and give the appetizing, healthy appearance of a 'new' dish, which it actually is. So read on to see some 'How Tos'….whether for entertaining or a family dinner.
RECIPES: Please see the site Archives, as directed above, for leftover recipes from past years
MEATS: These recipes unless stated are acceptable for poultry or beef.
Spinach Cranberry Salad: Serves 4—Romaine or any other lettuce can be substituted. See notes for beef.
(1) 6oz. package spinach or other greens
2 cups=1/2 lb. chopped cooked poultry or beef
½ medium red onion thinly sliced
1/3 cup craisins (cooked mushrooms or sliced black olives for beef)
2Tbs. chopped toasted walnuts or pecans
2 Tbs. crumbled feta cheese (Blue cheese for beef)
¼ cup raspberry vinaigrette (balsamic for beef)
Combine first 4 ingredients, and toss gently. Sprinkle with nuts, add dressing and garnish with cheese.
Greek Salad: Serves 6
¼ -1 lb. thinly sliced cooked meat-poultry, beef, pork or lamb
6 cups mixed torn lettuces- Romaine, green, spinach, arugula
½ small red onion thinly sliced
3 plum tomatoes cut in wedges
1small red bell pepper in julienne
½ cup sliced kalamata olives sliced
½ cup crumbled feta cheese
1/3 cup olive oil
1/3 cup red wine vinegar
1 Tbs. Dijon mustard
1 Tbs. dried parsley
1 tsp. dried oregano
¼ tsp. garlic powder
Salt and pepper to taste
Wisk together last 7 ingredients for dressing. Gently toss first 6 ingredients with dressing and garnish with the cheese.
Stuffed Peppers: Serves 4
4 large bell peppers-tops and seeds removed
¼ cup chopped onion
3 Tbs. chopped parsley = 1 Tbs. dried
1 lb. slivered cooked meat-poultry or beef
2 tsp. grated fresh gingerroot= ½ tsp. powdered ginger
2 Tbs. Worcestershire Sauce
1 Tbs. Soy sauce
1 cup cooked brown rice
15 oz. tomato sauce-divided
Boil peppers covered in water 1 min. Microwave onions 2 min. on high. Combine first 7 ingredients with 2 Tbs. tomato sauce, then add rice with 1 cup tomato sauce mix well and stuff peppers. Place upright in a lightly greased casserole with ½ inch water and bake at 350 deg. for 25-30 min. Serve remaining tomato sauce, heated, on the side.
Jicama Salad: Serves 6
4 cups diced cooked meat poultry or beef
4 stalks of celery sliced
1 1/3 cups diced jicama
1 small onion diced
4 redskin potatoes cooked and diced
2 Tbs. parsley flakes
4Tbs. dill weed
2 cups plain yogurt
Salt and pepper to taste
1 cup bean sprouts
6 cups torn greens for bedding
Stir the yogurt and dill with salt and pepper to taste. Lightly toss first 7 ingredients with the yogurt mix. Arrange a platter lined with the greens, garnish with the sprouts.
Nutty Squash Salad– Serves 4
1 EACH medium zucchini and yellow squash cut into 2 inch spears
2 cloves garlic minced
1/3 tsp. adobo seasoning
½ lb. cooked meat cut in ½ inch dice-poultry or beef
½ tsp. dried crushed rosemary
½ cup chopped toasted walnuts
¼ cup shredded provolone cheese
5 cups Bedding greens OR cooked rice, couscous or quinoa
Saute the squash in the oil with the garlic and adobo seasoning until just tender, stirring occasionally about 5 min. If planning to serve warm over a grain, add the meat, rosemary and walnuts and heat through. If serving cold allow the squash mix to cool, before adding the other ingredients and serve over greens. Garnish with the cheese.
Vegetables: These recipes are great for both family meals or for entertaining, especially if you have lots of leftovers to use up, or just buy frozen. All go well with any type of sliced roast to make a light supper.
Green Beans with Oranges: Serves 4- Add ½ cup cooked ham or turkey per person to this and it can become a full entrée salad.
1lb. whole or cut green beans-frozen is fine
2 oranges cut in half and segments removed
1 firm apple in thin wedges
1 small onion thinly sliced
½ cup toasted chopped walnuts
½ cup orange juice
1/3 cup oil
2 Tbs. honey
Dash hot sauce
1 Tbs. poppy seeds
Salt and pepper
Cook beans until crisp tender, drain and cool. Whisk juice, oil, honey, hot sauce, seeds, salt and pepper, bring to a boil and let cool.. To serve toss all ingredients together with dressing in a bowl. Optionally, mound vegetables on a lettuce lined platter.
Nutty Green Beans: Serves 4
1 lb. cut green beans- frozen is fine—cooked to crisp tender and cooled
¾ cup chopped pecans
½ tsp. salt
½ small onion in fine dice
1 ½ oz. crumbled blue cheese
1 Tbs. +1 ½ tsp. olive oil
1 tsp. red wine vinegar
¼ tsp. spicy brown mustard
Saute nuts in 1 ½ tsp. oil with salt in a skillet until toasted, stirring, over medium heat about 1 min. Drain on paper towels. Whisk oil, vinegar, mustard together and pour over beans, onion and nuts, tossing gently. Top with cheese.
Pea Salad: Serves 8
1 lb. cooked peas
2 large leaves Romaine lettuce halved lengthwise and thinly sliced crosswise
½ cup sliced celery
1/3 cup finely chopped red bell pepper
1/3 -1/2 cup mayonnaise
2 Tbs. raspberry vinaigrette
¼ tsp. EACH dried oregano and basil
6 oz. shredded cheddar cheese
Pepper to taste
3 Tbs. crumbled bacon for garnish
Whisk mayonnaise, vinaigrette and seasonings then toss gently with the other ingredients. Chill 24 hrs. Top with bacon before serving.
Sautéed Orange Cabbage: Serves 4—This dish goes well with everything and it's guiltless. I always have cabbage left over from the Cole-slaw I make for Christmas, so it's perfect for another dinner.
1 medium head cabbage-shredded
1 medium onion chopped
Zest of 2 oranges and juice of 1
1 Tbs. oil
1 Tbs. sugar
½ cup red wine vinegar
Salt and pepper
Sautee onion in oil over medium, heat until soft, about 5 min. Add all other ingredients and cook about 15 min. until tastes are melded. Serve at room temp or warm.
Squash and Stuffing: Serves 8- People always want to know how to use up stuffing. I have a great soup recipe in the Archives for it, but this is another that will do for guests or even for a winter party. I don't usually use canned soup, I only have 3 recipes, but this is such a good solution to the problem.
6 oz. pkg. stuffing OR 2-3 cups left-over stuffing
4 medium summer squash or zucchini sliced
1 medium carrot thinly sliced
1 small onion finely diced
(1) 10 ½ oz. can cream of chicken or mushroom soup
1 cup sour cream
Pepper to taste
Cook squash and carrot in a small amount of water to tender 8-10 min. drain. Mix stuffing and spread ½ in the bottom of a lightly greased 2 quart casserole. Mix vegetables with soup, sour cream and seasonings, spread over stuffing. Top dish with the rest of the stuffing and bake at 350 deg. for 35-40 min. Serve hot.
Party Artichokes: Serves 4-6- this is a dish that dresses up any table and is always ready in the pantry. It can also be made from fresh ingredients using this recipe
2) 15 oz. cans of artichoke hearts
½ cup diced tomatoes- drained if canned
½ cup diced peppers-jarred fire-roasted are fine
1 clove chopped garlic or ¼ tsp. garlic powder
½ tsp. EACH of dried basil and oregano
¼ cup shredded Parmesan cheese
1/3 cup bottled balsamic, red wine or Italian vinaigrette dressing or Caesar
Lettuce for lining the platter
Marinate tomatoes, peppers and garlic in dressing for 30 min. Arrange artichokes over lettuce, spoon dressing over and top with cheese.