PREPARE HOLIDAY FOOD AHEAD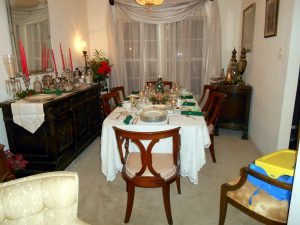 After talking last week about the practicality of shopping ahead for the winter holidays, it's logical to discuss preparing food for them in advance as well. It's a topic I address each fall, and though I don't usually re-run a post, I thought this year I'd combine parts of several and update them to answer some questions I've been asked.
Preparing food ahead for the holidays doesn't actually 'save' time, it amortizes it. A dish takes a given amount of time to prepare no matter when it's done. However, nothing is a greater relief during the hectic holidays than realizing something is ready and waiting, without having to gorge a chunk out of your busy schedule to do it. Preparing dishes as early as their recipes allow or making and preserving them provides just that.
Personally, the idea of preparing ahead for the holidays appealed to me because as the nest emptied and family grew, the tasks didn't increase in number, but they did in size. Fewer hands around to help meant a lot more work for me alone. Professionally, the idea intrigued me. The main function of a personal chef service is to provide meals for its clients to consume later. This combination of motives has given me the incentive for the past several years to explore how far I can push the envelope.
However, nothing opened my eyes like a request from a fellow personal chef. She contracted to cater a wedding reception for 400 and asked for help from others in our U.S.P.C.A. chapter. The job held some real challenges; the bride had downloaded the menu and recipes, most distinct variations on classics; the venue offered a wait staff and dining needs, linins etc., but only a 'holding ' pantry, no real kitchen. All the food had to be delivered ready to serve. How the chef, an experienced caterer, solved the obvious problems doesn't disguise the fact that most of the food, hors d'ouvers plus two courses and dessert, had to be prepared days ahead. I learned this is normal for caterers dealing with large events and was amazed at the ways these experts in safe handling food, keep it unspoiled and fresh tasting.
The point is that, many dishes can be prepared ahead, but the storage is as, or perhaps even more, important than the cooking. Produce, of course, needs refrigeration. If bought far in advance, or to be served out of season, consult my blog of Sept 22, 2016 on freezing fresh produce and there are more reference posts in the site archives Generally, supplies bought ahead should be kept in the original package and stored at the same temperatures as in the market. In fact, safe handling, or Safe Serve as it's called, is a course in which all chefs need to be certified. Knowing how to freeze different foods is a major asset. For a crash course, see my posts of January 11, 19, 25 and February 2, 2012. Click Table of Contents on the Home Page header and then click the dates to link to the posts. Most foods require some degree of refrigeration, so be sure you have adequate space before embarking on making several dishes in advance.
Advance preparation is straightforward, but has a few simple rules. One is never re-freeze anything without cooking it. If adding a thawed vegetable to a dish, cook it first. Be aware that most seafood, especially shellfish is frozen for transport. The only exceptions are fish your monger guarantees were caught within 24 hours and shellfish steamed in store daily. The second is that if exists in the markets' glass freezer cases, you can try it, but if it doesn't there is usually a good reason, so don't try to innovate. This is particularly true of imitation 'diet' and/or 'no-cook' cream sauces, which tend to separate when frozen. Third, Egg dishes, generally, should be cooked just before serving. Fourth, if you are open to communal contributions, be sure that you're not going to spend the afternoon juggling things to finish them or keep them warm. Plan with your guests the way to use your space and appliances wisely.
The process of planning to prepare dishes in advance of an event is highly individualized. Your menu choices and personal schedule must figure in your calculations and, therefore, it's difficult for me to give any specific directions other than the advice contained in the posts cited above. Perhaps the best way illustrate the process in a general way is to share my Christmas timeline, which I've printed below, to give you a general idea of the process to adapt to your needs. I can tell you that now I wonder how I ever did things "seasonally" and I'm grateful that I have time to relax and enjoy the trappings and companionship. There are still plenty of last-minute tasks, but no real pressure either on my schedule my nerves, or my wallet.
As an extra 'tip' I'm including my New Year's buffet in this timeline to show you how easy it is to include a party in your holiday schedule. Buffets are easier to prep ahead than seated dinners. Food served at table should be hot, but even roasts can be cooked ahead and served room temperature at a buffet. Casseroles and sauced meat dishes are the darlings of advance preparation. They can be cooked, frozen, thawed, reheated and still taste fresh. Of course, cold foods are a natural. They can be prepared and simply chilled until served or frozen and just thawed. No effort is needed at the last minute and minimizing the last-minute work load is one of the main reasons to do advance preparation
Another plus is being able to use leftovers from one event to build another. Please note that the foods for the New Year's party, with the exception of the necessary fresh items, had been purchased well in advance, along with the other holiday supplies. So it was really a breeze to arrange, with no extra strain on the schedule or wallet.
Desserts are a good category to reference to illustrate the optional levels of advance food prep. Cookies, as noted, can be made 6-8 weeks ahead if stored in air-tight tins. All kinds of pastry freeze well rolled and stacked with paper dividers or lining pans, even whole unbaked fruit pies and turn-overs can be made months ahead. However, baked pastry products only hold well for 24 hrs. After that they become soggy as the fillings lose their moisture and harden. To have these desserts table-ready, you must leave room in your schedule, as well as your oven's, at the earliest the afternoon before, to bake the items and/or make the fillings. This can be a strain during a hectic holiday week.
So what dessert can be made ahead and produced the day of a major dinner ready to be served? Cake! Several years ago my Yule log survived Christmas dinner almost intact. I decided to freeze it to serve sliced with a bowl of whipped cream on New Year's. I froze it uncovered for an hour to firm up the icing, then I wrapped it snugly in plastic wrap and put the whole cake, still on the platter, in a plastic bag in the freezer. I was pleased to see it looked fresh on New Year's morning but surprised that it tasted fresh too. I served it on the original platter, without the cream, and had many compliments with no leftovers.
This brings up a frequently asked question; "How much space will I need?" The answer, of course, depends on your menu, but usually not as much as you may think and it will be a changing amount. Cookie dough is chilled, but cookies are stored in tins. The bulk of my freezer usage is for vegetables and the turkey (read entrée meat). Just before the holiday I add two cakes, but that's my personal option. If I served fruit parfaits as my Mother did, I would store ice cream and need less space. More things are kept in the refrigerator than the freezer, but not large items, other than possibly a ham or other smoked entrée choice and if you live in a Northern climate that can be kept in a cold place like a garage.
Space is a consideration when planning the menu, especially for a newbie. Your food will require the most room right before and right after the dinner. Visualize the dishes that will need chilling, then calculate the area you will have to clear for them. To give you firmer idea, I'm going to review the list below and mark each entry with an 'r' for refrigerator or an 'f' for freezer. Equate item sizes I'm serving with dishes you want and use it to form a clearer picture of your needs. If space is limited, in colder climates, a garage comes in handy. Ice chests are another solution, and perhaps a friend will offer to keep some things. I had a neighbor who annually rented a small freezer for two months, November to January and by the third year bought it to use on other events and in the summer. Most of the year, it sat unplugged, tucked away, but well worth its price when needed.
Another frequent question is; "How do I plan my time to do all this ahead?" Of course, your schedule is another prime consideration. I can tell you the type of things which can be made ahead and how far, but you must decide your own timeline according to your schedule. Perhaps you're free weekends and can combine several tasks or maybe you need to spread them out over week nights working for short periods. The menu choices will affect this aspect of prior preparation too. Keep a balance between things that can be made well in advance and those that can't and remember, the more involved a dish the more time required to make it. In any case, it's far easier to find the time to do things over a long period than to have to cram them into a brief one, especially one filled with other obligations.
Obviously acquiring required items over weeks, rather than having to schedule, or "work in" special shopping trips is a time saver in itself.
1) Early Oct. –1) Process celery and onion mixture for the stuffing and freeze -f
2) Bake fruit breads. See 10/29/15 post for recipe-r
2) Mid Oct. – 1) The salad dressing for Christmas is ready in the fridge-r
2) The Cumberland sauce for one hors d'ouvres is made-r
3) End Oct. – 1) The sautéed croutons for the stuffing are in an airtight can-tinned
2) The cheese spreads are made and chilling in crocks.(Extra stored in plastic
(containers) –r
4) Early Nov. –1) Nuts toasted and salted-in airtight jars
2) Cranberry salsa made and kept well chilled-r
MID NOV—Thanksgiving preparation- task schedule similar to Christmas as detailed below
5) End Nov.-Make cookie batter-store in fridge-r
6) Early Dec. – 1) Make cookies- tinned
2) Bake cakes and freeze them-f
7) Xmas Week –1) Make any add-ins for vegetables=sautéed onions or mushrooms, toasted nuts
etc.-r
2) Roast, thaw, prep vegetables for sides, put them in dishes in which they can
be heated and served. Cut and soak salad greens –Refrigerate all
3) Thaw turkey-r (date depends on size)
4) Store everything plated and ready to serve—cookies on covered platters etc.
5) Prepare any other hors d'ouvers and chill – r
DEC. 24th – 1) Make stuffing and chill.-r
2) Brine turkey-r
DEC. 25th – Cook bird, thaw cakes, finish vegetables, toss salad, make gravy.
New Year's Week-Dec. 26th –1) Strip carcass, saving enough meat for a large casserole-r
2) Freeze the rest and the stuffing separately in 2 portion size
packages for future use. -f
3)Boil the bones and freeze broth for future use. -f
Dec. 27th -29th-1)Make turkey casserole, and a mixed vegetable one with pasta and/or grains-r
2) Refresh cheese crocks, bake ham and muffins(if needed) for dessert tray.-r
Dec. 30th– 1) Shop for fresh items, seafood, salad greens, bread and cream. -r
2) Chop and soak greens. Prep any hot hors d'ouvres. -r
3) Have everything ready on or in serving vessels.-r
Jan.1st– Cook casseroles, heat hors d'ouvers and bread, toss salad, make Eggnog.
If you're looking for recipe ideas, you'll find loads in my archives, everything from leftovers to vegetables, to salads and dressings. There's even one on muffins and rolls that may appeal. Just click Table of Contents, or view the panorama and choose posts that interest you.
So save yourself expense and stress this holiday season, by remembering what the Boy Scouts always say; "Be prepared!" —-then you can relax and enjoy the festivities.