'A' IS FOR APPLES –PART I Delicious Recipes Other Than Desserts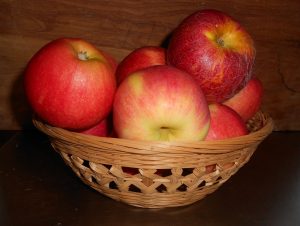 Pumpkins get the photo opts in fall. They are unique to the season and symbolize two holidays, but the apple , even though available all year, really conveys the feeling of autumn. Their deep red, golden and green colorings, the crisp texture and flavor compliment the weather and embody the spirit of the season. Even the scent of them cooking invokes thoughts of fall, because their most common seasoning, cinnamon, is associated with this time of year
At a time when our activities are revving up, apples are a perfect food, filling and nutritious, easily eaten out-of-hand raw, they can be prepared in many different ways. Although mainly thought of as a snack or dessert ingredient, they have recipes which fit into all three daily meals and any course in them.
I have a post ready for next week with great dessert recipes, a couple quite unusual, but this week I want to talk about recipes incorporating apples into other parts of a meal. This is just a small sample of the many out there, but hopefully, it's enough to get you thinking. I'm not including any of the familiar recipes like Pork Normandy, they're easy enough to find. These are a bit off the 'beaten track.'
Let's start as the day does with breakfast.
Apple Compote:
Yield 3 cups—A multi-use recipe. It appears again next week in desserts as an ingredient, but can be served as alone as a fruit course, as an accompaniment to meat or as a dessert with whipped or ice cream. A few tablespoons can be stirred into hot or cold cereal.
6 large cooking apples –Golden (NOT Red) Delicious, Granny Smith, Rome etc.
1 cup water
¼ cup sugar
1 Tbs. lemon juice
¼ cup raisins—optional
¼ tsp. cinnamon—optional
¼ cup chopped toasted walnuts-for optional garnish
Peel, core and dice apples in ½ inch chunks. Bring sugar and water to a boil, add apples, raisins and juice. Cook until fruit is tender but not mushy. Taste if more sugar is needed, add cinnamon if desired. Serve warm or chilled, topped with nuts if desired.
Applesauce Bread:
1 loaf-This became a family favorite for all ages. It's also great for snacking. From The First Babyfood Cookbook by Melinda Morris
1 cup applesauce
1 egg
2 Tbs. butter-melted
¾ cup sugar
1 tsp. baking soda
1 ¼ cups flour
2 Tbs. chopped raisins-optional
Blend first 6 ingredients, add raisins, if using and pour into a lightly greased bread pan. Bake at 325 deg.for 1 hour.
Next comes lunch
Ham, Cheese and Apple Sandwich:
Serves 1
4 slices bread-Jewish rye or pumpernickel suggested, or wheat buns
Deli sliced ham and cheese-choices optional
Thin coating of mustard on bread-optional
Slice a peeled, cored apple in about 3 slices per quarter. Put in a small bowl with a light sprinkle of sugar and another of cinnamon. Add 1-2 Tbs. water or apple juice and microwave about 1min-1 min.30 sec. Store refrigerated in juice if made ahead. This prevents the apple from browning. Layer apples on bread between ham and cheese, to keep moisture from ruining bread
Finally dinner
Hors d'ouvres
Chutney:
Yield 1 ½ cups—I love this recipe and make it every fall. It stays fresher in smaller glass jars, I use empty glass spice bottles. It keeps for months in a cupboard and is a great addition to a gift basket.
2 cups apples, peeled, cored and chopped
½ cup chopped onion
½ cup raisins
1/3 cup vinegar
¼ cup brown sugar
¼ cup water
2 Tbs. candied citron-available in stores now for fruitcakes
1 Tbs. curry powder
½ tsp. salt
2 cloves minced garlic
½ tsp. ground ginger
1/8 tsp. ground cloves
1/8 tsp. cinnamon
Put everything into an uncovered pot and cook over low heat for 50 min. Stir occasionally to prevent sticking. Cool and pour into jars. Wait an hour or so before screwing on lids. Serve with meat.
Cream Cheese Chutney Tree:
Serves 6-8
8 oz. block cream cheese
1 hard-boiled egg finely chopped
1 Tbs. chopped cilantro or parsley – fresh preferred but dried acceptable.
2" cinnamon stick
Cut the cheese diagonally lengthwise, and put the 2 straight sides together to form a triangle. Cover with chutney, even the sides. Top with egg and press lightly to adhere. Sprinkle with herb. Put the cinnamon stick in the middle of the bottom to make a trunk. Chill, serve with crackers.
Apple Chips:
Makes about 40-50
2 large cooking apples- cored and cut lengthwise in thin slices
½ cup sugar
Water to cover- about 1 cup
Dissolve sugar in water and soak apple slices 15 min. Drain and place in a single layer on a parchment lined baking sheet. Bake in a 200 deg. oven for 2 hours, turning once or until dry, golden and slightly curling. Cool and use at once or store in airtight containers. Serve with cheese dips, or topped with a cheese curl or small dab of cheese-Blue or Cheddar recommended. These can be re-hydrated by boiling in a bit of water or apple juice until soft to use as pie or strudel stuffing.
Soup
Apple Soup:
Serves 6
Recipe I
4 large apples-cored and chopped
1 large red onion- minced
3 Tbs. butter
1 quart chicken stock
¼ tsp. EACH nutmeg, salt, cinnamon
2 cups half-and-half or heavy cream
½ cup toasted chopped walnuts
Saute onions and apples in butter until tender. Add stock and seasonings and blend. Simmer partially covered 10 min. Off stove, fold in half-and-half or cream. Warm to incorporate. Serve chilled or warm garnished with nuts.
Recipe II— Curried version
Replace nutmeg and cinnamon with 1 ¼ tsp. curry powder, or to taste, and reduce cream to ¾ cup. Garnish with parsley or chopped chives in place of nuts.
Entrée Ideas
Apple Stuffing for Duck
3-4 or + slices of cinnamon –raisin bread–depending on size of bird
1/3 cup raisins if using plain cinnamon bread
2 large apples -peeled cored and in large dice
1 stalk celery – sliced thin
½ medium onion diced
1 egg
2 tsp. dried sage
Salt to taste
Orange juice sufficient to moisten
Toast the bread and tear in pieces about 1 inch. Mix all the ingredients with enough orange juice to just moisten and stuff bird. Cook according to directions per pound.
Gorgonzola-Apple Stuffing for Cornish Hen
:
Serves 4– from Gourmet Cooking by Deborah Anderson
(4) 1 ½ lbs. Cornish hens
1pkg. wild rice-about 2 cups cooked
4 Granny Smith apples –cored and diced
½ cup pine nuts
4oz. Gorgonzola cheese
1 cup diced onion – optional
Salt and pepper
Mix all ingredients while rice is still warm so cheese melts. Stuff birds and roast at 350 deg. 1 hour 15 min, until juices run clear, basting occasionally. Serve hot.
Sides
Cabbage and Apple Bake:
Serves 4
1 medium head cabbage-finely shredded
3 Tbs. butter
2 Granny Smith apples-peeled and sliced
½ medium onion- sliced
2 Tbs. caraway seeds
2 tsp. salt
Paprika
Melt the butter in a large skillet and toss in all the ingredients to coat. Cover and cook over low for 1 hour. Serve hot. OR toss ingredients in an oven-proof casserole, cover and bake on low (300 deg.) for about an hour.
Sweet-Potato Stuffed Apples:
Serves 4-8
8 large baking apples
4-6 sweet potatoes cooked and mashed
¼ cup melted butter
1-2 Tbs. brown sugar
Halve apples and bake in a 359 deg. oven until pulp is just soft. Remove, cool and hollow out centers, discarding core and seeds, leaving enough meat in the skins to form firm cups. Mash removed pulp into the potatoes adding butter and sugar if needed. Fill the apple 'cups' with the mashed ingredients. Place in a lightly greased baking dish with a bit of apple juice in the bottom and bake them at 375 deg. for 10 min. Baste lightly with juice in dish. Serve garnished with nuts.
NOTE: Can be prepared ahead before baking. Store chilled, covered with wrap or waxed paper. Add 3-5 min. to cooking time depending on whether they were started at room temperature or chilled.