Want To Relax And Enjoy Saint Patrick's Day?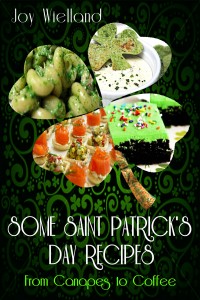 Saint Patrick's Day always reminds me of collage and green beer. It's a casual holiday, open to all, with no obligations, simply offering a fun break for R & R. Whether you opt in for a drink, a dinner or the day, there's a niche for you. To help discover the right food niche to fit a busy schedule, or current tastes, I've written Some Saint Patrick's Day Recipes.  It covers the traditional dishes and alternatives plus snacks, sides, salads, leftover ideas and desserts that still convey the spirit of the holiday, while fitting in with today's lifestyle.
Unfortunately, the traditional meal, corned beef and cabbage, considered a staple of the 'working man's diet' and most diner menus, seems to have gone the way of the Christmas Goose. Corned beef, even its preferred cut, beef brisket, both formerly common sights in supermarkets, aren't found on a regular basis. Brisket is now used for ground beef.  I've been told it's considered 'ethnic' and to try an independent butcher-also a vanishing breed. Fortunately, for its die-hard fans corned brisket does appear briefly each March as a seasonal specialty item.
Unfortunately, between the current price of beef, and the fact that it's a 'prepared' product, having been corned, the lowly brisket's price has rivaled the prime cuts in the past few years.  This doesn't bother me because I have an alternative solution.  I always preferred 'corned beef round' which is much leaner. Since any cut of beef can be corned, round roasts, both bottom and top even boneless chuck and arm or shoulder ones, are acceptable and far more reasonable.
An article by Julia Child got me into corning. She mentioned in passing, she had corned a beef that week, to make sandwiches for weekend guests. Corned that week? I always imagined corning was a long, messy process but, actually, it's a cinch, requiring only a rub, and meat refrigerated in a plastic bag for 3-5 days, eliminating the need for skimming or re-boiling as well. I've been doing my own ever since and not just beef, other meats too, especially ham, which tastes surprisingly like beef.  The best thing is that you can cut a lobe off a ham, or a large piece from a canned one, to corn and bake the rest per usual. Step-by-step instructions are in my book.
Another modern drawback to the traditional Saint Patrick's Day dinner is that, though easy to prepare, it's time consuming to cook. Slow cookers are a questionable solution because the meat needs a head-start and the vegetables are added in increments, causing scheduling problems. As a solution, I offer a recipe that can be made in less than 30 min. as well as one for those who don't like corned beef.
As I said at the start of this post, there are many other recipes in the book for complimenting, using and using up corned beef.  The dessert recipes are not so traditional, just to add a few new notes, but they're all green, in keeping with the day's color scheme. There's even one of sherbet for the 'lite' minded and, of course, Waterford Chrystal's special recipe for Irish Coffee.
So if your Saint Patrick's Day meal plan is for a quiet dinner or you're inviting guests, this book, as you can see from the Table of Contents, can solve any holiday menu problems with recipes like Asparagus Wraps, Cucumber Bisque and Key Lime Pie, for years to come. Some dishes may become family favorites to be enjoyed more often. Check out Some Saint Patrick's Day Recipes, on this site's Bookshelf, Kindle, and Smashwords.
TABLE OF CONTENTS
Introduction –
Traditional Brisket Cut
"Flat" and "Point"
"Corning" Defined
General Cooking
Optional Corned Cuts
Use of a Slow Cooker
Cost
Home Corning
Ham
Canned Corned Beef
Canapes
First Courses
Entrees
Leftovers
Salads
Breads
Desserts
Finale
Corning Directions
Beef
Ham
Happy Saint Patrick's Day everyone!