THE MOST POPULAR WAYS TO COOK FISH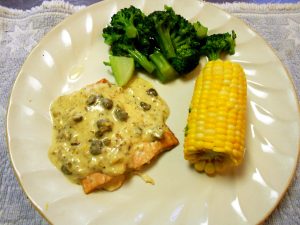 Last week I mentioned that fish is an increasingly popular summer food and speculated the reason was it provides the 'fast, easy, fresh' meal cooks/chefs seek in warm weather. Also, the flaky textures and subtle flavors combined with its ability to quietly ease hunger make it the light, satisfying food we crave on hot days. I suggested grilling for a quick, attractive presentation but fish can be prepared in many different ways.
In fact, few of the many seafood-focused restaurants that open seasonally, especially in resort towns feature grilled dishes. Restaurant kitchens are generally small and grills, particularly 'line grills', aren't spacially compatible. Yet these places are known for excellent food, some even famous and they rely on dishes based on traditional cooking methods.
These traditional methods of cooking fish are easy to master, elegant in their simplicity and invaluable to know because they, not the fish cited, are the stars of most recipes. Fortunately, fish is classified by type, fine-flake, oily, full-flavored etc. since market availability of specific species varies daily. (See list below)By encompassing a type of fish rather than a particular species, these preparations allow for substitutions, guaranteeing that a recipe can always be made. If you're in doubt, just tell the fish monger how you plan to cook the fish and he/she can direct your choice.
Although the type of fish can be changed and the recipes modified or embellished by adding, subtracting or varying ingredients, I strongly advise against substituting key factors. If a recipe stipulates butter-use butter. The same is true of vegetables, fruits, fruit juices and herbs. If the recipe states fresh –use fresh. Not to do so can really impact the taste.
As stated, preparation methods can be used for different fish within the same categories. Acceptable substitutions would be for example:
A. Full flavored with firm meaty texture and high in omega-3 fatty acids: tuna, marlin, swordfish, shark
B. Mild tasting, lean, fine flake and sweet flavor: sole, flounder, tilapia, halibut, orange roughy
C. Mild tasting, lean, large flake, and sweet flavor: cod, haddock, bass, rockfish, ocean perch,
D. Firm, moderate flavor and medium oil content: snapper, catfish, monkfish (can also be substituted for lobster in some recipes)
E. Rich oily fish, firm flake and medium to strong flavor depending on species: salmon, wild or farmed, trout, arctic char, steelhead
The following recipes are examples of the most popular ways to cook fish. Each makes a complete dish, but at core, each also illustrates the preparation method it represents
Saute
Trout Meuniere: Serves 4 – This is also good using fillets, and advised for any fish in categories B&E
4 medium trout
2 lemons juiced-rinds reserved
2 Tbs. butter
2 Tb. oil
¼ cup butter
¼ cup lemon juice
¼ cup fresh parsley minced
Rub trout with lemon rinds, adding a bit of juice if needed. Melt butter and oil in a large skillet over medium high heat. Saute trout turning once, (fillets don't need turning) until both sides are slightly tan and edges of meat are opaque and curl, about 5 min. per side. Remove fish to a warmed platter. Wipe pan and add the last 3 ingredients. Swirl to melt and combine. Pour sauce over fish and serve.
Bake
Mexican Snapper: Serves 4 This procedure works for almost any fish, but the recipe favors category D
1 ½ lb. snapper fillets
½ cup chopped cilantro
½ cup toasted, chopped pistachios
¼ cup butter
Lime juice to taste + 1 lime quartered
Salt and pepper
1 large avocado – diced
Preheat oven to 350 deg. Place fish in a baking dish. Melt butter with lime juice and salt and pepper to taste in a sauce pan. Pour over fish and sprinkle fillets with nuts and cilantro. Cover and bake for 30 min. Serve garnished with avocado and a lime wedge.
Broil
Fish in White Wine with Parsley Butter: Serves 4.This is recommended for fish in categories A, B, D&E
1 ½ lb. fish in 1 inch thick steaks, thick fillets or center slices
1 Tbs. butter
½ -3/4 cup dry white wine-vermouth is fine
½ cup butter- room temperature
¼ cup grated Parmesan cheese
½ cup chopped fresh parsley
½ tsp. garlic powder
Mix last 4 ingredients together and chill. Place fish in a baking dish and pour over enough wine to come 1/3rd up the sides; dot with 1 Tbs. butter. Broil 4 inches from the heat source 3-5 min. per side for steaks or until fillets flake easily with a fork. Serve with pan drippings and topped with a dollop of parsley butter. Pass any remaining butter.
Simmered
Poached Salmon with Sauce: Serves 4 This can be made with salmon or any of the fish in category A
1 ½ lbs. of salmon fillets or steaks
1 Tbs. lemon juice
Bring water to cover and lemon juice to a boil and reduce to an even simmer. Slide fish in gently and cook about 8-10 min. per pound until the flesh turns pale pink and flakes easily. Remove from heat, run fish under cold water to stop cooking and remove skin, and spine bone, if still there in steaks. Serve warm or chill on a covered plate at least 1 hour.
Sauce 1:
½ large onion- diced
¼ cup oil
1/3 cup white wine
1cup sour cream
2 Tbs. capers
¼ tsp. lemon pepper or to taste
In a sauce pan, sauté diced onion in 1 Tbs. oil until soft, add balance of oil, capers, wine and ¼ tsp. lemon pepper, allow to simmer gently to warm. Check if more lemon pepper is needed, sauce should be very lemony but not bitter. Remove from heat, cool slightly, whisk in sour cream to blend while still warm. Serve warm over hot fish or cool to room temperature and serve over chilled fish. This is best made shortly before serving. Drizzle sauce over fish and pass remainder.
Sauce 2:
½ cup mayonnaise
½ cup sour cream
1 ½ tsp. dill weed or to taste
Blend all ingredients well and allow flavors to meld several hours in the refrigerator. Add more dill to taste if needed. Serve dolloped over chilled fish.
Steamed
Southwest/Italian Seafood Packets: Serves 4 Fish from categories A,B&C are recommended for this
(4) 1 lb. fish fillets
½ cup thick salsa OR ¼ cup crushed tomatoes seasoned to taste with dried basil, dried oregano and garlic powder
8 large shelled shrimp
8 Cilantro, parsley or oregano sprigs or basil leaves
1 Lemon or Lime in wedges
Preheat oven to 400 deg. Cut foil or parchment paper into 8 pieces 1 inch longer than fish. Shapes, triangles or hearts make a nice presentation. Place a fillet on each of 4 pieces, top with 2 Tbs. sauce, 2 shrimp and 2 sprigs or leaves of herb. Cover with another piece of foil or paper and crimp edges to seal. Bake 10-12 min. Plate packets immediately and serve hot with fruit wedges. Cut an 'X' in the top of each packet to eat.
Fried
Fish should be cut into fillets to be fried and then into strips, size dependent on type of fish. The pieces are then 1) Dipped into flour then milk then crumbs; 2) Dipped into milk then flour;3) Dipped into milk, then flour, then egg then crumbs; 4) Dipped into flour then a batter*. Finally, it is fried to golden in hot fat or oil, either several inches in a pot or in a fryer. The crumb size is a matter of preference.
*There are countless recipes for batter but a simple one is: Beat 1 egg until fluffy, blend in ¾ cup water and 1 ½ Tbs. lemon juice. Stir in and mix lightly 1 cup flour and 1 tsp. baking powder.
NOTE: Years ago a chef told me that for mollusks #3 is the best coating, but a tip to have them retain flavor yet be crispy is to place them ready for frying on a waxed paper covered baking sheet in the freezer for about 20-30 min. Then fry at once and serve as soon as done.
Oven Fried Fish: Serves 4-Again any fish, cut into filets, will do
Standard recipe ( From Light Menus by Louisa Mariano)
1 lb. fish fillets cut –about ½ inch thick
1 egg beaten
2 Tbs. milk
2 Tbs. cornmeal
2 Tbs. flour
¼ cup fine bread crumbs
Salt, pepper , seasoned salt
6 Tbs. melted butter
Preheat oven to 500 deg. In a shallow dish combine egg and milk. In a second dish combine everything else but butter and lemon. Dip fish first in egg mix then dry mix. Place on a baking sheet, drizzle with butter and cook 4-6 min. until fish flakes with a fork. Serve immediately with lemon wedges.
TIP:A sprinkle of paprika on top before cooking gives a lovely color.
Coconut Tilapia: Serves 4 This is my own recipe and lighter than the standard. The coconut can be removed, the panko used alone or mixed with seasonings or replaced by crumbs. It's the method that counts.
4 Tilapia filets – about 1lb
1 cup plain Panko
½ cup sweetened coconut flakes – toasted
½ cup + mayonnaise
Lemon pepper
Step I- Preheat oven to 350 deg. Toast coconut on a piece of foil until golden, about 4 min. watching that edges don't burn. When cool mix with Panko.
Step 2 – Place fish on a lightly oiled cooking surface, a pan or baking sheet. Completely cover the tops with a thin sheet of mayonnaise, more like a veneer. Dust lightly with lemon pepper.
Step 3 – Sprinkle with Panko-coconut mix, and bake 8 min. per 1 inch width of filet, until top is golden, fish puffs slightly and edges bubble. Serve at once
Note: I put the breading mix in an empty herb bottle with a shaker top. It's easy to apply, and any extra can simply be stored in the capped bottle.