The $centse Method Works With Food Stamps Too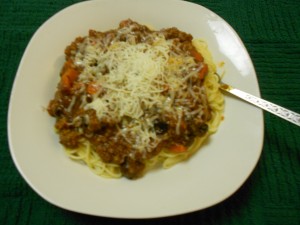 I've been listening to the dispute over food stamp allotment with mild interest, because the stamps are so critical to The Farm Bill and to food prices in general. I don't usually discuss bargain food shopping or how to stick to a stipulated budget. I focus on the overall problem of controlling food bills, whether to economize or simply to supervise spending, through organized planning and informed shopping.
However, my attention was caught recently by two published reports of people testing the feasibility of staying within the food stamp limits. Both results were disappointing, for different reasons, and I was curious to see how my approach to this problem would work.
The first effort was made by an actress whose shopping list alone showed a large gap in her grasp of the problem. She may be familiar with the kitchen, but I doubt that extends to the supermarket. I think her situation is rather like that of a restaurant chef, who can draw up menus, and grade ingredients, but the actual procuring of supplies and bill payments are the responsibility of the management.
The second experiment was conducted by a food writer. I sensed a disconnect with the subject from the opening statement that the planning process was accompanied by a $9.00 Kale smoothie. Also, there seemed to be a lack of familiarity with supermarkets. However, the writer did manage to fill the spirit of the assignment, even planning for other meals and snacks.
There was oatmeal for breakfast, eggs for snacks and a roasting chicken and ground meat for main entrees.
The major complaint at the end of the week was boredom with the meals-No wonder! Why make all the ground meat into one meatloaf to eat every night? Roast chicken and potatoes haven't been relegated to lunches since businessman's specials disappeared in the 1950s. These are two of the most versatile meat products, so why restrict the ways they're served, especially when trying to stretch their use to economize? It's presenting them differently that makes repetition palatable—pardon the pun.
Although leftover roasted chicken lends itself to many various treatments (see One Roast 5 Ways-Chicken, April 9, 2013) it's really more economical to buy chicken thighs, especially on special. A package of 10 or so costs about 2/3rds that of a roaster. By the same token, mixing the ground beef with ground turkey can cut the cost somewhat, though not by much nowadays, particularly if the beef is bought in Valu-Pac on special A better way to reduce the price, is to buy the prepackaged meat in rolls. Either way, ground meat, like chicken is extremely versatile.
Let's say you bought ground beef in family pack(s) which runs about 4 lb. each, for one person per week. Allowing for shrinkage from fat content, this should yield 8 full servings, more in casseroles. Divide the meat into 4 equal portions. Form one portion into 2 large meatballs, wrap them individually and freeze them, Broiled like steaks or roasted, they form two entrees. Sauté another portion and refrigerate or freeze it in two containers. These will be the base of sauces, chili or casseroles. Mix the remaining portions according to your meatloaf recipe. Roll half of that into small meatballs and bake them first or freeze them raw to serve in sauces. Cook the remainder as a meatloaf. It should make two servings. Personally, I would place an alternate meal between the beef dishes, especially the meatloaf.
This is a small example of how organized menu planning can improve meals, but there is one drawback. The more varied the dishes, the more ingredients needed, the higher the total cost. Those "extras" can be hidden culprits in going over budget. However, even meatloaf requires sides but often they can be prepared in different ways, for instance a bag of potatoes. The main change I would make to keep cost down is to not spend for two major entre meats in one week. There are several less costly ones available, hot dogs, tuna, chicken livers, even baby beef liver, on which to base alternate meals. Moreover, with this help, the beef or chicken can be stretched into two weeks.
Here is where informed shopping enters the picture. If you regularly study the flyers and get to know your favorite market, you'll recognize the true sale items from those which are listed to remind customers of the store prices. You'll also be able to estimate when an item like ground beef will go on sale again and plan accordingly. Most importantly you can draw up a detailed list of your needs and form a good idea of the total weekly cost before you shop.
A side note here; The writer reported interviewing people who received food stamps, but limited the questions to sufficiency of coverage and similar problems. I didn't see any mention of WHERE they shopped. I learned that increasingly they are patronizing the discount supermarket chains, such as Save-a-Lot or Bottom Dollar. The no-frills approach allows for deep discounts. The Dollar Store chain is another option for certain quality, inexpensive food products.
I've been couch quarterbacking however. There are other meals to consider, breakfast, lunch and snacks. Oatmeal can be served in various ways, with dried fruit, spices, jams, syrups, to alter taste but only so long as the cost of the add-ins doesn't exceed that of a box of another cereal.
Eggs are a valuable addition, not only as an ingredient, but scrambled, or in a frittata for a dinner, or boiled in sandwiches for lunch. I saw them at 8 medium for $1.00 in The Dollar Store a while ago, but a lesser quantity would be counterproductive. The wiser choice is 1 doz. Medium, or if on sale, Large from the supermarket. Leftovers are another lunch suggestion, including Spaghetti Pie (Recipe below or see Summer Carbohydrates-Pasta, Oct. 7. 2014). Tuna is also an option, drained and mixed with India Relish it's a safe mayonnaise free sandwich to brown-bag (See Canned Tuna Recipes, April 23, 2014)
Weight Watcher's advises popcorn as a snack and it's a good one. For this and other budget friendly snack ideas a visit to The Dollar Store is an excellent idea. This brings up another financial consideration in dealing with the food stamp allotment: the other ingredients required to make the meals. Staples like flour and sugar are more reasonable at a standard market, but spices, herbs, even sauces, pasta and rice are found in dollar stores. Individually, they seem minor, but collectively their cost can add up, yet they're necessary to meal preparation. It's wise to keep a check of supplies and not buy more than needed at a time. Fortunately, they don't have to be replenished every week, so the main expense is the initial outlay.
The real question is can a person live on the weekly food stamp amount using my method to control expenses? My answer is "Yes". Not with infinite choices, but with careful planning and by keeping abreast of market price changes, it can be done, and done with sufficient variety to be acceptable.
The $1.00 per portion meal can still be found too and mixing at least one of them into the week's menu goes a long way toward making any budget work. Some examples of this type of meal are:
I Hot Dogs & Au Gratin Potatoes –4 Servings = $3.00
1 pkg. of hot dogs – $1.00 (Serves 4) From the Pantry:
1 box dry potato mix – $1.00 (Serves 4) Ketchup and/or mustard
1 16 oz. bag frozen vegetables – $1.00 (Serves 4) 1/2 cup milk & 1 Tbs. margarine
II. Chicken Livers over Rice – Serves 3 = $2.73
1 lb. chicken livers- $1.50 From the Pantry
1 large carrot- $0.20 1 envelope bouillon granules
1 large onion – $0.20 2 Tbs. Teriyaki Sauce
1/3 a 1lb. bag frozen cut beans- $0.33 2 Tbs. red wine vinegar
½ a 1 lb. bag of white rice – $0.50 Salt and pepper
III. Tuna Salad Supper – Serves 2= $2.03
1 can chunk light tuna – $0.88 From the Pantry
½ large onion – $0.10 2 Tbs. mayonnaise
1 stalk celery – $0.05 1 Tbs. sour cream
½ a 1 lb. bag frozen vegetables- $0.50 1 Tbs. ketchup + pinch of curry
½ a 1 lb. bag frozen French Fries – $0.50 Salt and pepper
As for making use of leftovers, below is a recipe that Italians have enjoyed for centuries. Originally, made from dinner remains as a lunch for the men who worked the fields, in modern times it's a great pick-up lunch, even found in restaurants, and a favorite afternoon snack. Above all, it exemplifies that the simplest ingredients, well handled, can produce wonderful dish.
Spaghetti Pie: Serves 8
1 lb. regular spaghetti or fettuccini
2 cups sauce- tomato or meat
2 eggs
2-3 Tbs. oil
Grated Parmesan – optional
Extra seasonings – optional
Cook the pasta according to directions until tender. Drain and add enough sauce to coat. Adjust seasonings. Refrigerate overnight. In the morning, fork whisk eggs and gently stir them in. Heat oil in an 8-10 inch skillet and when sizzling, add eggs. Cook until the edges brown and the bottom lifts easily with a spatula. Center should be firm. Serve cut in wedges.
NOTE: Cheese is totally optional with this dish. It can be added as the pasta sautés, the pan can be run under the broiler at the end or it can be sprinkled over the top as it cools. Italians prefer it in chunks to be eaten with the pasta.