Summer Desserts To Eat With A Spoon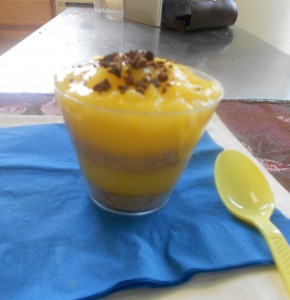 There's nothing better on a hot summer day than a cold, sweet treat, especially if it's easy to pick up and smooth to swallow. The trouble is most of the things that fit the description, melt and drip over your hands and clothes leaving a sticky mess. One solution is frozen cups of various confections, but what if you lived hundreds of years ago? You wouldn't have air-conditioning, or even an electric fan, certainly not refrigeration, much less the ability to freeze foods. You would have to endure layers and layers of clothing, contributing to a fervent desire for some type of cooling refreshment.
Perhaps necessity really is the mother of invention, because the ingenious and probably sweltering people of the 16th and 17th centuries came-up with several soothing, cool recipes to make a hot day more bearable. I'm including four which have endured to the present day, and are, in fact, enjoying resurgence in popularity. Best of all, now they can be made and/or served in plastic cups "to go". Three trace back to "Cookery Books' circa 1585- 1650 and the fourth may have earlier origins. Tiramisu was a personalized feast dish for centuries before having an established recipe.
Of course, in their original form all these recipes relied on whole foods in their natural state. Lightness was achieved through whipping eggs and cream, Flavor depended on fruits, wines, spices and herbs. Today's consumer may have issues with the cholesterol, carbohydrates, even the possibility of salmonella, so I'm quoting more modern versions. In some cases two options are offered, with different caloric totals.
To make the recipes meet today's dietary standards the full egg custards are replaced by pudding mix and I suggest using Wilton's Meringue Powder (available in most craft stores) to replace the beaten eggs whites to avoid any question of salmonella. It whips to peaks with the addition of a little water, and requires the same amount of sugar as the individual recipe demands. Just follow the directions in the container. Another option is to replace beaten egg whites with whipped topping.
Even so, these desserts still have fewer chemically altered ingredients and/or artificial additives than similar commercial products. As mentioned above, they can be made in plastic cups for portability and preserved by freezing. Although they may take a bit of time to make, they're far more wallet friendly than the Ice Cream Truck treats, and best of all they don't drip!
Raspberry Fool-Serves 4
There is a debate that the name Fool is an English mispronunciation of the French verb Fouler meaning "to press" because fruit is pressed to make it. Originally associated with gooseberries, it is now made with a wide variety of berries.
10 ½ oz. raspberries + a few for garnish–strawberries or a mixture of other berries work too
¼ cup + 1 Tbs. sugar
½ cup mascarpone or ricotta cheese—optionally, plain Greek yogurt can also be used
1 tsp. vanilla
1 egg white
Crush the berries slightly and heat with 1 Tbs. sugar for about 5 min. until berries soften. Cool. Whisk or beat cheese and vanilla. Separately whisk or beat egg until soft peaks form, add sugar and continue beating into stiff, glossy peaks Add egg mix to cheese one and fold in berries. Spoon into 4 serving dishes, garnish with extra berries and chill at least 1 hour.
Syllabub — Serves 4
Syllabub was a particular favorite of George Washington's. Truly designed for hot weather it was ladled from a bowl and consumed from special glasses, still available online. They had spouts extending from the base through which to sip the cream as it melted. A regular glass and straw work as well. Today it can be made in individual servings, well chilled or frozen and served with spoons and/or straws.
Recipe I –A simple everyday version
11/2 cups heavy cream
Juice + zest from 1 lemon
2 Tbs. cream sherry
½ tsp. vanilla
¼ cup sugar
Allow lemon juice, zest, sugar, vanilla and sherry to marinate overnight. Whip cream, then add other ingredients. Whisk or beat to blend well. Pour into glasses and chill well.
Recipe II – The more traditional from epicurious.com Double or triple for a crowd.
6 Tbs. sweet dessert wine—Port, Sherry or other wines
6 Tbs. sugar
1 Tbs. Brandy
3 Tbs. fresh lemon juice
1 tsp. lemon zest
Pinch nutmeg
1 cup heavy cream
Fresh berries for garnish
Mix first 6 ingredients and marinate overnight. Whip cream and fold in the other ingredients. Spoon into 4 glasses and chill well. Garnish with berries..
Trifle; Serves 6-8 in recipe I – recipe II serves 4
Trifle is best known as an English dessert. However, they construct it differently with the cake and jam on the bottom, then fruit, custard and whipped cream. In America we repeat the layers.
I never appreciated its refreshing qualities until I attended an afternoon reception one hot July day a few years ago. Normally served from trifle bowls, which look like large wine goblets with flat bottoms, it can also be served chilled, in individual portions Trifle recipes allow for a wide range of summer fruits.
Recipe I
3.5oz. pkg. vanilla pudding and pie filling mix – coconut is an option
1 cup milk
1cup sour cream
1tsp. lemon zest
10 oz. jar fruit preserves or jam
2 cups whipped cream
½ cup sherry – optional
4 cups sliced fruit or small whole berries + a few in reserve for garnish
Make the pudding with the milk and fold in the sour cream. Mix the jam with the sherry, if using and lemon zest. Completely cover the bottom of a flat bottom bowl with 1/3 the cake slices and spread with 1/3 of the jam, then with 1/3 of the fruit. Top with 1/3 of the pudding, then 1/3 of the whipped cream. Repeat layers 2 more times ending with whipped cream. Garnish with reserved fruit and chill well. Spoon into dessert bowls to serve..
Recipe II – Almond Trifles – From Practical Cookery
8 Amaretti cookies
4 Tbs. brandy
1 1/3 cups raspberries
1 ¼ cups custard or vanilla pudding from a mix made according to package directions
1 ¼ cups plain Greek yogurt
1tsp.almond extract
2 tsp. slivered toasted almonds/
1 tsp. unsweetened cocoa powder
Crumble the cookies, sprinkle with the brandy and divide among 4 glasses. Allow to soften 30 min. Cover with a layer of raspberries then a layer of pudding. Top with yogurt mixed with almond extract. Garnish .with cocoa powder and slivered almonds. Chill well.
Tiramisu: Serves 4-6 in loaf form and 4 in individual glasses .
As stated above, Tiramisu is an ancient dish mainly served on feast days, made according to family or community recipes, until the recipe became standardized. It gained huge popularity in the past century.. Since then there have been many versions presented, but basically they remain the same and served in loaf form. Here I offer an "instant" variation as well to be served in individual portions.
Recipe I –This is my own concoction
Easy Go Litely Tiramisu – Loaf Pan 9 inches x 5 inches x 3 inches:
(2) 3oz packages of Ladyfingers = 21 pieces required*
(2) 8oz containers frozen non-dairy whipped topping
(2) 8oz containers of whipped cream cheese Or Mascarpone**
½ cup Cream Sherry – Kahlua, Amoretto, or Rum may also be used***
2 Tbs. sugar dissolved in – –
½ cup triple strength coffee = 3 tsp. instant to ½ cup water microwaved 30 sec.
4 Tbs. unsweetened cocoa powder
Shavings of semi-sweet chocolate about 2 Tbs. curls****
1 envelope unflavored gelatin
Plastic Wrap
Line the loaf pan with plastic wrap leaving several inches of overhang. Separate the ladyfingers lengthwise into 42 pieces. Make coffee syrup of sugar and coffee. Soften the gelatin in ¼ cup of the liquer. Heat the other ¼ cup in the Microwave and combine the two to dissolve the gelatin. If not completely dissolved, return to the Microwave for 5 sec. intervals until it is. Beat the whipped topping, and cream cheese in a large bowl until smooth and fluffy, add the gelatin mix and beat until well incorporated. There are 42 Ladyfinger halves, 18 will be used for the bottom of the pan and to divide the layers. Line the pan bottom with 9 ladyfinger halves. Stand the remaining 24 upright to line the sides of the pan using 4 on each end and 8 along each side. Reserve 9. Brush half the coffee syrup over the ladyfingers on the bottom of the pan, then fill the pan half way with the cheese filling, and sprinkle it with 2 Tbs. of the cocoa powder. Next, place the reserved 9 ladyfingers in the pan, brush with the coffee syrup and sprinkle the other 2 Tbs. of cocoa powder over them. Fill the pan with as much filling as will fit leaving only the tips of the ladyfingers exposed. Chill for several hours until firm, then using the plastic wrap edges, carefully remove from the pan to a plate. Do not invert. Remove the plastic. Cover with chocolate shavings.
*Cut up, purchased, lightly toasted pound cake can be used in place of the ladyfingers, but the dessert is heavier and left-overs can become soggy
.**Italian Mascarpone Cheese is the correct way to make Tiramisu, but it isn't always available.
If you can get it, wonderful, but if you can't soft cream cheese will do.
*** Almond or Rum extract can be used in place of the liqueur – 1 to 2 tsp. or to taste. Dissolve the gelatin in ½ cup water.
**** To make chocolate shavings, run a vegetable peeler along the side of a piece of chocolate. A thick piece is best, but even a candy bar piece will do.
Note: There may be some of the filling leftover. It keeps, chilled, for 2 weeks or more, and freezes. It's a great topping for fresh fruit, cake, or pie.
Recipe II- From Practical Cookery
Quick Tiramisu
1 cup mascarpone or full fat ricotta
1 cup vanilla pudding—made from a pie filling mix = half a 3.5 oz. pkg.
2 Tbs. plain Greek yogurt
2 Tbs. sugar
1 egg white
2 Tbs. rum
2Tbs. strong coffee
2 Tbs. grated semi-sweet chocolate
8 ladyfingers or toasted ½ inch slices pound cake
Mix pudding, yogurt and cheese until well blended. Beat egg with sugar into stiff peaks. Fold into cheese mixture. Divide half this mixture into 4 glasses. Combine rum and coffee in a dish. Dip the ladyfingers or cake into the liquid, break into smaller pieces and divide among the glasses. Stir remaining coffee mixture into remaining cheese mix, and divides among glasses. Garnish with chocolate. Chill well.