SIMPLE RECIPES THAT MAKE SPRING PRODUCE SHINE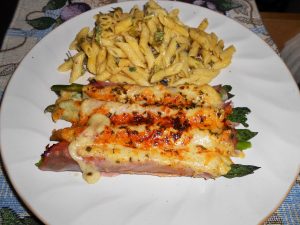 As a foodie, living in Italy, I loved watching the delight with which Italians greeted fresh produce every season. The arrival was treated as a news item and considered a topic for discussion from boardroom to bus stop. I remember a bleak March day when I was caught in a sudden downpour and hailed a cab. The driver sympathized with my sodden state, but immediately remarked that the rain was good for the crops and began to rave about the green beans his wife grew on the balcony railing of their city apartment.
Then there was a sunny day in late April; I had been invited for luncheon and the races, but when I opened my door, there were my friends, arms full of grocery bags, wearing huge grins exclaiming; "The Peas are in!" as if it were a holiday greeting. Enroute to my apartment, they passed a greengrocer's and a sign in the window changed the day. They bought the ingredients for a traditional meal, Peas and Ham (recipe below) at nearby stores. We set to work shelling, prepping and cooking; then spent hours savoring the meal and the company, just like a holiday feast. After all, the peas were in, weren't they?
The point is you don't have to be a farmer, chef or gourmet to appreciate seasonal produce, especially in spring. It's young and hasn't had time to become damaged so it doesn't require much prepping. It's crisp tender and doesn't need long cooking, if any, and the taste is fresh and bright, with a subtle appeal to our taste buds after the full flavors of winter, even for children. What's not to like?
The recipes below illustrate the appeal of spring produce. They are simple, yet different enough to be elegant, showcasing, not exotic items, but everyday ones. Items we may eat all year, transported or frozen, but prepared in these ways, they take on a new life. Using fresh produce makes a world of difference. Give it a try!
Peas with Ham: (Serves 4)
2 lb. peas—the tiny springs ones, fresh are best
2 cups ham in ½ inch cubes OR 8 oz. cubed, sliced Deli ham
4 cloves garlic
2 Tbs. oil
½ Tbs. butter
Water
Salt and pepper
Grated or shaved Parmesan for garnish.
Heat the oil in a skillet large and deep enough to hold all the ingredients. Saute the garlic cloves until brown but not burnt and remove. Turn the ham over in the pan to coat and warm a bit, then add the peas and stir to coat, adding a bit of water to prevent sticking to the pan. Cover and cook for 5-8 min. until the peas are just tender. Serve at once with cheese garnish. Be sure there's some good, crusty bread on the side.
Asparagus with Ham Bechamel Serves 4
1 lb. fresh asparagus spears- if using slender young ones allow about 12 per portion-gage according to size of stalks
1 lb. deli sliced ham – allow 4 slices per portion.
2 cups milk
4 Tbs. butter
4 Tbs. flour
salt and pepper
½ cup shredded sharp cheese
Paprika and parsley for garnish
Break off the woody part of the stems and put the spears in a microwave proof dish in one layer, if possible, no more than two, or cook in batches. Microwave on high 3 to 9 min. depending on the thickness of the stems. If saucing, shock spears with cold water.
Make a Bechamel or white sauce by melting the butter until it foams, remove from heat, stir in flour to make a smooth paste and quickly add milk. Stir over medium heat until sauce is silky and thick. Do not allow to boil. Season.
Separate the asparagus into 16 equal portions. Wrap each in a slice of ham. Place seam side down in an oven proof dish. Cover with the sauce, sprinkle with cheese and garnish with paprika and parsley. Bake in a preheated 350 deg. For 15 to 20 min. until cheese melts and sauce bubbles.
NOTE: To marinate asparagus put drained, warm spears on a serving plate, pour marinade over and allow to infuse as the asparagus cools, then refrigerate or serve.
For Marinating: Vinaigrette of choice is best
French Onion Tart: Serves 4-6
Crust
1 cup flour
½ tsp. salt
¼ cup butter in small pieces
1 egg
2 Tbs. cold water
Filling
6 medium onions cut into thin rings – or equivalent amount of spring onions
3 Tbs. butter
3egg yolks
Salt and freshly ground pepper
2/3 cup heavy cream
Dash nutmeg
Blend the flour, butter and salt in a bowl. Stir in egg and water with a fork until well mixed and form
pastry into a ball. Wrap in plastic wrap and chill 1 hr. Rollout and place in an 8 inch pie tin or flan pan.
Sautee onions in butter until well coated and beginning to soften. Cover and cook over medium-low for 30 min. stirring occasionally. Add salt pepper and nutmeg. Whisk eggs and cream and add to onions, then pour mixture into the pie shell. Bake at 400 deg. 30 min. Serve hot.
Italian Onion Tart: Serves 4-6
Crust
(1) 8 inch partially cooked pie shell, or(1) 10 inch pizza round on a flat baking sheet
Filling
2 lb. diced onions- spring ones preferably
4 Tbs. olive oil
Pinch of ground cloves
2 cloves garlic
Salt and pepper
Herb bouquet=1/2 bay leaf, ¼ tsp. thyme, 5 parsley sprigs- tied in a piece of cloth*
8 anchovy fillets
16 black, pitted, oil cured Greek olives- halved
1 Tbs. olive oil
Cook the onions slowly in the oil with the garlic, herbs and salt until tender, about 45 min. Remove the garlic and herbs and add the pepper and cloves. Test taste and adjust. Arrange cooked onions in pie shell or on pizza round. Place the anchovies in a sunburst pattern on top and sprinkle the olives decoratively between. Drizzle with oil. Bake in upper 1/3 of a preheated 400 deg. oven for 12-15 min. until bubbly. Serve at once.
Hot Boiled Dressing
This dressing is an old, favorite family recipe. It's wonderful cold in place of mayonnaise for sandwiches and salads like potato, chicken, tuna and salmon. Hot it gives a new dimension to spinach and, if you can get them, dandelions. Young spring spinach is best but the "baby" found pre-packed in bags all year is acceptable. Just make sure all greens are well washed and the hard part of the stems is snapped off. Either salad can be garnished with crumbled bacon. Used cold with the addition of quartered hard boiled eggs it can make a meal of the spinach version.
Recipe: Makes about 2 cups
3 Tbs. sugar
½ tsp. dry mustard
1/8 tsp. paprika
1 Tbs. flour
1 tsp. salt
1 Tbs. butter
½ cup cider vinegar
½ cup water
2 eggs – well beaten
Using the top of a Bain Marie or double boiler, whisk together the first 5 ingredients. Whisk in the next 3 and place top pot over bottom in which the required amount of water is boiling. Cook, constantly stirring, until smooth and butter is melted. Pour a little into the beaten eggs, stirring to prevent curdling, pour the rest of the hot liquid into the eggs. Then return the mixture to the top of the double boiler and cook constantly stirring until mixture is thick and smooth.
Serve hot over chosen cleaned greens. Do not use over lettuces. All greens will wilt with the heat and lettuces don't stand up well.
NOTE: Chill leftover and use as mayonnaise or a salad dressing.
Spring Spinach Salad: Serves 6-8—depending on size of bag OR
7-12 oz. fresh, spring spinach
4-6 red radishes= 1 per serving
¼ cup toasted, chopped walnuts
4-5 fresh strawberries per serving – halved if large
½ cup crumbled feta cheese—optional for garnish
Vinaigrette dressing of choice—Raspberry suggested
Wash greens snap off hard stems, wash and hull berries, wash and thinly slice radishes, discarding greens. Chill all ingredients, in water if necessary. Drain and divide the spinach among plates, scatter radish slices, then berries, nuts and cheese over. Drizzle with dressing