ALL ABOUT SEAFOOD – How to Choose and Use Fish, Shellfish and Crustations
A look at all types of seafood and the uses for each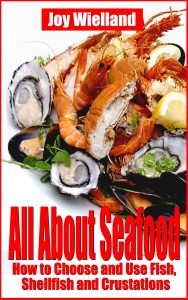 In this book you will find:
· General rules concerning fish
· Safe handling of all seafood
· Fish separated into types and suggested recipe substitutions
· Listings of fresh water and saltwater varieties
· Definition of and descriptions of types of shell fish
· Definition of and descriptions of types of Crustations
· A look at canned seafood
· Recipe examples for use of each type of seafood
As seafood becomes increasingly valued as a healthy food source, and thanks to the growth of aqua farming and improved air transport, ever more varieties are available to and being consumed by an increasing number of people. Questions naturally arise concerning the buying, prepping, storing, and cooking of all the different types of seafood, and actually as to the types and classifications of the items themselves. This book helps to answer many of those questions by explaining the general rules for safe handling fish and other forms of seafood; cleaning, skinning, shelling or shucking; including how to keep them until cooking. There are definitions of each classification of seafood in general and descriptions of the members of each category and more specifically of species within each item listed. There are guidelines as to proportions to buy, and suggestions as to substitutions within species. There is even a section on the serving of canned fish Also included are recipe examples of the uses of different kinds of seafood, including several selections for the canned ones.
Own this Comprehensive Report for