SAVE SOME ZUCCHINI FOR WINTER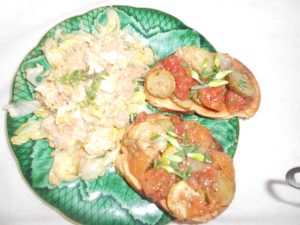 At the end of summer we're often so focused on the luscious stone fruits, peaches, plums, etc., the big, ripe tomatoes and the sweet yellow corn that we tend to take another currently plentiful produce item for granted-the zucchini, which may be most versatile 'vegetable' of all. (Zucchini is actually a fruit, specifically a berry.) It has an interesting history too.
Zucchini is not Italian, but like all squash, native to the Americas. It was brought to Europe centuries ago along with its cousin the yellow squash. Together they were called 'summer squash'; a name still used for the yellow ones. The Northern Italians, especially the Milanese and Tuscans developed the green squash into the product as we now know it, as well as a golden version, and gave it its present name, which is generally universal, though in England it's called a 'Marrow' and in France a 'Courgette'. Zucchini's easy cultivation and adaptability to other ingredients led to its quick inclusion in ethnic cuisines as far East as Turkey.
It didn't return to the U.S. until the late 19thcentury and remained relatively unnoticed until we began our culinary expansion in the 1970s. Now it's hard to find a cookbook without several listings and, like cantaloupe, a cultivated, cosmetic, version is available all year at a stable price. It's so versatile that it can be found in dishes for every meal in everything from bruschetta starters, to entrees, to baked goods. For this reason, I'm not going to include a long list of recipes for zucchini but rather deal with how to use it and/or preserve it especially the farm produced local crops.
Zucchini is very prolific and there's often a surplus at the end of the season, even for back-yard gardeners. One partial solution, I'm told, is to eat the flowers before they mature. These are delicious prepared stuffed or fried in recipes readily available especially on the web, but usually there is still over abundance at this time of year.
Due to high water content, zucchini doesn't freeze well, even by commercial flash-freezing. Whole it deflates when thawed and slices clump in freezing. So how does one avoid wasting the extra? I've had some success for short periods, freezing thick slices on a cookie sheet before bagging them or freezing it in a sauced dish like ratatouille. However, one of the best ways to preserve zucchini is to accept the fact that it's going to change texture, become limp and combine it, with other ingredients, into a 'base', which will keep for several months, for future dishes. Food Tips and Cooking Tricks by David Joachim has an excellent recipe for such a base and ideas on how to use it but, of course, once made, you can use it as you please.
Zucchini Base; Yield 8 cups
5 lbs. zucchini –shredded*
1 onion -finely chopped
1 garlic clove- minced
2 Tbs. oil
Saute onion and garlic in oil until softened. Add zucchini and stir until soft. Cool drain most of the moisture by squeezing in a towel or pressing in a colander. Freeze in desired sized containers with firm lids.
* To shred, use a food processor or the large teeth of a hand grater, but avoid the seedy core.
USES: Add salt and pepper as desired to all the below
Chilled Zucchini Soup: 4 servings
1 chopped onion
1 minced garlic clove
2 Tbs. butter
2 tsp. curry powder
1 tsp. coriander
1/8 tsp. red pepper
3 ½ cups base
3 ½ cups chicken or vegetable broth
1cup plain yogurt
¼ cup chopped toasted walnuts
Saute the onion and garlic in the butter until soft. Add the base, seasonings and broth. Simmer 10 min. Add the yogurt and chill. Puree if desired and serve garnished with walnuts.
Hot Zucchini Soup: Serves 4
Follow the directions for the chilled soup omitting the coriander, reducing the curry powder to 1 tsp., changing the yogurt to light cream and optionally choosing beef broth. The addition of left-over meat is welcome as are cooked pasta, diced potatoes or rice.
Primavera Sauce: Serves 4
1lb. shaped pasta
Follow the directions for the soups, slicing the onion and substituting oil for the butter. Omit the seasonings and add 3 medium chopped tomatoes and 2 Tbs. chopped fresh basil with the base. Cook 2 min. and serve over cooked pasta garnished with ¼ cup grated Parmesan cheese and pass extra cheese.
Stuffed Eggplant: Serves 4
2 eggplants -split lengthwise, seeds removed and most of the meat scooped out and diced
Follow the directions for the sauce, mix it with the diced eggplant and use it to stuff the eggplant shells. Top with the cheese and bake on a sheet in a preheated 350 deg. oven until tender, about 30 min. Serve at once.
Another way to reduce a zucchini surplus is to cook it into baked goods. There are recipes for zucchini bread, muffins and cakes everywhere. Once baked, these items can be frozen and enjoyed months later. Chocolate Zucchini Bread is a real treat in winter. Just add ½ cup unsweetened cocoa powder to the flour and stir ½ cup mini chocolate chips in with the zucchini to convert any bread recipe. For more great sweet zucchini recipes see The Moosewood Restaurant New Classic Cookbook.
Of course, zucchini is best fresh. If confronted with a quantity, it keeps only a few days at room temperature but over a week refrigerated. There are several ways to prepare it which require larger amounts per serving. One is to grill it because it shrinks over the fire.
Stuffed Zucchini: Serves 4
Follow the above recipe substituting 4 zucchini for the eggplant. Simply remove the seeds, stuff with ground meat and cook in the preheated 350 deg. oven for 20 min. for beef, 30min. for other meats, topping with the cheese halfway through. Serve hot with tomato sauce on the side.
Grilled Zucchini: Allow double the amount per portion. This serves 3-4
Cut in thick slabs and marinate in Italian vinaigrette for about an hour. Alternately for 1 ½ lbs. zucchini mix ½ cup salad oil, ½ tsp. garlic powder and ½ tsp. dried basil, plus salt and pepper to taste for the marinade. Grill about 2-3 min. per side until slightly charred.
Roasting zucchini also shrinks it so a larger amount is required per portion. For 1 ½ -2 lb. Toss with 2 Tbs. oil, pinch each garlic powder, crushed fennel seeds (optional) dried basil and dried oregano, salt and pepper to taste. Roast on a sheet in a 400 deg. oven 25-30 min. until vegetables are tender and browned. Serve with Parmesan curls or crumbled Feta.
Fried Zucchini is a great way to use extra zucchini. Allow 1 ½ to 2 per person. Cut the zucchini lengthwise and remove seeds. Cut across into 4 quarters and Julianne each into 3 pieces. Drain on towels for 1 hr. then dredge in flour, shake off excess and lay pieces out on a cookie sheet. Freeze slightly to firm, about 20 min. Heat about 3 inches oil in an open pot and fry zucchini in batches until brown. Drain on paper towels and salt lightly. This works best in an open pot, not a 'fryer' but be careful adding the cold zucchini as the oil will sputter.
Baked Zucchini Sticks are an easier option to frying. Cut zucchini as above but only into 8 pieces. For 3 medium zucchini, dip into 3 lightly beaten egg whites mixed with ½ tsp. water then roll in a mixture of ½ cup flour, ½ cup grated Parmesan. ½ cup breadcrumbs, ½ tsp. garlic powder and ¼ tsp. salt. Place on a cookie sheet and bake in a preheated 375 deg. oven for 20 min. until golden. Serve at once. Makes 24.
Microwaving zucchini is my favorite method to cook it for everyday eating. It's so easy to slice one, add a quarter of an onion sliced, a drizzle of oil, pinch of garlic powder, salt, pepper and herb(s) of choice, basil, oregano, rosemary, fennel ,and nuke it for 3-5 min. until crisp tender. Topped with Parmesan, it's a great vegetable side, but it's also good on toast as a snack or sandwich.
The addition of tomatoes and, optionally, peppers turns it into an instant ratatouille, which is not only a good side, or sandwich filling but makes excellent bedding for fish. Simply spread it in the bottom of a dish, place the fish on top and bake or broil until cooked. Yum!
The added advantage, when made with canned diced tomatoes, is that this concoction freezes for about a month and can be perked up with the addition of cooked cut green beans, mushrooms or spinach to serve at a later date. The addition of rice and sausage, leftover ham or hot dog slices turns it into a quick dinner casserole. It's a way both of using up fresh zucchini, and also preserving surplus.
So if you see zucchini sales in the market, pass a farm stand with a sign, or are a backyard gardener coping with a big crop, don't worry. There are ways to take advantage of the sale prices and/or excess without wasting it and you'll be glad you did. As ordinary as the taste may seem to us now, I can guarantee it will be a welcome change in January.