Relish End-Of-Season Stone Fruits Cooked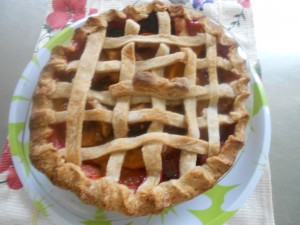 A couple of weeks ago I wrote about enjoying stone fruits, cherries, apricots, peaches, plums etc. in the late summer. I'm a big fan of produce, but I admit these products are my favorites. I hate to see their season end, especially because they're not among the mass imports that fill our markets all year. I want to relish the season until the very last minute.
Fortunately, stone fruits let their admirers do this because they seem to gain a second life when cooked. The wrinkled, slightly bruised older fruit; the ones too late to ripen before frost, can still shine with taste when baked.
I'm going to cut the discussion short this week, because I want to give you several recipes for extending the stone fruit season into the fall by cooking the last of the crops. Join me in taking advantage of them and enjoying these fruits down to the last drop—er—slice.
Fruit Pie: Serves 8-10
For Filling:
1 ½ lbs. fruit pitted, peeled if needed and sliced if needed
1 tsp. cinnamon (optional)
½ cup sugar
2 Tbs. cornstarch
1 tsp. butter
¼ cup dried fruit, raisons or craisins – (optional) plumped in ½ cup water in the microwave in high for 30 sec. and drained.
When dough is ready, toss all the above ingredients gently and fill pie shell.
For Crust- * (Option –purchase a refrigerated pie crust)
1¼ cups flour
¼ cup sugar
¼ tsp. cinnamon –optional
½ cup shortening – – this can be Crisco, butter or margarine
4 Tbs. ICE water
Place all the dry ingredients in a bowl and stir well. Using the blades of two knives, mix cut cubes of the shortening into the dry ingredients until clumps are the size of small peas, or use your fingers to blend the mix until it resembles gravel. Add ice water 3 Tbs. at first and then the 4th, if needed, turning constantly with your hands, until dough forms a ball. It should be as moist as modeling clay, but the less handling the flakier the crust. Chill wrapped in plastic, or simply put the bowl in the fridge while you do the rest. When ready, roll on a floured board to a
12" round, put the rolled crust into an 8 or 9 inch pie pan. Add filling. Trim edges from around
pie pan leaving a 1 inch margin. Re-roll the trimmings cut in 1-2 inch wide strips to form a lattice top by placing alternately over the top
Preheat oven to 400 degrees, bake 10 min. then reduce heat to 350 degrees and continue baking until golden and bubbly.
*Option—To use a refrigerated pie crust, dust with powdered sugar and roll to 12" round. If rolling is not required, dust with 1 Tbs. powdered sugar and ¼ tsp. cinnamon, before adding fruit..
Peach Crisp Serves 4
6-8 peaches-peeled and sliced 1 cup brown sugar
¼ cup juice or water 1 tsp. cinnamon
1 Tbs. lemon juice ½ cup butter – melted
1 cup flour OR ½ cup mixed with 1/3 cup chopped walnuts (optional)
½ cup rolled oats (not instant) Confectioner's sugar
Mix first three ingredients. Divide among 4 ovenproof crocks. Toss all the other ingredients, except the confectioner's sugar, until coarse crumbs form. Spread the crumbs evenly over the tops of the peaches and bake in a 376 degree oven about 30 min until peaches are tender and top is golden. Dust with Confectioner's sugar. Serve warm with whipped cream topping.
*Crisps can be made from any fruit, even rhubarb is an option, just regulate the amount of added liquid according to the juiciness of the fruit. They shouldn't be runny. Recipe can be doubled and made in an ovenproof dish.
Peach Pandowdy* Recipe Pre 1890 (Serves 4)
1qt peaches peeled (3 cups sliced) 2 cups milk
2 cups flour 1 cup butter melted
¼ tsp. salt 1/.2 cup sugar
Melt the butter and use some to grease the crocks. Cut the peaches about ½ inch thick slices. Mix sugar, salt and flour and gradually add milk to make a smooth batter. Add the remaining butter and peaches. Pour into 4ovenproof crocks and bake in a preheated 350 degree oven30-45 min until brown. Serve warm.
Plum Pandowdy* Recipe After 1890 (Serves 4)
4 cups stoned and halved plums 1 cup flour
6 Tbs. brown sugar 2 tsp. baking powder
1 tsp. lemon zest ¼ tsp. salt
½ tsp. nutmeg 2 Tbs. sugar
½ tsp. lemon juice 6 Tbs. milk
½ tsp. vanilla ¼ cup butter
Sugar for topping Cinnamon for topping
Grease 4 crocks. Prepare the first 6 ingredients in column I as if for the Cobbler, by stirring them in a bowl, and then dividing them equally between the crocks Whisk the dry ingredients in column II, then cut in the butter until it resembles peas. Last stir in the milk until well blended. Kneed the dough slightly on a floured board, separate it into balls and pat each into a circle that will just fit inside the top of a crock. Lay the dough rounds on the crocks, but do not attach to the
crock edges. Sprinkle the dough circles with the extra sugar and cinnamon. Bake in a preheated 375 degree oven about 30-40 min until top is golden and filling bubbles up all around and slightly over it. Cool 20 min. Serve with cream.
*Pandowdeys do well with apples, pears and all stone fruit—no berries. In the first version ¼ cup juice may be added to apples. Pre made buttermilk biscuits can be used in version II, just use confectioner's sugar, instead of flour, on the board used to pat them out. Rhubarb is also an option in this version.
Cherry Cobbler* Serves 4
3 cups pitted cherries (11/2lbs) ¼ cup buttermilk (or milk)
21/2 Tbs. sugar 2 Tbs. sugar
½ Tbs. honey 1 tsp. baking soda
¼ tsp. vanilla 2 Tbs. butter – melted
½ tsp. lemon juice 1 cup + 2 Tbs. flour OR
1 Tbs. flour ½ cup flour+1 Tbs. and ½ cup ground almonds
1/8 tsp. salt 1/8 tsp. almond extract
Grease 4 crocks. Heat oven to 400 degrees. Stir together first 5 ingredients, then stir in flour and salt. Divide among crocks and bake10 min. Remove from oven and reduce temperature to350 degrees. Mix the remaining dry ingredients. Stir in the butter to form crumbs. Stir in buttermilk and extract until combined. Drop batter by spoonfulls in a cobblestone pattern over the fruit. Bake 25-30 min until browned and bubbly. Let stand 30 min. Serve warm.
*Cobblers are good with berries and the juicier pitted fruits, just adjust spices for flavorings. Again recipe can be doubled and baked in a 9×13 dish.
Fruit Buckle* Serves 4
¼ cup butter-room temperature ½ tsp. salt
½ cup sugar ¼ cup milk
½ egg 1 cup peeled, sliced fruit or halved cherries
½ tsp. vanilla ¼ tsp. cinnamon
¾ cups flour ¼ tsp. nutmeg
½ tsp. baking powder
Preheat oven to 350 degrees. Grease 4 crocks. Cream ½ the butter with ½ the sugar. Blend in egg and vanilla. Stir together ½ cup flour, baking powder and salt then add alternately
to the egg mixture with the milk Divide batter among crocks, top with fruit. In a small bowl
combine remaining sugar, flour, and spices. Cut in the remaining butter until it looks like coarse crumbs. Sprinkle over the top of the fruit in the crocks. Bake for 35 min. Serve with whipped cream or ice cream.
* Can be doubled and baked in a 9 inch square pan.
** Excellent with 1 cup berries in place of stone fruit.
Crumble Cake Serves 10-12
This was a popular recipe during the 1980s and somehow lost during the '90s
2 cans pie filling—of choice*
1 box cake mix—to fit the above choice
½ cup butter – melted
1 tsp. ground cinnamon
2 Tbs. sugar
Preheat oven to 350degrees. Pour pie filling into a 9×13 inch pan. Sprinkle cake mix over. Drizzle with melted butter. Top with sprinkled sugar and cinnamon. DO NOT STIR. Bake for 30 min or until light brown Serve warm or cold, topped with ice cream or whipped topping.
*To Use fresh fruit see the directions for pie filling above. Place the fruit and all other ingredients except cornstarch is a sauce pan with ¼ cup water or juice. Gently cook until fruits release their juice, add the cornstarch and stir until thickened, about 3 min. Cool and follow directions for this recipe.
Brown Betty* Serves 4
3 cups soft breadcrumbs (sourdough is good)
6 Tbs. butter – melted
¾ cup + 2 Tbs. sugar-divided
¼ tsp. ground nutmeg
¼ tsp. salt
2 tsp. zested lemon peel
6 cups thickly sliced fresh fruit.
Butter crocks. In a bowl whisk together bread crumbs, butter, 3 Tbs. sugar and nutmeg until mixture is very moist. In another bowl stir together the fruit, lemon peel, salt and the rest of the ¾ cup sugar .Divide 1/3 of the crumb mix between 4 ovenproof crocks, top with half the berry mix. Repeat the layers ending with the crumbs. Sprinkle with the 2 Tbs. sugar. Bake in a preheated 375 degree oven @ 40 – 45 mins. until toping is golden and filling bubbles. Allow to stand at least 30mins. Serve at room temperature with ice cream, or cream if desired.
*Any fruit can be substituted in equal quantity for the berries. Dryer ones, like apples, may need ¼ cup of liquid to make sufficient juice. Substitute, or add appropriate spices
Recipe may be doubled and cooked in a casserole Serves 6-8
Clafouti Serves 6-8
3 cups pitted, peeled and sliced if necessary fruit
11/4 cups milk
1/3 cup sugar
3 eggs
1 Tbs. vanilla
1/6 tsp. salt
2/3 cup sifted flour
½ cup sugar
Powdered sugar
Blend all the ingredients except fruit for 1 min and pour a thin ¼ inch layer of batter into a 7 or 8 cup baking dish. Place dish in a preheated 350 deg. oven for a couple of minutes until batter sets. Spread fruit over the baked layer, sprinkle with the ½ cup sugar and pour the rest of the batter over all, smoothing with the back of a spoon. Bake for about 30 min until puffed and golden and a knife plunged in the center comes out clean. Serve warm, garnished with powdered sugar. This is a great winter dessert made with canned or thawed frozen fruit.