RED, WHITE AND BLUE July 4TH DESSERTS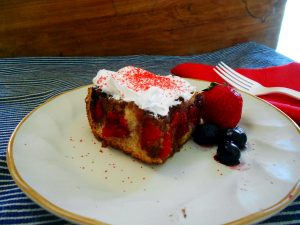 America's three national, patriotic, summer holidays all prominently display the flag, but only on the Fourth of July is the red, white and blue festively draped everywhere. That includes everything from clothing to decorations, especially table decorations, to the actual food served. Of course it's pretty hard to plan an entrée in those colors. The red and white are easy, but a blue item is a tough one. On the other hand, devising a red, white and blue dessert is easy.
Magazines and T.V. shows are filled with recipe ideas for brightly colored sweet treats. The white frosted, berry decorated 'Flag Cake' always makes an appearance, as do colored ice creams and ices but you don't have to depend on searching for recipes. It's simple to convert many of your favorite desserts into suitable holiday offerings.
To illustrate my point, I'm changing some of the desserts I offered in my post on Father's Day Desserts, 6/15/17 and then adding a few more to show that getting the color scheme right is just a matter of choosing the right ingredients. I have several dessert posts on the Home Page panorama as well. Just click on the photos there, such as 5/12/16, or search the Archives for suitable posts.
RECIPES
Lilly's Ice Cream Cake: Serves 8-10 Our family favorite is spice cake, with coffee ice cream and caramel sauce but many flavor combinations will work. For July 4th I suggest vanilla Ice cream and red or blue velvet cake**with a sauce of strawberries or blueberries*See NOTE below.
(1) 2 1/2 quart freezer proof mold or large round, deep mixing bowl
Layer pans, tube pan or sheet cake pan to bake the cake
1 box of cake mix, cooked according to directions, cooled and removed from the pan(s)
½ gal—Or 1.5 qt. container ice cream.
1 pt. strawberries or blueberries for sauce
Bake the cake according to box directions, remove from pans and cool.
Soften ice cream to consistency of whipped topping.
Rinse bowl or mold with water and shake out excess but do not dry. The film of water freezes and forms a protective coating on the container that makes it easier to unmold the finished dessert.
Smear a dollop of softened ice cream over the bottom of the mold. If it has a decorative top be sure to fill it all in. Then begin to fit chunks of the cake into the mold in layers. Be sure to separate the layers of cake, the pieces of cake in the layers and the cake pieces from the sides of the mold with enough ice cream that they don't stick together or become exposed when the dessert is unmolded.
Also, have a thick enough layer of ice cream on the bottom of the mold to form a firm base when plated for serving. Both cake and ice cream should be used up.
Freeze the mold for several hours or overnight.
Remove from freezer and dip the mold in a larger bowl, or pan, of hot water, for the count of ten (10). Cover the bottom with a serving plate and invert to unmold.
Serve at once or store in the freezer until needed.
Pass appropriate fruit sauce on the side.
*NOTE: To make a strawberry sauce, slice the berries, sprinkle with sugar and allow to sit for 20-40 min. Store chilled. For blueberries, sprinkle with sugar, add 2 Tbs. water and simmer over medium low heat until berries begin to break apart. Cool and store chilled.
** Red Velvet cake is available in mix form. Some recipes for Blue Velvet cake are:
1) If your Red Velvet Cake recipe calls for 2 oz. of Red food coloring, you would substitute 1 ounce Royal Blue gel paste food color, PLUS 2 drops violet gel paste food color. This will give you the proper color for a Blue Velvet Cake.
2) Really simple Velvet cake (use any color(s) you prefer)
using boxed white cake mix and chocolate pudding mix:
–1 (18.25 ounce/517 g) package white cake mix
–1 (3.5 ounce/99 g) package non-instant chocolate pudding mix
Directions
–Preheat oven to 350* F (175* C).
–Prepare cake according to package directions, substituting half of the water called for with buttermilk (approximately 1/2 cup/118 cm).
–Stir in pudding mix and food coloring.
–Pour into cake pan(s) and bake according to package directions.
3) Velvet cakes are the same, except different food colorings are used. The only thing that sets a "velvet" cake apart from a traditional cake is that it contains buttermilk, food coloring and (typically) a darker chocolate/cocoa powder but it doesn't have to, see recipe#2 above using pudding. If one is out of buttermilk, using a Tbsp. of white vinegar and regular milk will be the same.
NOTE: The easiest option will probably be best here, since the cake is part of the dessert, not the focus.
Summer Berry Pudding – Serves 4-6
2 lbs. mixed berries-strawberries sliced if large
8 oz. raspberries
¾ cup sugar
8 slices white bread
Topping of choice to serve
Cut the crusts off the bread and use it to line the bottom and sides of a 4 ½ cup sized bowl, making sure there are no gaps between slices. Bring the mixed berries and the sugar to a boil, lower heat and simmer for about 8 min stirring once. Spoon the fruit into the lined bowl, add in as much juice as it will hold, making sure some gets around the sides of the bowl. Cover the top of the bowl with the remaining bread and place in a pan to catch juice overflow. Put a plate on top of the bowl and weigh it down with cans. Refrigerate overnight. Puree the 8 oz. raspberries with enough of the remaining berry juice to have a sauce consistency. Strain and chill. When ready to serve, unmold the pudding on a serving plate and pour some sauce over. Garnish with a dollop of topping and offer the rest and the sauce in bowls to add. Cut in slices to serve.
A RUSTICA, or GALETTE, is the easiest type of pie to make. This is a short version of the recipe from my book Dinners with Joy:
If making the crust: mix 1 ½ cups flour, ¼ cup sugar, cut in 1/3 cup shortening, add 3 to 4 Tbs. ICE water to form dough, and roll to a 12 inch round.
If buying the crust: roll only to 10 inches. *
Transfer to a parchment or foil covered cookie sheet, or bake in a pizza pan.
Depending on size, fill the center with a 1 lb. to 1 ½ lb. fruit, leaving a 2 to 3 inch margin. (Apples pears and peaches should be peeled and sliced. Plums can be halved and stoned.)
Dot fruit with ½ Tbs. butter.
Sprinkle with 1 Tbs. cornstarch, 1 Tbs. sugar and ½ tsp. lemon juice.
Carefully fold edges of pastry up around filling, pleating as you go. The edges can be brushed with cream or egg white and sprinkled with sugar as decoration.
Bake at 400 degrees for 30 min. Cool on sheet; preferably on a wire rack.
This can be moved to a plate for serving, but as the name implies, it's a "rustic" or casual pastry. I like to bake it and serve it in a pizza pan.
* Whole berries rend more juice than other fruits sliced. It's advisable to bush the inside of the pie shell with beaten egg to prevent it's becoming soggy. Another and perhaps more decorative solution is to roll the pastry into a rectangle and crimp the corners to make 1inch>1 ½ sides. Then arrange the fruit in rows, top as recommended and bake at 425 deg. for 15-20 min. and 325 deg. for an additional 15-20 min. until crust is golden and fruit bubbles.
FRUIT PIZZA:
Make dough as instructed above, increasing sugar to ½ cup and shortening to 2/3 cup.
If buying; purchase a roll of sugar cookie dough, not pie dough. Roll dough to fit a pizza pan, prick several times with a fork and bake as for cookies, 350 degrees for 10 to 12 min. until lightly browned, or as directions on package state.
Cool completely in pan.
Decoratively arrange raw fruit over the crust. The amount you will need depends on the chosen fruit, roughly about 1 ½ lbs. For July 4th use a combination of strawberries and blueberries. Top with a glaze made from a clear jelly, apple or current, melted with 1 Tbs. water per ¼ cup jelly. For a thicker glaze dissolve ¼ tsp. cornstarch in 1 Tbs. water per ½ cup jelly, which is the amount I use for one of these. Boil until clear and spoon over the fruit. Chill until completely set. To complete the color scheme pass whipped cream, or ice cream.
Strawberry-Blueberry Buckle: Serves 8
½ cup butter or margarine-at room temperature-1/4 cup reserved
1 cup sugar-1/2 cup reserved
1 egg
1 tsp. vanilla
1 ½ cups flour-1/2 cup reserved
1 tsp. baking powder
1 tsp. salt
½ cup milk
1 cup blueberries
1 cup sliced strawberries
½ tsp. cinnamon
½ tsp. nutmeg
Whipped cream or ice cream for topping
Cream non-reserved butter and sugar; blend in egg and vanilla. In a small bowl stir together non-reserved flour, baking powder and salt, Add dry ingredients to creamed mixture alternately with milk and stir to blend. Pour batter into a prepared 9 inch square pan, arrange fruit over top. Combine remaining flour, sugar and spices, cut in butter until mix is crumbs. Scatter the fruit over and bake in a preheated 350 deg. oven 35-45 min. until knife inserted in the center comes out clean. Serve warm or room temperature with topping.
Puff Pastry Tower:
2 sheets of puff pastry – 1 box
(1) 1 pt. strawberries, raspberries, blueberries or a mixture
1 tub whipped topping, 1 can whipped cream or 3 cups vanilla ice cream
Powdered sugar
Cut each puff pastry sheet into 4 equal squares and bake as directed. Cool. Put 2/3 cup of the ice cream or equal proportion of the cream or topping on each of 4 squares. Top with some of the berries, and cover with another square at a tilted angle. Put a small dab of the creams or topping on the upper squares and add the rest of the berries. Garnish with sprinkled powdered sugar.
Wrapper Fruit Cups: Makes 12
24 Wonton Wrappers
2 cups raspberries, blackberries, blueberries or strawberries sliced
2 cups yogurt- vanilla or lemon Or 1 pkg. instant pudding and pie filling – flavor optional*
2 Tbs. melted butter
Cooking oil
Powdered sugar
With a little oil on a paper towel, lightly coat the inside of each muffin cup in two 6 cup pans. Lay one wonton wrapper on a diagonal in each cup and lightly butter it. Butter the remaining 12 wrappers and lay them on top of the first in the cups on an opposite diagonal making sure the points form sides to the cups. Bake in a preheated 350 deg. oven for 10 min. Cool and remove from pan. Mix I cup berries into the yogurt or pudding and spoon into the cups. Top with remaining berries and garnish with sugar. Serve at once.
*To keep with the color scheme of the occasion, pick a white or off-white colored flavor-vanilla or coconut for example.
Finally two old favorites of mine:
Angel Berry Nest: Serves 6-8
3 egg whites
1 cup sugar
1 Tbs. flour
1 Tbs. cornstarch
1 tsp. vanilla or almond flavoring.
2 drops of white or cider vinegar
Beat the egg whites into peaks, adding the vinegar to temper them half way through, then add the
flour and the cornstarch, finally the sugar in 3 parts while beating until stiff glossy peaks form.  Draw an 8 or 9 inch circle on parchment or waxed paper. Put the paper on a cookie sheet and fill the circle, with the beaten whites, using the back of a fork to indent the center and raise the sides to form a nest.  Bake at 250 deg. for 60 min. Leave in oven for 30 min. then cool on a wire rack and store airtight. To serve, fill the center with sliced fresh fruit or berries.
Easy Berry Cake: Serves 4-6
1 purchased pound cake
8 oz. tub of Whipped Topping
1pt. box of strawberries
1pt. box blueberries
Save several nice strawberries and blueberries for decoration. Put the blueberries to the side. Slice the rest of the strawberries and sprinkle with sugar. Allow to rest for a few hours for the juice to extract itself. Just before serving, cut the cake into 3 layers. Spread first with 1/3rd of the whipped topping, spoon ½ the sliced strawberries over it allowing the juice to drip down the sides, sprinkle with some blueberries. Repeat with 2nd layer. Finish with 3rd layer topped with the rest of the whipped topping and the reserved decorative berries arranged over the top.