Praising Braising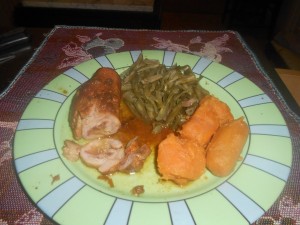 Recently, I've been explaining that I deal with the after effects of holiday eating by temporarily cutting out carb laden marinades, thickened sauces and gravies and fat based methods of cooking. In other words, I stick to plain food and straight forward preparation. Last week I discussed poaching, one of the simplest, healthiest cooking methods, where food is immersed in fluid and slow cooked, allowing it to absorb the flavors of the liquid. Now I want to talk about "braising" which is browning food before cooking in liquid. This adds an extra dimension and depth to the taste. Traditionally, the browning agent is a fat, but it can also be done under a broiler, as illustrated by Chicken Lilly and Braciolini below, or in one of the many types of non-stick pans on the market, eliminating the added cholesterol and calories.
As with poaching, the braising liquid has multiple uses. It can be a simple sauce, as with the meat recipes below, act as a preservative for storing, even freezing or, in the case of the vegetables, strained and re-used.  It isn't just a cooking medium, but a flavor enhancement and useful tool.
It's important that the food be in individual sized pieces for simple braising to work well. Pot Roast, for example is a braised dish, but a whole roast is too large to be oven browned without drying out, or to be handled easily in a non-stick skillet. The traditional deep pot, butter based method is best for this dish. However, a smaller number of servings can be made much faster and easier, with a lower cholesterol count by substituting slices of braised round roast and poaching the vegetables with the meat in broth, adding a touch of Worcestershire or Teriyaki sauce for flavor or roasting them and serving them on the side. Once again, ingenuity and adaptability are key.
Also understood is the fact that more or less browning agent, be it butter, oil, cooking spray or simply the fat content in the meat, will be needed depending on the utensil being used. Metal pans, aluminum, stainless steel  and iron have different temperature ranges and requirements, as do the many different coatings of the non-stick brands.  It's therefore hard to pinpoint the exact amount of the operative ingredient to cite in a recipe. I've adapted to the "lite" side but some non-stick pans may eliminate the need for any. Know how your cookware responds and choose the correct quantities depending on your desired result, be it low-cal or standard-Please!
PORK MADRILEN:  Serves 4
Turkey, veal, even chicken can be substituted for the pork.
(8) ½ inch slices of pork loin or center chops
2 Tbs. butter  and 1 Tbs. oil + more only if needed
(1) 10 oz. can Madrilène
6 oz. Madera – mixed with the Madrilene and ¼ cup reserved
2 Tbs. sugar
¼ cup white vinegar
2 Tbs. cornstarch – dissolved in the ¼ cup reserved liquid — Optional
Starting with 1 Tbs. butter and  1 Tbs. oil adding more of each as needed, melt butter in skillet over medium heat, sauté the pork until brown on both sides @ 5-10 min. Remove chops. Reduce heat to low and dissolve sugar in vinegar in the same skillet. Add Madrilène mix, stir to incorporate. If not intending to thicken sauce, include the ¼ cup reserved liquid. Return pork to pan and simmer covered 15 min or until fully cooked. If a thickened sauce is desired add cornstarch dissolved in the ¼ cup reserved liquid. Stir until sauce bubbles and thickens. Serve  at once with pan juices or sauce.
To Freeze- Cool before thickening and cover in appropriate container. Thaw and reheat, covered, in the microwave at half power about 3 min, or until heated through. Check at minute intervals.
ITALIAN BRACIOLINI: Serves 4 – When browned in a skillet, it can be difficult to turn these over in the pan without spilling the stuffing so I'm offering an oven alternative Still, use a spoon and a spatula to move them to a plate.
8 slices beef Braciolini or sandwich steaks – @ 1 lb.
4 plum tomatoes – skinned, seeded, julienne
2 large ribs celery in thin diagonal slices
1 green bell pepper julienned
1 large onion julienned lengthwise
2 tsp. dried basil
2 tsp. dried oregano
2 tsp. garlic powder
½ tsp. lemon pepper
4 oz. fresh sliced mushrooms
(1) 14 ½ oz. can beef broth
2 Tbs. butter – divided
½ cup white wine – red wine can be used as well
2 tsp. Worcestershire sauce
1 tsp. mustard
Lay the slices of meat on a board, and divide the vegetables except mushrooms, equally between them, placing them in a pile parallel the long side of the braciuole or steaks. Sprinkle the herbs and seasonings evenly over all. Fold the shorter sides over the filling, and roll the longer sides around it. Secure the seams with toothpicks. Preheat broiler. Melt 1 Tbs. butter in an ovenproof pan, carefully roll the topside of each Braciole in the butter, then rest it seam side down in the pan. This will be a close fit toward the end, so temporarily move one out to make room for another, if need be, but make sure all have a coating of butter. Broil until nicely brown, @ 3-5 min. Turn the oven to 350 degrees, add the liquid, cover and bake for 30 min. When meat is almost done, melt the other 1 Tbs. butter in the skillet, and brown mushrooms, deglaze pan with wine, stir in Worcestershire sauce and mustard until well incorporated. Remove pan from oven, plate Braciolini, stir skillet contents into pan drippings and mix well. Pour over meat.  Optionally pass grated Parmesan cheese.
German Rouladen:  Serves 4—Thin slices of pork or turkey scaloppini work for this recipe as well
4 slices sandwich steaks – about 1 lb.
½ slice chopped bacon*(substitute turkey bacon or ham)
½ tsp. mustard
1 small onion chopped
1/8 tsp. paprika
2 Kosher dill spears- quartered lengthwise
2 Tbs. flour
2 Tbs. butter or oil
2 cups beef broth or 1 envelope beef bouillon granules and 2 cups water
1 bay leaf
Mix bacon, onion, mustard, paprika, spread equally among the meat pieces placing them in a pile parallel the long side of the braciuole or steaks. Add 1 pickle spear to each and roll up folding
the shorter sides over the filling, and roll the longer sides around it. Secure the seams with toothpicks, or tie with string. Sprinkle with flour, melt the butter in a deep skillet large enough to hold the rolls in one layer and brown well turning as needed. Add bay leaf and 1 cup liquid. Cover and simmer 1 ½ -2 hours, until tender, adding remainder of liquid as necessary to maintain level. Serve rouladen hot ,pass extra pan juices on the side. NOTE: 1 cup sour cream can be stirred into the pan juices at the end to make a sauce.
*The traditional recipe calls for raw bacon but I prefer it slightly cooked first. The fat rendered can be drained before adding the butter or left in to flavor the beef. I've also had it made with the bacon slice intact, which acts with the pickle to give the beef roll more stability.
CHICKEN LILLY; Serves 4—This chicken should fall off the bone when done, and can be cooked in 2 or 3 sessions. Saute-chill, bake halfway chill and re-heat and finish baking. I give two methods of cooking this recipe; the traditional and a low-fat.
Method One
4 chicken breasts , thighs or mixed – bone in skin on
½ cup flour for dusting
4Tbs. butter
4 stalks celery with leaves on – halved crosswise
2 envelopes chicken bouillon granules
Water
Clean and brine chicken in salted water for 15 min. Rinse well. Pat chicken dry and shake pieces in a plastic bag with flour, shaking off excess so only a light coating remains. Melt butter in a sauté pan and brown chicken on both sides. Place chicken in an oven proof pan. Deglaze skillet with a bit of water and pour over chicken. Add enough water to cover chicken half-way(about 1 1/2inches up the side of the pan). Add bouillon granules to water and top chicken with celery; cover pan with foil and seal. Bake in a preheated 250 deg. oven for 2 hours but can be done at 325 deg. for 1 hour.   Serve chicken hot with celery and pass pan juices on the side
Method Two
Omit flour and reduce butter to 2 tsp.  Drain chicken and broil on a foil covered sheet until both sides are brown. Place chicken in pan, add water and bouillon, dot with butter top with celery, cover  and bake as directed above.
Braised Fennel: Serves 4
2 heads fennel – stalks removed and quartered
1 Tbs. butter
1 Tbs. oil
Enough broth to partially cover
Salt and pepper
Saute the fennel in the butter and oil until golden on one side and slightly translucent about 5 min. Pour over broth, cover pan and simmer until tender about 15- 20 min. Season and serve hot
Braised Endive with Stilton:  Serves 4- This may sound more like a poached dish, but it's considered braised because it incorporates the cheese and browns slightly from the fat.
4 heads Belgian endive – split lengthwise
2 cups broth
1 cup Stilton or Blue cheese
Salt and pepper
Place the endive halves in a shallow dish which holds then in one layer. Season and pour over the broth and bake in a preheated  350 deg. oven for 30 min. Sprinkle with cheese and bake another 30 min. Serve at once.
Here's to starting 2016 right!!!