The Poultry Place – All About the Birds We Serve Both Tame and Game
A book filled with advice about choosing, buying and preparing all types of poultry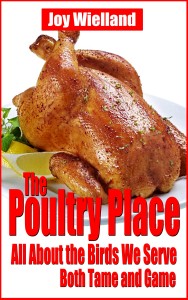 This book tells you:
· About modern hatchery methods to produce both eggs and birds for market
· How to select the best bird
· The facts about Salmonella and how to protect against it
· The differences between Industrial, Free Range and Organic chickens
· The differences between the game birds
· How to prepare all fowl for cooking
· Specific differences in preparing each type of bird for cooking
· Several recipes for each type of fowl.
The Poultry Place discusses modern changes in breeding methods; why we're assured of tender birds and the old "stewing" chicken and the Capon are no longer around. It explains the differences in terms between the generic, brand – name chicken found in the supermarket, free-range and organically raised. There is complete information on Salmonella and how to avoid it. This Salmonella advice extends to a section on the safe-handling and use of eggs, which is often overlooked, as well as another section on valid reasons to clean and brine all poultry. This includes detailed instructions on preparing all types of birds for cooking. Listed are descriptions of all domesticated fowl and the most universal of game birds; along with several recipes for each. Also included are some time and temperature charts for general knowledge and detailed instructions for carving methods as well as serving instructions for each bird. Nothing is left to chance.
Own this Comprehensive Report for