POTATO SALADS THAT LOVE SUMMER'S HEAT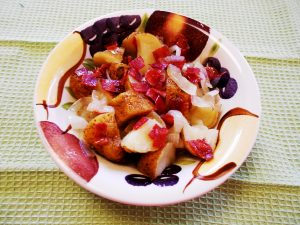 Memorial Day Weekend almost seems to be a double purpose event. Since 9/11, The Day, itself, has become increasingly more revered as a commemoration of those who died in the service of this country but the weekend also marks the official start of summer. To one growing up in a seaside resort town, it was full of excited anticipation and hopes for the season ahead. For those involved in the tourist trade, it offered a last chance to spend time relaxing with family and friends before the busiest time of year.
This welcoming, celebratory attitude isn't restricted to resorts. All over the U.S., patios, decks, outdoor furniture and grills are cleaned and ready for us to begin spending more time outside enjoying the warm weather and longer days. That means it's time to break out the summer menus, most of which usually include a potato salad. For years, this opened the door to concerns about keeping it stable in the heat, but that isn't the case anymore. There are lots of options for potato salads that will stay safe on hot days and, better still, most of the dressings can be used in Cole Slaw and pasta salads as well.
In fact some of these alternative potato salad recipes might be more in sinc with the rest of the menu than the traditional one with mayonnaise dressing. The sweet potato salads are great with chicken, the Tex-Mex version just fits barbequed meats and the German salad is goes well with burgers. The other dressings compliment seafood, cold meats and egg dishes. So why not have some fun and explore all your choices? Below are some general tips on making potato salads, some ideas for alternative ingredients to personalize your creations and two recipes which can be adjusted to any menu.
Suggestions for Making Traditional Potato Salad 'Summer' Safe:
Choose flavorful potatoes like red skins, Yukon Gold and/or fingerlings, not Idaho or Russet potatoes which bake but don't boil well. In fact mixing different type can add taste. To keep all the flavor and nutrition as well as to add color to the salad, don't peel them.
The options for additional ingredients are endless. A few of the most frequent, sliced or chopped, are olives, celery, onions (red ones add color), scallions, cucumber, radishes, peppers( fresh, cooked or jarred), mushrooms, corn, cut green beans, broccoli, peas, green as well as sugar snap and snow peas, baby spinach leaves, zucchini, yellow squash, jicama, a variety of beans and of pasta shapes. Exploring other cuisines opens even more options.
The nutritional values can be changed by substituting a portion of the potatoes for beans, sugar snap peas, snow peas, carrots or cauliflower. The first two vegetables should be quickly blanched and the last two cooked to crisp-tender to render their texture compatible with the potatoes.
The options for the dressings are equally open. They are generally oil based using one of the nut or seed oils such as walnut or olive, and include a vinegar or citrus juice. The flavor is built through adding other condiments like mustard, and/or seasonings such as smoked paprika or curry and seeds like fennel, celery, or poppy. Herbs play a major role too. The favorites are basil, rosemary, oregano and dill. I also like lemon balm. The usual proportion for 4 cups of salad is:
1/3 cup oil
3 Tbs. vinegar of choice or citrus juice or a combination
Salt and pepper to taste
3 Tbs. chopped fresh herbs or 1Tbs. dried
If using:
2 tsp. of a condiment
1 tsp. of a seasoning
2 tsp. of a seed
Cheese can also be an option; Feta, Blue and Parmesan are favorites. A chef I knew created an "Italian" potato salad served on red leaf lettuce, with Parmesan blended into the dressing and leaves of oregano and basil tossed in. The colors of the Italian flag with a taste to match, it was a big success with her clients. The important thing to remember when making the dressing is to blend the ingredients, except fresh herbs and seeds, adding the oil in a stream to create an emulsion. This sets the taste and gives the dressing a creamy smoothness that won't 'break' or separate. Then toss with the potatoes adding the herbs or seeds and allow at least 30 min for the flavors to meld.
Potato Salad with Summer Coleslaw Dressing: Makes 2/3 cup vinaigrette covers 5-6 cups salad Serves 6-8
½ cup oil
2 Tbs. white or white wine vinegar.
3 Tbs. honey
1 tsp. Dijon or brown mustard
1 ½ tsp. celery seed
Salt and pepper to taste
¼ tsp. paprika for garnish
Whisk first 5 ingredients. Add salt and pepper to taste. Chill and allow flavors to meld for at least 30 min. Stir again and pour over cabbage in a bowl. Toss well. Garnish with paprika before serving.
Sweet Potato Salad with Lime: 4 servings
2 lbs. sweet potatoes
1/3 cup fresh lime juice
1 Tbs. minced fresh ginger
1 jalapeno minced
2Tbs. brown sugar
¼ cup oil
Salt to taste
1 Tbs. lime zest
2 Tbs. chopped fresh mint
1/3 cup toasted cashew pieces—OR wasabi coated peanuts roughly chopped
Cut the potatoes in half if necessary to fit in a single layer in a deep skillet with a lid. Add water to depth of ½ inch. Cover and simmer about 15 mins. or until crisp tender—not mushy—check by pricking them. Peel skins off while warm. Blend the next 4 ingredients adding oil in a stream to make a vinaigrette; season with salt to taste. Pour 1/3 of the vinaigrette in a shallow bowl. Diagonally slice potatoes in ½ inch rounds. Put into the serving bowl and drizzle with the rest of the vinaigrette. Toss gently with a rubber spatula or wooden spoon and marinate for 2 hrs. Mix mint and lime zest and gently toss with potatoes just before serving. Garnish with about 1 Tbs. of nuts, and pass the rest on the side.
A simpler rendition of this salad is:
Island Sweet Potato Salad: Serves 6
2 lbs. sweet potatoes, unpeeled
3 Tbs. oil
½ tsp. lime zest
1 Tbs. fresh lime juice
¼ tsp. cayenne pepper
¼ cup chopped cilantro
½ cup cashew pieces
Boil potatoes until crisp tender, then cut in half and into thick slices. Alternatively, slice, toss in 1 Tbs. oil and roast at 400 deg. for 20 min, turning once. Whisk remaining oil, lime zest, juice and cilantro. Gently toss with potatoes. Chill until ready to serve. Serve at room temperature garnished with nuts.
German Potato Salad: Serves 6 *
2 lbs. small potatoes- cut in bite sized pieces and boiled to crisp tender with skins on
1 medium onion – thinly sliced
2 Tbs. oil
4 slices turkey bacon
1 Tbs. cider vinegar or to taste
½ Tbs. sugar or to taste
Drain potatoes. Gently sauté bacon until crisp, remove, drain, crumble and reserve 1 Tbs. Cook onion in oil until soft, then add vinegar and sugar until taste is pleasantly sweet-sour. Add potatoes, non-reserved bacon and toss. Allow to marinate at room temperature for at least 2 hrs. Serve warm in winter or at room temperature during summer, garnished with reserved bacon.
*NOTE: Traditionally this salad is made with regular bacon, preferably a thicker, fattier slicing and the grease is used in place of the oil. This is a healthier, less caloric version which I think works well, but the original is always a tasty choice.
Tex-Mex Potato Salad: Serves 6*
2 lb. red skinned potatoes- cooked to crisp-tender and cut in ½ inch round slices
6 green onions-white and light green parts sliced on an angle
1 small jicama peeled and in small dice
(1) 15 oz. can golden hominy-drained
¾ cup chopped fresh cilantro-divided
½ cup olive oil
6 Tbs. lime juice
3 ½ tsp. dried cumin
3 cloves garlic
2 Tbs. chopped jalapenos- jarred is fine
1 tsp. dried oregano
Puree the last 6 ingredients taste for salt and pepper and marinate the jicama, hominy, green onion and ½ cup cilantro for 30 min.at room temperature. Gently add and toss in the potatoes and remaining cilantro. Allow to stand at room temperature for at least 2 hrs. before serving.
* Recipe adapted from one by Bon Appetit.
French Potato Salad: Serves 4
1 lb. Yukon Gold potatoes- cooked to crisp-tender, in large dice, well drained and chilled
2 lemons—juiced
2 bunches of Arugula- washed and tough stems removed, spun dry and chilled
¼ cup extra virgin olive oil
2 Tbs. crumbled blue cheese
Chopped or dried parsley flakes for garnish
Whisk the lemon juice and oil until well mixed. Optionally add the cheese and whisk until dissolved*, or save it for garnish. Toss the arugula with ½ the dressing, and line 4 plates. Divide the potatoes among the plates and drizzle with the remainder of the dressing. Garnish with the cheese, if separate from the dressing, and sprinkle with parsley. Serve cold or room temperature.
*The lemon juice and olive oil with the blue cheese whisked in is the recipe for French Blue Cheese Dressing, and can be used on any salad that suits a blue cheese dressing.