PORTABLE VEGETABLE AND SALAD RECIPES FOR THANKSGIVING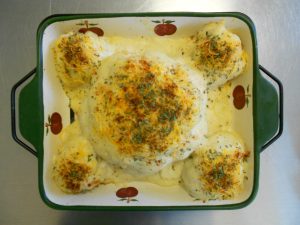 The past few weeks, I've been talking about amortizing holiday preparation to save money, time and stress by buying ingredients and cooking in advance. Thanksgiving is the perfect time to try this approach, especially if your gathering involves family and/or friends who contribute dishes to the feast. Having things that need little finishing or only re-heating time can make a big difference. It allows for a flowing schedule by freeing appliance waiting time, especially with a bird in the oven, and counter space, reduces 'prep-mess' and clean-up, to say nothing of helping to avoid frayed nerves in the kitchen.
Below are recipes for vegetables and salads that are simple to make ahead, can be transported easily and are quickly finished or re-heated for serving; perfect Thanksgiving fare. They round out last week's posting of stuffing and potato suggestions that fit the same qualifications. Next week I'll tackle fall desserts but please check out my recent posts of Oct. 6 and Oct. 13, and that of Nov. 13. 2015, covering pumpkin desserts and squash dishes which also fit Thanksgiving menu tastes and requirements.
Corn Pudding: Serves 6
2 (14oz.) cans creamed corn – yellow or white
1 (14 oz.) can whole corn kernels –yellow or white
2 eggs – beaten
Cinnamon for garnish
Combine all ingredients in a lightly greased 2 quart casserole, sprinkle with cinnamon. Bake in a 350 deg. oven for 30 min.or until top is set. Can also be cooked in a microwave for 8 min. turning once. To transport, put the mixed ingredients in a plastic container and pour into casserole to bake. Serve hot
Spinach Pie: Serves 4
1 (10 oz.) package frozen chopped spinach-thawed, partially drained
1 envelope beef or chicken bouillon granules
1 egg slightly beaten
Pinch nutmeg
Mix first 3 ingredients, pour into a lightly greased casserole, sprinkle with nutmeg and bake in a 350 deg. oven for 30 min until set or microwave for about 8 min. turning once. Serve hot. To transport, put the mixed ingredients in a plastic container, then pour into a casserole to bake. Serve warm.
Balsamic Brussels Sprouts with Walnuts and/or Bacon: Serves 6-8
1 lb. Fresh Brussels sprouts trimmed and parboiled 5 min. OR 1 lb. frozen and thawed
1 1/2 Tbs. oil
1 Tbs. balsamic vinegar
1 tsp. dried crushed rosemary
1/4 cup crumbled, cooked bacon
1/3 cup chopped toasted walnuts
Drain and dry sprouts, toss with oil, vinegar and rosemary. Roast on a foil covered baking sheet at 375 deg. for 30-35 min. Toss again with nuts and bacon in deep dish and serve. For advance preparation, roast sprouts, chill and microwave to reheat, then toss with bacon and nuts just before serving.
Cauliflower au Gratin: Serves 4-6 – Can easily be doubled
1 lg. head cauliflower
1 cup milk
2 Tbs. flour
2 Tbs. butter
1/4 cup shredded cheddar cheese
1/2 envelope chicken bouillon granules
3 Tbs. shredded Parmesan cheese
Paprika and dried parsley for garnish
Cut green leaves off head and cut the core even with the stalks of the flowerets. Boil the head in lightly salted water to cover for 15 min. starting with the top down for 5 and then turning it bottom down. Remove from pot and stand on bottom in a lightly greased casserole. Make a white sauce by melting the butter, whisking in the flour to form a roux, or paste, and then adding the milk and whisking to dissolve any lumps. Bring to a simmer over medium high heat, stirring constantly and continue to stir until sauce thickens. Add cheddar cheese and stir to melt. Pour sauce over the cauliflower, sprinkle with Parmesan and garnish with paprika and parsley. Bake at 350 deg. for 30-40 min. until lightly browned and bubbly. Can be made ahead until just golden, chilled, brought to room temperature and browning finished in an oven on site.
Variation: Cauliflower Polynesian: Serves 4
1 large head cauliflower divided into flowerets
½ tsp. garlic powder-option 1
1Tbs.oil-option 1
2 Tbs. grated Parmesan-options-1&2*
¼ cup melted butter- option 2
½ cup plain breadcrumbs
Salt and pepper
Paprika and dried parsley for garnish
*Cheese can be added to either of the optional methods of cooking the cauliflower.
Option 1-In a casserole dish, toss cauliflower in oil, sprinkle with garlic and bake, covered with foil at 400 deg. for 20 min. uncover. Top with crumb mix and garnish, bake an additional 20 min.
Option 2- Boil as directed above for 10 min. drain well then place in a greased casserole dish. Top with crumb mix, garnish and bake at 400 deg. for 20 min until browned.
Cheesy Squash and Kale: Serves 8
1 lb. fresh kale, heavy stems removed chopped in large pieces
2 acorn squash peeled and cut in ¼ inch slices-equal amount of another squash can be substituted
1 medium onion- sliced
1 (12 oz.) can evaporated milk
2 Tbs. flour
2 Tbs. grated Parmesan
Salt and pepper
½ cup shredded sharp cheddar cheese
Lightly grease a 11X7 inch baking dish, layer ½ the squash, slightly over-lapping, in the bottom; sprinkle with flour and Parmesan; arrange kale and onion over top, add seasonings and then layer the remaining squash. Pour the milk over all and top with the cheddar cheese. Bake at 400 deg. for 45 min. until hot and bubbly. Store chilled, covered. Reheat gently in a microwave.
Halved Acorn Squash: 4 servings for each topping recipe A 2 lb. quartered pie pumpkin=2 acorn squash halves =4 servings
Halved acorn squash is a favorite with my family, but I have always cooked it in the oven, and found that left-overs looked wilted and dried in reheating; not something to make ahead for a feast. This recipe is so quick that it might open the dish to consideration for a big Thanksgiving dinner. The sauces might help it stay fresher tasting too. Quartered pie pumpkins can be used as well in either recipe.
To Cook Squash
Microwave: Acorn halves: Seed and place cut side down in a baking dish and microwave on high 6-9 min. until tender, rearranging once. Add topping and cook on high 3 min. more. Serve
Stove Top: Pumpkin Quarters: Seed and drop into boiling waterfor10-15 min. until fork tender; drain. Can be done ahead to this point and stored, chilled in plastic wrap. Arrange cut side up in a baking dish and spoon topping into cavities. Roast at 400 deg. for 15 min. basting once.
NOTE: The cooking methods are interchangeable once the topping is added.
Apple, Maple, Nut Topping
1 cup applesauce
1Tbs. maple syrup
¼ cup chopped toasted walnuts
½ tsp. cinnamon
Mix ingredients and spoon into acorn squash halves or pumpkin quarters. Cook on high 3 min. or roast 15 min. at 350 deg. basting pumpkin quarters once.
Maple Chipolte Glaze
1/3 cup minced chipotles in adobo sauce
¼ cup finely chopped onion
1 Tbs. butter
3 Tbs. maple syrup
1/8 tsp. curry powder
Salt to taste
Saute onion in butter until tender; about 2 min. Add the other ingredients and cook, stirring about 1 min. more until blended. Follow directions above.
SALADS
Rutabaga Teriyaki: Serves 6
I love rutabaga, but I think for this I would microwave the slices 30 sec. or so and then soak them in cold water to crisp.
2 small rutabagas peeled and cut in thin slices. A mandolin night is advised
1 cup thinly sliced carrots
1 Tbs. grated gingerroot
½ cups balsamic or sherry vinegar
1 Tbs. EACH honey, soy sauce
Mix liquids well in a deep bowl. Add the other vegetables and toss. Chill for at least 1 hr. Add ginger just before serving.
Apple and Almond Salad: Serves 4
! small head Romaine, red or green leaf lettuce or 3 Belgian endives
2 firm apples, peeled cored and diced
2 Tbs. toasted slivered almonds
1 Tbs. lemon juice
1 minced garlic clove OR 1/4 tsp. garlic powder
4 Tbs. oil
Salt
Whisk last 4 ingredients together. Cut greens crosswise in thin strips, Toss with fruit and nuts, and again with dressing mix. Serve at once or reserve nuts, chill and toss them in before serving.
Colorful Fruited Coleslaw: Serves 10
2 medium red apples, cored and chopped-not peeled
1 cup seedless grapes-halved-red or green
1/2 cup toasted chopped walnuts
1 cup raisins
½ cup chopped onion
4 cups shredded cabbage
2 Tbs. cider or wine vinegar
2 Tbs. brown sugar
2 tsp. brown mustard
Whisk last 4 ingredients in a small bowl. Toss everything else in a large serving bowl then toss with dressing mix. Cover and chill 2-6 hours before serving. Dry ingredients can be mixed the night before, chilled in water, drained and tossed with dressing in the morning, or transported separately and combined a couple of hours before serving.
Spinach Salad with Candied Pecans: Serves 8
1 (7oz.) bag of spinach
2 ripe pears thinly sliced
1 small red onion thinly sliced
1 1/4 cups pecan halves
¼ cup butter melted
¾ cup packed brown sugar-divided
¾ tsp. cinnamon- divided
½ cup white wine vinegar
1/3 cup olive oil
Dash salt and freshly ground pepper
Toss nuts, butter, ½ cup sugar, ¼ tsp. cinnamon together; spread on a greased baking sheet and bake 325 deg. for 15-20 min. stirring often. Cool and break apart. Whisk last 4 ingredients, remaining sugar and cinnamon in a small bowl and set aside. When serving gently toss vegetables on a large bowl, add dressing and top with pecans. If transporting, take nuts in a bag, dressing in a bottle, and the first 3 ingredients whole and unopened. Keep everything but the nuts chilled. Slice, combine and toss just before serving.