PORK- THE WHITE MEAT FOR WINTER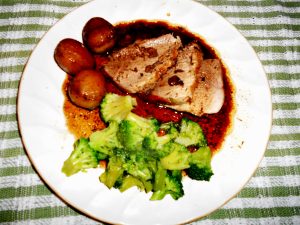 As usual in January, the supermarkets are featuring pork. Traditionally a product of the fall harvest rather than the spring one, it's long been considered the go-to meat for winter. The mild flavor, which goes so well with fruits and vegetables, plus the fact that it stands up to long cooking, makes it the perfect meat for the stews and roasts that are the basis of the hearty meals we love in cold weather.
Labels can be confusing in buying pork. As with other meats, loins are the choice cuts, but the roasts we normally see are from the front of the animal not the rear. That region is reserved for processing into ham. A 'Picnic' or 'Boston Butt' roast is from the shoulder, not the haunch and unsmoked meat from the haunch is labeled 'fresh ham' not 'pork'.
Pork's ability to combine with other flavors prompted its promotion, several decades ago as "The other white meat". At the time, the target of the campaign was presenting it as a replacement for veal, which had always been expensive and was becoming considered inhumane. Pork was now presented in all the cuts traditional to veal, cutlets, scaloppini, and tenderloins. At the same time, boneless skinless chicken parts and tenders, as well as turkey tenderloins and breast cutlets were introduced. Of course the extra labor raised their prices and suddenly pork was in competition with poultry.
Today pork is valued for on its own merits, especially in its starring roles in ethnic dishes from various cuisines Hispanic, Asian ones and our own Southwest to name a few, and has also become an automatic selection for many classic dishes particularly those using veal chops or escalopes. Though poultry can often substitute in recipes for these smaller cut of veal too, it can't handle the larger ones for legs, stuffed loins or crown roasts. They require pork, making it, in those cases, truly "the other white meat".
Conversely, the one problem with pork is its restriction from several diets and here it's poultry to the rescue. In my book Dinners With Joy, I include replacement suggestions with every pork recipe, and I do the same here. For the lighter dishes, white meat of chicken, even tenders, will do, but for the recipes which require deeper flavor dark meat is better. By the same token, the heartier dishes are better served by using turkey, again white and dark meat depending on the depth of flavor needed. Turkey tenderloins are logical replacements for pork ones. There's turkey bacon and turkey ham to stand in for the real things. Turkey ham can even be baked whole like a real one.
So give pork a try. It's available, affordable, versatile and every bit as nutritious as the red meats, although lower in calories. The Picnic or Butt roasts are more economical than the loins and chops and can be easily divided into different cuts, cutlets, slices to be used as loin chops, cubes, and even small lobes for roasting. For once, I advise paying a bit more for the boneless roast if you plan to divide it. Unlike other meats, pork bones don't boil into a flavorful broth.
For additional recipes see my blog of April 12, 2014 One Roast-5 Dinners-Pork, in the site archives. It includes recipes for Pork and Sauerkraut, Roast Pork Au Jus, Pork with Cranberry-Wine Sauce, Pork Tagine, and Pork Paprika Over Pasta.
EAST-WEST PORK BIRDS: Serves 4
4 lean slices center cut pork chops or pork cutlets (use turkey scaloppini)
2 tsp. ground fennel seed
1/3 tsp. cinnamon
½ tsp. garlic powder
1 ½ cups apple juice or more
1 envelope chicken or beef bouillon
2 cloves
1/3 cup thin celery slices
2 kale leaves-thick stalks removed
½ small onion thinly sliced
18 dried apricots- 12 julienned
Pound the pork to an even thinness. Cover the kale leaves in water and microwave 10—20 sec. to slightly wilt. Spread seasonings over meat slices. Pile, in order, celery, onions, julienned apricots and kale equally in center of meat slices. Roll meat and secure with skewers. Place meat rolls in a pan with bouillon, cloves, remaining 6 apricots and enough apple juice to come 1/3 up the sides. Bake at 350 deg. 1 ½ hrs. basting occasionally and maintaining liquid level. Remove cloves. Serve hot with juice.

PORK CHOPS BASIL: Serves 4
This is an old family favorite, and it also works well for roasts, consult charts for times per pound. It can be refrigerated for three days, or even frozen for two weeks, after the baking, so it can be made ahead and quickly ready on a rushed night. Veal chops or turkey cutlets may be substituted for the pork.
(8) ½ inch thick center pork chops well-trimmed (or boneless chicken thighs pounded to an even thinness)
½ cup flour
1 Tbs. garlic powder
2 Tbs. dried basil
½ a small can frozen orange juice concentrate or 1 cup apricot nectar
Water to dilute orange juice to equal 1 cup
¼ cup cream sherry (for a bolder taste use 1 jigger whiskey, rye or scotch)
Sprinkle half the garlic powder and half the basil in the bottom of an oven proof dish or pan that will hold the chops closely but not overlapping. Dredge the chops in the flour, by shaking in a plastic bag, one at a time, making sure they're well coated. Place in pan, and sprinkle the rest of the garlic and basil over them. Cover and seal the pan with foil. Bake, preferably at 250 degrees for 2 hours, but acceptable at 350 degrees for one hour. Remove from oven, turn on broiler, and carefully lift foil. Mix orange juice with the sherry and just enough water to come almost to the top level of the chops in the pan, and pour over the chops. Broil until chops brown and the sauce thickens.
PORK IN PEPPER SAUCE: Serves 4
This dish can be done two ways – on a grill – Method A – OR in a skillet – Method B. Either way the sauce is made first. Turkey can be substituted or veal.
@ 11/2 to 2 lbs. pork loin or loin chops cut –
A). in 4 thick slices, or chops, for the grill (bone-in chicken thighs with skin)
B). in 8 thinner slices or chops for the skillet (skinless, boneless chicken thighs)
2 tsp. minced bottled garlic
1 tsp. dried basil
1 medium onion –chopped
(1) 7 oz. jar roasted red peppers*
1 tsp. oil
1/8 tsp. lemon pepper
¼ cup White wine
2 Tbs. butter – for Method B
To make sauce: Microwave onion in oil with lemon pepper 1 ½ min. Drain peppers, blend with onion, basil, and garlic to a puree. Add the wine.
Method A: Put the sauce in a small pan. Grill meat. Warm the sauce as pork is finishing, pour over the meat and serve.
Method B: Melt the 2 Tbs. butter in a skillet over medium heat and brown meat on both sides. Pour sauce over the meat, reduce heat and cover. Simmer gently for 8-10 min., until pork is done.
*Other varieties of roasted peppers or chilies can be added to taste as can hot sauce, but be aware if using Method B that the longer hot spices are cooked the hotter they become.
Mushroom Stuffed Pork Loin with Wine Sauce: Serves 6
3 lb. boneless pork loin roast (the best alternate is beef tenderloin or round roast-adjust cooking times)
(1) 10 oz. box chopped spinach – thawed and well drained
8 oz. canned mushrooms sliced or stems and pieces – drained
Ground nutmeg
Salt and pepper
1 large onion in small dice
1 cup + beef broth
2 Tbs. oil
3 cups red wine
Butterfly the roast by slicing it lengthwise down the center almost through. Open it like a book and make similar slices down the length of each side in the center. Cover the meat with plastic wrap and pound to an even thinness. Spread the spinach evenly over the surface, leaving a 1 inch margin on 3 sides, but not on one edge of the first cut. Sprinkle lightly with nutmeg, and top with the mushrooms. Roll up the meat, starting with the side with no margin and tie with string every inch or so, securing the roll. Rub the outside lightly with salt and pepper, place in a roasting pan and cook in a preheated oven (350 deg. for pork) according to directions for cut.* When the roast reaches desired doneness, plate and let rest a few minutes. Serve in thin slices.
Meanwhile, sauté the onion in oil in a saucepan until soft. Add 3 cups wine and allow wine to cook down, adding in beef broth to maintain original level of liquid-about 1 cup total. When it reaches desired strength, add salt and pepper to taste. Can be made ahead and reheated. Serve warm with roast.
*Pork takes about 2 hours to reach 150 deg. at 350 deg.
*Beef tenderloin should be cooked at 500 deg. for 30 min. or until temperature reaches 145 deg. for medium rare.
*Beef round should be cooked as tenderloin if wanted rare, but as pork if desired well done. Remember, the longer beef cooks the tougher it gets, unless being stewed or steamed to tenderness.
Spicy Pork: Serves 6
3-4 lb. pork cut in 2>3 inch cubes (use chicken thighs and reduce cooking time to 2 hrs.)*
2 Tbs. EACH oil, chili powder, chile flakes, chopped cilantro, chopped parsley
½ Tbs. EACH seasoned salt and ground cumin
1Tbs. EACH minced garlic, dried oregano and black pepper
1 cup EACH diced onion and chicken broth
In a large bowl mix all ingredients but broth. Toss to coat pork well and marinate, chilled, at least 4 hrs. Put the mixture in a Dutch oven or covered oven-proof pot; add broth and cook in a preheated 350 deg. oven for 3 ½ to 4 hrs. until meat is fork tender. Serve hot in bowls or over grain or pasta.
*This might be interesting with whole drumsticks