PEARS, ANOTHER GREAT FALL FRUIT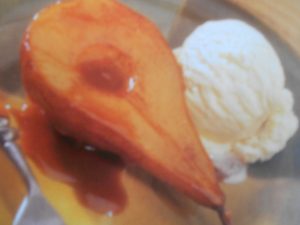 Perhaps it was compiling my recent posts on apples, certainly planning for the holidays, trying to hit upon that pleasing 'special something' or maybe a recent market flyer but I suddenly realized that pears are the truly overlooked 'Fall' fruit. In fact, during the past several decades, they've been ignored. Like apples, pears are available all year, but are at their best in autumn, because, unlike many fruits pears are native to milder and cool climates in Western Europe and Eastern Asia.
Pears used to be as 'everyday' as apples and more so than oranges, but have disappeared from our daily lives in the past few decades. Their taste is no less flavorful than other fruits. Pears are as succulent as peaches, as portable as apples and actually, have less waste than either. Though their juice isn't a featured item, it's every bit as useful in cooking as apple juice and, in fact, the main component in most juice mixes, especially the ones for children because they are probably the most digestible of fruits. In the same vein, pear jelly and jam was a favorite of home kitchens for centuries but unseen now, yet pears are a major ingredient of many other jellies and jams. So why are pears such 'Wallflowers'? My guess is lack of P.R. They could go viral, be a hot item, with a bit of attention since they have so much to offer.
Known even to the cavemen, pears have been enjoyed for thousands of years, and, like apples, have many varieties, most of which go directly into commercial purposes, canning etc. The varieties we see in the market, Anjou, Bartlett, Bosc, Seckel and Cornice, ranging in color from bright yellow, some rosy cheeked, through green to brown, can be both eaten and cooked. Like bananas they should be picked under ripe and are best when allowed to ripen in the home. Choose fruit that is firm to the touch and ripen it in a paper bag on a counter. When ready to eat a pear will be slightly resistant to squeezing and softer by the stem. Once ripe, store them in the refrigerator and check them daily because unlike apples, they don't keep for weeks.
Below are a few recipes to acquaint, or re-acquaint yourself with pears. At the rate foods are being 'discovered' in the food world now, I bet they're on the short list. So take a stroll down memory lane or a walk into the future and give pears a try now while they're at seasonal peak. The recipes below will help you on your way–
Pears Poached in Wine
1. In Red Wine:
Serves 6
6 pears-ripe but still firm-peeled but uncored-stems on-bottoms trimmed slightly to stand upright
1 Tbs. cornstarch
1 bottle red wine
½ cup sugar
6 whole cloves
1 cinnamon stick
Zest of a small lemon
Zest of a small orange
Dissolve the cornstarch in 2 Tbs. of wine. Heat the rest of the wine with the spices, zests and sugar, stirring until the sugar dissolves. Add the pears and poach gently 25-30 min. until tender, turning occasionally. With a slotted spoon remove the pears to a deep serving dish. Strain the wine and return to the pot, adding the cornstarch mix. Simmer and stirring until sauce thickens, pour it over the pears and leave to soak until cold. Serve room temp or chilled.
2. In Marsala:
Serves 4 From Rozanne Gold's Recipes 1-2-3
4 pears as prepared above
1 cup Marsala
Water to cover
¾ cup crushed Amaretti or almond flavored cookies-about 18 small or 8-9 large ones
Place the pears in the pot with Marsala and water to cover, bring to a boil then reduce heat and simmer gently for 30 min. or until tender. Remove pears with a slotted spoon and chill. Bring liquid to a boil, reduce to medium and cook until reduced to 1 cup. Cool. To serve, roll bottom of pears in cookie crumbs and place in a shallow bowl or soup plate, pouring sauce around the pears.
Baked Pears with Topping:
Serves 2-This rendition offers a choice to adults and kids.
1 large Bosc pear
2 tsp. butter softened
1 Tbs. brown sugar mixed with
¼ tsp. pumpkin pie spice
Lemon juice
1 ½ oz. Blue cheese or Vanilla ice cream
Halve pear –scoop out center core with a melon baller or round spoon. Mix spice and sugar. Rub cut sides with lemon juice. Smear butter over center of an 18" x12"sheet of foil. Sprinkle the spice mix over the butter and place the pear, cut sides down on it. Close the foil by folding it over, leaving air space inside. Bake at 450 deg. for 40 min. until pears are tender. Allow packet to stand 15 min. before opening. Transfer pear halves to serving plates, pour sauce from packet over them and fill centers with small mounds of blue cheese or serve with scoops of ice cream on the side.
Pear Compote:
Yield about a quart.*
1 ½ cups water
1 ½ cups sugar
1 dozen pears-peeled, cored and sliced
3 sticks cinnamon
6 oz. cranberries—optional
Bring sugar and water to a boil, add cinnamon and fruit. Continue cooking at a simmer until fruit is tender, about 20 min. Remove fruit and continue simmering liquid until it makes a syrup. Pour over the fruit and store in the refrigerator.
*Serve with meat OR in —-
Easy Pear Strudel:
Serves 6-8-FromRecipes 1-2-3 by Rozanne Gold
2 ½ cups compote
5 Tbs. unsalted butter-melted
7 sheets phyllo dough
lay sheets of phyllo on a flat surface and coat each lightly with butter using a pastry brush, restacking them as you do. Spoon pear compote parallel to one of the short sides of the phyllo leaving a 3 inch margin. Roll up tightly like a jelly roll. Place, seam side down on a baking sheet. Brush top with remaining butter and bake in a 375 deg. oven for 25min. Cool and serve in slices. Best within 3 hrs. of baking, do NOT refrigerate.
Pear Kuchen:
Serves 8-10
Pastry for a 9"spring form pan-if home-made add 2 Tbs. sugar to the dough
1 quart canned pear halves = (2) 16 oz. cans
3 eggs
½ cup sugar
½ cup cream or fruit juice
Line the bottom and sides of a greased spring form pan with the pastry. Drain fruit and arrange cut side down in pan. Beat eggs with sugar and liquid until light and pour over the fruit. Bake at 400 deg. for 10 min. and then at 350 deg. until custard is set about 30 min. Sprinkle with slivered toasted almonds or cool and scatter chopped almond brittle over the top. Serve with whipped cream
Pear-Ginger Upside-Down Cake:
Serves 8-10
6 pear halves preferably fresh from 3 Anjou pears. (1) 16to17oz can of pear halves can be
used, see below **
2 Tbs. butter
½ cup brown sugar
¼ cup maple syrup – -pancake can be used
½ cup chopped pecans Or 6 tablespoons craisins
1 box gingerbread mix
If using canned pears, skip this paragraph. Peel, halve and core the pears. Place cut side
up in a microwave safe dish, with enough water to cover half way up the sides and ¼ cup
sugar. Cook on high, @ 3 to 4 min., depending on the oven wattage, or until just fork
tender. Allow to cool in the liquid.
Preheat the oven as per cake box directions, and grease a spring form pan well. Melt the butter, mix in the sugar and syrup, blending well, and pour into the bottom of the cake pan. Drain the pears, reserving the juice, and arrange them, cut side down, attractively in the bottom of the pan, on top of the sugar mixture. Sprinkle the nuts, or craisins, in the spaces between the pears.
Mix the cake according to directions, substituting the pear juice for equal amount of
required liquid. Pour the batter on top of the pears. Bake according to directions, plus five
minutes, or until a toothpick inserted into the center comes out clean. Leave the cake to
cool in the pan for at least 20 min. allowing the bottom to set. Invert pan on a plate to
remove the cake.
*Fitting the pan bottom with a round of greased parchment paper helps the cake to
flip out easily. Once it's plated, simply peel off the paper
** Fresh pears are better for this cake, because, once cooked, pears are very fragile.
Canned ones, having been boiled until soft, are harder to handle, and might not
support the weight of the batter, or additional cooking as well as fresh.
Pear and Almond Tart:
Serves 8 This is a classic dish the recipe is from Bay Books' The Food of France
Pastry for a 9 inch loose bottom tart pan or pie shell.-If homemade add 2 Tbs. sugar to the dough
3 large pears-peeled, cored and halved
¼ cup sugar
3Tbs. apricot jam
1 vanilla pod or ¼ tsp. extract
Filling:
5 ½ oz. butter softened
2/3 cup sugar
Zest of a small lemon
2 eggs lightly beaten
¼ cup flour
Few drops of vanilla extract
1 1/3 cups ground almonds*
Put the pears, ¼ cup sugar, vanilla or pod in a pan with enough water to cover. Remove pears, bring mix to a boil, return pears and simmer until fruit is tender, about 20 min. Drain and cool pears.
Beat the butter, sugar, and vanilla together until light and fluffy. Gradually beat in eggs, then fold in flour, zest and almonds.
Blind bake the pastry, lined with parchment and weighted with beads, beans or rice at 375 deg. for 10 min. Remove weights and paper and bake for 3-5 min. more. Pastry should be pale.
Spread ¾ of the filling in the pastry shell and arrange the pears, cut-side-down on top. Fill in the gaps with the rest of the filling. Bake at 350 deg. for 35-40 min. until filling is golden and firm.
Melt the jam with 1 tsp. water and spread over pears to glaze. Serve at room temp.
*The most practical way to buy almonds is in a full service pharmacy like Walgreen's and grind them yourself. They're sold in 1 lb. bags more reasonably than elsewhere. I calculate the amount needed here is about ½ lb. I prefer to buy the raw and blanch them, but the roasted will do as well here, just not the smoked.
Pear-Pepper Sorbet with Raspberries:
Serves 6-This sorbet is a favorite of mine. I make it with several different fruits.
(2) 16 oz. cans of pear halves
3 Tbs. pear brandy or pear liqueur+ for serving
¼ tsp. fresh ground pepper
2 pts. Raspberries
Puree the fruit until smooth adding the brandy slowly. Pour into a freezer container and stir in the pepper. Freeze 8 hrs. or overnight, blend again and refreeze. Serve in scoops on a bed of raspberries, with more on top. Drizzle with 1-2 tsp. liqueur.