Make Different Kinds Of Lasagnas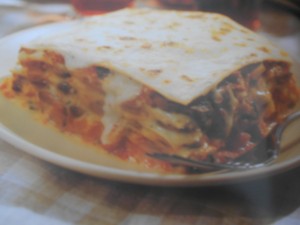 People living in areas where snow is a fact of winter usually stock the makings for a meal or two in case they can't get to market. The barrage of bad weather across the U.S. the past few months would indicate that this practice should be a national one rather than regional, because comfort food is welcome during any type storm. My first go-to in this category is soup, and there are lots of articles containing recipes for satisfying ones in the site's Table of  Contents. However, sometimes something more substantial is called for, especially after outdoor activity.
Lasagna dishes are the perfect solution. They're filling, nutritious and popular; can be made ahead and frozen or cooked and eaten cold if necessary. Unfortunately, 'lasagna' noodles like 'spaghetti' have become identified with one specific preparation, variations of which can be found on every box of the pasta. BORING!
It's time for lasagna, like that other pasta, to come out of the closet and show that it can be prepared in many ways with a range of sauces and fillings. I'm listing 5 recipes below that are different takes on "Lasagna." All feature Bechamel sauce and none use ground beef for filling. I think you'll like them, but first, some tips to make cooking them to your individual taste easier. .
Basic White Sauce or Bechamel.is made by melting 6 Tbs. butter in a saucepan, when sizzling, remove from heat and stir in 6 Tbs. flour to make a smooth paste or "roux". Quickly stir in 3 cups milk, and return to medium heat, stirring constantly to avoid lumps. Cook until thickened and smooth, about 3min., not allowing it to boil.  If too thick it can be diluted with cream.  Classically, a dash of nutmeg, and ½ tsp. of salt are added.
Bechamel is the easiest sauce to make and also the easiest to alter. In its pure form it can be made with skim milk, which cuts calories. So does using juice, wine and broth for part or all of the liquid. To lower the fat content, the quickest solution is to use one of the "lite" margarines. Substituting a regular margarine isn't an improvement, and any oil ups the caloric count.  The ultimate solution is to make a "Slurry" rather than a "Roux" as a base.   Dissolve 6 Tbs. flout in 3 cups milk and heat over medium heat, stirring constantly, until it thickens without boiling, again about 3 min. Then, optionally, add up to 1 Tbs. butter to give a silken finish.
If you're worried about the time needed to make any of these recipes, simply do them in stages. Lasagna is very accommodating. The sauce and the fillings can be made ahead and the dish assembled when the pasta is cooked. It's possible to make lasagna using uncooked noodles, and though it's a time saver, I prefer using cooked noodles. They freeze, so I can double the recipe when cooking, and I like them a bit longer than the pan and flexible so the ends can be tucked around the body of the dish making it easier to cut for serving. If frozen, do not thaw before cooking.  Bake in a 350 deg. oven for 1 hour and 15 min. until top is golden and bubbly.
When using uncooked noodles, bake covered, at 375 deg. for 1 hour. Uncover and bake 15 min. more. Let rest 10 min. before serving. Whichever method you choose to make lasagna you don't need to buy special pasta. The same noodles can be used for the cooked and the uncooked versions, just be sure the noodles fit the pan. The usual pan size is 9" x13" but (2) 8" x8"pans accommodate most lasagna recipes if making half for freezing or later use.
Crab Lasagna: Serves 4-This can also be made with imitation crab or chopped/salad shrimp
3 cups of Bechamel sauce as directed above.
1 lb. ricotta cheese- drained by lightly twisting in a cloth
4 egg yolks
1/8 tsp. lemon pepper OR 1 Tbs. lemon zest
1 lb. cleaned crab meat or options
Juice of ½ a lemon
Pinch cayenne
2 scallions sliced or ½ a small onion diced
¾ cup grated Parmesan cheese
6 oz. lasagna noodles- preferably spinach lasagna
Prepare the sauce, add all but 2 Tbs. Parmesan cheese and let cool. Mix the drained ricotta with the lemon pepper or zest, the yolks, 3 Tbs. of sauce, pinch of nutmeg and salt and pepper to taste. Toss the crab with the next 3 ingredients. Lightly oil the bottom of the baking dish, line with noodles, a thin layer of sauce, a layer of crab and a layer of cheese mix. Repeat ending with a layer of needles, topped with sauce and sprinkled with the reserved 2 Tbs. Parmesan. Cover with foil and bake in a preheated 350 deg. oven for 45 min. Uncover and bake at 375 deg. 15 min. Allow to rest 10 min. before serving.
Chicken (or Turkey) and Artichoke Lasagna; Serves 8
3 cups Bechamel sauce
1 large onion chopped
2 cloves garlic minced
4 Tbs. butter
2 Tbs. oil + 1 Tbs. for the pan
Juice of 1 lemon
1 cup white wine
2 cups chicken stock
1 bay leaf
3 lbs. ground turkey or 2 ½ lbs. chopped cooked dark meat chicken or turkey
(1) 6 oz. jar marinated artichoke hearts undrained
(1) 14oz. can artichoke hearts drained and quartered
1 lb. ricotta drained by lightly twisting in a cloth
4 egg yolks
1 Tbs. lemon juice or pinch lemon pepper
Salt and pepper to taste
Pinch nutmeg
8 oz. lasagna noodles
5 oz. crumbled Feta cheese
Make Bechamel, add the feta cheeses and set aside. Saute onion and garlic and ground raw meat, if using, in a pot with onion and garlic in butter and oil until onion is soft and meat no longer pink. Add stock, wine and bay leaf and cook liquid down to 1 1/2cups. Add artichokes with liquid and cooked meat, if using.
Meanwhile mix ricotta, eggs, 3 Tbs. sauce, pinch nutmeg, lemon zest or pepper and salt. Cook the lasagna noodles. Oil the baking dish and begin layering noodles, cheese mixture, meat mixture and sauce. Finish with a layer of noodles and ¾ cup of sauce. Cover with foil and bake in a preheated 350 deg. oven for 45 min. Uncover and bake at 375 deg. 15-20 min. Allow to rest 10 min. before serving.
Ham and Cheese Lasagna: Serves 4 This is an excellent way to use any leftover ham. The alternative is smoked turkey
8 oz. chopped ham
9 lasagna noodles
1 box frozen chopped spinach thawed and drained
(1) 4 oz. can mushroom stems and pieces drained
2 tsp. minced jarred garlic
8 oz. creamed cottage cheese
8 oz. shredded Cheddar cheese or sharp cheese
4 1/2 Tbs. butter
4 1/2 Tbs. flour
2 1/2 cups milk
¼ cup grated Parmesan cheese
¼ cup shredded Mozzarella cheese
Using the butter, flour and milk, make the Bechamel add the garlic and set aside. In one bowl mix the spinach and cottage cheese together, in another the ham and mushrooms. Set aside. Cook the noodles as per directions, and keep moist. Lightly grease a casserole dish about 9"x13" Smear a bit of the sauce in the bottom. Lay 3 noodles across the pan, cover with ½ the spinach mixture, then ½ the ham mixture, then ½ the cheddar cheese, then 1/3 of the sauce. Repeat once again ending with a layer of noodles. Top with the rest of the sauce, the mozzarella and Parmesan. Bake in a preheated 350 degree oven for 20 min. Uncover and bake for 10 min more or until bubbling.
Vegetable Lasagna: Serves 8
1 lb. lasagna
2 Tbs. butter
1 cup milk
¼ cup pesto
3 lb. ricotta cheese
½ cup minced onion
2tsp. dried basil
1 tsp. garlic powder
4 cups mixed fresh vegetables, broccoli florets, shredded carrots, sliced zucchini, bell peppers, mushrooms OR (1) box frozen chopped spinach drained and 1 ½ cups shredded carrots
1 lb. shredded mozzarella cheese
¾ cup grated Parmesan cheese
Make Bechamel sauce using butter, flour and milk. Stir in pesto. Cook noodles. Mix together ricotta, cream cheese, garlic, basil, onion and vegetables. Spread 1 cup of the mixture over the bottom of a 9 x 13 inch baking dish. Layer noodles add ¼ of remaining vegetable mix, and ½ sauce sprinkle with mozzarella and Parmesan. Continue layers ending with cheese. Bake in a preheated oven for 50 min. Let stand 10 min. before serving.
Two Sauce Lasagna: Serves 6
9 cooked lasagna noodles
2 Tbs. butter –divided
8 oz. sliced fresh mushrooms
2 Tbs. oil
1 small onion diced
1 clove garlic minced
14 oz. can diced tomatoes
1 tsp. Salt- divided
2 tsp. each dried basil and oregano
1 lb. sausage- mild or ½ hot
2 ½ Tbs. flour
1 ½ cups milk
¼ lb. Monterey Jack cheese grated
1/8 tsp. nutmeg
¼ cup dry vermouth
15oz. ricotta cheese
1 egg
2 Tbs. dried parsley
¼ cup grated Parmesan cheese
Melt 1 Tbs. butter in a saucepan and sauté mushrooms until slightly golden. Add ½ tsp. salt . Remove and reserve mushrooms. Add oil and onions to skillet cook until meat browns .Add basil, oregano, 1/2 tsp. salt, garlic and tomatoes with juice. Cook until slightly thickened. Set aside off heat.
In a medium sauce pan, dissolve flour in milk until there are no lumps. Add 1 Tbs. butter and a pinch of salt. Cook over medium heat until mix boils and thickens. Remove from heat, stir in Jack cheese, vermouth and nutmeg. Stir until cheese melts and sauce is smooth.
In a bowl, mix ricotta, egg, pinch of salt and 1 Tbs. parsley.
Place 3 noodles in the bottom of a 9x 13 inch baking pan. Top with1/2 the ricotta mix,1/2 the meat, 1/3 of the mushrooms and dot with 1/3 of sauce. Repeat layers twice more, ending with a layer of noodles, the last 1/3 of the sauce and mushrooms. Sprinkle Parmesan and the rest of parsley over the top.
Bake covered in a preheated 375 deg. oven about 60 min. until hot throughout. Uncover and broil until bubbly and golden on top.
*I use a 1 lb. roll of breakfast sausage –turkey or regular. If you prefer loose Italian sausage can be substituted and half the amount can be replaced by ground beef or ground turkey.