LET CRANBERRIES BRIGHTEN HOLIDAY MEALS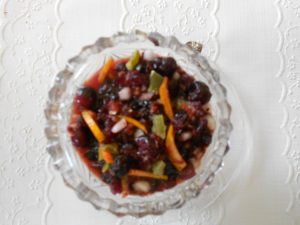 It would be hard to go through the winter holidays in the U.S. and Canada without encountering cranberries. Contrary to popular belief, unlike turkeys, they are not uniquely native to North America but also to Northern Europe and Siberia, where they were considered animal fodder, especially for bears. The Indians taught the early settlers the berries had value as a dye, medicine for wounds and most importantly as a food source, and yes, they actually were served at the first Thanksgiving dinner.
In 1667, cranberries were included, along with several foods from the New World, in a gift to King Charles of England and they have enjoyed a mild popularity in Northern Europe ever since. Today the major world-wide production of cranberries is located from the middle of the U.S north into southern Canada and the main portion of the crop is used commercially. To dispel another myth, they don't grow in water. They thrive in moist, marshy soil and their fields, or bogs, are flooded during the fall allowing the berries to float free of the vines for easy harvesting. The water remains in the bogs, freezing over the winter, because, unlike other plants, ice protects rather than kills cranberry vines. The bogs are drained in spring so the plants can flower creating, the next crop of berries. This may account for the fact that cranberries freeze well cooked or raw.
Cranberries were widely used from colonial times through the mid 20thcen. but like that other fall fruit pears (post 11/16/17)have been increasingly overlooked since then, except for commercially produced juice and jellies. Cranberries have fared a bit better in the past few decades with the introduction of 'Craisins', dried, sweetened berries, and in November, bags of fresh berries, make their way into the markets. I think one of the reasons for cranberries reduced use in home cooking is another myth; that they are inedible raw and require long cooking. It's true they aren't tasty eaten out-of-hand, but they are used raw in certain recipes and cooking time is only about 10 min. at most. Actually, I was one of those who bought into this misconception and have only recently come to understand that they are probably one of the easiest fruits to work with. Additionally, they are far more economical fresh than canned.
I love these berries sweet-tart taste and think others would enjoy the flavor they lend to dishes, especially baked goods, if they only had more recipes to try. So here's a sampling from a breakfast compote, through stuffing, to pie and cake. Cranberries' taste is a complimentary addition to many menus and their cheery, red color brightens any table, particularly now, over the holidays. Next week I'm offering cranberry recipes for cold colorful desserts to end any meal on a happy note.
RECIPES: First, 2 facts;
1) Cranberries freeze well straight from their container in air-tight bags and can be used without thawing. Stock up on them while available in the market, because they are difficult to find commercially frozen.
2) The skins do 'pop' when heated, so recipes may suggest the berries be chopped, halved or, for dry pan baking whole, pin-pricked. Chopping is easy with a processer. Halving is simplified by lining the berries up on a cutting board or platter with a 'gully' or groove and slicing through them with a long, sharp knife. Pricking is just what it sounds like, poking a hole in each berry's skin with a pin, but, again, lining them up in a groove speeds the task.
Relish: Yield about 3 cups*-Freezes well**-Adapted from Recipes 1-2-3 by Rozanne Gold
1 lb. cranberries
1 cup dried cherries OR 1 large orange, seeded but not peeled OR cherries + 1/3 cup slivers orange peel
1 cup or more packed brown sugar to taste
Process all ingredients to a rough chop. Allow to stand at room temperature for 4 hrs. to meld flavors. Chill at least 4 days before serving. Use with meats.
* 1 cup crushed pineapple or finely diced apple can be added after processing, to alter flavor
** Can also be used as a base for My Easy Salsa. Good with poultry and meats.
NOTE: Keeps chilled for several weeks
Compote: Yield about 2 ¾ cups cranberries- From Recipes 1-2-3 by Rozanne Gold
3 cups cranberries
2/3 cup brown sugar
¾ cup dried cherries
12 black peppercorns OR freshly ground black pepper
Pinch salt
Bring sugar, salt and pepper to a boil in 1 cup water, add fruits. Return to a boil, reduce heat and simmer for about 10 min. until berries have popped and sauce has thickened. Cool then chill.
My Easy Cranberry Salsa: Yield a bit over 1 cup with recipe, over 2 cups using canned sauce —all measurements are approximate and can be adjusted. (1) 14 oz. can whole berry sauce can be substituted for the *marked ingredients, making this super easy
1 cup cranberries*
¼ cup packed brown sugar*
¼ cup finely diced onion
Meat of 1 orange
1/3 cup orange peel in fine Julianne no more than ½ inch long
½ tsp. finely diced jarred jalapeño pepper- optional and to taste OR freshly ground black pepper
Mix everything together, adjust flavors and allow to sit, covered, in the refrigerator for several days before serving. Excellent with poultry, pork, ham and veal.
NOTE: Keeps chilled for several weeks
Easy Strudel: Serves 6-8-From Recipes 1-2-3 by Rozanne Gold
2 ½ cups compote
5 Tbs. unsalted butter-melted
7 sheets phyllo dough
Lay sheets of phyllo on a flat surface and coat each lightly with butter using a pastry brush, restacking them as you do. Spoon cranberry compote parallel to one of the short sides of the phyllo leaving a 3 inch margin and roll up tightly like a jelly roll. Place, seam side down on a baking sheet. Brush top with remaining butter and bake in a 375 deg. oven for 25 min. Cool and serve in slices. Best consumed within 3 hrs. of baking,DO NOT refrigerate.
Muffins: For 1 dozen muffins
To dry mix, packaged or homemade, add ¾ cup roughly chopped cranberries. Stir well, to prevent clumping in batter when liquid is added. Bake as per directions.
Cranberry Baked Brie: This can be made with a wheel or wedge of Brie.
Preheat oven to 400 deg. Bring refrigerated pastry sheet to room temperature by placing on the counter until workable. Spread top of cheese liberally with whole berry sauce, canned or homemade. If necessary cut the pie crust to fit a wedge, leave whole for a wheel. Place the pastry over the cheese and turn brie over and seal opening. Place the sealed side onto a greased baking pan. Bake 20-25 minutes, or until crust is light golden brown.
Cranberry Stuffing: Yield 6 cups
2 cups ground cranberries
½ cup butter
½ cup sugar
8 cups coarse fresh bread crumbs*
Salt and pepper
1Tbs. sage
2 tsp. thyme
½ cup chopped celery
3 Tbs. chopped parsley
¾ cups water or ½ cup orange juice and ¼ cup water or sufficient to moisten
Saute cranberries in butter until soft, about 5 min. stir in sugar. Mix crumbs with next 5 ingredients and add to berries with fluid. Cook until blended, stirring constantly, about 8 min. Can be packed lightly into poultry, used as stuffing in a crown roast or cooked alongside a roast in a lightly greased casserole until brown on top. This is especially good with poultry or pork.
* I would like to try this with all or half corn bread crumbs rather than white.
Cranberry-Raisin Pie: Serves 6-8*
1 cup cranberries-halved
½ cup raisins
1 tsp. butter-melted
¾ cup sugar
1 Tbs. flour
Combine all ingredients and fill a pastry lined pie tin. Top with another pastry round. Slash the top and bake at 350 deg. for40 min.
*Easy Substitutes: 1) Use the compote listed above to fill the pastry lined pie tin, cover with 2nd, round and proceed as above.
Cranberry Crisp: Serves 6
12 oz. fresh cranberries=2 cups
1/3 cup sugar
½ cup chopped walnuts
1 egg
½ cup of flour
½ cup sugar
3/4 cup butter- melted
Lightly grease a 9 inch pie plate. Fill with berries, top with 1/3 cup sugar and nuts. Beat egg until foamy, beat in butter, flour and remaining sugar until batter is smooth. Pour over berries. Bake in a preheated 325 deg. oven until browned, about 45 min. This is best served warm with ice cream or whipped cream.
NOTE: This can be stored, before baking, the berries in the pie plate, covered, and the batter in a container in the refrigerator for about 3 days. Combine and bake. Probably can also be reheated in the microwave the day after baking.
Cranberry Cake: Serves 8-10
5 Tbs. butter- 1 Tbs. reserved
2 ½ cups flour
1 cup sugar
2eggs
¾ cup milk
2 tsp. baking powder
1tsp. vanilla
1 tsp. cinnamon
2 cups cranberries
1 cup sugar
1/4 cup water
Prick cranberries and place in a pan with the water. When it begins to boil add the 1 cup sugar. Boil 5 min. until translucent and cool. Grease a springform pan. Cut 4 Tbs. butter into flour and sugar. When mix is in pea sized pieces, remove ¾ cup and reserve. To mixture in bowl, add eggs, milk, baking powder and vanilla and beat until batter is smooth. Pour batter into prepared pan and spread up and around sides of pan, lining pan and forming a hollow in the center. Use strained cranberry mixture to fill the hollow in the batter, reserving any extra for decoration or other use. Work remaining butter and cinnamon into the reserved to form crumbs and sprinkle over the top of the cake. Bake in a preheated 400 deg. oven for 8 min. Reduce heat and bake for 30 min. at 350 deg. Cool on a rack for 5 min. and loosen edges with a knife before opening pan latch. Can be served warm.