LENTEN DINNERS FOR VALENTINE'S DAY 2018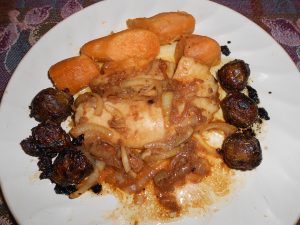 I have several posts with Valentine's Day recipes in the site archives (2/9/12, 2/7/13, 2/11/14. 2/11/15, 2/10/16, 2/1/17) covering just about any type of dinner and every aspect of a dinner. However, this year requires some special recipes because the holiday is also Ash Wednesday, the first day of Lent. For many Christians this signals the beginning of a period of fasting. Some will shun meat on certain days Ash Wednesday being one of them, others will renounce, or cut back on things like candy and carbohydrates in the weeks until Easter.
So, it follows that the dinner recipes for this Valentine's Day must be a bit different than other years. For inspiration, I turned to spa and low-cal cookbooks and researched 'fish' dishes, because they seem the ones most suited to general acceptance for this occasion.
I tried to select dishes which have a bit of glamour, without undo effort and require only ingredients readily available, in most areas, all year. To make shopping decisions easier, I'm printing a fish chart below to suggest substitutions.
I fully realize that Valentine's Day is a Wednesday, as well as a day of religious observance, and most couples will postpone their celebration until the weekend but it still might be fun to mark the actual day. Perhaps you're a couple who can enjoy a leisurely dinner, perhaps you want to give your children a treat to brighten the week. Whatever your situation, I've tried to gather a collection of recipes that will offer something to everyone, including children.
The recipes follow the fish chart. All of them allow you to mix fish from the same category. Happy Valentine's Day to all!!
Occasionally a recipe asks for a fish that isn't available that day. Substitutions can be made within the fish type. For example:
A. Full flavored with firm meaty texture and high in omega-3 fatty acids : tuna, marlin, swordfish, shark
B. Mild tasting, lean, fine flake and sweet flavor: Sole, flounder, tilapia, halibut, orange roughy
C. Mild tasting, lean, large flake, and sweet flavor: Cod, haddock, bass, rockfish, ocean perch,
D. Firm, moderate flavor and medium oil content: Snapper, catfish, monkfish (can also be substituted for lobster in some recipes)
E. Rich oily fish, firm flake and medium to strong flavor depending on species: Salmon, wild or farmed, trout, arctic char, steelhead
RECIPES
Sole Veronique: Serves 4
4 sole fillets, fresh or frozen
2 tablespoons finely chopped shallots
1 cup dry white wine
1 ¼ Tbs. cornstarch
1 tablespoon lemon juice
2 Tbs. butter or margarine
½ cup milk or half-and-half
Salt and pepper to taste
1 lb. seedless grapes- washed, stemmed in a flat dish.
Dissolve the cornstarch in the wine and milk. Melt the butter, with the lemon juice, in a sauce pan and sauté the fillets until they flake. Remove and keep warm. Saute the shallots in the pan until soft. Add the wine mixture and simmer, stirring, until thickened about 3 min. Season with salt and pepper to taste. Meanwhile microwave grapes about 30 sec. in the microwave, just until warm. Plate the fish, spoon sauce over and serve grapes on the side.
Salmon with Chive-Mustard Butter: Serves 6-From The Everything Low-Carb Cookbook by Patricia M. Butkus
1 ½ Tbs. Dijon mustard
1 ½ tsp. orange zest
3 ½ Tbs. fresh lemon juice- divided
¾ tsp. salt
¼ tsp. ground pepper
8 Tbs. unsalted butter
1/3 cup chopped chives-divided
3 lbs. salmon fillets-skin on
Preheat oven to 425 deg. In a small bowl combine butter, mustard, zest, salt, pepper, 1 ½ Tbs. lemon juice and 3 Tbs. chives, mix well to blend. Place the fish in a lightly buttered dish, skin side down, sprinkle with remaining lemon juice and spread about 2-2 ½ Tbs. butter over each fillet. Bake about 12 min. or until fish is opaque and flakes. Plate, pour over any pan drippings and top with any remaining butter. Serve hot garnished with remaining chives.
Fusion Tilapia: Serves 4
4 large Tilapia fillets
3 bunches scallions – also called green onions- trimmed of roots and course green stems
1 Tbs. garlic powder
1 Tbs. powdered ginger
3 Tbs. butter – divided
2 Tbs. oil
2 Tbs. Soy Sauce
½ cup Cream Sherry
(1) 2lb. 4 oz. can sweet potatoes
2 Tbs. brown sugar
Salt and pepper.
Drain the sweet potatoes. Using 1 Tbs. butter and the brown sugar, and if needed a bit of their own syrup, candy them, either in a skillet on the stove, or in a cooking oil sprayed pan in the oven, as per directions on the can. (I have been known to do this in the microwave, by melting the butter, dissolving the sugar in it, coating the potatoes well, covering and cooking on high for @ 3 min .in one minute intervals) Cut white and light green parts of scallions on and angle in 1 ¼ inch pieces. Set aside.
Melt 1 Tbs. butter and 1 Tbs. oil over medium heat, and gently sauté Tilapia, until it becomes white, adding more butter as needed. You may need to do this in batches. Remove to a plate. Add the remainder of the butter and oil then the garlic and ginger to the pan and stir quickly to avoid clumping. Add the Soy Sauce, Sherry and scallion pieces. Stir for 30 sec. Reduce the heat to medium low. Return the fish to the pan and simmer until heated through, about 2 min. Apportion the potatoes on the plates, in the center of each. Serve the fish decoratively leaning slightly against the potatoes. Spoon the scallions and sauce over the fish.
**NOTE: Sweet potatoes can be used straight from the can, leftover, fresh baked or cubed and boiled, even replaced by squash. It's a matter of preference and what's on hand.
Fish or Scallop Kabobs Serves 4
These can be made using any firm white fish, flounder, tilapia, whitefish, trout or scallops.
1 lb. fish or 16 scallops (preferably sea scallops – halved if large but equal 16 pieces)
2 zucchini
2 lemons – 1 juiced the other quartered
12 cherry tomatoes
8 lemon balm or lemon thyme leaves (optional)
2 bay leaves crumbled
1tsp.chopped fresh thyme or ½ tsp. dried
½ tsp. lemon pepper
3 Tbs. oil
Cut the fish into 2 inch pieces or if easier into 2 inch strips, just be sure there are 16 pieces. Cut the zucchini or squash into 12 slices. Thread the fish onto 4 skewers using 4 pieces per skewer, alternating each with a tomato and piece of zucchini. Mix the other ingredients except for the quartered lemon. Use as a basting for the fish Cook under broiler or over medium-low coals basting frequently about 15 min. Serve with lemon quarters.
 Shrimp Kabobs: Serves 4
Cubes of Monkfish, Salmon steak, Swordfish, even Tuna steaks will work in place of shrimp.
2 lbs. raw shrimp, peeled and deveined, tails on – extra-large (26-30 count) recommended
2 Tbs. olive oil
1 tsp. Tabasco
1 tsp. Worcestershire Sauce
2 tsp. chopped fresh rosemary or equal amount dried
3 cloves minced garlic
1 tsp. dried oregano
¼ tsp. allspice powder
2 lemons – one juiced one in quarters
Kosher salt to taste
Barbecue Sauce*
Skewers- soaked bamboo. (If using metal ones, double skewering makes turning easier.)
Mix all the ingredients but the salt and quartered lemon in a bowl large enough to hold the shrimp. Add the shrimp and marinate, covered at room temperature at least 1 hr. or several hours in the refrigerator. Thread shrimp head to tail on as many skewers as necessary – long metal ones require about 4. Preheat broiler or grill, and cook shrimp until pink and beginning to brown, basting frequently with the marinade. Sprinkle with salt. Serve with lemon quarters.
For grills and oven or stove top, cook shrimp until pink and opaque, 3-5 min in all.
*The Barbecue Sauce is for optional dipping. However the choice is open. Anything is acceptable-bottled favorites, home-made, even choices from different cuisines like this
Chinese Spicy Peanut Sauce.
2 tsp. ground mustard mixed with 2 tsp. water
3 Tbs. water
2 Tbs. creamy peanut butter
2 Tbs. soy sauce
¼ cup lime juice
2 Tbs. sugar
½ tsp. cayenne pepper
Mix first 4 ingredients until blended. Stir in remaining ingredients and stir until smooth.
Grilled (or Broiled) Halibut Steaks: Serves 2 –From Fish Cookery by James Beard
2 halibut steaks about 1 inch thick
1 large clove garlic- chopped
6 Tbs. olive oil
1 tsp. dried dill
1 Tbs. lemon or lime juice
1 tsp. EACH salt and freshly ground pepper
Chopped parsley
Marinate the steaks in the next 5 ingredients for about 2 hrs. Broil or grill-if grilling oil the grill- about 4 inches from heat source, 5 min. on each side, brushing with the marinade. Serve at once with pan juices poured over and garnished with parsley.
Cod with Lemongrass Sauce: Serves 4- From The Everything Low-Carb Cookbook by Patricia M. Butkus
4 skinless cod fillets
1 tsp. salt
2 tsp. freshly ground pepper
2 Tbs. oil
2 Tbs. chopped chives for garnish
SAUCE
2 Tbs. EACH olive oil and butter
1 Tbs. EACH MINCED ginger and garlic
1 Tbs. chopped lemongrass
4 Tbs. EACH chopped shallots and lemon juice
2 cups chicken stock
4 large canned artichoke hearts
Salt and pepper to taste
For the sauce: Heat the oil with the garlic, ginger, lemongrass and shallots and sauté until soft. Add the juice and reduce by half, add the broth and reduce by half again. Puree then add the artichoke hearts and butter, salt and pepper and heat through. Keep warm.
For the fish: Season with salt and pepper, then sauté in the oil about 5 min. per side until fish flakes. Serve hot with sauce poured over and garnished with chives.
Ocean Perch with Black Olives and Capers: Serves 4- From The Everything Low-Carb Cookbook by Patricia M. Butkus
2 lb. ocean perch fillets skin on
¼ cup oil
6 Tbs. butter – divided
2 Tsp. dried oregano
Freshly ground pepper
3 Tbs. capers
2 Tbs. EACH sliced black olives, lemon juice and chopped fresh parsley
Salt
Heat the oil with 2 Tbs. butter over medium heat. Stir in the oregano and a pinch of pepper. Sauté the fish, skin side down first, then cook for about 3-4 min. on each side until it flakes. Remove to a heated platter. Add the remaining butter to the skillet, reduce heat to low and stir until butter turns amber, taking care not to burn it, add the capers and olives. Off heat stir in the lemon juice and parsley and adjust seasonings. Gently reheat, pour sauce over fish and serve hot.