ICY DRINKS FOR HOT DAYS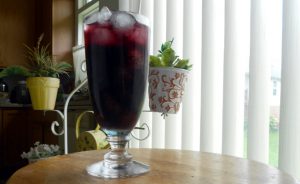 I've been focused on cold food for several weeks now, but it's been an unusually warm summer in much of the U.S. There have been several intense heat waves of longer than normal duration—often over a week rather than three to five days. This has given rise to awareness of the importance of hydration but it also raises the question of our choice of drinks. If we are to increase our fluid intake, we should guard against increasing our consumption of sweeteners in general, especially artificial ones and other non-natural 'additives' such as preservatives, coloring, flavoring agents etc.
Drinking plain water is the best way to stay hydrated and I'm a big fan, but it's also boring. We need to be enticed to maintain our proper fluid levels, and that means a choice of a variety of cool, delicious drinks, preferably naturally healthy ones, not commercially bottled or canned products. I know the argument that making those beverages takes too much time, but not really if you make a pureed fruit base which can be stirred with, say, sparkling water, or a large pitcher of different flavored teas to be sweetened individually as poured. These concoctions can be kept chilled; the fruit purees can even made ahead with extras frozen, and be as quickly ready as a can of soda.
I'm offering nine recipes which will make staying hydrated a pleasure. Most are adaptations from The Three & Four Ingredient Cookbook by Jenny White and Joanna Farrow. A few are old classics. Several call for, or can be altered by the addition of another liquid. I recommend sparkling mineral water, flavored, not sweetened, soda water, and ginger ale, better yet, ginger beer or sparkling cider. If a recipe asks for two separate juices, please use those, not a pre-mixed, bottled combination. The proportions will be different and alter the taste. A few of these recipes can be changed with the addition of liquor or wine, two actually are better known as bar drinks, but remember, alcohol reduces their ability to hydrate.
If you have a juicer, you might want to use it for the drinks using fresh fruit. In testing them, I used my blender on' liquefy' and was pleased with the results, but I like some pulp in my fruit drinks. It gives them authenticity. However, if you like a clear syrup base for beverages, strain the fruit pulp through a sieve diluted with a little water to make its passage easier.
So—Cheers! Here's to staying hydrated!
RECIPES
True Blue: Serves 2-4
2 cups blueberries
2 cups black raspberries
1 ¼ cups seedless red grapes
Put all the fruit through a juicer or blend on liquefy. Pour over ice in a tumbler, or add some raspberry flavored, unsweetened seltzer water, like Vintage, and serve in a tall glass. Garnish with reserved fruit,
Honeyed Watermelon Cooler: Serves 4
1 medium watermelon
1 quart sparkling water*
2 limes juiced*
Honey to taste
Cut away the rind and seeds and put the watermelon meat in a blender with enough of the water to liquefy. Add the rest of the water, the juice and honey. Chill thoroughly. Serve over ice.
*A shortcut is to substitute lemon-lime seltzer water for these two ingredients.
Strawberry-Apple Mist:-Serves 2
3 cups strawberries, hulled
2 tsp. vanilla syrup
Sparkling apple cider or apple juice
Blend or juice the berries with the vanilla. Pour into 2 tall glasses filed with crushed ice and fill the glasses the rest of the way with the apple juice or sparkling cider for a bit more kick.
Cranberry Spritzer: Serves 4
2 ½ cups cranberry juice
1 cup apple juice
4 cinnamon sticks
Chilled ginger ale or ginger beer
Freeze the cranberry juice in a flat pan for about 2 hr. until ice forms around edges. Mash with a fork and refreeze for 3hr.or until firm. Meanwhile, bring the apple juice and cinnamon just to a boil; remove from heat, cool and chill. Put the frozen cranberry juice and apple juice without the cinnamon in a blender. Process briefly until slushy and pile into cocktail glasses, topping with the ginger ale. Garnish with the cinnamon sticks.
Peppermint Icy: Serves 4 —This is for the kids
4 oz. peppermint candy
1 pt. milk
1-2 drops red or green food coloring-optional
Put the candy in a plastic bag and break into small pieces. Blend with the milk and food coloring if using, until candy is in small granules. Pour into a pan and freeze for about 2 hr. until edges are frozen. Using a fork, beat the nix until combined, return to the freezer and repeat twice more, until the mix is a slush. To serve, spoon into tall glasses
Pure Sea breeze: Serves 2
½ cup grapefruit juice
1/3 cup cranberry juice
Mix juices well and pour over crushed ice in highball glasses
Mango Royale: Serves 6
2 mangos
2 oranges-juiced
Sparkling lemon-lime seltzer
Blend or juice the mango with the orange, pour over crushed ice in highball glasses and fill with the seltzer.
N.Y. Egg Cream: Serves 2 –The famous old summer drink that contains no egg and no cream.
½ cup chocolate syrup
1cup cold milk
Plain, unflavored seltzer water
Divide the syrup between 2 tall glasses, but don't drip on the sides! Add the milk and then slowly pour in the seltzer avoiding a 'head' while filling the glass. Serve with straws to stir well before drinking and sip through the straws, don't drink from the glass.
Purple Passion: Serves 2- When I was in college, this was a special at the C.I. and it's still the best thirst quencher I know.
Purple grape juice
Ginger ale
Fill 2 highball glasses halfway with cold grape juice and the rest of the way with cold ginger ale. Enjoy!