How To Easily 'Cook Out' A Storm-And Beyond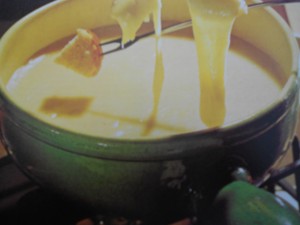 I wrote last week's post during a blizzard, and, as the snow deepened so did my anticipation of the lasagna dinner in the oven.  I found myself reflecting on other 'storm bound' meals I've eaten.  There's still a good chunk of winter left and I think I'll be prepared to make a few of the ones I remember based on regular recipes.  Aside from being good in emergencies, the method of making them became a favorite for nights when we wanted to simply relax.
I grew up in a resort town on a barrier island on the Atlantic Coast. Hurricane season was a fact of life and power outages a fact of the season. We had a cupboard with gallon jugs for water, candles, matches, lighters, flashlights, batteries and cans of Sterno with a 'Sterno stove'. Canned goods were staples of these supplies for many, but my Mother avoided excess sodium even before it became a health issue, preferring frozen foods.
So come late summer, our freezer was stocked with vegetables, fruit, concentrated juice and  most importantly, bags of cooked meat, in small chunks or ground, and precooked rice. Things that could be combined into a substantial meal when cooked on a 'Sterno Stove' which is essentially a metal frame that holds a can of Sterno in place under a grill that supports a pot. It's the same principle as a fondue pot and by the time I was a teen, my Mother had indeed bought a restaurant issue fondue pot which had a large capacity and used Sterno rather than alcohol.
Of course food prepared in pots, rather than woks or skillets, over a single concentrated flame can't be "cooked" in the literal sense of the word, but rather melted and/or re-heated. Liquid is required to insulate against items burning to the bottom of the pan and to diffuse heat to warm the other ingredients.  Consequently, the repertoire of recipes is limited to more fluid ones, but there's still lots of room to improvise.
For example, to a can of whole or diced tomatoes with juice, add thawed frozen vegetables like onions and peppers, sliced zucchini, corn and a package of thawed frozen, cooked ground or chopped meat. Heat through and add a package of pre-cooked rice and an envelope of bouillon granules plus seasonings and water, if necessary. Heat through again and it's a full meal with little effort. The only requirement is that the ingredients be roughly the same size and at room temperature when added.
Making pasta or mashed potato bedding isn't possible with this method of preparation, nor is using thickening agents like flour and cornstarch.  Additional body can be supplied by adding diced canned potatoes, white or sweet, if rice isn't appropriate. A drained can of grits can be a pleasant surprise too. However, the easiest way of serving moist dishes, especially in difficult situations, is with a loaf of hearty artesian bread.
Actually, I'd forgotten how easy it is to get a meal on the table using this method of preparation, with or without stormy weather.  In fact, it's perfect for a Friday night after a long week or even to take outdoors in warm weather- so little clean-up! No need to search for new recipes either, probably several you now like will convert. The Beef Daube below is an example.
 BEEF DOUBE SAUCE; Original recipe—serves 4
Daube is the French word for stew. This recipe evolved one cold evening while discussing what to have for dinner, and someone said the a beef stew would really hit the spot, but it was late, we were hungry, and stew, even shortcut ones take more time than we were willing to wait, so we experimented, and this was the result.
1 lbs. lean hamburger
1 large onion in medium dice
2 ribs celery in medium dice
12 baby carrots in thin slices
½ cup diced green bell pepper
8 oz. sliced mushrooms – or (2) 4oz. cans stems and pieces
2 tsp. dried thyme
2 tsp. dried oregano
2 tsp. dried marjoram
2 cloves garlic sliced
2 envelopes beef bouillon powder
(½)14 oz. can diced tomatoes – (see Recipe # 1 this week)– 3 Tbs. juice reserved
1 ½ cups Red wine
1 Tbs. cornstarch
1 Tbs. oil
2 Tbs. Red wine vinegar
¼ tsp. crushed red pepper flakes – or to taste
Salt and pepper to taste
Heat oil in stockpot over medium heat. Brown beef slightly, add onions, celery and carrots as pink begins to fade, cook until beef is brown @ 3 min. Add pepper, garlic and mushrooms, cook 1 min. Add tomatoes, spices, and bouillon, stir to incorporate, add wine. Cover and cook 30 min. Dissolve the cornstarch in the 2 Tbs. reserved tomato juice, and stir into the sauce. Continuing stirring until sauce thickens. Add the vinegar, salt and pepper to taste. Serve over pasta.
BEEF DAUBE in a FONDUE Pot: Serves 4-6
1 lb. lean hamburger precooked—if frozen -thawed
1 cup frozen onions and peppers – thawed
1 cup thinly sliced baby carrots- or equal amount frozen, but in very thin slices
1 Tbs. dried celery or 2 tsp. celery seeds
(2) 4 oz. cans sliced mushrooms + ½ cup juice
2 tsp. EACH dried oregano, thyme and marjoram
1 tsp. garlic powder
½ a 14 oz. can diced tomatoes
1 cup red wine
2 Tbs. red wine vinegar
1 Tbs. oil
2 envelopes beef bouillon granules
½ cup water + more if necessary
Put all fluids and tomatoes in pot over fire.  Once warm add meat, vegetables and seasonings including bouillon. Cook until carrots are tender about 5-8 min. Add more water only to maintain a nice consistency or if the contents begin to stick to the bottom of the pot. Ladle into bowls and serve with crusty bread.
MEAT FONDUE:  4 servings will require about 2 lbs. total—mixing meats is fine.
This is a great dish for that relaxed evening, or to enjoy outdoors. All it needs is a tossed salad and sturdy rolls or a loaf of crusty bread. Children may want to eat the meat on bread with one of the dipping sauces as a spread.
2lbs.chicken tenders-or strips of breast
2 lbs. raw peeled shrimp
2lbs London broil
2 lbs. sturdy fish steak not fillets-Tuna, Marlin, Salmon
1quart of liquid, wine, broth, or juice appropriate to choice(s) of meats.
Chutneys or sauces of choice to accompany the meats for dipping.
It's easier to have the meat placed on the skewers before presenting for cooking. These meats cook at different speeds and mixing them could cause problems.  Leave the shrimp whole. Cut the fish in chunks. Seafood can be prepared with one or more pieces per skewer.  Thread the chicken strips ribbon style on the skewers.
For the London broil: Freeze the meat, then sear it quickly in a very hot pan, under a high broiler or best in a high fire on a grill to get a char on the outside, but make sure it's still raw in the center. This can be done well in advance. If not using at once, return to the freezer. About 2 hrs. before serving, remove from the freezer and allow to thaw slightly. This is the best way to cut it in thin, even strips which can be threaded, ribbon style on the skewers. It can then be cooked to desired doneness in the hot broth.
To serve, heat the liquid with any seasonings you choose, to bubbling. Have the filled skewers ready and allow people to put them in the pot and leave them until done. I often put markers on the table so people can mark their skewers and check for doneness, especially for the beef.
Dip the cooked meat in a sauce before eating.  The bread can be dipped in the broth after the meat is finished.
A TRUE SWISS FONDUE: Serves 4
The first time I fully appreciated the simplicity and charm of fondue was, appropriately, in Switzerland at the home of friends. After a glass of wine before the fire, the hostess asked me to help her carry in dinner. Intrigued, I followed her into the kitchen. She led me into "The Cold Room" off the kitchen and cut a large wedge from a huge wheel of Swiss cheese. We carried the cheese and trays of vegetables and bread back to the living room where she prepared the cheese fondue, which we ate by dipping chunks of bread and vegetables.  It's a hearty meal for a cold night, or, with veggies, a light supper in warm weather, either way, a wonderful dinner with minimal clean-up
INGREIDENTS:
2 lbs. grated Swiss cheese – or very thinly sliced and cut in small pieces – rind removed
6 Tbs. flour
1 garlic clove cut in half
4 cups dry white wine
6 Tbs. brandy
Dash salt
Ground nutmeg
Ground black pepper
Toss cheese and flour to coat well. Rub the inside of the pot with the garlic. Over low heat, cook the wine until bubbles rise to the surface. Add the cheese, a few spoonfuls at a time, stirring constantly. Continue stirring until the cheese melts, the mixture is smooth and begins to bubble. Add the brandy, nutmeg and pepper. Reduce heat until there is just enough to keep the fondue hot, without burning the bottom. It sounds far more difficult than it is, and when made at the table, everyone can watch.
Serve with a variety of dippers – – Pieces of crusty bread ( just be sure the bread has the density to hold up to the sauce, otherwise it will be soggy, or break off and stay on the pot) or cubes of cooked meat –chicken,  ham, cooked hot dogs, or vegetables – cherry tomatoes, broccoli or cauliflower flowerets, baby carrots, pieces of bell pepper, scallions, celery even pieces of sturdy fruits like apple, pear, fresh  pineapple or banana . The list goes on and on and on.
CHOCOLATE DESSERT FONDUE
You can have this dessert ready for any unexpected event or add a sweet touch to a stormy night.
(1) 12 oz. bag of chocolate chips-milk, semi-sweet or a mixture
1/3 cup cream-heavy is best, light will do
2Tbs.braandy –optional
Fruit, cookies, pretzels assorted items for dipping
Skewers
Put the cream and brandy if using in the fondue pot first and, stirring constantly add the chips in two or three batches so they melt gradually into a smooth sauce. Have the "dippers" ready with skewers or fondue forks. Good fruits for dipping are strawberries, cherries, bananas, orange segments and fresh pineapple. The important thing in choosing dippers is the consistency and size. Some fruits are too juicy for the sauce to stick, cake crumbles and makes a mess, and nuts and berries too small to dip well. Otherwise, if it tastes good with chocolate and will hold up to being dipped, give it a go!