Great Valentine's Day Ideas Whether It's Dinner By 2 Or Dinner For 2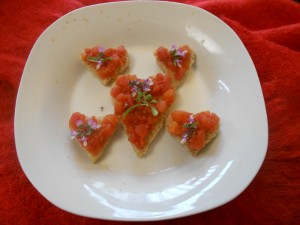 Those special "at home" Valentine's Day dinners are usually accomplished in one of two ways, which can be called The Dinner by 2 and The Dinner for 2.  The Dinner by 2 method is when both people involved like to cook, and are comfortable in the kitchen. Even if their skills aren't on a par and one is experienced, while the other is a novice, they will enjoy planning, prepping and cooking the dinner as much as eating it. Working together on this project is fun and offers an opportunity for a special type of sharing and bonding in a casual atmosphere.
In the Dinner for 2 method  one person does the planning and cooking. Ideally, the major portion is done in advance, leaving only finishing touches before dinner, which can provide a graceful change of pace and give the companion a chance to appreciate the cook's skills and efforts. This method offers an opportunity to 'glamorize' the evening and more time for conversation. It's a more traditional, formal approach to the meal.
The choice of being casual or more formal and/or 'dressy' for Valentine's Day dinner  determines the menu, and points out some criteria which should be used whenever a menus are planned. Method #1, Is a more bistro or a la carte approach, allowing the inclusion of foods that require precise cooking times, like steak and delicate seafoods and dishes are quickly made and/or assembled and must be served at once, such as pasta, salads and grilled items. The presence of two people in the kitchen frees one  to focus on a specialty, while the other oversees the rest of the meal. Plating and serving are the same thing and spontaneity is the key.
Method #2,  resembles a catered dinner, in that most of the prepping and even some of the cooking and plating are done in advance. Having ample time to prepare allows for the inclusion of dishes that take longer to cook, roasts, casseroles, stews etc. or are more complicated, as well as  cooking in advance and re-heating or just browning later. Mistakes can be corrected and the cook can approach the meal with confidence and a relaxed feeling.
The week's post is longer than usual, because I've given 3 complete entrée menus for each method of  preparing this type meal and included appetizer and dessert recipes as well. Having made them all, I can guarantee the recipes are both sharable and doable, with minimum effort.  Most are for the standard 4 servings but easily divisible.  If, however, you want more dinner suggestions, please click the Table of Contents link on the site's Home Page, and browse the collection of Valentine's Day dinner recipes for the past 4 years. After all, this year it's celebrated  during a long weekend,  so there's time to prepare something special.
Appetizers ;
Salsa—Base
5 tomatoes-peeled, seeded and diced OR 14 oz. can diced tomatoes –drained
1 small onion grated or in fine dice
2 cloves garlic-minced
1 Tbs. olive oil
Optional Additions – ½ diced bell pepper, 1Tbs. capers, 1- 2  anchovy fillets crushed, sliced or chopped  kalamata, black or green olives to taste, few drops of hot sauce.
For Italian – Mix base with 2 Tbs. chopped fresh basil and ½ Tbs. chopped fresh oregano
For Mexican- Mix base with 3Tbs. chopped fresh cilantro and 1 seeded, finely diced jalapeno, dash lime juice
Appetizers for the Dinner by 2 Menus:
1) Bruschetta: Lightly spray with cooking oil one side of ½ inch slices of Italian or French bread and toast both sides; plate around a bowl of salsa, with a small spoon for serving. Do not spread bread ahead or it will become soggy.
2) Artichokes: Wash 2 large artichokes, trim off tough outside leaves, cut 1 inch from the top and pare off skin from stem and heart.  Halve or quarter artichokes and scoop out fuzzy 'choke'. Place in water with the juice and rind of a lemon.  Drain and bring to a boil in salted water to cover plus 2 Tbs. red wine vinegar. Cover and either simmer on stovetop for 20 min. or braise in a 350 deg. oven for 46 min. Drain and serve lightly covered with salsa. Have a dish of grated Parmesan on the side for dipping.
MENUS FOR THE DINNER by 2
1) Kabobs –Serves 4 (Calculated for 5 skewers to allow a little extra)
A crowd pleaser! Marinate the meat the night before or early in the day and the meal comes together quickly. I use Top Round London Broil. A substitution would be bottom roast, either top or bottom. Shoulder London broil can be used but be sure to marinate it 12 hr. A better substitute is lean pork cubed, even from a butt or picnic roast.
2 lbs. Top round London broil                                    20 cherry tomatoes
2 Tbs. red wine vinegar                                              2 large green bell peppers
1/3 cup oil                                                                     2 large onions
1 Tbs. Worcestershire Sauce                                     25 button mushroom caps
2 tsp. dried thyme – divided
2 tsp. dried oregano – divided                                    1 box long grain and wild rice mix
1 tsp. paprika – divided
2 tsp. dried rosemary – divided                                   5 skewers 12" long
2 tsp. garlic powder – divided
2 tsp. dry mustard powder – divided
Trim any fat off the meat. Place in an oblong glass dish, pour on the vinegar, oil and Worcestershire Sauce.  Sprinkle half the given quantity of each of the herbs over it.
Allow to marinate for 2 hours, turn it over and sprinkle the rest of the herbs on the other side .Keep turning the meat every few hours for about 6 hours, or overnight.  This is to give both sides of the meat equal time in the marinade. When ready to cook, cut meat into 25 large pieces. Reserve marinade.
Cut the peppers into 20 large pieces, and cut each onion in 8ths, then separate those pieces to make a total of 20 segments. Wash the mushrooms, saving the caps and slicing the stems. Thread 5 skewers, alternating meat and vegetables, starting and ending with meat. I find the vegetables hold better during cooking if the natural curved shape of the pepper and onion pieces is used to form parentheses enclosing the tomato and mushroom caps. Use a mushroom cap as a " stopper ' on the end of each skewer. Grill as per your usual routine but don't  overcook . If broiling, do it on a lower shelf, for 8-10 min. That way the vegetables have a chance to cook through without burned skins. Do not cook kabobs until rice is ready.
Cook the rice according to package directions, substituting the marinade for an equal amount of the water required, and adding the sliced mushroom stems. Hold on warm while meat cooks.
All this needs is a simple green salad. A suggestion would be torn Romaine leaves tossed with balsamic vinaigrette, either commercial or home-made and garnished with 1 Tbs. each, toasted, chopped walnuts, and crumbled Feta cheese per portion.
2) Pasta with White Clam Sauce – Serves 4
Mussels are interchangeable in this recipe, but make sure they're cleaned and 'bearded' first. The dish is popular in Western Italy where very tiny clams are available. Hence, small canned whole clams are often preferred in making it.
4 quarts mussels or 2 doz. fresh clams or 2 cans tiny whole clams – with broth
1 cup white wine
1 large onion diced
2 cloves minced garlic
1/3 cup minced fresh parsley + 2 Tbs. in reserve
3-4 Tbs. oil
3 Tbs. butter
Fresh ground pepper
1 lb. Thin strand pasta-fresh or dried
Cook pasta slightly less than al dente and keep warm. Put the oil, garlic, onion, wine and parsley in a pot  and bring to a boil. Add shellfish and pepper. Cover and steam until the shells open about 3 min. Remove and discard any that do not open and any excess shells . Add butter and serve at once over hot, drained pasta garnished with the reserved parsley.
A loaf of crusty artisanal bread is a must to mop up the juices
A suggested side is a salad of green beans. For 2: ½ lb. whole green beans, 1 clove minced garlic, 1 Tbs. oil, 2 Tbs. minced parsley, 1 anchovy fillet, fresh ground pepper. Cook beans to crisp-tender 5-7 min. Rinse under cold water and drain, then dry on towels. Saute the garlic in the oil until golden, add the anchovy and mix to a paste. Add the pepper and parsley. Remove from heat and toss with beans. Serve at room temperature.
3) Chicken with Artichokes and Peppers:  Serves 4
4 boneless, skinless chicken breasts
2 Tbs. oil
1 Tbs. butter
2 cups sliced mushrooms
1 large onion thinly sliced
4 jarred, fire-roasted red peppers, julienned -cut in 2 inch lengths.
(1) 7.5 oz.jar marinated artichoke hearts drained and quartered- juice reserved
1 tsp. hot sauce
2 cups baby spinach leaves
Pound chicken between two pieces of plastic wrap to an even thinness. Saute chicken in 1 Tbs. oil and butter until golden on both sides. Remove from pan and sauté onions and mushrooms, adding 1 Tbs. remaining oil, until onions are soft. Stir in peppers, artichokes and hot sauce. Return chicken to skillet and simmer covered20-30 min. until chicken is done, adding reserved artichoke juice to keep liquid level. Stir in spinach and cook only until wilted. Plate and serve at once.
Suggested Side: Taboule, or any grain, quinoa, rice, barley etc., even couscous to which 1 envelope chicken bouillon, 1 clove garlic minced, lemon juice, toasted pine nuts and cilantro has been added.
Suggested salad: Insalata Caprese – Serves 2
1 large firm tomato – cut in 4 slices
3 oz. fresh mozzarella in 4 slices
1 Tbs. Capers
1 Tbs. olive oil
¼ cup basil leaves thinly sliced + 2 whole leaves or flowers for garnish
Salt and pepper.
Salt and pepper two tomato slices. Top each with a slice of cheese, drizzle them with ½ the oil, and sprinkle with ½ the basil and capers. Repeat  layer and use remaining oil, basil and capers. Garnish with basil leaves or flowers. Chill if not serving at once.
Dessert for Dinner by 2:
Chocolate Fondue: Serves 4
You can have this dessert ready for any unexpected event or add a sweet touch to a stormy night.
(1) 12 oz. bag of chocolate chips-milk, semi-sweet or a mixture
1/3 cup cream-heavy is best, light will do
2 Tbs. brandy –optional
Strawberries fit this occasion  but other fruits work too as do cookies, pretzels and squares of toasted pound cake  for dipping.
Appetizers  for the Dinner For 2 Menus
1) Heart Shaped Canapes – Using cookie cutters, cut heart shapes from the centers of ¼ inch slices of Italian or French bread. Following directions for Bruschetta above, toast the bread and spread with the basic salsa mixture just before serving. Garnish with fresh herb leaves, or sprinkles of dried basil.
2) Cheese Heart; Make your choice of salsa recipe, using any options you want, but dice the ingredients finer than normally served.  Slice an 8 oz. block of cream cheese diagonally in half, then flip one half over and place it next to the other to form a triangle. Cut 2 curved pieces from the top to form a heart shape. Chill, plated,  until ready to serve then cover surface with salsa and surround with crackers.
MENUS FOR DINNER FOR 2
1)Game Hens with Wild Rice and White Grapes -Serves 4
4 Cornish Hens
1 box Long Grain and Wild Rice
8 lightly toasted slices of white bread if you decide to split the hens into 8 servings
2 cups chicken broth
2 Tbs. flour or 1 Tbs. cornstarch
¼ tsp. each thyme and rosemary
1 Tbs. butter
1 lb. seedless white grapes, stems removed
Prepare the rice according to package directions, and use it to stuff the hens. If the birds are split, cover each stuffed half with a slice of bread and invert as placed in the pan. If left whole, place the hens breast side up in the pan. Rub the butter over the game hens. Pour ¼ cup broth in the bottom and roast at 350 deg. for 1 hour, basting every 20 min. and maintaining the fluid level in the pan. Meanwhile chop the giblets and cook them in 1 cup of broth. Spread the grapes out in a microwave safe pie plate with 1 Tbs. water. When the hens are done, remove them to a platter. Add the pan drippings to the remaining broth with enough water to equal 1 cup. Dissolve the flour or cornstarch in the cold broth, and add to the pan with the broth and giblets. Cook over medium heat until the sauce thickens. Microwave the grapes 30 sec. before serving and plate with the hens. Serve the sauce on the side.
A salad suggestion for this dish would be fresh asparagus spears. Break off the woody part of the stems and put the spears in a microwave proof dish in one layer, if possible, no more than two, or cook in batches. Microwave on high 3 to 9 min. depending on the thickness of the stems. If marinating, put drained spears on a serving plate, pour marinade over and allow to infuse as the asparagus cools, then refrigerate or serve.
For Marinating: A vinaigrette of choice is best
Garnishes: Asparagus loves to be decorated and will accept many things: sliced or chopped roasted or fresh peppers, chopped eggs, toasted chopped nuts and seeds, anchovies, capers, herbs crumbled bacon, even breadcrumbs
2) Pork Chops Basil – Serves 4
an old family favorite, this also works well for roasts, consult charts for times per pound. It can be refrigerated for three days, or even frozen for two weeks, after the baking, so it can be made ahead and quickly ready on a rushed night. Veal chops or turkey cutlets may be substituted for the pork.
(8)  ½ inch thick center pork chops well trimmed
½ cup flour
1 Tbs. garlic powder
2 Tbs. dried basil
½ a small can frozen orange juice concentrate
Water
¼ cup cream sherry or 2 Tbs. scotch
Sprinkle half the garlic powder and half the basil in the bottom of an oven proof dish or pan that will hold the chops closely but not overlapping. Dredge the chops in the flour, by shaking in a plastic bag, one at a time, making sure they're well coated. Place in pan, and sprinkle the rest of the garlic and basil over them. Cover and seal the pan with foil. Bake, preferably at 250 degrees for 2 hours, but acceptable at 350 degrees for one hour. Remove from oven, turn on broiler, and lift foil. Dilute orange juice with the sherry and just enough water to come almost to the top level of the chops in the pan, and pour over the chops. Broil until chops brown and the sauce thickens.
Suggested side: Roasted carrots and Brussels sprouts. !/2 lb. each baby carrots and petit Brussels sprouts, 3 Tbs. oil, 2 Tbs. balsamic vinegar, 1 Tbs. dried whole rosemary or 1 tsp. powdered. Toss everything  but herbs in a bowl and spread on a foil covered baking sheet. Sprinkle with herb and roast in a preheated  375 deg. oven for 20 min. Can be made ahead and re-heated in the microwave.
Suggested salad: is torn leaves of Bibb or Boston lettuce, tossed with French Roquefort (or Blue) cheese dressing.
French Blue Cheese Dressing – Serves 4
1/4 cup olive oil
1-2 Tbs. of cheese, depending on flavor strength
2 Tbs. fresh lemon juice or to taste
Dissolve cheese in oil and add lemon juice until any trace of 'oiliness' is gone from taste and flavor has a zing. This dressing should be full of flavor, but only visible as a glossy sheen on the lettuce leaves.
3) Salmon with Tomatoes and Greens: Serves 2
2 thick center slices of salmon (slices work better than fillets)
2-4 Kale leaves, thick stems removed in 2 inch pieces
(1/2 ) 15 oz. can diced tomatoes with juice
1 Tbs. oil –optional
¼   tsp. garlic powder
Skin the salmon and bake on a non-stick surface at 350 deg. for 5 min, per inch of width or until flakes.  When fish is done, put greens in a flat-bottom dish, top with oil if using, tomatoes with juice and garlic. Microwave for 1-2 min. until greens are slightly wilted and tomatoes are warm.  Plate greens topped with tomatoes and place a piece of fish diagonally across each plate. Serve at once.
Suggested side: 2 portions of brown rice, made according to directions. Finish with 1 tsp. lemon juice and 1 Tbs. parsley or cilantro flakes stirred in.
Suggested salad : Serves 4- A salad of
½ a fennel bulb
½ a small onion
4 red radishes
6 cups torn escarole leaves or green leaf lettuce.
2/3 cup grated Parmesan cheese
2/3 cup ½ – 1 inch pieces torn artisanal bread-preferably wheat
2 Tbs. oil
¼ cup dried thyme, oregano or basil
Caesar dressing either home-made or bottled
Toss bread cubes in oil. Sprinkle with salt and dried herbs. Bake in a 350 deg. oven for 8-10min.until an even golden brown.  Cool. Using a mandolin, or very sharp knife, thinly slice fennel, onion and radishes. Toss with lettuce, dressing, ½ the cheese and divide among plates. Serve topped with bread and the rest of the cheese.
Dessert for Dinner for 2:
Biscotti*- I'm including a recipe for chocolate biscotti, along with the classic one, because it seems fitting for Valentine's. Traditionally biscotti are dunked in a sweet wine, Marsala, Madera, Port, but spiced rum or brandy will do as well   Served with coffee they make an excellent end to a fine meal. Yield=20.* Recipes from Moosewood Restaurant's New Classics Cookbook
Classic Almond Biscotti
¼ cup butter
¾ cup sugar
2 eggs
1 tsp. vanilla
1 tsp. almond extract
2 tsp. grated orange peel
2 1/3 cups flour
1 ½ tsp. baking powder
¼ tsp. salt
1/8 tsp. nutmeg
½ cup chopped raw almonds – toasted at 350 deg. for 5-10 min.
Cream the butter and sugar until light; add the orange, eggs and extracts and mix well. Fold in the almonds. Sift the dry ingredients and fold into the wet ones until the dough is uniform and holds together when lightly pressed. With floured hands and a spatula, scoop the dough onto an oiled baking sheet and form into a 12 x 3 inch log.  Flatten to a thickness of 1 inch making the log 14 x 4 inches.
Bake at 350 deg. on the top rack of the oven for about 20 min. Remove to a cutting board and allow to c. until the log is firm. Cut into ¾ inch slices and bake again for about 5 min. on each side. Cool on a rack
Serve on a plate surrounding a bowl of sweet wine for dipping. Stored air-tight, these keep for weeks.
Chocolate Biscotti
¼ cup butter
¾ cup sugar
2 eggs
1 tsp. vanilla
1 tsp. almond extract
½ cup dried cherries- reconstituted in 1 cup boiling water and dried on towels.
2cups +2 Tbs. flour
½ cup semi-sweet chocolate chips
1/3 cup unsweetened cocoa powder
1 ½ tsp. baking powder
¼ tsp. salt
½ cup chopped toasted raw almonds (optional)*
Follow the directions above, folding the cherries, chocolate chips and almonds, if using, into the egg mixture in that order. Sift the dry ingredients and fold into wet mix as described, then shape loaves of dough and cook as instructed above.  This version is excellent dipped in coffee as well as wine.
HOPE YOUR VALENTINE'S DAY IS DELICIOUS!