GLAMEROUS DESSERTS MADE WITH COMMERCIAL ICE CREAM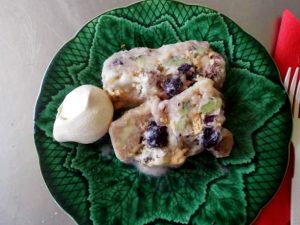 Several years ago I bought an ice cream machine. Flavoring with herbs was new and I wanted to try spices. I was also curious as to why commercial products came in so few fruit flavors. I lived in an area famous for blueberries, loved cranberries and had been mashing bananas in softened vanilla ice cream, then refreezing the mix in popsicle molds for ages.
Well….my efforts were successful, but the machine…not so much. The process was too time-consuming and the machine took more freezer space than was justified by the results-about 1 quart of ice cream. It took days to make enough for a full family dinner and no way could I have the choices I had planned always available. So the machine sits on a shelf, except for occasional request and I've gone back to the old, hand-made methods.
I wrote several posts on this last summer (See June 18 & 22, and Sept.1, or click the pictures on the Home Page panorama) covering frozen desserts and cold confections. However, this year I've taken a step further in the direction of convenience (or laziness) and been exploring converting commercial ice cream, as well as plain cream, into decorative, festive presentations. Most of the recipes below are adapted from TheThree & Four Ingredient Cookbook by Jenny white and Joanna Farrow, a few are old classics but they're all easy and delicious—guaranteed to get you raves!
Don't miss the special BONUS at the end of this post. It has 1 really current recipe and 1 which will make your 'company' desserts no-brainers in the future.
Truffle Bites: Yield 25
3 cups ice cream-flavor optional
7 oz. semi-sweet chocolate
1 oz. milk or white chocolate
¼ cup chopped, toasted nuts-almonds, hazelnuts suggested
Place a large cookie sheet in the freezer for 10 min. Scoop balls of ice cream with a melon baller and line them on the cookie sheet; freeze for at least 1 hr. Line a second cookie sheet with parchment paper and freeze it as well. Melt the chocolates in separate pots. Transfer the ice cream balls to the parchment covered sheet, and, gently spoon a little dark chocolate over half of them to cover, one at a time, and immediately sprinkle with chopped nut. Cover the other half of the balls with dark chocolate and drizzle with the milk or white chocolate. Freeze them as you go to avoid melting and keep frozen until serving.
Fruit Gateau: Serves 6
3 ½ cups mixed berries or diced, skinned soft fruit-if using large strawberries chop to size
3 cups ice cream- flavor optional
2 Tbs. powdered sugar
4 oz. meringues = 1 small per cup of other ingredients or 6 here—See recipe below*
Dampen a 2 lb. loaf pan and line it with waxed paper. Put the fruit in a bowl with the sugar and toss until it begins to break up but don't let it get mushy. Put the ice cream in another bowl and break it up with a fork. Add the broken meringues and the fruit. Fold the ingredients together until lightly marbled. Pack the mixture into the prepared pan and press down lightly to level. Cover and freeze overnight. To serve, invert on a plate, remove wrap and slice.
*NOTE: This is delicious with an interesting texture. However, it's difficult to slice. I think I'll make it in individual molds from now on, perhaps even use muffin cups
Peach Melba: Per portion
1 large scoop ice cream-vanilla is customary but peach or strawberry are options
2 meringues-see recipe below*
1 peach half- canned peaches can be used, but fresh, skinned ones are better.
3 Tb. raspberry sauce- see NOTE below**
Place the peach half in the bottom of a dessert dish, top with ice cream. Press a meringue into each side of the ice cream scoop and pour the raspberry sauce over.
**NOTE: Melba Sauce is sold in gourmet sections, but fresh berries tossed with sugar are better, so are frozen raspberries sweetened to taste.
*Meringues: Yield about 25 small or 12 large
Meringues are very useful . The only thing to beware of is that egg whites will not beat if there is even a trace of any other substance, including water but especially egg yolk, on the beaters or in the bowl. Tip: egg whites beat better at room temperature.
Cookie Sheet and Waxed Paper:
2 egg whites
½ cup sugar
2 drops cider vinegar
½ tsp. flavoring – – Vanilla is usual if used with other ingredients. I like Maple to serve alone
Cover the cookie sheet with the waxed paper. Carefully separate the eggs, putting the whites in a clean, dry bowl. It might be wise to break them separately, over another bowl, then transfer each white into the beating bowl. That way, if there's a bit of yoke in the last white, you don't have to start over. With clean, dry beaters, beat the eggs until they form soft peaks, @ 1 ½ – 2 min. Still beating, add the vinegar, gradually pour in the sugar, and continue beating until glossy peaks form when you lift the beaters. Add the flavoring, beat to mix.
Preheat the oven to 250 degrees. Drop the meringue batter on the covered cookie sheet by the teaspoon or soupspoon depending on desired size, forming little mounds about 2 inches apart; cook 1 hour. While still warm, remove the meringues from the paper, and allow to cool on a rack.
*NOTE: Meringues are handy to have on hand. They can be eaten as cookies and are lower in calories. They keep in an air-tight tin for months. The batter can also be cooked flat or in shapes and used to replace pie crust or pastry shells.
Banana Popsicles: Makes 6 as per usual mold set*
2 cups softened vanilla ice cream
1 cup mashed RIPE banana=1 large or 2 small—dark spots from ripening don't show after mixing
Mash the banana to a paste with a fork and stir into the ice cream until fully mixed. Freeze in molds. Rec
* Can substitute for the cream in the Torte recipe below
Brownie Torte: Serves 8-10
9 oz. chocolate brownies-crumbled
11 oz. white or milk chocolate broken in pieces
2 ½ cups heavy, whipping cream
Unsweetened cocoa for dusting
Line the base of a spring-form pan with waxed paper. Sprinkle the brownie chunks over the bottom and slightly up the sides pressing to form a dense base. Melt the chocolate gently with 2/3 cup of cream, stirring until smooth. Pour into a bowl and cool. Whip the remaining cream and fold into the chocolate then pour into the base. Tap gently to level, cover and freeze overnight. Remove from pan, plate and transfer to the refrigerator about 30 min. before serving. Just before serving dust top with cocoa.
Terrine: Serves 6
2 Tbs. powdered sugar
2 cups whipping cream
½ cup granulated sugar
3/4 cup chopped toasted nuts-pecans, almonds, hazelnuts or walnuts
Boil the granulated sugar and 5 Tbs. water until sugar dissolves and turns golden. Remove from heat and allow pan to stand until syrup is brown. Pour 6 Tbs. of cream over the sugar and heat, stirring until it's a smooth caramel sauce. Cool. Rinse and line a 1 lb. loaf pan with plastic wrap. In one bowl whip 2/3 cup cream with the powdered sugar to soft peaks. In another whip the remaining cream and stir into the caramel sauce with the nuts. Spread 1/3 the caramel mixture into the pan and top with ½ the sweetened cream. Repeat layers ending with the caramel. Tap to level the surface and freeze for at least 6 hrs. To serve, dip pan in hot water, invert onto a plate, remove wrap and slice.
Fruit Mousse: Serves 8-10
1 qt. berries or skinned, diced fruit
1 1/3 cups powdered sugar
2 cups heavy cream
1 tsp. vanilla
Add sugar to fruit and let stand 1 hr. then mash or leave in very small pieces. Whip cream with salt and vanilla. Fold in fruit, do not stir more than necessary, pour into a rinsed but not dried mold, cover and freeze overnight. Unmold, plate and slice to serve.
General Rules for Mousse-There are many recipes for mousse, but the rules are the same.
1) The dish will be smoother if the cream is whipped only until the peaks are soft-stiff.
2) Fruit should be crushed or in tiny dice to avoid crystalizing when frozen
3) Fold the fruit in, don't stir it or the mousse won't freeze evenly.
4) To avoid separation, have all the ingredients the same temperature when combining
5) Cover the top of the mousse with plastic wrap, even if the container has a lid.
6) To unmold, dip the container in hot water before inverting onto a plate.
Bonus
Chocolate Cups: Serves 6
These are an elegant way to dress up a couple of scoops of ice cream. Just add whipped topping, some fruit or other decorations and you have a party dessert! Make them ahead and you'll always be set.
8 oz. chocolate broken in pieces-dark, white or milk
Waxed paper
1 baking sheet
(1) 3 inch round cookie cutter—OR tuna fish cans, washed and open at both ends
Cover the baking sheet with waxed paper. Cut (6) 12 x 5 inch strips of waxed paper. Fold each in half lengthwise and roll to fit inside the cookie cutter when standing on the baking sheet and tape paper in circles. Stand the cookie cutter on the baking sheet, fit a paper roll inside it and, with a teaspoon, spoon a little chocolate inside, spreading it over the bottom to form a base and unevenly up the sides. Careful not to crack the chocolate shell, remove the cutter and go on to the next cup. This is where tuna cans make the job easier; they stay in place until the cups harden, allowing several to be made quickly.
Each cup holds 2 normal scoops of ice cream.
Coconut Ice Cream: Serves 6– This doesn't belong in either of the above categories, but it's a fun addition, especially with the current popularity of coconut.
14 oz. can coconut milk
¼ cup sugar
2 limes, zested and juiced
Toasted coconut shreds, toasted almond slivers and/or chocolate shavings for garnish
Boil sugar with 2/3 cup water to dissolve, stirring constantly; cool then chill well. Add lime and coconut milk. Pour into a freezer-proof container and freeze 4-6 hrs., beating or processing twice in between to break up ice crystals. Freeze until firm. Serve in scoops topped with choice of garnish.