GIVING BEETS AND CABBAGE A FRESH SPRING LOOK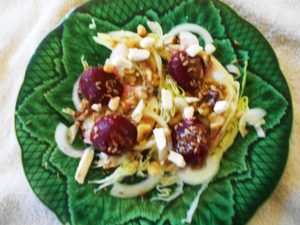 Spring is officially here! We're ready to put away the heavy coats and boots and begin contemplating the warm weather ahead and all the great produce it brings. Unfortunately, Nature doesn't recognize March 21st. It usually takes her another month or so to have the first spring crops ready in Northern climates. So here we are, with our appetites primed for spring, ready for fresh seasonal vegetables, forced to wait as the saying goes; "For nature to take her course."
Or are we? Of course there's always frozen and produce transported from a distance, but they don't have the succulence of the fresh crop and, for me, kind of spoil the anticipation. My solution is to turn to new ways to present a few year 'round favorites.
Cabbage, for example, is boiled or served as kraut in winter, yet coleslaw is a regular at summer meals, so it qualifies as a bridge between seasons. Serving it in some different ways to show off its freshness gives it a new appeal. I'm looking forward to making Pepper Hash (see description below with recipe) this weekend. I come from a seaside resort town, where fish was plentiful and every market had a large container at the fish counter. I hadn't realized how much I missed it until I started this post and that I've never served it at home. It will be a spring treat, adding zip to a meal and giving my family a new fresh, taste experience.
Red beets are another vegetable that spans the seasons. Served hot in winter, they're just as good cold, pickled beets really perk up summer meals. Once very popular, they've lagged for a few decades despite the introduction of new 'heritage' varieties. It's a shame because beets are flavorful, versatile and full of nutrients. Moreover, the juice from pickled beets does wonders for hard boiled eggs, and preserves them for up to a month—good to know with Easter coming up! Pickle some beets and you won't have to worry about how and how fast to use up those eggs from the hunt.
Actually cabbage and beets are great partners. There are several recipes for them together, and the other night, feeling creative, I made a salad of slivered cabbage wedges, pickled beets, sliced onion with toasted walnuts and feta cheese in a wasabi infused vinaigrette garnished with dill seeds. It was so good I plan to have it again this week, adding left-over roast pork and probably some bugler to make a full dinner. I've included some recipes combining them below.
So until Nature presents us with this year's produce, try satisfying your craving for fresh seasonal food by putting new twists on standard fare. The recipes below are only a few suggestions but I'm sure you'll like them and, hopefully, find some to build on to suit your personal choice.
Braised Cabbage: Serves 4
1 head cabbage -2-3 lb.
2 Tbs. butter
2 Tbs. oil
½ cup white wine
2 tsp. chopped fresh dill or 1 tsp. dry dillweed
Salt and Pepper
Wash and drain the cabbage. Cut in large cubes. Saute over medium heat in the oil and melted butter, tossing with two spoons until slightly wilted and lightly browned. Add the wine and seasonings, cover, reduce heat and cook down until crisp tender, about 5-8 min. Uncover and allow liquid to cook down a bit. Serve hot.
VARIATIONS: Substitute tarragon for the dill. Saute 2 pkgs. Small sausages (like Brown and Serve) in pan first. Drain any fat in pan. Cut sausages in 4 pieces and reserve. Proceed as above and return sausages to pan when it's uncovered for final heating.
OPTIONALLY: Microwave 3 medium potatoes until just tender, about 2 min. Cut in large pieces and brown in pan after sausages are done, adding extra butter and/or oil as needed. Remove and return to pan with sausages to heat through.
Stir-Fried Cabbage: Serves 4
1 ½ qts. shredded cabbage
1 onion thinly sliced
½ green bell pepper julienned
2 tsp. minced gingerroot or ½ tsp. powdered ginger
1 garlic clove-minced
½ cup any broth
Toss vegetables in a sauté pan over medium heat for 2 min. before adding broth and seasonings. Toss well then cover and steam 3-8 min. until just crisp tender.
Pepper Hash: Yield 6 cups
A nice change from creamy cole slaw, this vinegary hash tastes great with barbecued chicken, ribs, hamburgers, grilled steak…in other words. It's a perfect addition to any summertime cookout. The recipe can be easily doubled to feed a crowd
½ medium green cabbage (about 1 ¼ pounds)
½ green bell pepper
½ red bell pepper
1 carrot, peeled
¼ cup apple cider vinegar
¼ cup granulated sugar
½ teaspoon mustard seeds
½ teaspoon celery seeds
½ teaspoon salt
¼ teaspoon black pepper.
Finely shred the cabbage, bell peppers, and carrot and combine in a large bowl. Combine the vinegar, sugar, mustard seeds, celery seeds, salt, and pepper in a small saucepan and cook, stirring, over low heat until sugar is dissolved, about 5 min. Pour the hot mixture over the vegetables and toss well to coat. Wrap tightly in plastic wrap and refrigerate for at least four hours (or overnight) for flavors to develop.
Cabbage and Beet Relish: Yield=1quart
2 qts. cooked beets peeled and chopped
2 qts. cabbage chopped
1 cup grated horseradish
2 cups sugar
2 tsp. salt
Pepper to taste
Vinegar to cover
Toss solid ingredients and place, well mixed in a gallon jar with a wide neck. Pour in vinegar to cover and store in a cool place. Test for taste frequently. Serving time is optional according to taste.
Cabbage and Beet Sandwiches: Yield 6
1 cup shredded cabbage
1 large cooked beet-chopped
½ green bell pepper-chopped
6 black olives – sliced
½ cup Russian dressing
12 slices pumpernickel bread or rye bread
Butter on side of each slice of bread. Mix other ingredients with dressing and spread on bread.
Pickled Beets: This can be made using freshly cooked beets or canned
Place cooked, peeled and/or sliced beets in a pot, covered in their juice. Remove half the juice and replace with vinegar. Add sugar and salt to taste. (Optionally other flavorings are added according to ethnic recipes, also to taste, cloves, caraway, peppercorns, allspice sliced onions and horseradish.)
Bring to a simmer, reduce heat and cook until the sugar dissolves and beets are heated through. Remove and allow to cool. Store covered in a cool place and allow to marinate for at least 36 hrs. These will keep for months properly stored. Serve well drained.
NOTE: After the beets are eaten the juice is a wonderful marinade to devil hard-boiled eggs. Put the eggs in a jar, covered with the juice and allow to pickle for at least 5 days. They should be a purple color. They are eaten whole, deviled and chopped into a salad. Don't worry if they feel hardened, that's to be expected.
Beets with Herbs: Serves 4
12 small cooked and peeled beets- canned-drained will do(save the juice to devil eggs)
4 Tbs. butter
½ cup sliced scallions
¼ cup chopped parsley
1 Tbs. fresh tarragon = 1 tsp. dried
1 ½ Tbs. sugar
¼ cup white wine vinegar
Salt and pepper
Leave whole or slice the beets. Melt the butter in a saucepan; add the beets and the other ingredients and heat through. Serve hot.
OPTIONALLY: Add 1 cup sour cream at the end and just heat through.
Beet Baskets: Per portion
The amounts vary with the choice of ingredients and the size of the beets, depending on their intended use. Small ones make canapés, medium ones are for sides and large ones can be entrees.
Boil and peel the beets, slice off a sliver of the bottom so they stand upright. Then hollow out the center, leaving at least a ½ inch shell on the large ones.
For 6 Servings:
6 medium beets prepared hollowed out- pulp reserved and chopped
1 cup chopped cooked beet greens*
1 hardboiled egg-chopped
1 slice of cooked bacon-diced
1 Tbs. chopped onion
1 Tbs. melted butter
Salt and pepper
Parsley for garnish
Mix all the ingredients but the parsley and stuff the beets. Place them in a flat bottom pan in a preheated 350 deg. oven and heat them through. Garnish with parsley and serve hot.
VARIATIONS:
Cold peas and chopped celery mixed with mayonnaise, or another creamy or boiled dressing

Chopped hard-boiled egg and chopped sweet pickle mixed with French dressing and a dash of mustard

Chopped hard boiled eggs mixed with tarragon chives and mayonnaise

The beet pulp chopped and mixed with chopped sautéed onions

Cheese flavored rice

Canned herring or mackerel can be combined with any of the above stuffings

Horseradish can be added to any of the stuffings where acceptable and horseradish dressing can be substituted for any suggested ones.
*NOTE: Beet greens are a wonderful vegetable by themselves, much like any other leafy green such as spinach and kale and like them 1lb. =2 servings.
1) Wash the greens well and briefly blanch them in boiling water. Drain them well and sauté them in melted butter with 1 Tbs. lemon juice and garnish with a pinch of nutmeg.
2) Wash and blanch them as above, then sauté in oil with chopped garlic.