Father's Day Dinners-2016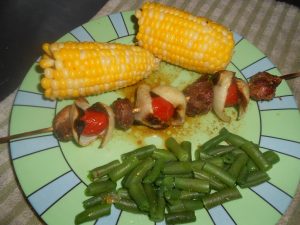 I always thought the tradition of eating out on Mother's Day and at home on Father's Day was a hold-over of past thinking. Get house-bound Mom out and give hard working Dad a chance to enjoy his castle. However, with all today's role blending, restaurants are still crowded on the one holiday and not on the other, so it must be something in the 'nature of the beasts' so to speak. Women prefer to dress to go out not to cook, unless entertaining, and once out, like to stay there. Men will spend a free day pursuing a sport or hobby, come home, change into casual clothes and happily stay there, even man the grill.
The point is that Father's Day still seems to be a more casual, home centered occasion than Mother's Day, and recipes for dinners are better received. However, there are some restrictions to guide your choices. Unless it's a favorite of Dad's forget the big roast with all the fixens'. Opt for entrees that can be easily prepared or readied ahead, and sides that coordinate in cooking time. Skip recipes that involve a long list of ingredients and messy, lengthy clean-up. Stick to dishes that don't need a lot of accompaniments and menus not requiring a lot of separate plates. Keep the meal stress free and open to enjoying family.
Below are some entrees which fit the above requirements, with suggestions to personalize them to fit your situation, and ideas for sides to compliment them at the end of the article. All these dishes have one thing in common. They can be cooked on any type of grill, indoors or out, as well as in the oven or, for one, stovetop. (See posts 8/30/2012 and 9/20/2025 in the Table of Contents). So no matter the weather or your range of equipment, they can be planned and made. They are also geared to the contemporary culinary trend to include the salad as an intrinsic part of the entree not a side dish. All of them would be complete with a 2016 type salad that includes grains, nuts, seeds and an assortment of greens and vegetables accompanied by a loaf of artesian bread. Perhaps best of all, they shine using lesser cuts of meat. Suggestions are included.One note, in building kabobs, items crowded on the skewer overcook on the outside and under cook in the center. Leave a little space between them. Also metal skewers heat up and cook from the center, wooden ones don't so time cooking accordingly.
Pork Kabobs: Serves 4
1 ½ lb. pork cut in 1 inch cubes (This can be taken from any cut of pork. Try shoulder or 'butt' roast)
2 green bell peppers-cut in squares
1 large onion-rings separated and cut in 1 inch segments
Optional additions-12 mushroom caps, cherry tomatoes or pineapple pieces*
Skewers 
Rub One:  Fennel Crusted Kabobs
2 Tbs. ground fennel seed
1 tsp. cinnamon
1 tsp. garlic powder
Put the spices together on a piece of waxed paper or a plate and roll the meat cubes in them, crusting well. Skewer the meat cubes alternating with your choice of the optional additions.
Rub Two: Cracked Pepper-Rye Crusted Kabobs
2 Tbs. ground rye seeds
2 Tbs. cracked black pepper
3 Tbs. Dijon or spicy brown mustard
Put the spices together on a piece of waxed paper or a plate. Spread the meat cubes with a thin layer of mustard and roll them in spices to crust.
Cooking Instructions: Whichever method you use, be sure the heat source is lightly oiled and preheated before cooking. All grills should be on high, except covered contacts like the George Foreman, there medium is fine. Where applicable, meat should be 3-4 inches from heat, including oven broil. Rotating kabobs, cook 2-3 min per side for a total of 8-12 min. Exceptions are the covered contact where turning every 2 min. the meat is done in  6-8min. and the freestanding gas grill, there turn every 3-4 min. for a total of 12-16 min. Oven timing varies, but generally follows that of the grill, but check for doneness. If skewers are wood, serve on the plates, but if metal, empty them on serving plates because of the heat.
Beef Paillards with Fresh Salad: Serves 4*
1 ½ Tbs. oil
1 ½ lb. lean beef—Choices here depend on availability and preference. The original recipe calls for sliced filets, but there's no reason why other cuts can't be used. Tougher ones like top round London Broil, bottom round roast, flank steak, even boneless ribs can be prepared in various ways to make them acceptable. The meat is to be sliced thin so it can be pounded which tenderizes it, also marinating for further tenderizing is an option.** On the other hand, if you opt to spend on grain-fed beef, bresaola can be left raw. Brush meat slices with 1½ Tbs. oil before cooking.
Slice the meat thin and cook to desired doneness. Closed contact grills take 2-3 min.in all. Other grills and the oven take 1-2 min per side for medium. If you want it more rare, cut the slices thicker or simply flip over on the heat. Serve slices fanned on the plates, topped with the salad.
Fresh Salad
8 trimmed asparagus stalks-lightly blanched-sliced thinly on the diagonal
1 bunch arugula or head green or red leaf lettuce
1 Tbs. finely chopped chives
2 cups leaves only of fresh herbs
16 grape tomatoes or 8 halved cherry tomatoes
2 Tbs. olive oil
2 Tbs. fresh lemon juice
Kosher or sea salt and freshly ground pepper
Lemon wedges-at least 4
Put the greens and tomatoes in a bowl, but don't toss. Just before serving add the salt, pepper, lemon juice and 2 Tbs. of oil. Toss and serve, partially topping the meat. Serve the lemon wedges on the side
* Recipe from RAICHLEN'S INDOOR GRILLING cookbook.
** To pound meat, place the slice or cut between two pieces of plastic wrap and pound with a meat mallet or roll to flatten with a rolling pin. Tenderizing marinades are usually home-made and consist of a mixture of vinegar, oil and herbs. Lighter bottled vinaigrettes can also be used.
Chicken Alaska with White Wine Sauce: Serves 4
4 boneless, skinless chicken breasts or thighs
1 ½ Tbs. chopped fresh rosemary
2 Tbs. fresh lemon juice
Salt and pepper
2 Tbs. oil
2 Tbs. butter
3 Tbs. white wine
¾ cup heavy cream or half and half
¼ cup fresh crabmeat (imitation will substitute here) or 8 medium shrimp, cooked, peeled with tails
Pound the chicken to an even thinness as directed above, sprinkle with the rosemary and seasonings then marinate in the lemon juice and oil at least 2 hours. Remove and drain. Grill over high heat for 3 min. per side. Freestanding grills, take 1 min. longer and covered contacts are need 5 min. total. This is better done in a sauté pan than an oven. Lightly spray a pan, or grill pan and cook over medium heat until golden. Serve with sauce garnished with crab or shrimp.
Sauce
Bring the butter and wine to a simmer over medium heat. Add the cream and return to a simmer, stirring with a wooden spoon, until thickened.  Spoon over chicken, garnish and serve
 Shrimp Kabobs: Serves 4
Cubes of Monkfish, Salmon steak, Swordfish, even Tuna steaks will work in place of shrimp.
2 lbs. raw shrimp, peeled and deveined, tails on – extra-large (26-30 count) recommended
2 Tbs. olive oil
1 tsp. Tabasco
1 tsp. Worcestershire Sauce
2 tsp. chopped fresh rosemary or equal amount dried
3 cloves minced garlic
1 tsp. dried oregano
¼ tsp. allspice powder
2 lemons – one juiced one in quarters
Kosher salt to taste
Barbecue Sauce*
Skewers- soaked bamboo. (If using metal ones, double skewering makes turning easier.)
Mix all the ingredients but the salt and quartered lemon in a bowl large enough to hold the shrimp. Add the shrimp and marinate, covered at room temperature at least 1 hr. or several hours in the refrigerator. Thread shrimp head to tail on as many skewers as necessary – long metal ones require about 4. Preheat broiler or grill, and cook shrimp until pink and beginning to brown, basting frequently with the marinade. Sprinkle with salt. Serve with lemon quarters.
For grills and oven or stove top, cook shrimp until pink and opaque, 3-5 min in all.
*The Barbecue Sauce is for optional dipping. However the choice is open. Anything is acceptable-bottled favorites, home-made, even choices from different cuisines like this.
Chinese Spicy Peanut Sauce.
2 tsp. ground mustard mixed with 2 tsp. water
3 Tbs. water
2 Tbs. creamy peanut butter
2 Tbs. soy sauce
¼ cup lime juice
2 Tbs. sugar
½ tsp. cayenne pepper
Mix first 4 ingredients until blended. Stir in remaining ingredients and stir until smooth.
Sides: At this season the first of the Florida corn is coming in and corn-on-the-cob is always welcome at the beginning of summer. However, if that isn't an option, try the Sweet Potato salad with the pork and the oven fried potatoes with the beef, chicken and shrimp.
Greens are plentiful now, and a salad like the one served with the beef is a current culinary favorite, with all sorts of options available to personalize it. The addition of toasted grains or nuts and seeds, is another new, delightful innovation as are fruits both fresh and dried.
If salad isn't your choice, the easiest way to serve seasonal greens is to steam green beans or microwave asparagus in a bit of water (time varies with size of stalk, but 7-9 min.is average) Drain and while still warm pour a vinaigrette of choice over to marinate. Serve room temperature or chilled.
SWEET POTATO SALAD WITH LIME: 4 servings
2 lbs. sweet potatoes
1/3 cup fresh lime juice
1 Tbs. minced fresh ginger
1 jalapeno minced
2 Tbs. brown sugar
¼ cup oil
Salt to taste
1/3 cup toasted cashew pieces—OR wasabi coated peanuts roughly chopped
1 Tbs. lime zest
2 Tbs. chopped fresh mint
Cut the potatoes in half if necessary to fit in a single layer in a deep skillet with a lid. Add water to depth of ½ inch. Cover and simmer about 15 min. or until crisp tender—not mushy.—check by pricking them. Peel skins off while warm. Blend the next 4 ingredients adding oil in a stream to make a vinaigrette and season with salt to taste. Pour 1/3 of the vinaigrette in a shallow bowl. Diagonally slice potatoes in ½ inch rounds. Put into the serving bowl and drizzle with the rest of the vinaigrette. Toss gently with a spatula. Mix the last 3 ingredients to pass as a garnish. Both  parts will keep for 3 days covered and chilled.  Toss gently again and bring to room temperature before serving. Do not make garnish ahead.
Oven Fried Potatoes: Serves 4
4 large potatoes—NOT bakers
Oil or butter
Optional- Any or all of these: 1/2 envelope chicken or beef broth granules, salt (if not using broth granules) pepper, onion powder, garlic powder, and paprika if wanted.
Wash and dry the potatoes, prick around the circumference lengthwise and microwave 2-3 min. just to remove raw edge. Cut, depending on size in four to six wedges, brush with butter or oil and sprinkle with your chosen mixture of the seasonings mentioned above. Roast at 375 deg. for 20-30 min. until golden, if intending to serve later. Reheat and finish browning before serving at meal time, otherwise roast until desired color is achieved and serve hot about 30-40 min.
Next we'll take a look at some desserts that are perfect for Father's Day or any other summer dinner.