FAST ELEGANT FOOD GIFTS FOR THE HOLIDAYS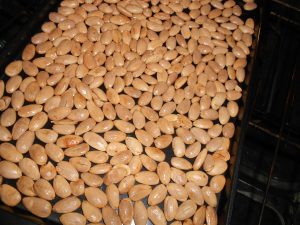 Token gifts of food to send greetings or say "Thanks" have always been popular during the December holidays. I can remember when every food market displayed a variety of fruit baskets. I'm guessing they're victims of improved transportation. The seasonal fruits, especially the citrus ones they showcased became regulars in the produce departments.
Fancy gift baskets of food can be found on line, but mainly they're filled with packages of cookies, candy, crackers, cheese, jams and other commercially produced items. Of course, there's a vast array of gourmet products available now too, but more and more the trend is to return to tradition and choose gifts with a homemade flair. I think, with our busy schedules it's become important to personalize gifts. To have them say; "I took the time to make (find) this because you matter to me." Or "Here's something I enjoy and want to share with you."
For someone who is really anti-cooking, there are people who specialize in making these 'home crafted' items to perfection but they're usually quite expensive and require advance ordering. For the newbie, or the person who's unsure about being able to pull off making such a gift, or short on time to do so,this post's for you.
The easiest seeming food gifts are the cookies, brownies, soup etc. mixes in a jar, but I don't advise them unless it's a special recipe for an item the recipient likes. Even then, I would limit this choice to close friends. Don't forget these gifts require additional ingredients, plus the time and labor to prep and cook. I've seen many that ended up on the back of a shelf, unappreciated. The only exception seems to be Chai Tea spice mix, now also used in coffee, for which there's a recipe below.
For those who bake cookies, it seems a snap to "spread the wealth", but this too can be a mistake unless the recipient is family or a close friend. Everyone knows they require time and effort, so a quantity may send too strong a message, and a few seem too obviously just a token. A happy compromise is to make extra dough and shape it into a log, much like the ones found in a supermarket. You can roll the dough in cocoa powder or finely chopped, toasted nuts then or include them with the gift. Wrap it in plastic wrap and store in the refrigerator for 2 weeks, or longer in the freezer. Present it gift wrapped with baking instructions and a note telling the recipient to store it in the freezer, then after the holidays are over and they get a craving for a sweet, they can slice off what they want, bake and enjoy. This is a real hit!
Flavored nuts are wonderful holiday gifts. Making them is a simple process, easy for a novice and the result is a classic gift. A small investment is turned into something elegant which, commercially produced, is expensive. The gift is acceptable on every level because usually, the home prepared product is better than its commercial counterpart making the cost irrelevant.
I realize there's a lot of concern over nuts. In fact, I'm so allergic to Brazil nuts that I can't eat another nut from the same mix, but allergies to the major nut varieties almonds, pecans, walnuts are rare. If you know the recipient well, or simply check with them, your gift should be welcome.
Presentation is easy too. Festive cans are available this time of year, even in dollar stores. Simply line the can with waxed paper, or put the nuts in a plastic bag, and the bag bottom down in the can, gathering it closed on top with a colorful twist tie. The Chai tea mix can be presented in a jar with a bow on top. A nice touch is to add a measuring spoon.
The first recipe below has been in my family for 5 generations at least. It's the perfect example of home- made being superior to commercially produced. I, my family and friends agree that these salted almonds taste better than any gourmet offerings. So let's get started.
Salted Almonds:
1 lb. shelled, RAW almonds—these are the ones with the brown skin still on, uncooked or salted.
½ tsp. butter
Salt
Cover the almonds with water, bring to a boil and cook for about 30 sec. Turn off the heat. Ladle about half the nuts into a large strainer and run under cold water, until cool enough to handle. Squeeze each nut to pop the skin off, and put the nuts in a bowl. Discard the skins. Repeat until all the 'blanched' almonds are skinless. Preheat oven to 350 deg. melt butter on a cookie sheet and toss the nuts through it with a wooden spoon. Bake the nuts until they're a golden brown, about 30 min., tossing occasionally and keeping a close watch as they begin to brown, because then they can burn very fast. Turn them out onto a paper towel- lined flat surface and sprinkle generously with salt, tossing gently with the spoon. Let cool and place in jars, but don't seal for at least 12 hrs. Transfer them them to cans or plastic bags to gift.
Sugared Pecans:
2 cups shelled pecan halves
1 cup light brown sugar
1/3 cup melted butter
1 tsp. cinnamon
Preheat oven to 325 deg. Stir all ingredients together and spread on a lightly greased cookie sheet. Bake for 15-20 min. stirring often. Cool on sheet and break apart with a fork. Package as above for almonds.
Mixed Pesto Nuts:
1 ½ cups pecan halves
1 ½ cups blanched almonds
1 cup walnut halves
3 Tbs. oil
2 Tbs. pine nuts
2 cloves minced garlic
2/3 cup chopped fresh basil
½ cup Parmesan cheese
½ tsp. salt
Make pesto by processing last 5 ingredients until well blended, slowly add oil until smooth. Preheat oven to 350 deg. and spread nuts out in a 15X 10 x ½ inch pan. Spread pesto over the nuts and bake13-15 min. stirring every 5 min., until toasted. Cool completely on paper towels and package as above.
NOTE: I see no reason why commercially made pesto can't be used for this recipe.
Candied Nuts: For 2 ½ cups whole nuts or unbroken halves of walnuts or pecans.
Coffee Candied Nuts
½ cup very strong coffee
1 ½ cups sugar
1 Tbs. corn syrup
Cook above ingredients to soft-ball stage = 240 deg. F. Remove from heat, add nuts and gently stir until creamy. Spread on a greased cookie sheet and separate with a fork. Cool and package as above.
Orange Candied Nuts:
Substitute ¼ cup orange juice for coffee in the above recipe and add ¼ tsp. cinnamon. Proceed as above.
Glaceed Nuts: Can coat 1 lb. or more of nuts, but excess coating can't be saved for re-use.
2 cups sugar
1 cup boiling water
1/8 tsp. Cream of Tartar
Heat ingredients in the top pan of a double-boiler on low, stirring until sugar dissolves. Then allow to boil unstirred until syrup reached hard-boil stage= 300 deg. F. Place pan over one of warm water to prevent hardening and quickly dip nuts. Remove them with a fork or slotted spoon to dry on waxed paper. Allow to dry and harden before moving for packaging.
Chai Tea:
Spice Mix
2 ½ tsp. ground ginger
2 tsp. ground cinnamon
¾ tsp. ground cloves
¾ tsp. ground cardamom-recommended but optional
1 tsp. ground nutmeg
1 tsp. ground allspice
½ tsp. freshly ground black pepper
This can be jarred and gifted on its own, leaving the amount of sugar and cream to the individual .In fact the authentic, imported gourmet brands don't grind the spices preferring to leave them whole. People brew it with leaf tea and strain the finished liquid adding cream and sugar before serving.
OR include
1 ½ cups sugar
1 cup nonfat dry milk powder
1 cup French vanilla flavored nondairy creamer
1 cup regular nondairy creamer
*1 ½ cups instant tea. See note
Blend spices into a fine powder, remove to a bowl. Blend sugar in same blender to superfine and combine with spices. Stir in milk and creamers, incorporate well and package in jars.
Note: If making a tea mix, blend tea with spices, if not, omit tea.
To serve bled 2 heaping Tbs. into a mug of boiling water for mix with tea in it OR place 2 heaping Tbs. of spiced mix in a mug and pour over boiling tea or coffee. Stir well.