Fantastic Impromptu Party Food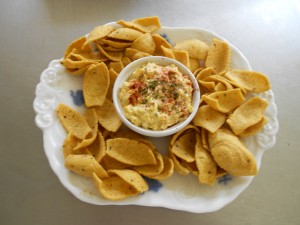 Normally this week's post would deal with leftovers but there are two posts on leftovers currently active and lots more in the archives. To access them click List of Contents, then pick the subject you want, click the title and you will link to the article. With all this information available, I'll turn my attention to this week which is rather unique in itself. The hustle and bustle, the seasonal events and parties, even the BIG day with its feast, are all past. The pressure and stress are gone but we're still in holiday mode because New Year's is coming up. It's the perfect time to make good on all those promises to "Get together over the holidays."
Whether we have time to plan these gatherings or they're impromptu we want whatever we serve our guests to be welcoming and well received, but we're shopped out, tired of cooking, with a refrigerator full of leftovers and no desire to add more. The solution is to use some of the leftovers and/or pantry items, but what and how to do it quickly is the question.
To give some answers I've collected suggestions from a book I'm writing on appetizers. It's led to the longest post I've ever done or may ever do, but there are so many ideas, and I want you to have lots to work with, including ways to use excess bread or make substitutes for crackers and chips.
This is the time to "think outside the box" because many recipe solutions can include those forgotten, but age defiant items hiding in the back of the cupboard, the can of anchovies or jar of artichoke hearts. Several are based on products usually in stock, especially when preparing event dinners, different cheeses, packages of shredded cheese, olives and herbs but mainly things just regularly on hand like ketchup, mustard and mayonnaise. Most don't require more than one ingredient that may need to be purchased. They're all totally "doable" on quick notice. On the other hand if you anticipate an impromptu occasion, picking up a few things in advance helps, cream cheese,  sun dried tomatoes or a jar of tapenade for instance. The old Boy Scout code—
Let's start with cracker substitutes then move on to the contents of a platter for guests, starting with things to use the crackers. Finally we can look at self-contained platter fillers like bruschetta. I list 7 varieties of bruschetta  at the end of this post, so read on—
Have no crackers? Don't as the Brits say "go crackers." There are other ways to provide things to hold a dip or spread, that will win you raves, even if you couldn't get to the store. For the diet conscious, sliced apples, wiped with lemon water to prevent browning, and peeled, sliced jicama, which stays crisp and doesn't brown, are nice, fresh alternatives.
1) Flour tortillas, and pita breads (the latter opened to make two circles), cut in wedges, sprayed lightly with oil and sprinkled with lemon pepper, onion powder, garlic powder, or any similar seasoning of your choice, and dusted with paprika, for color, then baked on a foil lined cookie sheet, at 350deg. for 8-10min .make wonderful presentations, and really add taste, especially if the tortillas are tomato or spinach, and the pitas are wheat or flavored.
2) Don't forget bread either. There are really good "party loaves" in the market, usually found near the Deli counter. If you are planning ahead, they keep well frozen and served by themselves or cut and toasted, depending on the use, they can really enhance flavor.
3) You can also make your own. My personal favorite is real Jewish rye, thin sliced, cut into bite size, and lightly toasted. Slices of French or Italian bread, can also be treated the same. Plain loaf slices can be rolled and cut into triangles, sprayed with cooking spray and baked at 350 deg. for 5-8 min Bagels, sliced and toasted are good too.
4) All of the above suggestions keep for about a month in air-tight containers, so make lots at a time and have them on hand!
Actually, nothing is more acceptable than a gourmet cheese platter, and many are now available in the supermarket. It's eye-catching, fresh, looks tempting, and stays that way. Different cheeses left over from an earlier occasion, can be trimmed neatly, or cubed and presented, grouped, on a platter. If too little to use that way, consider using the leftovers in a spread or in small cubes with leftover cubed ham on a toothpicks. Mild cheeses, like Brie and Gruyere can be presented this way with cubes of turkey.  To dress up the little kabobs, add a cherry, some raisins or craisins and perhaps a dip such as this with the herb addition suitable to the meat.
Easy Dip  Add 1 envelope beef bouillon dissolved in ¼ cup water and the dip stands on its own.
½  cup cream cheese
½ cup sour cream or plain yogurt
¼ tsp. each onion and garlic powder
1 tsp. strong herb and/or spice of choice or 1 ½  tsp. spicy brown mustard
Mix well or blend until smooth. Chill before serving.
Another solution for ham is to pair cubes with canned pineapple chunks on toothpicks. It can also be paired with slices or chunks of dill pickle—Kosher please—or melon. An easy appetizer, if  you're going to shop, uses deli  ham, from smoked turkey to real Prosciutto Crudo, suit your taste and budget. Get it thinly sliced, not shaved, and wrap a slice around a quartered kosher dill pickle spear. Secure with 3 toothpicks and cut in thirds. Similarly, slice the melon in 1 inch wedges, remove rind wrap with the ham and cut in 1inch pieces secured with toothpicks. 4 oz. of meat should yield about 24 appetizers with pickle, and about 20 or 22 with melon, because the meat may need to overlap more. Draping a piece of real Prosciutto Crudo, or even a thin slice of  high quality ham over a 2 inch wedge of melon is the classic Italian first course Prosciutto con Mellone, an ever popular, elegant offering.
 Cream cheese has numerous uses in appetizer recipes. One quick, easy and tempting one is to mix it to taste with bottled horseradish and spread it on rounds, about 1/8in. thick, of Lebanon bologna. If you are not familiar with this deli meat, it's made of beef, looks fatty, but is actually very lean, and has a smoky, salty tang that is interesting, unique and pleasant. Spread on one slice, it can be rolled, or covered with another and cut in wedges. Separated by layers of waxed paper these keep well for a day in the refrigerator. 8 slices, about 4 oz., of meat yields about l6 half rolls or 32 wedges.
Served by itself, a block of cream cheese can be a stunning appetizer with a covering of Tapenade.  If you are in need of something to serve fast, open an 8oz. package of cream cheese, and spoon about 4-6oz. of tapenade, jarred or your own, diagonally over it. Serve with crackers or other spreadables. Tapenade is originally French made chiefly with capers, black olives, anchovies and lemon juice. Now it includes any of several mixtures used as dips or spreads. I chop sun-dried tomatoes, onion, olives garlic and oil.  See page9 of this post. Chopped marinated mushrooms, artichoke hearts, smoked oysters or mussels can also cover the cheese, as can a spicy rather than mild chutney.
Most importantly cream cheese is the base of most spreads. Consistency can be controlled with the addition of sour cream or yogurt  to convert the mixture to a dip or adjusting the amount to enable the items to stand independently. A few examples using the most frequent holiday leftovers follow.
Turkey Spread
4 oz. cream cheese
4 oz. sour cream or plain yogurt
1 cup finely diced and shredded cooked turkey or chicken
½ tsp. onion powder
½ tsp. garlic powder
1/3 cup finely chopped black olives
1 tsp. dried dill OR thyme OROR curry powder
Mix well and chill. Optionally omit cream or yogurt and use 8 oz. cream cheese. Form into small balls and roll in chopped pecans.
Olive Pate: Mix leftover tapenade with cheese base, adjust seasonings and serve OR combine
11/2 cups pitted mixed green and black ripe olives – finely chopped
1 garlic clove – crushed
1 lemon zest finely grated
4 tsp. lemon juice
½ cup fresh bread crumbs-wheat works well
½ cup cream cheese- not low fat
Salt and pepper
Fresh parsley or lemon slices to garnish
Mix all the ingredients and combine well. A machine can be used, but use care. Over processing will result in a muddy colored paste. Place in a covered container and chill for several hours. Serve with toast rounds or toasted bread. Makes 2 cups
Ham and Cheese Pate: This can be made from leftover turkey and ham or Deli meats.
8 oz chicken breast cooked in fine dice—substitute turkey
3 1/2 oz. cooked lean ham in fine dice
1 garlic clove finely chopped
½ cup cream cheese – low fat is fine
1 tsp. grated lime zest + to garnish
2 Tbs. lime juice
½ bunch fresh parsley – stems removed – finely chopped- substitute 2 Tbs. dried
Salt and pepper
Mix all the ingredients well in a bowl. Cover and chill for several hours. Garnish with parsley and serve. Makes about 2 cups
Bleu Cheese Spread: Packaged salad crumbles work well here
6 oz. bleu cheese – any type Danish, Roquefort,  Gorgonzola
8 oz. cream cheese
1 Tbs. Worcestershire Sauce
1 Tbs. dried minced onion
2 Tbs. White wine
Blend well, place in crock for serving and chill
Cheddar Balls
½ cup shredded cheddar cheese –commercially packaged is fine
3 oz. cream cheese
1 tsp. salt
Red pepper
1 tsp. Worcestershire sauce
1 Tbs. paprika
1 Tbs. chili powder
Combine the paprika and chili powder and set aside. Mix all the other ingredients and form into small balls. Roll the balls in the paprika-chili powder mix and chill before serving.
Ham and Cheese Balls
½ lb. cooked ham – ground
5 oz. cream cheese
2 Tbs. Worcestershire sauce
1 Tbs. Ketchup
1/8 tsp. red pepper
1 tsp. lemon juice
½ tsp. salt
Minced chives
Combine the first 7 ingredients, and shape into meatball sized balls. Roll in the chives. Chill until very firm before serving.
Italian Stuffed Tomatoes:
24 cherry tomatoes – tops sliced off and seeds carefully removed
2 cups whipped cottage cheese or soft cream cheese
1 Tbs. dried basil
1 Tbs. dried oregano
1 Tbs. garlic powder
Salt & pepper
24 large capers
Mix cheese and spices and chill for a few hours to allow flavors to meld.  Stuff tomatoes and top each with a caper.
Mayonnaise is also useful in creating on-the-spot spreads
Deviled Ham: Shredded leftover ham works here simply adjust seasonings
1 can deviled ham
1 Tbs. Dijon mustard
¼ cup mayonnaise
2 tsp. India relish— or finely chopped sweet pickles
Mix all ingredients and chill. Makes 1 cup
NOTE: This mixture can also be used to stuff cherry tomatoes or lightly boiled mushroom caps.
Pimento Spread
8 oz shredded cheddar cheese
½ cup mayonnaise
1 tsp. Dijon mustard
1 tsp. Worcestershire sauce
(1) 2 oz. jar pimentos drained and chopped- liquid reserved-or 2 jarred red peppers
3-4 seeded, chopped jalapeños – depending on taste
Mix all ingredients with a spoon until just chunky for a spread. Add the reserved juice to liquefy if desired as dip. Chill. Makes 1 ½ cups
Then there are the normal pantry supplies that can ride to the rescue or that item you never did find a use for.
Tuna Spread:
(1) can 6 ½ oz. solid white tuna in water – drained
1 cup sour cream
3 Tbs. finely chopped celery
2 Tbs. chopped pimento-or jarred red pepper
1 tsp. Worcestershire sauce
3 drops Tabasco
1 Tbs. chopped fresh parsley-or 1 tsp. dried
Stir to combine all ingredients. Chill well. Garnish with fresh parsley. Makes 1 ½ cups.
Deviled Egg Dip:  A simple dip to make from in house items is actually an old family favorite and can do triple duty as a sandwich spread or dressing for a wedge of lettuce. This is a "to taste" recipe rather than an exact one, but the rigid rule to success is that the whites are chopped alone, and the yokes crumbled into the mixture at the end of mixing.
4 hard boiled large eggs – whites finely chopped – yokes reserved
¼ cup mayonnaise
1 Tbs. Spicy Brown Mustard (or more to taste)
¼ tsp. Red Pepper – or to taste
Mix everything but the yokes. Then crumble them in. Mixture will be stiff, but will become more liquid as the flavors meld. Refrigerate at least one hour, adjust seasoning before serving. Makes 1 cup. (Note-Excellent with potato chips)
Baked Bean Sandwiches
(1) 15 oz. can Boston baked beans
2 Tbs. ketchup
1 Tbs. spicy brown mustard
1 Tbs. horseradish
½ lb. loaf of Jewish Rye bread sliced thin
Bake the beans until still soft but with little sauce. Mash them with the ketchup, mustard and horseradish, adjusting the taste as you do so. Spread the mixture on one side of half the bread slices and top with the other half. Cut each sandwich into 3 or 4 finger sandwiches. Can be made ahead and refrigerated, covered in plastic wrap, for 1 week, or frozen for 1 month, at this point. Broil until golden on both sides and bubbling. Serve at once.
Hot Digs in Cumberland Sauce:
1 lb. pkg. hot dogs – any type
(1) 12 oz. jar red current  jelly
¼ cup Dijon or spicy brown mustard
Red pepper flakes or Tabasco to taste
Divide the hot dogs in 6 pieces each. Over medium heat, melt the jelly and mustard together and stir until completely dissolved and combined. Add the hot dog pieces and reduce heat, cook until hot dogs are puffy, @ 5 min. Add hot pepper to taste. Keep hot while serving. Have a cup of toothpicks on the side and some cocktail napkins. Makes 48 pieces
Anchovy Cheese Rolls:
12 slices white bread – crusts removed
6 oz. cream cheese – softened
(2) 3 oz. cans anchovy fillets
Flatten bread with a rolling pin. Spread with the cheese and cut each slice in half. Roll each piece around a piece of anchovy. Fasten with toothpicks and broil 5 min, until brown.
Some items stored in the freezer can help too
Spinach Porcupines:
(1) 10 oz. package frozen chopped spinach-thawed and drained
½ cup finely chopped onion
1 egg beaten
2 Tbs. melted butter + 2 teaspoons
1/3 cup fine bread crumbs
2 Tbs. pine nuts
2 Tbs. grated Parmesan
1 tsp. garlic powder
1 tsp. powdered ginger
½ tsp. ground nutmeg
Dash of pepper
Salt to taste
Mix the spinach, egg, onion butter and breadcrumbs together. Add the seasonings and pine nuts and incorporate well. Shape into equal balls about 1 inch diameter each and place on an ungreased cookie sheet. Bake in a preheated 350 degree oven for about 20 min. or until cooked through and firm. Serve warm with toothpicks.
Zucchini Squares:
3 cups thinly sliced, unpeeled zucchini- a 1 lb. bag of frozen, thawed and drained will do
1 cup Bisquick
½ cup onion chopped
½ tsp. salt
2 Tbs. chopped parsley
1 tsp. dried marjoram or dried oregano
2 cloves garlic mashed
½ tsp. pepper
1/3 cup oil
4 eggs beaten
Mix all the ingredients together and spread in a 13 x 9 x2 inch greased pan. Bake at 350 degrees for 25 min. or until brown. Cut into 1 x2 inch pieces.
Here's an idea for those who serve beef over the holidays
Beef Tomato Skewers:
1 lb. Deli roast beef sliced ¼ inch thick or leftover roast, even pot roast
½ cup Italian dressing – separated into 2 equal portions
(2) 14oz cans artichoke hearts drained and quartered
1 pint basket cherry tomatoes
(1) 6 oz. can pitted ripe olives – drained
Marinate beef in ¼ cup dressing for several hours. Marinate the vegetables for the same time in the other ¼ cup dressing. Drain the beef, roll up the slices and cut each in ¾ inch pinwheels or chunks if using leftovers. Drain the vegetables and alternately thread one of each with one beef pinwheel or chunk on 4 inch skewers or toothpicks. Makes 48 pieces.
Finally there's Bruschetta, the ultimate way to use up odds and ends on leftover artesian bread.  It's angled slices of stale Italian bread, cut ¾ to 1 inch thick, lightly oiled and rubbed with garlic on one side and browned in the oven, (350degs for 10 min.) which can support a great variety of toppings, and once browned, depending on the topping, may or may not be returned to the oven. Some suggested toppings  are listed below, but there are endless ways to make it. Let your imagination truly be your guide—
First a Note: Actually, substitute a thinly sliced French loaf for Italian, keep or change the garlic, substitute and/or add mustard  etc. and change the cheese, it can become a canapé, but watch out – serve at once while hot!
1)  Chopped fresh tomatoes, drizzled with olive oil, sprinkled with salt and pepper to taste and fresh, or dried herbs-basil, parsley, thyme or oregano, topped with a slice of fresh mozzarella, crumbled feta or slivers of Parmigianino-Romano.  If substituting canned diced tomatoes, drain them very well and limit the oil.
2)  Spread the toasted bread with pesto add slices of fresh mushrooms, or sautéed ones and /or karmelized onions or thin slices of tomato and top with slivers of brie, Fontana, gruyere or camembert. This can be served as is, or briefly run under the broiler.
3)  Go veggie! Saute chopped onions and peppers in a little olive oil (This actually can be done by placing them with the oil, just enough to coat, seasoned with lemon pepper to taste, in the microwave on high, allowing 2 min. per cup) top with chopped bits of oil cured sun-dried tomatoes and / or a choice of cheese. Do not allow to stand long.
4)   Try Mexican! Replace the tomatoes with drained salsa and top with cheddar and fresh cilantro. Add a bit of cumin and coriander to taste during cooking. (Optional) Can be run under the broiler, or served at room temperature, but again do not allow to stand long.
5)  For seafood lovers, make a Lamaise dressing of one part ketchup to three parts mayonnaise, add mace to taste. Spread it on the toasted bread and top with shrimp, whole or chopped, crab or lobster interspersed with julienne curly leaf lettuce or spinach. Great for leftover shrimp rings.
6) Be elegant and top the bruschetta with thinly sliced smoked salmon and / or caviar decorated with a sprig of fresh dill. Optionally, a thin spread of cream cheese on the toast would mute the salty taste, for those who don't care for it. This, especially, makes an excellent first course, as, in fact, do several of the suggestions above.
7)   Tapenades make excellent bruschetta toppings, especially over a spreading of cream cheese. Olive and sun-dried tomato tapenades are now sold in the relish aisle of most markets and keep refrigerated for 2-3 weeks However, because the variety is limited, and they are usually sold only in small jars, it's really better, and so easy, to make your own, especially if you're planning on guests, and can do it ahead. A tapenade is simply a combination of any of several ingredients, marinated in olive oil to meld the flavors. Possibilities are: sliced olives, black and/ or green, chopped onion, chopped garlic, chopped peppers red and / or green, fresh and / or roasted, sweet and/ or hot (very little of the latter) slivered pimento, capers, chopped sun-dried tomatoes if oil cured, use some of the oil in the marinade, even ones re-hydrated in water are good  and I find a bit of the tomato water softens the oiliness of the marinade. I've had tapenade with anchovies, or smoked oysters added at serving time. Just about anything goes so long and proportions are to taste. I would suggest starting with the olives, which come pre-sliced in cans, think tomatoes, onions, garlic and go from there.