FANTASTIC HOLIDAY DESSERTS TO MAKE AHEAD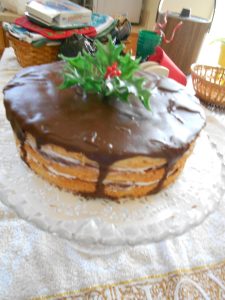 I seem to be stuck on the dessert cart lately, but it isn't a sugar high. These two months are the season of holidays, especially in the U.S. but the November one and those in December have very different approaches to food.
Thanksgiving leads off with its emphasis on autumn produce. The recipes are more basic, hardy and full flavored, including the desserts featuring dishes like pumpkin, mince and apple pie served in wedges. By comparison, the menus for the December holidays are more elegant, the recipes often more sophisticated depending on sauces and cooking techniques. The desserts are visually decorative and though perhaps loaded with calories, lighter on the digestion; things that can be picked up by hand or served in slivers. Also, by this time people are becoming conscious of the amount they're eating and one dessert often satisfies twice as many as a few weeks earlier.
Another difference in the holidays is that while Thanksgiving may be a communal effort, the December ones are usually the responsibility of the person hosting. Having been in that spot for years, I can honestly say that when the main entrée has been eaten, I want nothing more than to clear the table, and set out the desserts without any prep in the kitchen. I may have to face the dishes later, but from that point on, my main duties are over and I want to enjoy the rest of the time with my guests.
This is why, for me, it's important to have most of the cooking done before the day, especially the desserts. I like to make them as I find time and have them ready ten days to a week ahead, some even more. I have a large freezer, so I'm able to freeze finished baked goods, but for those with less room, cake layers can be stacked and stored while the icings can be kept in the refrigerator. Actually, cakes will keep, chilled, for several days, even in a cold garage.
The following recipes are able to provide this freedom, and serve as examples of how similar ones can be treated the same way.
CHRISTMAS BREAD: People who normally hate fruitcake, like this, especially with a cup of coffee or tea, because it has a lighter texture—half way between bread and cake
This is kinda cheating because it's based on two boxed Quick Bread mixes. I like Cranberry and Pumpkin, but have used Date and Nut as well. In fact, I might add them if I were to make more than 2 loaves.
If the mixes have different add-in requirements, I mix them in separate bowls and combine the batters. In each mix I replace half the liquid with red wine, which acts as a preservative.
Before adding that I toss a total of ½ cup chopped nuts and ¾ cups mixed chopped, dried fruits in the dry flour. This prevents clumping in the batter.
I decorate the tops with whole nuts, candied cherries and colored sugar, then bake as directed in two loaf pans-one per box of mix used. When the loaves are cool, I sprinkle the tops with about 2 Tbs. of whiskey, cover them in plastic wrap These should be made in October, but they can be baked as little as 2 weeks before serving. The alcohol doesn't taste, but preserves and deepens flavor. They are fine to serve children. In fact they make a great breakfast bread.
YULE LOG—Serves 16-18
Using boxed Gingerbread mix, I replace half the water with applesauce, add ¼ cup oil and use 2 eggs. Beat only until well incorporated – about 2 min.
Grease the bottom only of a 19 x 11 inch jelly roll pan. Line it with parchment paper and grease the paper.
Preheat the oven to 350 deg., and bake on the middle rack for 16 to 18 min. until it springs back when poked lightly with a finger.
Remove from the oven and sprinkle liberally with powdered sugar. Cover with a tea towel, and using a board as a brace invert the cake. Peel off the parchment and roll the long side of the cake in the towel. Resting the edge on the bottom let the cake cool completely.
Meanwhile, beat 8 oz. cream cheese with 8 oz. Cool Whip until smooth adding 2 tsp. maple flavoring -or to taste, and 1/3 cup chopped, toasted walnuts or pecans.
Carefully unroll the cake and fill with the cheese mixture. Re-roll. Trim ends evenly.
Cut a piece about 3 inches long from one end on an angle and position it along the "trunk" to form a branch. Secure it with a bit of frosting.
Frost the cake and add any decorations. Freeze until ready to serve. Allow to thaw 30 to 45 min.
OTE: The Roulade cake recipe below explains how any flavor of cake mix can be baked into a log. The same filling can be used with a flavor change, other nuts and even chocolate chips.
Cake *
1 box plain cake mix
1 cup buttermilk
½ cup vegetable, seed or nut oil
4 eggs
Confectioners' sugar for dusting
Parchment paper
Butter for preparing pan
Make the cake: Butter the bottom only of a 16 ½ X 11 ½ X 1 inch jelly roll pan. Line it with the parchment, leaving a couple inches overlap on the ends, and butter the paper. Put the cake ingredients in a bowl and beat, scraping the sides, until batter is thick and combined about 3 min. Pour into the
prepared pan, smoothing it out with a spatula. Bake on the center rack of a preheated 350 deg. oven for 15-17 min. until it springs back when pressed with a finger. Liberally dust a clean kitchen towel and starting with the long side, carefully roll the cake away from you in the towel. Place seam side down on a flat surface to cool for about 20 min. Follow directions above for assembly.
NOTE: If the cake seems split in places, and it will as it's rolled, the frosting will cover them. Garnish with sprinkled cinnamon or nuts.
*This recipe is based on but modified from one in The Cake Doctor by Ann Byrn
MODIFIED OPERA CAKE Serves 10-12
(3) 9 inch round cake pans—available as a 3-pack in a dollar store
Parchment paper or waxed paper
1 box yellow cake mix and ingredients listed on package*
8 oz. container whipped topping
8 oz. cream cheese
1 tsp. almond extract
1 can dark chocolate frosting
Toasted slivered almonds—optional for garnish
Cut parchment rounds to fit cake pans. Grease pan bottoms and paper rounds. Mix batter according to package directions and place 1/3 in each pan. Bake at package stated temperature for 1/3 the time recommended, usually about 15-18 min. or until top springs back when lightly pressed. Cool then invert onto plates and peel off paper. If necessary, slice tops to level them.
Beat cheese, topping and extract together until smooth. Plate one cake layer and cover with a thin layer of frosting, spread ½ the cheese mixture on top and repeat with a second layer. Top with the 3rd layer even side up making sure it's level. Remove excess filling from sides with a knife if needed.
Microwave remaining frosting 20-30 sec. until easily pourable but not too runny and using a spoon as a guide if necessary, pour evenly over the top of the cake to create a smooth glazed effect. It's O.K. if some runs decoratively down the sides. Decorate with toasted slivers of almonds or a sprig of holly in the center.
Re-freeze as at first for later use. Serve leftovers in slices in a circular pattern on a plate.
* For a more authentic Opera Cake
3 eggs separated
6 Tbs. sugar
Dash salt
¾ cup sifted cake flour
½ tsp. vanilla
3 Tbs. sugar
Beat yolks, sugar and salt until light and fluffy, about 5 min. Fold in flour. Beat whites until soft peaks form and then beat, adding sugar, until peaks are stiff. Fold a glob of whites into yolk mixture, then fold in the rest. Pour into pans and bake at 325 deg. for 15 min. Ice and store as for box mix.
Red Velvet Christmas Cake: Serves 12
A stunning cake can be made with the above technique baking the batter in 3 pans
1 box red velvet cake mix, baked according to directions in 3, 9 inch round pans. You will have to adjust time, but see the Opera Cake above
Frosting
8 oz. cream cheese
8 oz. container of Cool Whip
Confectioners' sugar to taste-optional
1 tsp. or to taste peppermint or other flavoring
Few drops green food coloring—optional
Beat the above ingredients together until smooth and creamy, adding sugar if desired to taste, flavoring and enough coloring to turn the mixture a light green. Frost the layers and then the outside of the cake. Decorate with sprigs of holly or crushed candy canes.
Pecan Bars: Yield 24 squares
1 box pecan cake mix
1/3 cup cooking oil
2 large eggs
8 oz. cream cheese
1/3 cup sugar
2 tsp. Maple flavoring
1-2 Tbs. milk
Beat the cake mix with the oil and 1 egg until crumbly-about 1 ½ -2 min. Reserve 1 cup; press the rest onto the bottom only of a 9 x 13 inch ungreased baking pan. Bake on middle rack of a preheated 350 deg. oven 13-15 min. until golden. Leave oven on. In beating bowel, with the same beaters, combine cheese, sugar flavoring and 1 Tbs. milk. Beat until creamy adding other Tbs. milk as needed. Top with reserved cup of crumbs. Bake about 15 min. until top is golden. Cool and cut into squares.
Black Forrest Brownie Swirl: Yield 24 brownies
1 box brownie mix (24 oz.)
1 can cherry pie filling
1/4 cup oil
3 eggs
¼ cup sugar
8 oz. cream cheese
1 tsp. vanilla
Candied cherries
Prepare brownie mix using oil and 2 eggs and ½ cup pie filling until well mixed. Stir in and lightly beat another ½ cup pie filling, leaving some cherry chunks.
Beat cheese, 1 egg, sugar and vanilla until smooth. Pour over brownie mix and cut through with a knife several times to give a marble effect. Arrange candied cherries over the top. Bake at 350 deg. 35-30min. until cheese is set and beginning to tan. Cool in pan and cut.
For those who prefer the traditional ending to a holiday dinner, seated at table or who just want a warm but special dessert on a cold night, I offer the next two recipes. If your oven is empty and you can conveniently watch the time, the baking time on these fits well with the time it takes to eat the entree.
Pear Tart: Serves 8
1 pie crust—commercial is O.K.
¼ cup butter
¼ cup sugar
1 egg
1/3 cup finely chopped almonds
½ tsp. almond extract
1/3 cup vanilla cookie crumbs
1 Tbs. powdered sugar
1/3 cup apricot or all fruit preserves
2 large pears cored and thinly sliced
1 Tbs. brown sugar
Fit pie crust into a 9 inch tart pan, taking care to mold the sides-cut off excess. Bake 5 min. in a preheated 400 deg. oven. Cool and spread crust with preserves. Beat butter at medium speed until creamy, add sugar, beat, then egg and blend well. Stir in almonds, extract and crumbs. Spread mix over preserves. Bake at 400 deg. until brown, about 20-25 min. Remove and sift powdered sugar over top.* Arrange pears over top in a circular pattern and bake in a preheated oven, at 425 deg. for 15 min. Sprinkle brown sugar over the top and bake 1-2 min. more.
*NOTE: Tart can be saved, chilled, at this point for 3 days.
Cranberry Crisp: Serves 6
12 oz. fresh cranberries=2 cups
1/3 cup sugar
½ cup chopped walnuts
1 egg
½ cup of flour
½ cup sugar
3/4 cup butter- melted
Lightly grease a 9 inch pie plate. Fill with berries, top with 1/3 cup sugar and nuts. Beat egg until foamy, beat in butter, flour and remaining sugar until batter is smooth. Pour over berries. Bake in a preheated 325 deg. oven until browned, about 45 min. This is best served warm with ice cream or whipped cream.
NOTE: This can be stored, the berries in the pie plate, covered, and the batter in a container in the refrigerator for about 3 days. Combine and bake. Probably can also be reheated in the microwave the day after baking.
Tips for serving and for the leftovers:
1) If you want to preserve some of these cakes for another occasion, positioning them on the table is important. It guides people away from cutting into them willy-nilly. I often cut a slice or two from the trunk of the log to give direction or a thin slice from the round cakes. The layered cakes can simply be sliced while frozen and the slices arranged on a plate for a new presentation. The log can usually be presented in its original form, but it too can be sliced to share the plate with the other cakes.
2) The fruit bread, tart and crisp are stored in the refrigerator not the freezer. Cut the remainder of the fruit "cakes" into interesting shapes or fingers, and present them plated with small squares of a quick muffin fruit mix, like Jiffy, baked in a loaf pan, with sugar and cinnamon sprinkled on top. It creates an economical, efficient and attractive presentation.
Hope this helps solve some problems to make Holiday entertaining easier for you.