Fabulous, Elegant Dinner For 4 Under $13.00- For 10 Under $25.00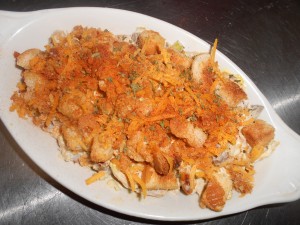 Here's another menu for an easy, elegant, affordable dinner for a group. I had planned to write the post sooner, but got side-tracked by holiday food, using leftovers and suggestions for winter meals. Perhaps, that's just as well with Easter coming, since it's a chicken dish and chickens symbolize spring. The recipe was a long-time favorite of the caterer who shared it with me to make for a buffet, and I've used it often. In fact, I served it for years on New Year's, made with leftover turkey breast, and always won raves. It would do equally well as an Easter brunch or supper.
One thing that makes this dish so great is it's adaptability from the dressy to the casual buffet or small dinner for guests or just family. The recipe is easily adjusted for portions and versatile enough to be served for an occasion or a week night meal. Moreover, it freezes well, so it can be made in advance and cooked to order when needed.  Add to this that the cost is reasonable and the labor involved minimal and I'm sure it will become a favorite of anyone who gives it a try.
In keeping with my usual policy, I'm citing the recipe in quantity that serves 4, because it's the easiest to divide or multiply to accommodate the required portions for servings. I'm also quoting the prices for the  ingredients as bought fresh and as calculated for the amounts actually used.  To give you full control over the recipe, I'm including the original version as the caterer gave it to me.
Normally regular pantry supplies, flour, salt pepper etc. and small amounts of herbs, spices and flavorings are not included in recipe estimates for articles, nor are items considered kitchen staples, such as butter and eggs, unless required in large amounts.  The amounts of those items used these recipes so minimal that their inclusion would have made less than $1.00 difference in the totals. The sides I include only in my 'affordable' menu, but 'affordable' is really a relative term here.
Admittedly, in the many times I've made Hot Chicken Salad I've had most of the ingredients in stock. So even I was shocked at how reasonable this dinner is even when all the ingredients are newly purchased in available quantities at a regular chain supermarket without coupons, let alone the expenditure for the amounts used. Both totals are listed below. The full total is the more impressive considering those quantities would cover servings equal to number of pieces of chicken in the Valu-Pac, or 10, probably even more. Also notable is the fact that the only variation in price would be in the choice of meat to be used. Leftovers would be less, fresh chicken or turkey breast higher. Just a note though, always use meat cooked on the bone, otherwise poultry tends to curl and dice unevenly.
Affordable Hot Chicken Salad; Serves 4
4 chicken thighs
1 cup diced celery
½ small onion diced
3 Tbs. slivered toasted almonds
1 Tbs. lemon juice
(½) 4oz.can mushrooms -drained
½ tsp. salt
2/3 cup Hellman's mayonnaise*
¼ cup grated sharp cheese
1/3 cup toasted croutons
1 Tbs. melted butter
Paprika and dried parsley for garnish
Boil chicken, skin and bone and cut into bite sized pieces (save broth for another use).  Mix in a bowl with the next 7 ingredients. Spread evenly in a flat bottomed, oven-proof dish or casserole. Toss croutons with butter and scatter over the top, sprinkle with cheese.**  Bake in a 450 deg. oven for 30 min.
*Hellman's is recommended for this because it cooked better than other mayonnaise.
** can be frozen at this point. Cover top with plastic wrap and seal dish in a plastic bag. Good for 2 weeks.
SIDES
Green Beans with Sautéed Onions: Serves 4
(1) bag frozen whole or cut green beans 12-16oz.OR equal amount fresh
½ small onion in large dice
1 Tbs. butter
Lemon pepper to taste
Saute onion in butter until soft and beginning to turn golden. Cook beans until crisp tender; drain and toss with onions adding lemon pepper to taste.  Serve hot or room temperature.
 Kale with Sliced Grape Tomatoes in Vinaigrette
½ lb. kale
½ pint grape tomatoes
vinaigrette of choice *
Trim the heavy stems from the kale and cut leaves into bite sized pieces. Pour boiling water over them, plunge into cold water, then chill until crisp. Serve with sliced grape tomatoes in vinaigrette.
* For suggestions see DIY Dressings to Make Salads Sing, posted July 31, 2015
Muffins or Rolls
Fo packaged muffin mix: if fruit, top with cinnamon and sugar before baking or if plain, with poppy or rye seeds. Warm artesian rolls or bread are also good choices.
DESSERT
Maple, Butter Pecan Bars: Serves 8-10
1 pkg. cake mix
1/3 cup oil
2 large eggs
8 oz. cream cheese
1/3 cup sugar
2 tsp. maple flavoring
Preheat oven to 350 deg. Blend the cake mix, oil and 1 egg scraping bowl sides, only until crumbly and reserving 1 cup batter, press the rest into a 13x 9 inch ungreased baking pan, evenly so it reaches all sides. Bake until crust is light brown 13-15 min. Remove pan and let cool slightly. Using the same bowl as the crust was mixed, beat the cream cheese until soft, add the sugar, last egg and flavoring and beat until well combined, about 2 min. on low. Spread filling evenly over crust and sprinkle with the reserved crust mix. Bake until crust is golden and filling is starting to set. Cool on a rack for 30 min. and cut into 24 bars. Store, covered at room temperature for 4 days, or chilled for 1 week. Can be frozen for 1 month.
ORIGINAL RECIPE
HOT CHICKEN SALAD -: Serves 12
6 whole chicken breasts-split
3 cups diced celery
1 medium onion diced
½ cup slivered almonds- toasted
4 Tbs. lemon juice
1 ½ tsp. salt
¾ cup grated sharp cheese
1 cup cooked or canned mushrooms
2 cups Hellman's mayonnaise
1 cup toasted croutons (rye)
½ stick melted butter
paprika and dried parsley for garnish
To cook, follow the directions given above.
ACCOUNTING
4 Chicken thighs at $0.88/lb. in a 4lb. Valu Pac.  =$3.52 containing 10 pieces= $0.35per =   $1.40
Celery at                                                                         $1.49 per bunch about 1/3 used           =   $ 0.29
Onion at                                                                         $1.50/3lb. 1.2 small one used              =   $0.25
Almonds                                                                         $1.25 for 1.25 oz. ½ used                       =   $0.63
Mushrooms                                                                   $0.59 for 4oz. can-1/2 used                   =   $0.30
Lemon                                                                            $0.50 per- ½ used                                    =   $0.25
Mayonnaise                                                                   $3.66 for 30oz.2/3 cup used                 =    $0.60
Sharp Cheese                                                                $1.65 for2 cups- ¼ cup. used                =   $0.21
Bread for croutons (buy day-old stale)                     $1.00 perloaf-1/4 used                        =   $0.25
————–                                              ——————-
Total amount for ingredients      $15.16                           Total used                 $4.18
Sides
Green Beans*                                                                   $1.00 all used                                           = $1.00
Kale *                                                                                 $1.28 per lb.  all used                               = $1.28
Grape tomatoes                                                             $2.50 per pt.   ½ used                                =  $1.25
Muffins, rolls or bread                                                   $2.00 Allowed                                            = $2.00
Cake Mix                                                                           $1.25                                                           =  $1.25
Cream cheese                                                                   $1.15 per 8oz.                                           = $1.15
_____________                                        —————-
$9.18                                                           $7.93
TOTAL COST                                                    for 10       $24.56                                 for 4            $12.11
*May need to be doubled for 10
It's hard to beat that!!!