Enjoy Leftover Side Dishes Too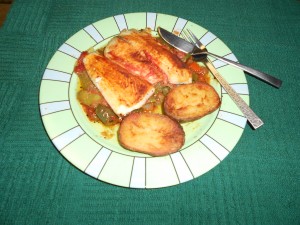 As I said last week, I love leftovers, and that goes for the side dishes too. I admit I don't buy extra quantities in anticipation of making certain recipes as I do the roasts, but I don't dread having leftovers from sides either. I've learned the trick to putting them to good use (pardon the pun) is not to regard them as small separate bits of things, but consider them as possible contributing ingredients to another dish.
I remember a family friend from Denmark, who fondly recalled boyhood summers with his grandparents on their farm. Sunday dinner was always a roast, which formed the mainstay to the week's meals. Saturday's was a traditional meal, with a name I can't spell, that was a soup-stew based on broth made from the roast bones and all the leftovers from the other meals that week, seasoned accordingly. These dinners were favorites because they were consistently good, frequently outstanding, even memorable and always appreciated because everyone knew, by their very nature, they could never be duplicated. They were an anticipated weekly adventure. That's the way leftover side dishes should be regarded, as opportunities to make something new.
Because side dishes are so many and varied in event dinners such as Thanksgiving, it's impossible to set out a series of specific recipes for the leftovers as can be done for the turkey They have to be dealt with in generalities, but suggestions for using them can be given.
Cranberry sauce, for example, though not a side, is a common Thanksgiving dinner leftover.
Jellied sauce is a great spread and a change from too sweet jams etc. but it also can be melted with 1 Tbs. water per 1/3 cup and used to glaze open pies and tarts. The color adds a "glow" to the color of the fruits.
A wedge or round of Brie covered with whole berry sauce and wrapped in pie dough, baked at 350 deg. until golden is delicious.
Whole berry sauce mixed with oil and vinegar, preferably balsamic, to taste is a wonderful salad dressing. Try it over crisp greens, chunks of poultry or cooked pork, diced celery, onions (optional), toasted chopped walnuts, pecans or almonds and crumbled feta or blue cheese.
Optionally, use the dressing for the current popular version of a dinner salad, with vegetables, cut beans, favas, edamame, sliced zucchini or cucumbers, chopped cauliflower or broccoli, even radishes, leftover, frozen or fresh, crisp mixed greens, some nuts or seeds, maybe some cheese, tossed and served over slices of cooked meats, poultry or fish. A dash of hot sauce adds a bit of zip too.
Stuffing, as I mentioned last week, I like to freeze in 2 portion size containers because it's a welcome change from potatoes, rice and pasta in future poultry and pork meals. The size is simply easier to handle than smaller or larger amounts. I am including my recipe for Stuffing Soup below as an alternative. Also ideas to consider are:
There's a chain Deli in Delaware that's famous for a sub called the "Bobbie" having turkey, stuffing, cranberry and mayo. People come from near-by states for this.
Put a layer of stuffing in a freezer container and cover it with a "stew" of turkey, vegetables, leftovers are fine, and leftover gravy. Place a layer of plastic wrap on top to prevent ice crystals and seal with the lid. Remove the wrap, replace the lid and microwave to heat.
Though white potatoes don't freeze well unless mashed, other root vegetables such as sweet potatoes, especially candied, do just fine, as do rutabagas, and carrots, but squash can become a bit watery and may need to be drained. Like stuffing, they can offer welcome alternatives in future menus. Mashed, and mixed with an egg, they can serve as toppings for casseroles as with Shepard's Pie, but my favorite is to use any of the above in a recipe I call Fusain Tilapia, also listed below.
Vegetables in general are welcome in soups and stews, fresh or leftover. They can also be the basis of one of the popular dinner salads with meat as described above or be made into casseroles with the addition of pasta, rice or beans and canned tomatoes. The tops can be breaded and coated with cheese and the dish baked, or simply heated and served as a casserole. I've often served them this way for a New Year's Day buffet. Another way I use them is with diced tomatoes as bedding in the Mediterranean Fish recipe below.
Vegetables that have been presented in prepared dishes such as Corn Pudding or Spinach Soufflé can enjoy a re-run too. They can:
Stuff omelets or be the base of frittatas.
Be mixed to form filling in a quiche. See the recipe below and omit or simply add to the mushrooms and onions. Optionally substitute another meat for the bacon or omit.
Chop them and use them as a layer in a lasagna type dish with sauce and cheese, or stuff large shells, then cover with a sauce, cheese and bake.
Make the pureed vegetables into a sauce to serve over pasta, meat or fish.
Of course If pasta or rice dishes are among your leftovers, you can add them to one of the dishes suggested above. The rice will freeze for later use as does the stuffing but pasta doesn't do so well in the freezer. It can be fried in a skillet and served in a cake as a side or snack, or added to vegetables to make a new side dish. Again it's a case of using your ingenuity and having fun.
Gravy of course is needed for stews and casseroles. It can be frozen as well and added to the broth for soup at a later date. The instructions for making the broth from the turkey bones are in my last posting about Loving Leftovers. The important thing is that you look forward to dealing with leftovers with a sense of adventure not one of resigned dread.
So have a Happy Thanksgiving and enjoy you dinner, that day and for many to come! Hope my suggestions have helped.
Stuffing Soup:  6 servings
4 Tbs. Butter or canola oil—or a combination
1 large onion chopped
1 carrot sliced
1 stalk celery sliced
2 tomatoes diced or (1) 14oz can diced tomatoes with juice
1 Tbs. dried parsley-or equal amount fresh
3 to 4 cups diced poultry or pork
48oz stock=3 cans broth+ 6oz water ( gravy may be mixed in to this amount )
2 cups leftover stuffing
1 ½ cups cooked shaped pasta-bows, shells, penne
1 to 1 ½ cups leftover vegetables—peas, beans, corn, sprouts, spinach (optional)
Melt butter in a stock pot over low heat and sauté onion, carrot and celery until tender. Stir in tomatoes, meat and parsley. Add stock and stuffing. Bring to a boil, reduce heat and simmer, partially covered, 1hr. Add any leftover vegetables and warm through. Place pasta in a deep bowl and ladle soup over.
FUSAIN TILAPIA : Serves 4
4 large Tilapia fillets
3 bunches scallions – also called green onions- trimmed of roots and course green stems
1 Tbs. garlic powder
1 Tbs. powdered ginger
3 Tbs. butter – divided
2 Tbs. oil
2 Tbs. Soy Sauce
½ cup Cream Sherry
(1) 2lb. 4 oz. can sweet potatoes
2 Tbs. brown sugar
Salt and pepper.
Drain the sweet potatoes. Using 1 Tbs. butter and the brown sugar, and if needed a bit of their own syrup, candy them, either in a skillet on the stove, or in a cooking oil sprayed pan in the oven, as per directions on the can. (I have been known to do this in the microwave, by melting the butter, dissolving the sugar in it, coating the potatoes well, covering and cooking on high for @ 3 min .in one minute intervals.)
Cut white and light green parts of scallions on and angle in 1 ¼ inch pieces. Set aside.
Melt 1 Tbs. butter and 1 Tbs. oil over medium heat, and gently sauté Tilapia, until it becomes white, adding more butter as needed. You may need to do this in batches. Remove to a plate. Add the remainder of the butter and oil then the garlic and ginger to the pan and stir quickly to avoid clumping. Add the Soy Sauce, Sherry and scallion pieces. Stir for 30 sec. reduce the heat to medium low. Return the fish to the pan and simmer until heated through, about 2 min. Apportion the potatoes on the plates, in the center of each. Serve the fish decoratively leaning slightly against the potatoes. Spoon the scallions and sauce over the fish.
**NOTE: Sweet potatoes can be used straight from the can, leftover, fresh baked or cubed and boiled, even replaced by squash. It's a matter of preference and what's on hand.
MEDITERRANEAN STYLE FISH;
This is a delicious way to cook fish and a wonderful way to serve vegetables. Mackerel is originally recommended but I find the technique works well with almost any fish fillet, though I prefer a white fish like Tilapia or Flounder. I use a variety of vegetables, cut beans, broccoli, usually peppers and always onions. For the tomatoes, anything goes, leftover sauce, any type fresh or canned. I allow for at least 1 ½ cups cooked vegetables, per portion. I like a dash of Tabasco or a sprinkle of cayenne added and maybe a touch of garlic powder   too.
Microwave the diced raw onions, peppers and any others you're using in a bit of oil for 1 min. Add any frozen ones and cook 1 min. more.  Mix with any cooked items and the tomatoes or tomato sauce. Put in a pan, cover with the fish fillet. Lightly spray the fish with cooking oil and sprinkle with a little lemon pepper and paprika. Bake at 350 deg. 8 min. per 1 inch width of the fillet-at least 24 min. until fish flakes and vegetables bubble. Serve at once while very hot.
Classic Quiche Lorraine: Serves 4
Quiche is a dish that allows a lot of room for variety, yet is quite simple to prepare. If one of these won't be enough for your family, make two and use different ingredients. Think of it as if you were making pizzas with different toppings.-but here it's bottoms!
(1) 9 inch deep dish pie shell-store bought is fine—baked
8-10 slices bacon cooked and crumbled OR ¼ lb. sliced Deli smoked turkey
1 Tbs. butter
4 oz. sliced mushrooms—(1/2) 8 oz. can will do –optional
1 small onion diced
4 eggs
1 cup light cream or whole milk
½ tsp. dried mustard OR prepared Dijon mustard
1 cup shredded cheese -Swiss usually preferred
Salt and pepper.
Dash of ground nutmeg
Paprika and dried parsley
Spray skillet with cooking spray and cook bacon until crisp or frizzle smoked turkey and dice.  Melt butter in skillet add mushrooms and onion and cook until they render their juice.-about 3 min. Line a 9 inch pie plate with the crust. Put mushrooms, onion and bacon in the bottom of the pie shell and cover with the cheese. Then pour over the eggs beaten until frothy with the milk, mustard and salt and pepper to taste. Sprinkle with the nutmeg, garnish with the paprika and parsley and bake in a preheated 400 degree oven for 15 min. Reduce heat to 325 degrees and bake for 30 min. more. Allow to stand 5 min. before cutting.