Easy, Stress Free Recipes For Mothers' Day-Part II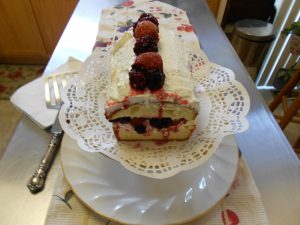 Last week I mentioned that Mothers' Day has the added advantage of offering children a chance to be independently creative in the kitchen, making it, properly supervised, a more fun day for everyone. Generally, children love cooking projects. They're very 'hands on' and visual.  Children can assemble a recipe's ingredients and combine them in a way that creates a chosen dish. They watch it become something special and derive a great sense of accomplishment  as it is served, not to mention a tasty reward. It's almost instant gratification for work well done. Kids really like that!
Plenty of adult pleasing recipes are, or can be made child friendly. I have 53 in my book Stress Free Recipes for Mothers' Day, 104 in my Can I help? And 9 in my growing series of short stories Lilly Likes to Cook. There's an added advantage for those who supervise in the kitchen as well. Making something together is a great bonding opportunity. The short time required for creation and the ability to share, and enjoy, the final product builds great memories.
I mentioned last week that a few years ago I was able to help two children give their mother a happy day, while their father was deployed (post May 10, 2012), and was called on for an encore the following year. Daddy was home, but had been transferred .They were preparing to move and his suggestion was to have take-out so they could continue packing. The children had other ideas. They wanted to contribute as they had before. Their father asked me if meals could be planned that would let the children participate, but wouldn't affect his schedule.
Though most of the kitchen equipment had been packed, we were able to work out a satisfactory meal plan (post May 2, 2013). It helped that he liked to grill. The day went well. The children were happy, their mother was pleased but the father's appreciation was gratifying to me. He was glad to have had the chance to re-connect with his children on their level. It was another example of cooking being more than just putting food on the table. Menus for both days, with complete directions are included in Stress Free Recipes for Mothers' Day.
The following are more recipes from that book in addition to the selection in last week's post.
BREAKFAST
Turnovers: Serves 4
These can hold the filling used in Cheesy Biscuits above. In fact they can be filled with any number of things, but this is a breakfast dish so my suggestion is the one below.
8 oz. sheet of frozen puff pastry
8 "stewed" prunes – from a jar, OR equal amount of dried prunes reconstituted in the microwave
4 Tbs. honey
Powdered sugar—optional
8 oz. container of Greek yogurt—plain, vanilla or lemon suggested
If using dried prunes, cover them with water and microwave on high 1 min. Let stand at least 10 min. If using jarred, remove pits. Roll out pastry on a floured surface to a 10 inch square. Cut into four 5 inch squares Place 2 drained prunes and 1 Tbs. honey in the center of each. Fold squares on the diagonal to make triangles. Moisten the edges with water and press to seal. Place on a cookie sheet and bake in a preheated 375 deg. oven for 15-20 min. until puffed and golden. Cool on a rack and sprinkle with sugar. Serve with a dollop of yogurt on the side.
Yogurt with Bananas and Nuts: Serves 4
3 large, ripe bananas
16 oz. Greek yogurt
4 Tbs. toasted chopped nuts, walnuts, almonds or hazelnuts
Peel the bananas and wrap separately in plastic wrap. Microwave 1 min. on high. Cool, unwrap and mash. Gently mix with the yogurt and spoon into 4 dessert dishes. Chill briefly to cool and sprinkle nuts equally over the tops as garnish.
LUNCH
Spinach Salad: Serves 4
10 oz. bag of baby spinach leaves
4 hard-boiled eggs
4 oz. sliced raw mushrooms
¼ lb. turkey ham
8 oz. bottle of Parmesan Salad Dressing
Gently toss the ham, spinach and mushrooms in enough dressing to lightly coat the ingredients. Divide among 4 plates and garnish each with a quartered hard-boiled egg. Pass the dressing in case anyone wants more.
True N.Y. Deli Style Sandwiches: For 4 servings
Sandwiches from a Jewish Deli are almost 3 inches thick, with the ingredients packed tight, and the star of the show is Jewish rye bread. The real thing is very hard to find in many places, but most supermarkets do make a form of it. I've found most are improved by baking at 350deg. for 10 min, and then letting it cool before slicing-this crisps the crust. For those who have eaten Deli sandwiches this will be nostalgic. For those to whom it is new, it's a treat.
8 slices from a 1 lb. loaf of unsliced Jewish Rye –preferably seeded
1 lb. perhaps a little more of Deli sliced roast beef, roast turkey, ham or corned beef
1 lb. Deli coleslaw
Cut the bread in ½ inch slices. Allow at least ¼ lb. meat per person. Put the meat on 4 slices of bread. Top with a ½ cup-at least-of coleslaw, and cover with the other 4 slices. Press down gently to compress the contents, but don't force them out, and quickly cut the sandwiches in half. No other ingredients are needed, but they go well with kosher dill pickles and potato chips.
DINNER
Chicken in Orange Sauce: Serves 4
4 large boneless, skinless chicken breasts
4 oz. Orange Marmalade
2 Tbs. soy sauce
1 envelope of chicken bouillon+ 2 cups water OR 14oz. can broth
Mix marmalade and soy sauce. Slash the breasts diagonally a couple of times and marinate them several hours in the sauce mixture. Remove them and place in a comfortably fitting pan, with a ½ inch of broth in the bottom. Spoon a bit of marinade over the tops and put in a 350 deg. preheated oven. Bake 35-45 min Baste frequently using all the marinade and maintain the liquid level with the broth. Serve the pan juices as a sauce.    
Salad Nicoise:
Ideally this should be made with grilled Tuna steaks thinly sliced, but canned works well. Just be sure it's a good brand of Solid White Albacore. This recipe is actually for 6 servings, but I find it does 4 well. Kids love making this because they can safely do most of it themselves…
1 head Boston lettuce – sometimes called "Garden" or "Bibb" – if not available buy Romaine NOT Iceberg
1 lb. redskin or new potatoes
1 lb. whole green beans
4 hardboiled eggs – peeled, halved lengthwise and chilled
1 large red or Bermuda onion in fairly thin slices
3 large or 4 medium tomatoes peeled and cut in medium slices OR pint box cherry or grape ones
(1) 2 oz. can anchovy fillets drained oil reserved for dressing
(1) 5 oz. can colossal pitted ripe olives – drained
(2) 7 oz. cans solid white Albacore Tuna in water – drained or 4 tuna steaks @ 1lb. cooked to rare.
Kosher salt
½ cup white wine
2 tsp. dried tarragon
Fresh ground black pepper
Cut the potatoes in quarters, or halves, depending on size. Boil them separately or together with the beans until the potatoes are done and the beans still crisp about 10 min. Drain well, run under cold water to stop the cooking and cool. Place the potatoes and beans in an oblong container, so they can spread to marinate, with ½ cup white wine and 2 tsp. dried tarragon. Allow to marinate at least ½ hr. or all day. Separate the lettuce leaves, wash well and allow to air dry. Cover a large platter with the leaves. Pile the tuna, or fan the slices, topped with the anchovies in the center, and attractively arrange the other ingredients, in separate sections, in a surrounding circle. Sprinkle with the salt and fresh pepper.
Dressing Recipe
Wisk all ingredients together well
4 Tbs. minced shallots – onions will substitute
2 Tbs. dry mustard powder
5 Tbs. red wine vinegar
3 Tbs. fresh lemon juice
1 cup olive oil plus the oil from the anchovies
2 tsp. dried tarragon
Taste and add some of the marinating white wine if it won't dilute too much
Kosher salt
Fresh ground Pepper
Drizzle the dressing over the platter and serve the rest on the side.
Suggested sides:  Some nice warm rolls – Clover Leaf perhaps or Crescent.
DESSERT
Chocolate No Cook Bars:
12 oz. good quality chocolate – milk or semi-sweet or a mixture
5 oz. graham crackers
½ cup +2 Tbs. stewed (jarred prunes) pitted and chopped.*
¼ cup butter
Crush the graham crackers in a plastic bag. Chop the prunes. Melt the chocolate with the butter in the microwave for 1-2 min. Stir to smooth. Mix all the ingredients together and pour into an 8 x8 inch square pan. Chill until set, about 2 hrs. Cut into 12 bars.
* Can be the remainder of the jar opened for Breakfast Turnovers, see recipe above.
 Easy Berry Angel Cake # 2
1 purchased pound cake
8 oz. tub of Whipped Topping
1pt. box of strawberries
Save several nice berries for decoration. Slice the rest and sprinkle with sugar. Allow to rest for a few hours for the juice to extract itself. Just before serving, cut the cake into 3 layers. Spread first with 1/3rd of the whipped topping, spoon ½ the sliced berries over it allowing the juice to drip down the sides. Repeat with 2nd layer. Finish with 3rd layer topped with the rest of the whipped topping and the reserved decorative berries.