DINNERS WITH JOY — A MENU COOKBOOK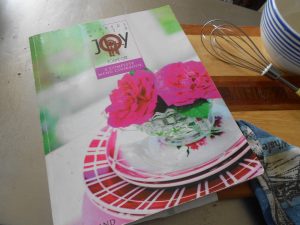 This is the perfect cookbook for busy people who like good food but have limited time to shop and cook. Restaurant quality recipes have been modified for easy, even advanced prep and quick cooking. A great gift, the book provides a ready answer for that nagging question at the end of a long day; "What's for dinner?" and teaches by example how to avoid that stressful dilemma permanently. Moreover, the introduction contains information on fats, carbohydrates, choosing and using poultry, meats and seafood as well as making gravies and sauces and their various uses from dips to desserts.
However, the real difference with this cookbook is that it's based on a professional chef's approach to menu planning. Twelve weeks of healthy, balanced entrées, with side recipe suggestions, are arranged in three monthly groups. Each weekly menu listing is accompanied by cooking tips covering everything from specific directions to general information such as freezing raw and cooked foods, a dessert recipe, and most importantly a detailed shopping list complete with pantry check. Learning how to compile the shopping list is the key to relieving the stress of meal planning.
One can simply pull up the week's list, optionally cross off ingredients of a recipe they don't want or substitute those of one they do, and head to, or call it in to the store or virtual shopper. Having a ready list is in itself a major time saver. It is important, though, to keep the food categories intact, especially if altering a list. Maintaining the list order is needed to make the menu planning process easy but it's even more important to keep food shopping organized whether doing it directly, recording it for later, or particularly if using virtual shopping.
Used as learning tools the lists in the book illustrate how to effortless it can be to provision a week's meals. It's very relaxing to know that in one trip you have the whole week covered—completely—no quick trips to pick up something!
The weekly entrees themselves are varied; a poultry, a pork, a beef, a seafood, an ethnic dish, a casserole and a fun meal. They are presented in the same sequence only to simplify editing. They can be switched or replaced as desired. Again, the important fact is that all ingredients required for the week are on the list, entered in the proper category or deleted if a recipe is rejected.
For the busy person's convenience, several recipes can be prepared ahead for the night there will be no time to cook, or made in excess for anticipated guests and frozen. Those recipes are noted and freezing, plus re-heating instructions are included. Also included are suitable suggestions for restricted diets where indicated, mainly for the pork, ham and shellfish recipes. A recipe, Pork Chops Basil, with both notations is included below as an example.
Does the book work? Well a friend had a printed copy on her desk recently, when an associate known for his lack of cooking skills was intrigued by a recipe. He was amazed when he was able to successfully make it and bought the book. He's not on Master Chef, but he is now interested in trying dishes at home and has even entertained. The recipe that started him off, Chicken in Lemon Wine Sauce is below, as is a sample of that week's menu with its shopping list, which I'm using as an example in this posting. Any special notations or references were covered in the week's tips section, which is not included here.
Dinners With Joy is available on this site's Books/Products section, on Amazon in paperback and Kindle in digital form as well as our Etsy shop, Dinner With Joy, at its current price of $14.99. It truly makes a great gift!
CHICKEN IN LEMON-WINE SAUCE
A classic dish, with recipes found in various forms, but always a good choice.
Saute-Skillet
4 boneless, skinless chicken breasts
¼ cup flour
2 Tbs. cooking oil – -canola
2 Tbs. butter
1 small onion diced
2 cloves garlic sliced
1 lemon  – zested and juiced
1/3 cup white wine – – recommend dry vermouth
¾ cup water
1/2 envelope chicken bouillon granules
½ cup chopped fresh parsley – – or 2 Tbs. dried
2 tsp. garlic powder
Pound chicken between two pieces of plastic wrap, to an even thickness, and dredge in flour. Place 1 Tbs. oil in a skillet over medium heat and begin to cook chicken, add 2 Tbs. butter, and brown chicken in both sides – @ 6 min. total. Remove chicken to a plate. Add 1Tbs. oil to pan and sauté onion until soft @ 2 min., add sliced garlic and sauté 1 min, more. Add wine, and deglaze pan by scraping all the browned bits from the surface with a wooden spoon. Add water, bouillon powder, 1 Tbs. lemon juice, and return chicken to pan. Reduce heat and cook, uncovered, over medium- low about 8-10 min. until chicken is done and sauce thickens.
Meanwhile, make what the Italians call "Gremalata" by mixing the parsley, garlic powder and lemon zest in a small bowl.
Plate the chicken pieces individually with sauce. Top each with a small portion of gremalata, and pass the rest.
Suggested sides: 1 lb. fresh sugar snap peas or (1) 10 oz. box frozen. Blanch in boiling water @ 2 min. Drain and toss with 1Tbs. olive oil and 1/8 tsp. lemon pepper.
4 sweet potatoes, washed, dried and lightly rubbed with butter. Pierce Xs with a fork in the tops, and microwave, on a paper towel, as oven directs @ 6-9 min. Split tops and fill with butter or sour cream. For an added taste boost, add a drizzle of maple syrup.
(PORK CHOPS BASIL- This recipe is included as an example both of suggested dietary substitutions and recipes with advanced prep. It is not from the same week as the above one, so the ingredients will not appear on the sample shopping list.
Can be frozen**
This is an old family favorite, and it also works well for roasts but consult charts for temperature and cooking times per pound. It can be refrigerated for three days, or even frozen for three weeks, after the baking, so it can be made ahead and quickly ready on a rushed night. Veal chops, boneless chicken thighs or turkey cutlets may be substituted for the pork.
Bake: Oven Proof Pan
(8)  ½ inch thick center pork chops well trimmed-Chicken thighs are an alternate*
½ cup flour
1 Tbs. garlic powder
2 Tbs. dried basil
½ a small can frozen orange juice concentrate
Water to dilute juice @ ½ cup
¼ cup cream sherry
Sprinkle half the garlic powder and half the basil in the bottom of an oven proof dish or pan that will hold the chops closely but not overlapping. Dredge the chops in the flour, by shaking in a plastic bag, one at a time, making sure they're well coated. Place in pan, and sprinkle the rest of the garlic and basil over them. Cover and seal the pan with foil. Bake, preferably at 250 degrees for 2 hours, but acceptable at 350 degrees for one hour. Remove from oven, turn on broiler, and lift foil.** Dilute orange juice with the sherry and just enough water to come almost to the top level of the chops in the pan, and pour over the chops. Broil until chops brown and the sauce thickens.
*If using the chicken, divide the thighs into 2 pieces and pound them between plastic wrap to an even thinness. Baking time for poultry will be reduced by as much as 1/3 depending on thickness of meat.
** Can be frozen at this point, be sure chops are room temperature.  Return to room temperature, add liquid and proceed as above.
Suggested sides: 2 boxes. 10 oz. each, cooked squash. Drain well, mix with 1 Tbs. butter, salt, pepper and sugar to taste. Heat in microwave according to package directions.
(2) 10oz boxes, chopped spinach. Drain, put in a greased pie plate or shallow casserole. Mix with 2 raw eggs and 2 packets chicken or beef flavored bouillon granules. Top with a sprinkle of
nutmeg, and bake along with the meat for 20 min. at 250 deg. or 10 min, at 350 deg. ) 
Weekly Menu Sample
Month 1, Week 1
Chicken in Lemon Wine Sauce
Baked Sweet Potatoes
Sugar Snap Peas
Pork Tangier
Spinach Orange Salad
Steak in Red Wine
Broccoli Crowns
Broiled Irish Potatoes
Salmon in Lemon-Caper Sauce
Zucchini Medley
Roasted Baby Carrots
Glamorous Ham Casserole
Caesar Salad
Double-Punch Lasagna Roll-Ups
Italian Green Beans
Bread Sticks
Classic Fajitas
Apple Rustica

SAMPLE SHOPPING LIST
Cross off items now in the house in quantity needed
MONTH 01 / WEEK 01
A word before I begin this, our first list. As I stated in the introduction, I'll try not to request too many pantry items at once or be exotic in the things I use, but I do want to help you build a basic pantry, so that very soon you'll automatically know you have most of the things on each week's list and shorten your shopping time. For example, every week, I will mention flour, salt and pepper. They are basic, as are sugar and some herbs and spices. I will also be listing other items that you may want to consider in the "staples" category to make your life easier, fresh onions, rice, eggs, butter, cooking and salad oils, bread crumbs and wines are in this group. So buy with an eye to the future. I like to use bouillon powder. It can add a lot of taste, with minimum effort, but brands vary greatly in sodium content. Boxed packets seem to contain less than the bottled granules, offer a low-sodium option, stay fresh longer, and the pre-measured amounts are easier to control. So I prefer them, but if you want to adjust the recipe amount higher according to taste, you can, just restrict the salt. Never use cubes. They don't dissolve well, nor do they impart the flavor.
PANTRY CHECK
White wine – – suggestion dry vermouth
Dry red wine
Cream sherry
Flour – all purpose*
Beef and chicken bouillon granule packets, NOT cubes
Salt and pepper
Lemon pepper
Garlic powder-not garlic salt
Paprika
Dried parsley
Curry powder
Cumin powder
Coriander powder
Ginger powder
Nutmeg- grated
Dried Oregano
Dried basil
Dried thyme
Cooking oil
Salad oil
Bread crumbs- flavored or regular
Worcestershire sauce
Dijon or Spicy brown mustard
Cinnamon
MARKET
GROCERIES
(1) 2oz jar of capers
1 box lasagna noodles
(1)4 oz. can mushrooms-stems& pieces
½ cup raisons
1 box couscous—garlic or pine nuts
(8) 8 inch flour tortillas
(2) 8 oz. cans tomato sauce
(1) 14 oz can diced tomatoes
2 cups packaged pre-cooked white rice
(1) pkg. Crisco quarters
Parchment paper
MEATS
4 boneless, skinless chicken breasts
11/2 lb. boneless lean pork for cubing
(4) 5oz beef tenderloin steaks
(4) 5oz salmon fillets
(3) ¼ lb slices cooked ham
1 lb. ground turkey
2 boneless, skinless chicken breasts
OR 12 oz. beef steak
PRODUCE
3 lb. bag of onions
1 lb. bag peeled baby carrots
1 bunch celery
1 bulb garlic or 1 jar chopped
2 lemons
8 oz. sliced button mushrooms
2 plum tomatoes
2 green bell peppers
1 red bell pepper
1 orange
Fresh ginger root – small piece
1 bunch fresh parsley
1 ½ lbs. apples + 1 apple
DAIRY
24 oz. sour cream
4 oz. wedge parmesan cheese
8 oz. shredded Mexican cheese blend
1 quart milk
1 cup light cream or ½ & ½
½ lb butter
Dozen eggs- 2 this week rest next
8 oz. guacamole
4 oz. Monterey Jack cheese
OPTIONAL SIDES
(2) 14oz cans small whole white potatoes
4 sweet potatoes
(1) 12 oz. bag baby spinach leaves
1 lb. fresh or (1) 10 oz. box frozen sweet pea pods
2 large crowns of fresh broccoli
(1) 12 oz. bag baby greens
(1) 12 oz. bag romaine lettuce – or 1lb head
1 lbs. fresh zucchini
1 10 oz. package frozen Italian green beans
1 box bread sticks- – look for the thin ones called grissini
Choices of salad dressings- – if needed