DESSERTS FOR DAD'S DAY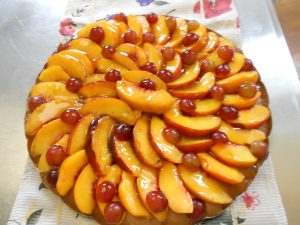 No matter what your menu for Father's Day, whether it's one of the healthy meat with salad recipes I discussed last week, a casual cook-out or a more traditional roast, the dinner must end with a dessert. Not just ice cream from the freezer, but something special to mark the occasion. If Dad has a favorite, your choice is easy, but if you're deciding on something he would like, it's more difficult and there are a few requirements.
The dessert should have an attractive presentation with a personal touch, but nothing elaborate or involved either to make or serve. It's best to make it ahead and be able to bring it to table without disrupting the rhythm of the dinner. Serving should be easy, especially if Dad is expected to do it and dividing into various portion sizes should be no problem. Normally, above all, it should be seasonal. I personally, like pies, especially custard ones. They can be served chilled in keeping with the season, in fruit flavors and, besides, cakes are identified with so many other occasions.
However, there are exceptions to every rule. As long as the desert seems in step with the occasion it can become a hit, even appear 'trendy'. My cousin was always recalling his Grandmother's Baked Rice Pudding with Raisins and Currents. His wife questioned family, combed old cookbooks, baked a replica, in a lovely casserole dish, and presented it, chilled, with a golden, cinnamon garnished crust. Not only was it a hit, but it had been so long since this formerly, humble pudding was served, it was new to the younger members who though it 'chic'. So, with such a vast number of recipes available, deciding on one should be easy, but if you want something really different and personal, consider antique desserts.
The Summer Pudding, below, came to America with the colonists, the Lemon Meringue Pie is a new twist on an old recipe, the Fruit Pizza is a traditional German dessert, re-named in the 1970s and the Rustica or Galette has been a favorite in Europe for centuries, all really 'antiques'. The Key Lime Pie, Ice Cream Cake and Coconut Cream Pie are my own innovations. Only the Chocolate- Strawberry Meringue Pie is a 'modern' recipe. In cooking, it sometimes pays to look to the past for inspiration.
Lilly's Ice Cream Cake: Serves 8-10 This was actually devised on Father's Day. My daughter wanted to make a cake for her Dad. I forgot to prepare the pans, the cake baked on and forcing it from the pans broke it in chunks. Fortunately, I had a ½ gal. ice cream intended to go with the cake and was able to stem the tears with this recipe solution. It was not only a happy ending, but became a family favorite. We made spice cake, with coffee ice cream and caramel sauce but many flavor combinations will work.
(1) 2 1/2 quart freezer proof mold or large round, deep mixing bowl
Layer pans, tube pan or sheet cake pan to bake the cake
1 box of cake mix, cooked according to directions, cooled and removed from the pan(s)
½ gal—Or 1.5 qt. container ice cream.
Bake the cake according to box directions, remove from pans and cool.(It's easier if the pans are greased-despite what I did)
Soften ice cream to consistency of whipped topping.
Rinse bowl or mold with water and shake out excess but do not dry. The film of water freezes and forms a protective coating on the container that makes it easier to unmold the finished dessert.
Smear a dollop of softened ice cream over the bottom of the mold. If it has a decorative top be sure to fill it all in. Then begin to fit chunks of the cake into the mold in layers. Be sure to separate the layers of cake, the pieces of cake in the layers and the cake pieces from the sides of the mold with enough ice cream that they don't stick together or become exposed when the dessert is unmolded.
Also, have a thick enough layer of ice cream on the bottom of the mold to form a firm base when plated for serving. Both cake and ice cream should be used up.
Freeze the mold for several hours or overnight.
Remove from freezer and dip the mold in a larger bowl, or pan, of hot water, for the count of ten (10). Cover the bottom with a serving plate and invert to unmold.
Serve at once or store in the freezer until needed.
Pass any appropriate toppings: whipped cream, wet nuts, sauce, fruit etc. on the side.
Summer Berry Pudding – Serves 4-6
2 lbs. mixed berries-strawberries sliced if large
8 oz. raspberries
¾ cup sugar
8 slices white bread
Topping of choice to serve
Cut the crusts off the bread and use it to line the bottom and sides of a 4 ½ cup. bowl, making sure there are no gaps between slices. Bring the mixed berried and the sugar to a boil, lower heat and simmer for about 8 min stirring once. Spoon the fruit into the lined bowl, add in as much juice as it will hold, making sure some gets around the sides of the bowl. Cover the top of the bowl with the remaining bread and place in a pan to catch juice overflow. Put a plate on top of the bowl and weigh it down with cans. Refrigerate overnight. Puree the 8 oz. raspberries with enough of the remaining berry juice to have a sauce consistency. Strain and chill. When ready to serve, unmold the pudding on a serving plate and pour some sauce over. Garnish with a dollop of topping and offer the rest and the sauce in bowls to add. Cut in slices to serve.
A RUSTICA, or GALETTE, is the easiest type of pie to make. This is a short version of the recipe from my book Dinners with Joy:
If making the crust: mix 1 ½ cups flour, ¼ cup sugar, cut in 1/3 cup shortening, add 3 to 4 Tbs. ICE water to form dough, and roll to a 12 inch round.
If buying the crust: roll only to 10 inches.
Transfer to a parchment or foil covered cookie sheet, or bake in a pizza pan.
Depending on size, fill the center with a 1 lb. to 1 ½ lb. fruit, leaving a 2 to 3 inch margin. (Apples pears and peaches should be peeled and sliced. Plums can be halved and stoned.)
Dot fruit with ½ Tbs. butter.
Sprinkle with 1 Tbs. cornstarch, 1 Tbs. sugar and ½ tsp. lemon juice.
Carefully fold edges of pastry up around filling, pleating as you go. The edges can be brushed with cream or egg white and sprinkled with sugar as decoration.
Bake at 400 degrees for 30 min. Cool on sheet; preferably on a wire rack.
This can be moved to a plate for serving, but as the name implies, it's a "rustic" or casual pastry, and I like to bake it and serve it in a pizza pan.
FRUIT PIZZA:
Make dough as instructed above, increasing sugar to ½ cup and shortening to 2/3 cup.
If buying; purchase a roll of sugar cookie dough, not pie dough. Roll dough to fit a pizza pan, prick several times with a fork and bake as for cookies, 350 degrees for 10 to 12 min. until lightly browned, or as directions on package state.
Cool completely in pan.
Decoratively arrange raw fruit over the crust. The amount you will need depends on the chosen fruit, roughly about 1 ½ lbs. My favorite is a combination of strawberries and blueberries, but kiwi and peach slices work, as well as do many others. Top with a glaze made from a clear jelly, apple or current, melted with 1 Tbs. water per ¼ cup jelly. For a thicker glaze dissolve ¼ tsp. cornstarch in 1 Tbs. water per ½ cup jelly, which is the amount I use for one of these. Boil until clear and spoon over the fruit. Chill until completely set. Optionally pass whipped cream.
KEY LIME PIE: I always had trouble with Key Lime Pie, despite many recipes, even "authentic" ones from the Florida Keys, until I found this, which seems to be foolproof, perhaps because it's so easy. There is one universal rule in making this pie however, the lime juice must be fresh, and, if possible, of the "key" variety. Key limes are small, dark green, very smooth with rounded ends. Their juice has an intense flavor, without the biting acidity sometimes found in regular lime juice. I understand the juice is sold in the baking supply aisles in some stores, but have never encountered it. The limes themselves, can often be found, usually labeled and bagged, in Supermarkets, especially ones with large Hispanic sections. It requires at least 15 to yield enough juice for one pie. If you can't find them, the common Persian variety limes will do, but I might increase the amount of juice in the pie by a tablespoon or more. Test to taste the strength of the acidity and flavor of the juice. Do NOT use concentrated juice unless it's labeled Key Lime, or lime drink mix.
9 Inch Pie Plate and Mixing Bowl
(1) 9 inch baked pie shell. Home made or purchased, regular or graham cracker.
(1) 14oz can Sweetened Condensed Milk MIXED WITH
Sufficient sour cream to equal 2 cups – about 2/3 cup
1/2 cup fresh Key Lime juice
1 Tbs. lime zest
1/2 envelope unflavored gelatin
Whipped cream
Soften the gelatin by soaking 5 min. in the lime juice. Combine the Condensed milk, sour cream and zest in a bowl. Dissolve the gelatin by heating the lime juice in the microwave 30 sec. If it doesn't dissolve easily, heat it an additional 5 sec. or so, but be sure it is completely liquid before proceeding. Add the lime juice with gelatin to the bowl with the milk, sour cream and zest; whisk well to incorporate. Pour the filling mixture into the pie shell and chill at least 2 hours until well set. Serve topped with whipped cream.
Sour Cream, Lemon Meringue Pie
½ cup fresh lemon juice
1 Tbs. lemon zest
3 eggs-separated
3 ½ Tbs. cornstarch dissolved in
1 cup milk
1 cup sugar
¼ cup butter
1 cup sour cream
1 baked 9 inch pie shell
Beat egg yolks well, and combine with sugar, milk and cornstarch, juice and zest in a sauce pan. Cook, stirring, over medium heat until thickened, then stir in butter, incorporate and cool to room temperature; stir in sour cream and pour into pie shell. Heat broiler and move oven shelf up near coils. With clean bowl and beaters, beat egg whites until starting to form stiff peaks, add 1 drop vinegar, then begin to slowly add 2/3 cup sugar, and beat until stiff, glossy peaks form. With a spatula, spread meringue over the filling and place pie under hot broiler until peaks begin to brown, Cool pie and store, loosely covered in the refrigerator until ready to serve.
Chocolate Strawberry (or Banana) Pie
3 egg whites
2/3 cup sugar
1 drop cider vinegar
1 Tbs. cornstarch
¼ cup cool water
1 envelope gelatin
(1) 14 oz. can sweetened condensed milk
1/3 cup cocoa powder
1 tsp. vanilla
2 cups sour cream
½ cup vanilla yogurt
1 pt. strawberries halved OR 2 bananas sliced
Whipped cream for topping –optional
Preheat oven to 275 deg. and using directions above, make meringue adding the cornstarch mixed with the sugar. Cover bottom and sides of a lightly oil sprayed , flour dusted 9 inch pan and bake 1 hr. Turn off oven and leave shell in until cool or about 2 hr.
Soften the gelatin in the water. Whisking, dissolve the cocoa in the milk over low heat, remove, add the vanilla and gelatin and whisk until dissolved and blended. Cool to room temperature, add the sour cream and yogurt, mix well, pour into the shell and chill until serving. Top with fresh fruit and whipped cream if using.
Super Easy Chocolate-Coconut Cream Pie-This is perfect 'home-made' dessert for the busy person. A store-bought chocolate, crumb crust will do.
30 chocolate wafer cookies in fine crumbs=1 ½ cups
3 Tbs. brown sugar
1 tsp. cinnamon – optional
3 Tbs. melted butter
(2) 3.4 oz. boxes of Jello coconut pudding and pie filling
1/3 cup shredded, sweetened coconut
2 ¾ cups milk
Mix the first 3 ingredients and drizzle in butter, until completely mixed. Press crumbs evenly on bottom and sides of a 9 inch pie pan and bake at 350 deg. for 8-10 min.; cool. Toast coconut on a foil sheet in the same oven about 3-6 min. and crush 2 Tbs. reserving the rest for topping garnish. Beat the pudding with the milk and 2 Tbs. crushed coconut until thick and fill cooled shell. Chill until ready use and sprinkle the reserved toasted coconut over the top just before serving.