Daily Dinner Side Salad Suggestions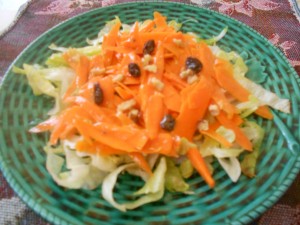 A side salad is generally expected with a dinner entrée. It offers a complimentary contrast in texture and taste as well as providing nutritionally balancing fiber. However, anyone who's shopped for produce recently knows that the prices per pound now rival that of many meats. Add a large tomato to a head of lettuce and the "simple "salad costs than most cuts. I was amazed last week to see collards, formerly an inexpensive leafy green, priced above Romaine. Scallions in a featured sale, 3 bunches for $1.00, had only 4 per bunch when there used to be 6 to 8!
Unfortunately, the prices haven't lowered much this summer, which means that they will probably rise even higher come fall.
So what is the family meal planner to do to keep side salads in the daily dinner menu without it costing nearly double? One solution is to study the produce section and try to find things that haven't skyrocketed. Regular carrots, for example, cost about $0.88 lb. they're tastier, more versatile than the dwarf variety and make a great slaw. Compare the prices on all greens that are salad friendly. They're usually interchangeable. Try to find new uses for other items too. One small zucchini, for instance, sliced paper thin goes a long way as a salad ingredient.
Another solution is to cut down the amount of lettuces or bedding greens, by using frozen vegetables to form the base of the salad. They cost less and go much further. Cut green beans, and broccoli are good selections. Snow peas and edamame are good "fillers". Canned beets or asparagus are useful salad bases too. Properly presented side salads built around these ingredients, with harmonious dressings, become clever creations, not economic measures.
I'm listing a few of my favorite suggestions for these kinds of salad solutions below, with dressing suggestions. Actually, writing this has given me an idea for next week's posting. I'm going to work on some different salad dressing recipes to perk up side salads and give them a bit of zing.
Carrot Slaw; Serves 4
4 medium-small carrots
1/3 cup raisins. dried cranberries or blueberries—optionally plumped in water
¼ cup chopped toasted walnuts- optional
¼ head of iceberg lettuce
Choice of dressing*
Peel carrot skins and using a vegetable peeler, slice them one half the length at a time, into a "slaw". Toss with the dried fruit and set aside. If not using right away, keep chilled Cut the
lettuce into very thin slices and then cut them in half lengthwise, removing the tough core pieces. Arrange the lettuce equally on 4 plates. Toss the carrots with choice of dressing and divide among the plates. Garnish with nuts.
*This salad goes well with several dressings. French. Peppercorn Ranch, Vadalia Onion, Cole Slaw, Caesar even one of the Raspberry vinaigrettes.
Green Bean and Mushroom Salad: Serves 4
8oz. frozen cut green beans
4 oz. sliced raw button mushrooms or a 4oz. can mushrooms sliced or stems and pieces-drained
1 small onion halved and thinly sliced – optional
4 large Romaine leaves, optionally torn into bite-sized pieces
¼ cup balsamic vinaigrette dressing OR 3 Tbs. balsamic vinegar + 1 Tbs. oil
Cook the beans as per package directions until just crisp-tender; drain and toss with mushrooms, onions if using, and balsamic dressing Marinate chilled for at least 2 hours. Toss with the Romaine pieces and serve or optionally line each plate with a Romaine leaf cut in half and mound bean mix on top. Garnish with chopped chives, fresh or dried parsley, cilantro or dill.
Pickled Red Beet Salad; Serves 4
15 oz. can sliced beets- drained, juice reserved
1 small onion halved lengthwise and thinly sliced
2 Tbs. cider vinegar – or to taste
1 tsp. sugar- or to taste
4 large leaves of red leaf lettuce
Dressing of choice*
Pour beet juice into a saucepan. Add vinegar and sugar tasting and adjusting until desired sweet-sour flavor is reached. Add beets and onions, heat through and let cool. Place in a covered container and marinate at least 2 days. Tear lettuce into bite-sized pieces, divide among plates and mound drained** beets and onions on top. Drizzle or dollop dressing over, depending on choice.
*Suggested dressings; a Raspberry-nut vinaigrette drizzled over OR topped with dollops of
1/3 cup sour cream with 1Tbs. vinegar and 1 tsp. sugar –or quantities to taste-mixed in
** Shelled hard-boiled eggs can be pickled in the beet juice for up to 3 weeks. Delicious alone, sliced in sandwiches or chopped in salads.
Tomato -Watermelon Salad: Serves 4
1 slice of watermelon half about 1 inch thick–rind and seeds removed– cut in ¾ inch cubes
1 medium tomato – in large dice
5-6 green leaf lettuce leaves – torn in bite-sized pieces
Orange dressing*
¼ cup Feta or blue cheese crumbles – optional
Make dressing a day ahead and chop vegetables just before assembling salad. Toss all ingredients together with the dressing and serve from a bowl or on plates garnished with the cheese if using.
*Orange Dressing
3/4 cup orange juice
1Tbs.poppy seeds
2 Tbs. oil
Sugar if needed
Slowly boil the juice and poppy seeds together until the juice reduces to about ½ cup; add oil and sugar if needed. Allow to cool and store covered, chilled at least 1 day. Shake well and toss with salad ingredients just before serving.
See you next week for DIY salad dressing ideas!!