Cool Meals For Hot Days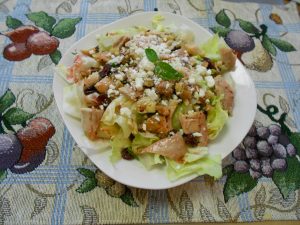 I always thought the coolest thing about learning to cook was being able to have whatever dish you want, when you want it and exactly how you like it. After all the hot weather this year, I'm realizing that the coolest thing, literally, is knowing how to make nutritious, appealing meals with as little cooking as possible!  When it's too hot outside to fire up a grill, who wants to stand over a hot stove, or even eat  warm food?
The trick is to limit any actual cooking to tasks requiring little supervision, and combine as many of them as possible.  For example, if the week's menu includes a chicken salad one day, a dish requiring hard-boiled eggs another and a pasta salad on a third, boil the meat and the eggs in the same pot, finish by using the hot water to cook the pasta.  Then simply refrigerate them until needed. That's the basis of 3 meals in less than 1hr. and no further cooking needed. Even vegetables can be added with other items and kept chilled for later use, though I prefer frozen ones or to blanch fresh for, say Pasta Primavera, done in a microwave
The microwave is a great alternative to the stove for many things, especially in hot weather, but although it reheats meat well, it tends to toughen it cooked from raw. Another option, when a heat wave is forecast, is to prepare a turkey breast and/or a ham to have chilled, ready to cut for different recipes.  To see more salad recipes, check the slider on our Home Page and consult the Archives.
Whichever way you choose to greet the heat, the following dishes will make it more comfortable, even enjoyable. All need only  good artesian bread, so stop at the market bakery and load up or to insure freshness, check my recent post on breads, though it will put you in the kitchen longer.
A few tips on cooking the ingredients for these salads ahead:
Boil chicken with bone in. Boneless chicken meat tends to curl unattractively. Rule of thumb, a thigh per serving but 2 large split breasts can do 3 with other ingredients.
Boiled eggs are easier to peel fresh from the pan. Run under cold water, crack shell all over with a spoon and peel. Store refrigerated in water in a covered container. They keep for several days, so cook a batch at once.
Italians swear by cooking pasta in stock. When the chicken is finished, scoop it out and use the water for pasta.  Drained and drizzled with a bit of oil, pasta will keep, salad ready, for several days in the fridge.
Shrimp Louis: Serves 4
1 ½ lb. head Romaine lettuce-torn In bite sized pieces
4 hardboiled eggs-quartered
@ 1lb. cooked shrimp with tails—allow about 6-12 per serving depending on size
Dressing
½ cup mayonnaise
1/3 cup sour cream
Pinch mace or nutmeg
Ketchup
Stir the above well in a cup and add Ketchup to equal 1 cup
Toss the romaine in a bowl with 2/3 cup of dressing. Divide among plates and arrange the shrimp over the top. Drizzle with remaining dressing and decorate each plate with 1 quartered egg.
Poached Salmon with Dill Sauce: Per serving
1 Salmon fillet or steak
2 Tbs. mayonnaise
2 Tbs. sour cream
½  tsp. dried dill weed
½ cup frozen cut green beans
1 medium tomato –roughly chopped
Garlic powder, salt and pepper
1 Tbs.oil
½ tsp. dried basil
Fill a pan 1/3rd  with water, add beans. Bring to a boil add salmon and poach 5-8 min. at a simmer. Turn off heat. Remove fish, run under cold water and remove skin and bones, if needed. Place on a plate, covered with plastic wrap and chill. Drain beans and run under cold water. Mix beans with tomato, oil, basil, garlic powder, salt and pepper to taste then chill. Mix mayo and sour cream with  dill and chill, serve on top of salmon with tomato-bean salad on the side.
Tuscan Bean Salad; Serves 2—For more, simply double (leftovers make good brown bags)
(1) 6 oz. can of tuna- drained-solid or chunk white preferred—oil or water optional
(1) 15 oz. can cannellini beans – or navy or Great Northern white beans – drained
2 Tbs. salad or canola oil
1Tbs. balsamic or red wine vinegar
1 Tbs. Dijon mustard
1 tsp. lemon juice
¼ cup fresh basil leaves-chopped or 1 tsp. dried
Oregano-to taste- optional
Whisk the last 6 ingredients in a bowl. Stir in the beans and tuna. Allow to sand a few minutes for the flavors to meld, or refrigerate up to 8 hrs.
Excellent served on spinach leaves, and accompanied by tomato wedges or small whole grape tomatoes.
Tuna with Pasta – 4 Servings
½ lb. (1/2 box) tricolored corkscrew pasta
(1) 5 oz. can solid white tuna
½  cup sliced ripe olives
1 small green bell pepper julienned
2/3 cup halved cherry or grape tomatoes
4 sliced green onions
1 Tbs. capers – optional –minus heavy green tops
Lettuce or baby spinach leaves
Bottled dressing to taste-a vinaigrette, Italian, Greek  or Caesar Or make ½  the vinaigrette recipe under Pasta Primavera.
Put all the salad ingredients, except the pasta and lettuce, in a bowl and drizzle with 1 Tbs. lemon juice. Allow to marinate 5 min. Add cooked pasta and gently toss with dressing. Marinate chilled 8 hr. or overnight, tossing occasionally. Serve well chilled over lettuce or spinach leaves.
Sashimi Salad – 4 servings.
This is one of my few uses for Sashimi, or fish processed to imitate shellfish. There are several brands the most famous label is Louis Kemp.
1 lb. package of sashimi-imitation crab or lobster
1 small head iceberg lettuce, or 1 lb. Romaine
1 medium onion halved and in thin rings
2 cucumbers peeled and seeded, cut in chunks
Salt and pepper
2 Tbs. oil
Bottled Russian, Catalina or French dressing to taste – OR-
2/3 cup mayonnaise and 1/3 cup ketchup with a ½ tsp. ground mace-optionally use nutmeg
Toss the lettuce, onion, cucumber, and sashimi in a bowl with the oil. Pour over the bottled dressing to taste, or the home made Russian dressing. Serve chilled.
Garden Chef's Salad – 4 dinner servings
6 cups iceberg or romaine lettuce torn
1 small cucumber, peeled, in thin slice
1 medium red onion in thin slices
2 medium tomatoes in large chunks
1 carrot sliced thin
6 radishes, without tops, sliced thin
1 large stalk celery -diced
1/3 cup each, cooked ham, chicken and cheese, either Swiss or cheddar, in 1 inch sliced pieces
1 tsp. dried oregano
1 tsp. dried basil
¼ tsp. sugar
Salt and pepper to taste+ 1 tsp. sugar
¼ cup olive oil
1 Tbs. cider vinegar
Juice of ½ a lemon
½ tsp. garlic powder

Parmesan cheese -optional rather than including cheese in the salad.
Place all the vegetables, except the lettuce, in a bowl. Toss with oil vinegar, dried herbs, salt pepper, and sugar. Cover with lettuce and top with lemon juice and garlic powder. Allow to marinate in the refrigerator for 30 min. Toss well, then add meat and cheese to gently incorporate, and more oil if needed. Optionally garnish with grated Parmesan if using.
Bean Sprout with Beef– 4 servings
2 cups bean sprouts
1 cup pea pods or snow peas- cooked to crisp-tender and sliced on the diagonal
2 cups peeled cucumber cut into matchsticks
½ cup sliced radishes
4 green onions sliced
6 cups torn romaine lettuce leaves
8 oz. sliced roast beef or steak—leftover or Deli
Dressing:
¼ cup soy sauce
1 Tbs. olive oil
1 Tbs. sesame oil
2 Tbs. rice vinegar or white vinegar
1 ½ minced pickled ginger or 1 tsp. minced candied ginger
1/8 tsp. red pepper flakes
1 Tbs. toasted sesame seeds—as garnish
In a blender or jar, thoroughly combine all the dressing ingredients. Line the plates with the lettuce, then divide the bean sprouts equally on top. Arrange the vegetables in equal amounts on top of the sprouts and drizzle the dressing  equally over them. Lay the curled beef slices on top and garnish with the sesame seeds.  .
Cranberry Walnut Chicken Salad:  4 Servings
This is one of my very favorite dinner salads. Can be served in a bowl or plated individually.
1 ½  cups cooked chicken meat in bite sized pieces—leftover turkey or duck can be substituted.
6 cups romaine or iceberg lettuce
½ cup dried cranberries
¼ cup chopped walnuts-toasted is best
½ cup crumbled feta cheese—blue can also be used
@ 1/3 cup bottled raspberry and nut –walnut or pecan – dressing
Salt and pepper to taste
Place the lettuce in a bowl, or on a plate, then add, in order, the cranberries, chicken, nuts, salt and pepper, dressing and last the cheese, which doubles as a garnish. Don't toss—present layered. Then toss.
Chicken and Fresh Fruit Salad: Serves 4
2 cups cubed meat or 4 thighs, breasts or mixed —see above for cooking tips
½  lb. seedless grapes, halved—I like red for the color or pitted cherry halves
½  cup thin celery slices
½ cup equal parts mayonnaise and sour cream
1 tsp. curry powder and 1 Tbs. chopped fresh herbs to taste. I prefer cilantro
Combine everything well. Chill and serve on a bed of lettuce. Garnish with fruit and herbs.
Both these chicken salads go well with green beans or asparagus, boiled to crisp tender, and drizzled with vinaigrette while warm, then chilled until ready to serve.