Cooking With Children-Introducing The 'Lilly Likes To Cook Series'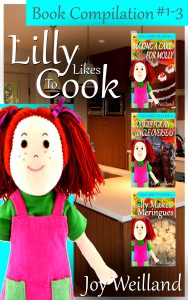 Hey everybody, meet Lilly! Lilly, at age 8, learns while helping her Mother turn a cake disaster into a different ,fabulous dessert, that cooking is fun, creative, requires ingenuity, and realizes it makes an  engaging hobby. Her kitchen adventures, told in an ongoing series of books, collectively called Lilly Likes to Cook, are based on my experiences in cooking with children. The recipes are chosen to be adult pleasing and child friendly, but simplified to require minimal adult supervision while providing maximum child participation, allowing them to take ownership of the finished dish. The directions are quite specific in avoiding tasks that would cause a child to touch an oven, stove, knife or any other utensil or appliance that could cause them harm. They're great ideas for a child to make a Father's day gift.
Lilly's Mother encourages her interest in cooking, because she knows it provides an outlet that will keep her daughter mentally and physically occupied on rainy days and general down- times, especially with summer coming on. She also sees this as a great bonding opportunity, not only for herself but also as a chance to bring Lilly and her 13 year old sister Brianna closer, bridging the age gap which was forming. It doesn't hurt either, that Lilly's culinary successes could earn her praise which would help to bring the reserved girl out of her shell.
Her Mother's hopes are more than realized as Lilly makes cookies for an Uncle in the military, helps her sister with a homework assignment, works with others on a booth for her school fair, opens new lines of communication with her Grandmother and Aunt over a luncheon, helps her sister convince their parents she is able to baby-sit, is welcoming to new relatives and gains enough confidence to offer one of her creations as a reward to a group of her friends.  Lilly learns other life lessons too. She learns that others also have fears about trying new things, that it's a mistake to pigeon-hole people on appearances, that shared interests and working together can form friendships, that being willing to socialize also leads to friendships and there's such a thing as 'networking' which enables people with similar interests to connect.
Along the way, Lilly comes to understand that she can put her hobby to good use. Her creations can be given as rewards or gifts to say "Thank You" "Welcome" "We miss you" and other messages more emphatically than words. Her culinary efforts can be used to raise money for causes, provide incentives or simply to make someone happy. Most of all Lilly understands that cooking isn't just about preparing food but it is about pleasing people too.
The Lilly Likes to Cook series of books consists of eight books with a ninth coming soon. Additionally there are two compiled books, one consisting of the first three stories and the second of books four, five and six. Plans are in the works to add semi- adult design coloring books . The series is available on Kindle, dinnerwithjoy.com, Smashwords, and the Dinner With Joy Etsy store. A listing of each book and summary follows.
1) Making a Cake for Molly: Lilly is in tears over a cake disaster, but her mother steps in and saves the day by turning it into a beautiful new dessert.
2) Cookies for an Uncle Overseas: Lilly's Uncle is in the military and her Mother is preparing a box of things to send him. She teaches Lilly a 3 ingredient drop cookie recipe that will age perfectly in transit.
3) Lilly makes Meringues: Lilly's sister Brianne, 13, has to write a report on France and bring a sample of French food for the class to share, but she can't have adult help. This is the perfect recipe for the sisters to work on together because the baking is only a small part.
4) The Meatball Booth: Lilly's Mother has charge of the booth for the School Fair and needs lots of help to cook for such a crowd. Lilly learns team work and that people you least expect to will pitch in but most of all that shared interests are a solid base for friendship. Book includes a recipe and tips for running this type of booth.
5) The Luncheon:  Lilly's 10 year old brother Brian has a school appointment, and her Mother can't prepare lunch for a visiting grandmother and Aunt. Lilly solves the problem with a great recipe that needs no cooking or cutting.
6) Dinner for Two: The baby-sitter is ill. Lilly's sister Brianne 13, wants to begin to earn money baby-sitting, so Lilly who loves the challenge, helps Bri convince their parents to let them make dinner and stay unsupervised, since brother Brian is on an overnght.
7) Girl Scouts Get a Zebra Cake: Lilly has gained enough confidence to offer her troop a no-cook cake   she makes as a reward for a hard day's work on a craft project for the town's charity bazaar. This book contains detailed directions for making the project and for the cake recipe.
8) Kabobs are Fun and Easy: Once again Lilly works with others as she helps her Mother prepare the food for a party to welcome visiting relatives. She finds preparing for an adult party different than for a children's but discovers socializing at one even more so. She makes a new friend as she learns the meaning of 'networking.' This book contains 2 kabob recipes, and party planning hints.
9) Brian's Birthday: Brian wants a cake like the one Lilly made for Molly, but usually calm, cool Brian is upset about his choices. Lilly figures out a solution that pleases everyone, but it's a new idea. Will it work?