COLD SOUPS THAT BEAT THE HEAT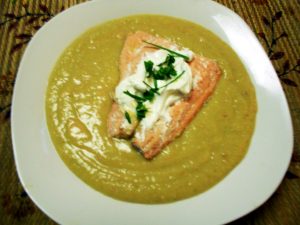 During warm weather, it's great to have a selection of recipes for cold dishes in various cuisines handy to enjoy, as I pointed out last week. However, when there's a real heat wave, especially an extended one or a succession of them, as there have been this year, our appetites take a hike. We're not in the mood for a large meal and even less in the mood to stand over a hot stove cooking one, including me, and I love to cook!
Yet our bodies crave fluids, which are essential to stay hydrated and we need nourishment. What's called for is a light, satisfying, easily prepared meal, and the perfect solution to that problem is chilled soup. These soups require minimal cooking time and mainly, based on vegetables, they don't even need to be accompanied by salad, a plate of fruit will do. Add some artesian bread and optionally sliced meat, it's a complete meal. Deli meat works well for this type of dinner, but, lately, I've bought a roast, usually chicken or pork, added a bit of water to the pan, sprinkled a few herbs on top, turned the oven on and let it cook-no fuss- no basting. When finished, I cool then chill it and slice what I need each night.
I list ten really delicious cold soups below. Reading them you'll notice they follow a simple 'formula'. Though they may call for flavor accents, onions, garlic, to be sautéed first and/or a smoothing dairy product to be added at the end, the body of the soup is a vegetable cooked in broth and pureed. So why not experiment with your favorite vegetables and herbs? Some great combos are peas with mint, cauliflower with dill and kale with garlic or nutmeg.
The recipes given here are not only easy to make but fast as well. Most can be done in 30 min. or less. (I've found using an immersion blender or 'giraffe' a real labor and time saver.) In fact, two of the soups don't require cooking. The Gazpachio is my family's version and isn't pureed. Noticing the difference in textures while eating seems to make it more satisfying, more like a full entree. The Garlic and Almond Soup is a true classic though not well known in the U.S. The nuts may seem an expense, but almonds are most reasonable in July and August. I buy my Christmas supplies then, but not at supermarkets—try national pharmacy chains. Given the other ingredients, it averages to a reasonable meal
I have left the amount of crab in the Crab and Rice Soup vague. The recipe asks for the meat from only 1 medium crab. Nothing goes further than the contents of a tin of fresh crabmeat, so I'm not stating a definite quantity leaving that up to you. I don't know if imitation crabmeat can substitute but I am sure that canned crabmeat from the store shelf won't. Stick with the fresh.
One last tip: my favorite soup is the Cucumber Bisque with the poached salmon. Served with good bread and fresh fruit, it's a satisfying, refreshing meal but I confess I often poach the salmon or shrimp in with the simmering cucumbers. It saves time, another pot to wash and adds flavor to the broth. In a nutshell, that's the point of this post—cool meals for hot days that are simple and fast to prepare, requiring a minimum of cooking, but are delicious, nutritious and satisfying. So give them a try and stay cool and happy—-
Avocado Soup: Serves 4
2 large avocados
4 cups chicken stock
1 ¼ cups sour cream
2 mint sprigs
Small bunch cilantro
Freshly ground black pepper
Peel and chop avocados, blend with 4 Tbs. cream. Heat stock to very warm and stir in remainder of cream until mixture is smooth. Slowly blend stock mix into avocado mixture, return to pot, and warm through, then cool and chill. Serve garnished with cilantro leaves and freshly ground black pepper.
Bean, Tomato and Pesto Soup: Serves 4
(2) 14 oz. cans lima beans rinsed and drained-or a white bean, but no other colors
¼ cup tomato paste
1/3 cup pesto
3 ¾ cups chicken or vegetable stock
Sour Cream for garnish
Place all ingredients but cream in a pot and simmer gently about 8 min. Blend the soup until slightly chunky and chill. Serve swirled with dabs of cream.
Artichoke Soup: Serves 4
1 lb. 12 oz. can artichoke hearts drained and chopped in large pieces
2 ½ cups vegetable broth
1 Tb. oil
1 garlic clove-minced
1 small onion-chopped
½ cup light cream
2 Tbs. fresh thyme leaves or 1 Tbs. dried
1 tomato chopped
Cook the onion and garlic in the heated oil until soft. Add artichoke then broth, stirring. Bring to a boil then reduce heat, cover and simmer 3 min. Blend until smooth, return to the pot and stir in cream and thyme; warm through. Pour into a large bowl and refrigerate at least 3-4 hours. Serve chilled garnished with chopped tomato.
Tomato-Basil Soup: Serves 4
2 lb. tomatoes OR (1)1lb.12oz. can diced tomatoes-drained, juice reserved*
2 ½ cups chicken or vegetable broth*
28 Basil leaves-20 chopped and 8 reserved OR 1 Tbs. +1tsp. dried basil
¼ tsp. balsamic vinegar
1 cup plain yogurt-divided, 1/3 cup in reserve for garnish
1 Tbs. oil
1 small onion – diced
1 large garlic clove-minced
Sugar, salt and pepper to taste
*NOTE: The original recipe calls for fresh tomatoes but they need to be skinned, before dicing, or the cooked puree must be strained to remove the skins. It's simpler to use canned diced tomatoes. The 4 oz. difference in weight equals that of the skins and the cores, which must be removed before cooking. When using canned tomatoes, measure the reserved juice and add only enough broth to equal the 2 ½ cups liquid required.
Saute the onion and garlic in the oil until soft; add the tomatoes and 1 ½ cups of liquid and simmer for about 15 min. Puree the mixture, (strain to remove skins now if necessary) Add all the non-reserved ingredients and blend until smooth. Pour into a bowl and chill. Serve garnished with a swirl of yogurt and a couple of basil leaves.
Arugula and Blue Cheese Soup: Serves 4
8 oz. arugula leaves—any heavy spines removed
5 oz. blue cheese
2 ½ cups chicken or vegetable stock
2/3 cup light cream
Heat stock and add arugula until leaves wilt about 3 min. Crumble the cheese into the pot and stir until it starts to melt. Blend the mixture until smooth. Return the mixture to the pot and stir in the cream, heating only until well incorporated. Remove from heat and chill. Stir well and serve cool, garnished with chives or paprika. Don't refrigerate long or cheese will congeal and change the texture.
Spinach and Mascarpone Soup: Serves 4
2 Tbs. oil
6 scallions- trimmed and chopped
2 celery stalks- chopped
12 oz. spinach
3 cups vegetable broth
8 oz. mascarpone cheese
Salt and pepper
Caraway seeds
Croutons—suggested rye bread
Saute the scallions and celery in the oil until softened. Add the broth and the spinach and simmer until spinach wilts; blend to puree; return to pan and add cheese, stirring until smooth. Add salt and pepper to taste. Chill and serve garnished with croutons and seeds.
Cold Crab and Rice Soup: Serves 6
4-6 oz. cooked crab meat +optionally, a bit more according to taste
½ cup long grain rice
2 ½ cups skim milk
2 ½ cups clam juice
1 Tbs. anchovy paste or 2 anchovies
2 Tbs. lime or lemon juice
3 Tbs. chopped fresh parsley
Salt and pepper
Sour cream and chopped chives to garnish
Separate the large pieces of crab and reserve. Cook the rice in the milk until tender, about 20 min. Cool, add the smaller pieces of crab, anchovy paste and blend until smooth. Return to pot, add the reserved crab meat, clam and lime juice; heat through and stir in the parsley. Remove from heat, adjust seasoning and chill. Serve garnished with a dab of sour cream and chives.
Cucumber Bisque: Serves 4
3 large cucumbers, seeded and sliced but not peeled
1 small onion-diced
4 cups chicken stock
(4) 4-5 oz. salmon fillets or 16 large shrimp-optional
Salt and pepper
Sour cream for garnish-optional
Chopped chives for garnish
If using, poach the salmon or shrimp in boiling water until cooked-the salmon about 8 min. and the shrimp about 4min. Peel the skin off the salmon or clean the shrimp, leaving tails on and chill. Boil the vegetables in the broth until soft, about 15 min. Blend until smooth and add salt and pepper to taste. Serve in bowls with seafood on top, garnished with sour cream and chives or, if not using seafood, just cream and chives.
Gazpacho: Serves 6
4 cups tomatoes-in small dice
1 ½ cups finely chopped green bell pepper
¾ cup finely chopped onion
1 large garlic clove-minced OR 1 tsp. garlic powder
2 ½ cups beef bouillon-I like to use 1 can madrilène + 1 envelope bouillon granules with water to equal
½ cup fresh lemon juice
¼ cup olive oil
1 Tbs. paprika
½ cup thinly sliced cucumber
Salt and freshly ground pepper
Place all ingredients in a bowl and let stand for 1 hr. Add the cucumber, rinsed, and chill for at least 2-4 hrs. Adjust seasonings and serve with artesian bread.
Garlic and Almond Soup: Serves 4
14oz. stale French bread
4 cups ice water +cool water for soaking
4 large garlic cloves-halved lengthwise
6 Tbs. olive oil
¼ cup sherry vinegar
2 cups ground almonds=about1 lb. whole nuts
Salt and pepper
16-20 chilled white grapes-sliced
Tear the bread into pieces and soak in water to cover for 10 min. Squeeze excess water from bread and blend with garlic, I cup ice water and 3 Tbs. vinegar; add almonds and oil, blend briefly then add the remaining 3 cups ice water and blend to a smooth mixture. Adjust seasonings, adding salt, pepper and remaining vinegar to taste. Chill at least 4 hrs. before serving. Garnish with a sprinkling of freshly ground pepper and the white grapes