CHANGING 'WINTER' RECIPES INTO SUMMER ONES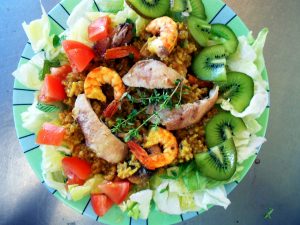 Writing the last two posts about the popularity of fish in summer, got me thinking about seasonal dishes. During my training with the U.S. Personal Chef Association we were asked in one class, if we designated recipes to winter and summer. I was surprised how few people did. I had always considered hearty stews and gravy cloaked roasts as too heavy and filling for hot days, just as I regarded tuna salad and gazpacho off mark for a snowy evening. Yet, when one person spoke up saying that the season didn't change her tastes and preferences, I was reminded of a friend of my Father's who are at the same restaurant every Tuesday for years, because that was corned-beef-and-cabbage day.
Then, I had a personal flash-back. My Mother's vegetable soup is one of my favorite winter meals, as much for the chilled left-overs the next day as for the dinner. I was elated to find a trattoria close to my apartment in Italy that made minestrone very similar to mother's soup recipe and even happier to learn they served it chilled in summer as a matter of course.
Remembering the incident, I realized there must be many other seasonal adaptations, especially among basic ethnic dishes, and began to look for a few. After all, people don't give up flavor orientation because of the temperature. Cuisines have to adjust to endure. So I looked around for some other examples.
The first to come to mind is Spaghetti Pie, which I've mentioned several times and recently seen in other publications. It's a centuries old dish for peasant farmers in Italy. Sauced, cooked pasta is left to cool overnight, then tossed with a lightly fork-whipped egg, about 1 egg per 1-2 portions, topped with Parmesan and fried in a little oil over medium-low heat until the bottom forms a crust and the 'pie' solidifies. When cool, it's cut in wedges, wrapped and sent out with the men as they go to the fields to work—or simply served on a plate at table.
The Bolognese raise this preparation to an upscale level to enjoy their famous Ragu all year. Below is a recipe for Ragu Torte, an elegant dish, perfect for summer entertaining, usually served at room temperature. This is Elizabeth Davis' recipe. She's British, and still considered the best authority in 'transitioning' traditional Italian recipes to the English or U.S. kitchen and/or table.
Ragu Bolognese: Serves 6
8oz. lean ground beef
4 oz. chicken livers- chopped
3 oz. bacon or country ham, preferably unsmoked*-minced
1 onion-chopped
1 carrot-chopped
1 small celery rib- chopped
3 tsp. tomato paste
1 wineglass of white wine
2 wineglasses of stock
'Nut'of butter = 2-3 Tbs.
Salt to taste and black pepper
Pinch of nutmeg
Brown the bacon or ham gently in about 1/2 Tbs. butter; add vegetables and brown well; add beef and turn constantly until evenly browned; add the livers, and after 2-3 min. the tomato puree and then the wine. Taste for salt; add that with pepper, and nutmeg, then the stock. Cover and simmer very gently for 30-40 min. Add the rest of the butter before serving to smooth the sauce. A variation is 1 cup cream at the end to smooth the sauce even more. Pass grated Parmesan. Normally served over flat pasta.
.*Pancetta(Italian bacon) may be easier to find. Remember the saltiness of this ingredient determines the amount you'll add during cooking.
Torte: Serves 6-8
Substitute 2lb. cooked, cheese filled tortellini for the flat pasta: line the bottom and up the sides of a springform pan, or  9-10 inch torte pan with removable bottom, with pie crust. Fill with ragu covered tortellini mixed with 2 lightly beaten eggs. Bake at 350 deg. 25-30 min. until pastry is done. With a spatula or dinner knife cut around pan sides and remove them. Serve torte on pan bottom, warm, room temperature or cold.
Fun Fact: The Italian language is very precise. A sauce, or salsa is liquid based, but a gravy or sugo, is based on meat, vegetable or animal. Hence Italo-Americans often call Tomato Sauce, Tomato Gravy, because it's based on crushed tomatoes. A ragu actually roughly translates as 'stew', and reading the recipe you can see why.
Paella Salad: Serves 6
2 whole boneless, skinless chicken breasts- cut in strips
1 lb. shrimp-cleaned-tails on
2 Tbs. oil
1 medium onion – chopped
1 clove garlic- minced
1 ½ cups uncooked, extra-long grain rice- brown preferred
¼ tsp. saffron
3 ½ cups chicken broth
1 Tbs. lemon juice
3+ cups torn green leaf lettuce
Optional garnishes-green olives, grape tomatoes, avocado, kiwi slices
Cook chicken in oil over medium- low heat until juices run clear; add shrimp and cook until pink and opaque. Remove to a plate. Saute onion in same pan until tender; add garlic and warm through. Add rice to pan and stir until opaque; add saffron, broth and juice. Cover and simmer until rice is tender, about 20 min. Remove, add chicken and shrimp and chill several hours. Serve on greens with garnishes of choice.
White Fish and Coconut Loaf: Serves4-6
8 oz. snapper or any other firm, white fish-skinned –See posting 7/6/17 for selections
2 tomatoes seeded and in finely chopped
1 small jalapeño seeded and finely chopped
1 onion in fine dice
2 green bell peppers in fine dice
2 ½ cups coconut water
2 ¼ cups bread seasoned crumbs
Salt and pepper to taste
Optional garnishes-twists of lemon or sprigs of cilantro
Sauce
½ cup ketchup
2 tsp. or to taste siracha or Texas Hot Sauce
¼ tsp. hot mustard-Chinese or Coleman's Mustard Powder
Finely chop the fish and add to the vegetables, Stir in the bread crumbs, coconut water and seasonings. Line a 5x 9 loaf pan, fill with the mixture and bake in a preheated 400 deg. oven for 1-1 ½ hours until set. To serve cut the loaf into slices and serve hot or cold on greens, garnished as wanted, with sauce passed on the side.
To make sauce simply whisk the 3 ingredients together until smooth
Tuna Fish Sauce for meat: Serves 6
A classic Italian dish; The meat can be warm or cold but the sauce is room temperature. Originally always served with veal, it now is more often made with turkey or pork. I list 2 recipes because the authentic one is made with raw eggs and there is concern with salmonella. The alternative is my family recipe for mayonnaise. Not only are the eggs cooked but there is no oil, making it 'lite'.
2-3 lb. 'Hotel' turkey breast, a ½ loin of pork, or 2 turkey or pork tenderloins
(1) 5-6 oz. can tuna-in oil for original recipe, water for modified one, chunk style is best
Original sauce recipe: Serves 4
3 egg yolks
1 tsp. salt
8 oz. olive oil
Beat the eggs slowly; add the salt after about 1 min. Begin to stir in the oil drop by drop until mixture begins to attain characteristic mayonnaise consistency. Constantly stirring, increase amount of oil added gradually until it can be poured in a thin stream. If the mixture begins to lose its shine-stop, it has enough oil. A drop of lemon juice can be added at the end for flavor, but is optional. Chill. Drain the tuna well and mash it with a fork to a puree; add half to the mayonnaise first then more if desired. Stir well to make smooth sauce the consistency of heavy cream, but slightly thicker.
Lite Mayonnaise: Serves 6
2 eggs well beaten
3 Tbs. sugar
½ tsp. dry mustard
1/8 tsp. paprika
1 Tbs. flour
1 tsp. salt
1 Tbs. butter
½ cup water
½ cup vinegar
Mix the dry ingredients and in the upper part of a double boiler, bring to a boil with the water, vinegar and butter. When the butter melts, pour in a thin stream into the eggs, and then add the eggs to the pot. Cook, stirring constantly over medium-low heat until mixture thickens to the point where a spoon dragged across it leaves a trail. Cool and chill, Add tuna as described above.
For the Finished Dish
Roast the meat as per any cookbook direction. I like to rub it with 1 Tbs. dried tarragon first. When cool, slice the meat, plate, cover with half the sauce and chill overnight. Serve as plated with sauce and pass the rest.
Optionally add 2 tsp. capers or 2 chopped anchovies.to the sauce before chilling
Tex-Mex Fajita Salad: Serves 4
1 lb. lean ground beef or 1 ½ cups diced cooked chicken
15 oz. can kidney beans- rinsed and drained
1 Tbs. oil
¼ tsp. garlic powder
1 large onion cut lengthwise in julienne-strips 2 inches long
1 green bell pepper cut in julienne-strips 2 inches long
1 red bell pepper cut in julienne-strips 2 inches long
2/3 cup corn kernels
½ tsp. each cumin and coriander
Salt and pepper
4 cups torn Romaine
1 cup shredded sharp cheese
Tortilla chips
1/3 cup salsa
1/3 cup guacamole
1/3 cup sour cream
In a skillet, cook the beef in the oil until brown-omit this step with chicken. Remove meat and cook onion, corn and pepper with the garlic in the same skillet until just crisp tender. In a large bowl, toss the first 12 ingredients with the lettuce. Sprinkle the cheese over the top and just before serving spread the salsa, guacamole and sour cream in lines across the top. They will be the dressing when tossed into the salad at table. Optionally, toss some broken tortilla chips into the salad at serving and pass the rest on the side.
Classic Vegetable Soup a Freddo: Serves 4-6
This is my family recipe, but any found in cook books will do. There's a version in every cuisine. The important thing is the consistency when chilled. It should be very thick, not fluid enough to drip off the spoon. This is achieved by the addition of (or more of) rice, orzo or in my Mother's recipe, oatmeal.
1 qt. beef broth
1 lb. trimmed lean beef in ½ inch cubes
1 large potato diced
1 large onion diced
1 large stalk celery sliced
1 large carrot sliced
2/3 cup of EACH baby lima beans, cut green beans, peas, corn, sliced okra
Optional-1 ½ cups trimmed, torn spinach leaves
½ tsp. EACH dried marjoram, thyme, oregano and rosemary
Salt and pepper
1/3-1/2 cup oatmeal or rice—1/2-3/4 cup orzo
Simmer the beef in the broth until tender, about 40 min. Add, in order of ingredient listing the next 4 vegetables at 4 min. intervals, then add the rest of the vegetables with the seasonings. Finally add the pasta or grains and cook directed times for each, adding more to get the right consistency if needed. Adjust seasonings and serve warm or chilled. When cold, the soup is often topped with Parmesan shreds.
NOTE: Add vegetables as you please, zucchini, eggplant, peppers, beans, fennel are all present in different recipes.
The Bobbie: Serves 1-2
In Delaware there's a Deli famous for this sub. Fondly called 'Thanksgiving on a Roll', people come from the surrounding states just to get it. I wouldn't feel I've done a full job without including it!
Slit a roll of French bread lengthwise and begin layering from the bottom, slices of cold, roast turkey(NOT Deli sliced) cold bread stuffing, cranberry jelly, lettuce and spread the top piece of bread with mayonnaise. Close it up, cut it in half and enjoy!