BUDDHA BOWLS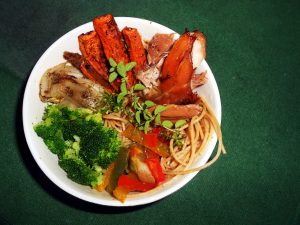 Things often get misconstrued on the rise to popularity, and I'm afraid Buddha Bowls are one of them. I've seen recipes lately which are totally inaccurate. Buddha Bowls consist of individual groupings of complimentary ingredients attractively arranged in piles or layers, not tossed, in a deep, round bowl-shaped serving dish. Collectively, they create a balanced meal, not only nutritionally, but in flavor and textural contrasts. It's speculated that this may be the derivation of the name since Buddha stressed the importance of balance in achieving serenity plus the fact that their presentation is perceived to be more Asian than Western.
I confess sometimes I like eating with chopsticks. Picking up one or two ingredients at a time extends the flavor experience so much more than grabbing a forkful! It's also acceptable to pick-up a larger piece and consume it in two bites rather than stuffing it in the mouth whole, as it is when using chopsticks.
However, they're international. The choice of cuisine determines the foods used in different renditions which may qualify them to become a separate menu category. They fit all the requirements; there are given recipes but they can also be highly innovative according to a set formula—an assembly of compatible ingredients presented in a way which offers a variety of flavor experiences rather than being blended to create just one. This presentation is not that of any other class of entrée. The closest comparison would be composed salads, but Buddha Bowls aren't salads. Nor, incidentally, were they devised as a way to use leftovers, both errors made by many recipe suggestions.
Buddha Bowls are usually served at room temperature with most ingredients cooked; the preferred methods are grilling, broiling and blanching. Though some chopped leafy greens may be ingredients, they are not used as fillings or bedding.
Yes, the Bowls contain a lot of vegetables, but they're not vegetarian either. Though the earliest recipes depended on beans and perhaps nuts for protein, they often called for a poached or fried egg on top too. The latest recipes include shrimp, lumps of crab, or chunks of meat or fish.
Buddha Bowls are not linked to any diet regimen other than a healthy one but can be adjusted to fit almost all of the recognized ones, medical or cosmetic. I loved one woman's comment that now she felt guiltless stuffing herself on tacos because her favorite Mexican restaurant served them in bowls not tortillas. However, the original recipes included the starchy carbs calling for thin noodles and torn roasted sweet potatoes. Grains came later and still often co-exist in the same dish with other carbs. Quinoa and rice are the most frequent choices not only because their larger size, neutral taste and texture blend more easily with other ingredients but also because they are gluten free, avoiding allergy problems.
Creating a Buddha Bowl is the same as planning an entrée. You choose three compatible foods, a protein, a fiber and a carbohydrate to feature, then add a few complimentary ingredients. For inspiration, think favorite side dishes to the entrée or accompaniments. Another approach to planning a 'bowl' is to use fillings for tacos, fajitas, spring rolls etc. as the ingredients. Making a Buddha Bowl simply involves spooning or stacking the ingredients neatly in separate piles or layers. Don't stress over this. Remember it's a casual meal and the presentation should be too. Also they're best prepared individually. Communal serving could be awkward to eat and/or dividing into portions messy. However, there are exceptions as shown by the family friendly Taco Bowl from Yummy Mummy Tummy.
If you want some guidance or ideas, check the web. With the current popularity of Buddha Bowls there are plenty of recipes to choose from. I'm listing 7 below to show the diversity of combinations. I quote the sources on each, except the last two. They're mine. One is a fall dish I made to illustrate how Buddha Bowls can be a part of every season. The other was constructed from ingredients I had on hand one rainy Saturday.(Actually Harvey was passing through.) I include them to disprove the idea that the number of ingredients in most of the Buddha Bowl recipes can be daunting, especially for a 'quick, casual' meal. My recipes, and the one from Emilie Eats are proof they can be made quite easily.
Heather Christo's Cuban Quinoa Bowl with Spicy Lemon Cashew Dressing: Serves 4 (heatherchristo.com)
Ingredients
For the Quinoa:
1 cup dried quinoa
1¼ cups vegetable broth
2 teaspoons ground cumin
1 teaspoon kosher salt
2 tablespoons minced flat leaf parsley
3 green onions, minced
For the Roasted Sweet Potatoes:
2 sweet potatoes, peeled and cut into bite sized pieces
2 tablespoons olive oil
Pinch of cinnamon
Kosher salt
For the Black beans:
1 cup canned black beans, rinsed and drained.
Kosher salt
For the Smashed Avocado:
½ a large ripe avocado
2 teaspoons chopped cilantro
½ teaspoon lime juice
Kosher salt
For the Salad:
3 cups Greens (I used arugula and baby spinach)
1 cup Cherry Tomatoes, halved
For the Spicy Lemon Cashew Dressing:
¼ cup cashews
½ cup hot water
1 clove garlic
⅛-¼ teaspoon red pepper flakes (depending on how spicy you like it)
3 tablespoons olive oil
3 tablespoons lemon juice
2 teaspoons agave
Kosher salt
Preheat the oven to 400 degrees. Place the cashews in a glass and cover them with hot water- set aside to soak for 10-20 minutes.
In a medium pot over medium heat bring the vegetable broth, cumin and salt to a simmer. Pour in the quinoa and whisk together. Bring the quinoa to a simmer and then put a lid on the pot, reduce the heat to low and let simmer for 20 minutes. Turn the heat off and let the quinoa sit in the pot with the lid on for another 15 minutes. Fluff with a fork and mix in the minced parsley and green onions. Season to taste with kosher salt.
While the Quinoa is cooking, make the sweet potatoes: Toss the sweet potatoes with 2 tablespoons of oil, cinnamon and kosher salt and roast on a bare sheet pan for 17 minutes until golden brown and tender.
Warm the beans in a small pan if desired and season to taste with kosher salt.
Using a fork on a cutting board, sprinkle the avocado with salt and add the lime juice and the cilantro and smash everything together until well combined but still chunky.
Assemble the bowls by dividing the quinoa between 2 bowls, and topping with half of the sweet potatoes and half of the black beans. Add greens and tomatoes to each of the bowls.
To make the Spicy Cashew Lemon Dressing:
Drain the cashews and add them to a blender with the garlic, red pepper flakes, olive oil, lemon juice and agave. Puree on high until smooth- season to taste with kosher salt. Drizzle the bowl with the dressing and add more as desired to taste.
Emilie's Hawaiian Tofu Bowl: Serves 4
(emilieeats.com)
(1) 14 ounce package extra firm tofu
2/3 cup uncooked quinoa
1/2 cup barbecue sauce, plus more for topping
Oil for cooking
2 bell peppers, thinly sliced
2 zucchini, thinly sliced
1/2 red onion, thinly sliced
1/2 pineapple, cored and sliced
Optional toppings
coconut flakes, cilantro, avocado
Drain the tofu. Wrap in several paper towels; place in the sink. Place a heavy object (such as a large pot with a heavy weight inside) on top of the tofu to press the water out. You can also use a tofu press. Let the tofu drain for 20­-30 minutes.
Rinse quinoa in a small mesh strainer. Heat a small saucepan over medium heat; add quinoa. Cook for 1­2 minutes until lightly toasted. Add 1 1⁄3 cups water; turn heat to high. Once boiling, cover and cook for 13-­15 minutes, until fluffy.
Slice the drained tofu into thin 1⁄2 ­inch chunks. Place in a medium bowl; add barbecue sauce. Let it marinade for up to 10 minutes.
In a skillet over medium heat, warm up a little oil. Add bell peppers and zucchini; stir. Cook for 5-­7 minutes, until vegetables are your desired tenderness. Set aside in a bowl or on plate.
Add a little more oil to the same skillet; add the tofu. Pan­ fry for about 2­-3 minutes, until crispy; flip the tofu chunks, and cook on the other side for an additional 2­-3 minutes. Repeat until the tofu is crispy.
To arrange a bowl, add cooked quinoa, vegetables, and tofu. Top with red onion, pineapple slices, additional barbecue sauce, and other desired toppings.
Quinoa Taco Bowl Recipe by Yummy Mummy Kitchen: Serves 4 (yummymummmytummy.com)
2 cups cooked quinoa (about 1 cup uncooked)
1 (15 oz.) can black beans, drained and rinsed
1 (15 oz.) can pinto beans, drained and rinse
Taco seasoning to taste
1 small head romaine lettuce, chopped
3 plum tomatoes, diced
1 small bunch cilantro, chopped
Store bought guacamole*OR quick guacamole–see recipe below
Store bought salsa (optional)
Shredded cheddar cheese (optional)
Corn chips (optional)
Tortillas (optional)
Heat olive oil in a large skillet over medium heat. Add the beans and heat to warm. Season to taste with taco seasoning.
Place quinoa, seasoned beans, lettuce, tomatoes, cilantro, guacamole, salsa, cheese, tortillas and chips in dishes and set on the table. Allow everyone to make their own taco bowls. If your bowl seems too dry, add a little salsa, lime juice, or your favorite salad dressing.  
Quick Guacamole Recipe: Serves 4 
2 large ripe avocados
Juice of 1 lime
Garlic salt to taste
Mash avocados with lime juice in a small bowl. Stir in garlic salt to taste.
Mediterranean Quinoa Bowls with Roasted Red Pepper Sauce—Pinch of Yum (pinchofyum.com)
Roasted Red Pepper Sauce:
(1) 16 ounce jar roasted red peppers, drained
1 clove garlic
½ teaspoon salt (more to taste)
Juice of one lemon
½ cup olive oil
½ cup almonds
For the Mediterranean Bowls (build your own bowls based on what you like and quantities you prefer)
Cooked quinoa
Spinach, kale, or cucumber
Feta cheese
Kalamata olives
Pepperoncini
Thinly sliced red onion
Hummus
Fresh basil or parsley
Olive oil, lemon juice, salt, pepper
Pulse all the ingredients for the sauce in a food processor or blender until mostly smooth. The texture should be thick and textured.
Cook the quinoa according to package directions (a rice cooker works too). When the quinoa is done, build yourself a Mediterranean Quinoa Bowl!
Store leftovers in separate containers and assemble each bowl just before serving, especially the greens and the sauces, as those will get soggy when stored with all the other ingredients.
Notes
For a vegan version, replace the feta cheese with white beans. For a healthier bowl, obviously, load up on the greens!
Delish Chicken Buddha Bowl: Serves 4
(delish.com)
1 large sweet potato, peeled and cut into 1/2″ cubes
1 large red onion, diced
4 tbsp. olive oil, divided
kosher salt
Freshly ground black pepper
2 cups baby spinach
1 lb. Boneless Skinless Chicken Breast
1/2 tsp. ground ginger
1/2 tsp. garlic powder
1 small garlic clove, minced
1 tbsp. soy sauce
2 tbsp. smooth peanut butter
1 tbsp. honey
1/4 cup. Lime juice
1 tbsp. sesame oil
1 tbsp. Chopped cilantro
1 tsp. Toasted sesame seeds
1 avocado, thinly sliced
4 cups cooked brown rice
Preheat oven to 425 degrees F. Spread sweet potatoes and red onions onto a large baking sheet. Drizzle with about 1 tablespoon of olive oil. Season with salt and pepper and toss to coat. Bake for 20-25 minutes, until the sweet potatoes are tender.
Meanwhile, make chicken. Heat 1 tablespoon of olive oil in a large skillet. Season chicken all over with salt, pepper, garlic powder and ground ginger. Add chicken to skillet and cook for 6-8 minutes per side, or until cooked through. Let rest for 10 minutes, then cut each breast into 1″ pieces.
Make dressing. Whisk together garlic, soy sauce, peanut butter, honey and lime juice until evenly combined. Whisk in sesame oil and 1 tablespoon of olive oil until smooth.
Divide rice between bowls. Top with sweet potatoes, chicken, avocado and baby spinach. sprinkle with cilantro and sesame seeds and drizzle dressing on top.
Fall Harvest Buddha Bowl: Serves 2
10 small breakfast sausages— Brown and Serve are O.K.
1 large yellow onion-skinned and quartered lengthwise root and stem ends left on
1+ cups chopped squash in 1 inch cubes-I like butternut. It's thin skinned, but any will do
1 Tbs. oil –1/2 Tbs. reserved-if using rice only ½ Tbs. is needed
½ tsp. crushed dried rosemary
¼ tsp. garlic powder
1 ½ cups broccoli florets –frozen is O.K.
Lemon-pepper
¼ lb. wheat capellini-strands broken in half OR 1 cups cooked brown rice
¼ tsp. dried thyme
¼ cup chopped toasted walnut pieces-toasted in advance
Dressing:
½ cup orange juice
½ Tbs. oil
Maple syrup if needed
Toss the onion and squash with ½ Tbs. oil; place on a baking sheet, sprinkle with rosemary and garlic and roast in a preheated 400 deg. oven until edges brown, tossing occasionally, about 30 min. Turn off oven but leave in to keep warm.
Brown the sausages in a deep pot, adding a bit of water to prevent sticking, when done remove, and tent or add to oven sheet to keep warm.
Fill same pot with water and bring to a boil; add broccoli and return to boil for 2 min. Remove broccoli with a slotted spoon. Sprinkle with lemon-pepper and tent to keep warm.
Return water in pot to the boil and cook pasta or measure water to equal 2 cups and cook rice. When done, drain pasta and drizzle with the reserved ½ Tbs. oil, and sprinkle with the thyme or simply stir the thyme into the rice.
Arrange ingredients in the bowls with pasta or rice on the bottom, then place sausage, each sliced in 4-6 pieces, squash, onion and broccoli separately over the top, and sprinkle with nuts. Drizzle with dressing and serve still slightly warm or at room temperature.
Dressing:
Bring juice, oil and seeds to a low boil in a saucepan; simmer until seeds soften, about 3 min.
Cool and, optionally add maple syrup to taste if needed. Drizzle over food in Buddha Bowl before serving. Can be made ahead, store refrigerated.
Hotchpotch Bowl-Serves 2
2 boneless, skinless breasts or thighs of chicken OR 2 cups cooked chicken or turkey in pieces.
1 large onion quartered lengthwise, connective tissue at roots and stem ends left on
2 large carrots-cleaned and split lengthwise and cross wise into 4 pieces
1 ½ cups broccoli flowerets OR equal amount other green vegetable—frozen O.K.
½ bell pepper, any color but mixed is best, in 2 inch Julianne
2 oz.= ¼ box whole wheat capellini- strands broken in half
1 tsp. chicken bouillon granules
1 Tbs. Teriyaki sauce
2-3 Tbs. for cooking method I
1 tsp. oil for cooking method II + 1 Tbs. for dressing
Water
Garlic powder, powdered rosemary, lemon pepper and herbs of choice.
Vinegar of choice to taste
Method I-Saute meat in 2 Tbs. oil in a skillet over medium heat, browning both sides. Remove and add 1 Tbs. oil if needed and brown carrots and onions. When brown, return meat to pan, add Teriyaki sauce, bouillon granules, water to nearly cover, sprinkle meat with garlic powder and vegetables with a pinch of powdered rosemary, cover and simmer about 20 min. until meat is done. Remove solids and cool, reserving pan juices. Cube or pull meat into pieces.
Method II-My preference because it's neater to do and uses less oil
Place the meat in a bowl, nearly cover with water. Place the bouillon granules in the water. Pour the Teriyaki sauce over the meat and sprinkle with the garlic powder. Bake at 400 deg. about 30 min, until browned. Place the carrots and onions on a piece of foil, toss with ½ tsp. oil and sprinkle with powdered rosemary. Bake along with the meat until brown-about 20 min. Remove vegetables and cool. Cut or pull meat into pieces reserving broth.
Meanwhile, microwave peppers in 1 tsp. water 1 min. Drain and reserve.
Bring a pot of water to the boil and drop in broccoli. Return to boil for 1 min. Turn off heat for 2 min. and remove broccoli with a slotted spoon. Drain, sprinkle with salt or lemon pepper and reserve.
Return water to the boil, add pasta and cook until al dente , about 4 min. Drain, toss with 2 tsp. oil and herbs of choice.*
Dressing is based on the reserved pan juices or broth. No oil is needed if cooking by Method I, if using Method II add 1 Tbs. oil to about ½ cup broth, reserve any extra for another use . Seasoning is optional, as is the choice and amount of vinegar needed. Both depend on the amount of broth. I recommend starting with 1-2 Tbs. vinegar. Herbal suggestions are below.
Build the bowl: divide pasta between bowls. Attractively arrange the vegetables and meat in separate groupings over the top. Drizzle with dressing and serve.
Herb and Spice Suggestions: Salt, pepper, lemon pepper, oregano, thyme regular and lemon thyme, rosemary, basil, marjoram, cilantro, crushed red pepper, hot sauce. NOTE; Herbs and spices should be mixed, but don't overdo. Pick a flavor choice and build toward it.