BREAD PUDDING-A CURE FOR THE COLD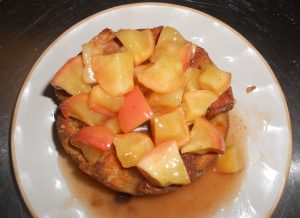 Last week's post was about Clafoutis, the fruit filled custard which, served warm, is a great, 'lite' winter dessert. But this winter, with its prolonged frigid spells and frequent snows covering most of North America, even parts of Florida, seems to demand hardier dishes. People who want or have to be outside, frequently with shovel in hand, need filling, nourishing food for energy. Bread Pudding, a staple in colonial menus and favorite of the pioneers, is perfect for the task. One could even say, it's Clafoutis heftier cousin, because it too is custard based.
Actually Bread Pudding maintained a visible profile until the 1960s, when the bread and amount of butter in the traditional recipes raised red flags to the weight and cholesterol conscious. Now, I'd bet there are Millennials who haven't heard of it, much less eaten it.
However, Bread Pudding hasn't been totally forgotten, a quick web search reveals that. What's more it's moved with the times and out of the 'purely dessert' box. Labeled as Bread and Butter Pudding in older cookbooks, most modern recipes have also dropped the butter, removing that obstacle to its inclusion in a healthy diet. Only one recipe below calls for it, and that's just ¼ cup= 4 Tbs. or ½ Tbs. = 1 ½ tsp. per serving. To further 'lighten the load' half-and-half or evaporated milk can be substituted for the cream in those recipes which call for it. One quick tip first; 'Firm bread' as stipulated in these recipes refers to the texture and does not mean 'dry' as called for in stuffings.
The first two recipes below show the new forms of Bread Pudding as entrée casseroles suitable for any of the three meals. They offer excellent opportunities for experimentation and personalization. Substitute any vegetables with a similar texture for the stated ones, and change the herbs and/or seasonings to suit your choice and you can even shift cuisines.
I note after the second recipe that meat could be a welcome addition, but only offered a few examples. This would be an excellent way to use leftovers. Browned ground meat could also be added. Portions of Bread Puddings are great for brown bagging too. They can be eaten at room temperature or warmed in a few seconds in a microwave.
I haven't ignored Bread Pudding desserts either, but tried to include a variety of good ones, as well as a basic easy recipe, and thrown in several sauces to top them off. There's still a lot of winter left, so give this old favorite in new clothes a try. You'll be glad you did!
Savory Bread Pudding:
Serves 8 –From Bon Appetit on line recipes
1 Tbs. olive oil
3 large eggs
1½ cups milk
1 tsp. hot sauce
½ tsp. salt
4 cups diced stale bread
1 lb. spinach, well rinsed and wilted
1 cup corn kernels, preferably scraped from cob
1 cup chopped scallions
½ cup chopped red bell pepper
2 cups shredded cheddar cheese, divided
Preheat oven to 325°F. Lightly oil bottom and sides of high-sided 9×13 pan or soufflé dish.
Beat eggs until light and fluffy. Add milk, hot sauce and salt, and mix. Pour in ½ of milk mixture into pan, add ½ of bread cubes, and push down into milk mixture. Layer in ½ of spinach, then corn, scallions, bell pepper and 1 cup cheese. Repeat layering, reserving 1 cup cheese and some milk mixture. When complete, pour last of milk mixture over top, making sure it soaks all bread. Bake 1 hour. Top with remaining 1 cup cheese, and return to oven to brown, about 10 minutes. Remove from oven, and serve while hot.
Savory Squash and Leek Bread Pudding:
Serves 8-From epicourious.com
4 Tbs. unsalted butter, plus more for pan
12 cups (1″ pieces) brioche (from about 2 loaves)
1 small butternut squash (about 1 ½ lb.), peeled, seeds removed, cut into ½ " pieces
2 large leeks, white and pale green parts only, halved lengthwise, cut into ½ " pieces
1 tsp. thyme leaves
2 tsp. kosher salt, plus more
4 large eggs
3 cups heavy cream
3 cups whole milk
1 tsp. sugar
1 ½ cups coarsely grated Emmenthal cheese, Comté, and/or aged Gouda, divided
Crème fraîche or sour cream and fennel fronds (for serving)
Preheat oven to 350°F. Butter a 13×9″ glass or ceramic baking dish; set aside. Spread out brioche on a large rimmed baking sheet and bake, tossing halfway through, until golden brown and crisp, 25–30 minutes. Let cool, then transfer to a large bowl. Heat remaining 4 Tbsp. butter in a large skillet over medium. Cook squash, leeks, and thyme, stirring occasionally until squash is tender, 10–12 minutes. Mix in a pinch of cayenne; season with salt. Transfer to bowl with brioche. Whisk eggs, cream, milk, sugar, 2 tsp. salt, and a pinch of cayenne in a large bowl to combine. Add 1 cup cheese to bowl with brioche and toss to evenly distribute. Transfer to prepared baking dish and pour 5 cups egg mixture over; gently press bread into liquid to coat. Pour remaining egg mixture over and let sit 15 minutes. Scatter remaining ½ cup cheese over bread pudding and bake until puffed and custard is set in the center, 60–75 minutes. Let cool at least 10 min.
My Variation-Substitute tomatoes for the squash, and use shredded cheddar or Swiss cheese. Optionally, add ½ cup crumbled bacon or slivers or small cubes of ham

Basic Bread Pudding Dessert Recipe

:
Serves 8
1 lb. French bread (the firmer the better)
3 ¼ cups milk
3 large eggs
2 tsp. vanilla extract
¾ cup sugar
¼ tsp. cinnamon
¼ to ½ cup pecans
Optional: ¼ to ½ cup raisins
Heat the oven to 350 deg.
Butter a 2 ½ -quart baking dish.
Tear bread into medium pieces. Put the bread in a large bowl and add the granulated sugar and cinnamon. Mix milk, lightly beaten eggs, and vanilla. Add to bread mixture. Spoon half of the mixture into the baking dish. Sprinkle with the pecans and raisins, if used. Top with the rest of the mixture. Bake in a preheated 350deg.oven for 40 to 45 minutes, or until lightly browned.
Tips and Variations: Use dried cranberries or blueberries, currents or other dried fruits instead of raisins, or make it with chocolate chips. Replace the pecans with chopped walnuts or slivered almonds. You can also experiment with other types of bread, cinnamon, honey wheat or other grains, but beware of whole grains which could alter the texture of the pudding

Pumpkin Bread Pudding

:
Serves 8- From Epicurious.com
1 cup heavy cream
¾ cup canned solid-pack pumpkin
½ cup whole milk
½ cup sugar
2 large eggs plus 1 yolk
¼ tsp. salt
½ tsp. ground cinnamon
½ tsp. ground ginger
1/8 tsp. ground allspice
Pinch of ground cloves
5 cups cubed (1-inch) day-old baguette or crusty bread
¾ stick unsalted butter, melted
Preheat oven to 350°F with rack in middle.
Whisk together cream, pumpkin, milk, sugar, eggs, yolk, salt, and spices in a bowl.
Toss bread cubes with butter in another bowl, then add pumpkin mixture and toss to coat. Transfer to an ungreased 8-inch square baking dish and bake until custard is set, 25 to 30 minutes.
Eggnog Bread Pudding:
Serves 8 –From About .com
4 large eggs (slightly beaten)
½ cup brown sugar or granulated sugar
¼ tsp. salt
1 tsp. vanilla extract
2 ½ cups milk (warm)
8 slices white bread (crusts removed if desired)
Dash nutmeg
Whisk together the eggs, sugar, salt, and vanilla; add the warm milk. Cut bread in half diagonally, forming triangles. Arrange 2 layers of bread slices in a lightly buttered 8-inch square baking dish. Pour the custard mixture over the bread. Place the 8-inch baking dish in a larger baking dish containing about ½ to 1 inch of very hot water. Bake at 325° for 40 to 50 minutes, until a knife inserted in the center comes out clean. Serve warm or cool with dessert sauce, syrup, or fruit.
Cinnamon Custard Bread Pudding Variation: Use cinnamon swirl bread and omit the nutmeg. Sprinkle the custard mixture with cinnamon sugar just before baking.
Easy Peach Bread Pudding:
Serves 8—Recipe by jowolf2 at allrecipes.com
2 cups fresh, frozen or canned peaches*
(1) 14 oz. can sweetened condensed milk
3 eggs-lightly beaten
1 ¼ cups hot water
1 tsp. cinnamon
1 tsp. vanilla
¼ cup butter- melted
4 cups French bread –torn into small pieces
Preheat an oven to 325 degrees F (165 degrees C). Grease a 9×13-inch baking dish. Chop the peaches and lightly mash them in a mixing bowl. Combine the sweetened condensed milk and the eggs; add them to the peaches and mix well. Stir in the hot water, melted butter, cinnamon, and vanilla. Stir the French bread into to the custard mixture until the bread is completely moistened. Turn the pudding into the prepared baking dish. Bake until a knife inserted in the center of the pudding comes out clean, about 1 hour and 10 minutes.
*Frozen peaches may need a bit of extra sugar.
Jam Bread Pudding

:
Serves 6-8
2 eggs-separated
½ cup sugar + 2 Tbs.
1 cup milk
1 cup light cream
1 cup 1 inch bread cubes
1cup marmalade or all fruit preserves or jam
½ cup toasted slivered almonds
Beat egg yolks, add ½ cup sugar, milk and cream, stir well and pour over bread in a lightly greased ovenproof dish. Bake at 350 deg. for 45 min. or until firm. Remove from oven and spread with marmalade or jam and sprinkle on the nuts.
Meanwhile make a meringue by beating the egg whites until slightly stiff then continue beating while gradually adding the 2 Tbs. reserved sugar until glossy peaks form. Spread the meringue over the jam and nuts on top of the pudding and return to the hot oven to bake for another 12-15 min. until top is slightly brown. Serve hot at once.

SAUCES: Remove the pudding from the oven and let it cool slightly before serving. Serve warm with the sauce. Cool and cover any leftover pudding and store it in the refrigerator.
Classic Hard Sauce
1/3 cup butter
1 ½ cups powdered sugar
1/8 tsp. salt
1 Tbs. rum, brandy or other liqueur
1 Tbs. vanilla or other flavoring of choice to taste
Cream butter and sugar add salt. Beat with cream and flavorings until fluffy. Pile lightly in a serving dish and chill until serving. Pass with pudding.
Bourbon Sauce:
1 cup sugar
6 Tbs. butter
½ cup buttermilk |
1 Tbs. bourbon (or more)
1 Tbs. white corn syrup
1 tsp. vanilla extract
In a saucepan over medium heat, combine the 1 cup of granulated sugar with 6 tablespoons of butter, ½ cup of buttermilk, 1 tablespoon of bourbon, ½ teaspoon of baking soda, 1 tablespoon of white corn syrup, and 1 teaspoon of vanilla. Bring the sauce mixture to a boil. Continue boiling for 1 minute. If desired, strain the sauce through a fine mesh sieve. Serve the sauce warm drizzled over the bread pudding.
Carmel Sauce
½ cup brown sugar
½ cup butter
2 Tbs. light corn syrup
1 Tbs. rum-optional
While the pudding is baking, combine the brown sugar, 1/2 cup butter, corn syrup, and rum in a saucepan. Bring to a boil over medium heat and simmer for 3 to 4 minutes or until just slightly thickened. Let cool slightly.
Baked Apple Topping

:
Serves about 4
2 crisp apples, cored and diced in 1 inch pieces
2 Tbs. packed brown sugar
¼ cup apple juice
Pinch cinnamon
½ tsp. cornstarch
Sliver of butter-optional
Dissolve the cornstarch in the juice and stir with the apples. Place in a microwave proof dish large enough to hold them in one layer. Sprinkle with sugar and cinnamon. Microwave 3 min. stirring after each. Add butter after 2nd. Serve as a sauce warm or room temperature.