BE COOL–GRILL FISH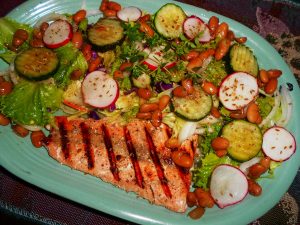 Growing up in a coastal resort, I learned to appreciate fresh fish at a young age. It wasn't long before I realized that seafood, in general, is more featured on menus in summer than winter. It seems logical that a town which depends, seasonally, on the ocean for its economy and entertainment, would rely on the sea as a major food source at that time of year, and most seaside communities still do.
However, with modern transportation and freezing methods, fresh fish is available anywhere at any time nowadays and in quantity too. Our growing interest in healthy eating, and awareness of seafood's nutritional values have made it very popular, but there is still more sold in warm weather than cold. So there must be another reason why seafood is considered a good summer food.
My guess is that it's the epitome of the "fast, easy, fresh" meal everyone wants, especially in summer. It's certainly easy; the pieces are sold ready for cooking without needing additional cleaning or trimming. Since it must be cooked within a day of purchase, or as soon as thawed, it's the freshest of meats served. As for 'fast', although seafood can be cooked in every possible way, in all of them the required time is measured in minutes not hours, no matter the cut. There's no leaning into a hot oven to baste, or stirring a stew pot in hot weather. In fact, depending on the choice of sides, little time need be spent in the kitchen, particularly if outdoor grilling is an option.
However, if it isn't, the following recipes are acceptable for indoor or outdoor grilling, which includes contact grills and grill pans. Of course, if you can't or don't grill, oven broiling is another option. The recipes are also adaptable for use with different types of fish. The point is that fish is a quickly prepared choice for a summer meal, particularly so when grilled.
There are a few general rules for cooking fish including grilling. The most accepted are those set by the
Canadian Department of Fisheries, recommended by top chefs from James Beard to Steven Raichlen and Bobby Flay.
1) Regardless of method, cooking time should be 10 min. per inch of thickness of the fish at its thickest point. If you have a whole fish 4 inches thick, you will cook it 40 min.; a steak 1 ½ inches would take 15 min. or 7 ½ min. per side and a thin fillet ½ inch thick would be 5 min. or 2 ½ per side. (I tend to be more cautious here and allow 3 min. per side.) Tongs are great to turn fish steaks but if I'm doing thin fillets on an outdoor grill, I use a 'fish holder'; a grill accessory with a long handle, which holds the fish between two rectangular pieces of metal mesh, making flipping them during cooking without breaking them easy.
2) Preheating is required. The element should be hot, and for outdoor grilling the grill surface should be 3-5 inches from the heat, with a 2-3 Mississippi fire. Contact grills and pans take about 3-5 min.to reach the desired temperature.
3) Lightly oil the surface just before you put the fish on to cook, not when you start the grill.
4) Remember contact grills take half the time because they cook both sides at once.
5) To get cross-hatch marking, rotate the fish ¼ turn half-way through cooking each side
As stated, grilling recipes can be used for different fish within the same categories. Acceptable substitutions would be for example:
A. Full flavored with firm meaty texture and high in omega-3 fatty acids: tuna, marlin, swordfish, shark
B. Mild tasting, lean, fine flake and sweet flavor: sole, flounder, tilapia, halibut, orange roughy
C. Mild tasting, lean, large flake, and sweet flavor: cod, haddock, bass, rockfish, ocean perch,
D. Firm, moderate flavor and medium oil content: snapper, catfish, monkfish (can also be substituted for lobster in some recipes)
E. Rich oily fish, firm flake and medium to strong flavor depending on species: salmon, wild or farmed, trout, arctic char, steelhead
Grilled Swordfish with Peppers: Serves 4
(4) 1 ¾ lb. swordfish steaks or others in 'A' as well as halibut about 1 inch thick
1 large red bell pepper in julienne strips
1 large green bell pepper in julienne strips
1 small onion thinly sliced
2 Tbs. butter
4 Tbs. lemon juice
¼ cup grated Parmesan
2 Tbs. shredded basil
2 Lemons in wedges for serving
Salt and pepper
Set grill rack about 5 inches from heat and preheat. Generously sprinkle pepper over fish. Melt butter and sauté pepper strips and onion until tender and golden, remove from heat, add salt if needed and reserve. Oil grill and cook fish 5 min. on first side, sprinkling with ½ the lemon juice before turning. Sprinkle the rest of the juice over the fish and cook 5 min more or until it flakes easily. Top fish with peppers, then garnish with cheese and basil before serving with lemon wedges on the side.
Grilled Whole Fish in Beurre Blanc Sauce: Serves 8
3 ½ lb. cleaned fish with head and tail left on, salmon or trout
3 Tbs. canola oil
1 small onion in small dice
2 Tbs. white wine vinegar
½ cup butter
¼ cup white wine
2 Tbs. chopped fresh parsley
Place grill about 5 inches from heat and preheat. Lightly oil a wire broiling basket. Place fish in basket and drizzle with oil and cook about 5 min. then turn, cook 5 min. more, repeating until fish has been cooked the required time-about 20 min. total. To prepare sauce, place vinegar, onion and wine in a saucepan and simmer until onion is tender and liquid reduces slightly. Gradually blend in butter to make a smooth sauce. Serve fish hot, with sauce drizzled over, garnished with parsley.
Grilled Salmon with Watercress Sauce: Serves 4
4 salmon steaks ¾ inch thick
1 tsp. dried marjoram
Salt and Pepper to taste
Watercress Sauce
Sprinkle salt, pepper and marjoram on both sides of fish steaks. Preheat grill, place 4 inches from heat and lightly oil. Grill fish about 3-5 min. per side, until lightly browned and it flakes easily. Serve with sauce.
Watercress Sauce: Yield 1 cup
½ cup packed watercress leaves
½ cup packed fresh parsley
2 medium shallots-diced
1 small onion – diced
½ Tbs. wine vinegar
1 ½ Tbs. olive oil
3 Tbs. tomato juice
Place vegetables and herbs in a processor and process 3 times with on/off . Scrape down bowl sides and pour oil over mixture, add vinegar and puree 3 sec. Pour juice in through tube and puree until smooth. Chill before serving with fish.
Grilled Tuna with Rosemary-Caper Butter: Serves 4
(4) 1 inch thick tuna steaks
Oil to coat grill rack
1/3 cup unsalted butter at room temperature
1 Tbs. chopped capers
¼ tsp. lemon zest
1 tsp. dried, powdered rosemary + fresh sprigs for garnish
1/8 tsp. Dijon mustard or spicy brown
Mix last 5 ingredients together and chill. Preheat grill and lightly oil rack placed about 4 inches above heat. Grill tuna steaks 5 min. per side. To serve, top steaks with a portion of the butter and optionally, garnish with fresh rosemary sprigs.
Grilled Scallops with Creamy Corn Sauce: Serves 4*
1 ½ lb. sea scallops
1 Tbs. olive oil
Salt and pepper
2 Tbs. finely chopped, toasted walnuts
Rinse he scallops well and pat dry. Thread sidewise on double skewers to prevent twisting. Brush with oil and sprinkle with salt and pepper. Cook over high heat on a preheated, oiled grill rack 2-4 min. per side, depending on grill until just golden. To serve, remove from skewers and serve sitting on corn sauce.
Corn Sauce: Yield about 2 cups
(1) 15 oz. can creamed corn
1 small onion diced
¼ tsp. garlic powder
2 Tbs. fresh cilantro
1Tbs. cornstarch
Put all the ingredients but the cornstarch in a blender and puree until fairly smooth. Place mixture in a saucepan, add cornstarch and simmer gently until sauce thickens. Taste for salt, pepper and sugar adjusting if necessary. Can be made ahead and stored cool, but should be rewarmed before serving. To serve, spoon sauce on plates and place scallops on top. Garnish with finely chopped, toasted walnuts
*Adapted from 'Grilling' by Steve Raichlen
Barbecued Shrimp: Serves 6
24 large shrimp-cleaned, tails on
12 slices of bacon – halved crosswise
24 pieces of onion 1 ½ inch x 1 ½ inch
2 Tbs. EACH brown sugar, soy sauce and dry sherry
½ tsp. EACH chili powder, powdered ginger and salt
3 cloves chopped garlic OR 1 tsp. powdered garlic
Wrap the bacon pieces around the shrimp and skewer shrimp sidewise to secure bacon, alternating with the onion pieces. Combine the rest of the ingredients for the marinade and pour into a baking sheet with sides or broiler pan. Lay skewered shrimp flat in the pan and marinate, turning regularly for at least 1 hr. Cook over high heat about 3 min. per side, until bacon is crisp. Pour marinade into a saucepan and heat to a simmer, then cool to serve as a dipping sauce.