AN OLD FAVORITE RETURNS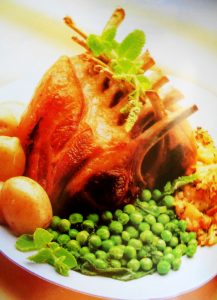 There's a prediction circulating in the food industry that the next big topic of interest will be lamb. It's about to reappear on our menus and in our diets in major ways for strategic reasons I'll discuss in a bit, but first, some basic facts about the meat as we've known it in the U.S.
When I was little, we always had leg of lamb for Easter. Though it was my favorite roast, I really preferred the stew, made with fresh spring potatoes, carrots, peas and onions, that came a few days later, but best of all was the lunch I carried to school Easter Monday; thin slices of lamb between slices of Jewish rye, one spread with mint jelly and the other with a veneer of home-made mayonnaise. (Post 4/20/17). Yum!
By the time I reached high school, our family, sadly, had shrunk, and Easter had become a far more social day. The only meal we had at home was brunch after church. The roast lamb had become a memory. Even that faded, as lamb in general, all but disappeared from the market and, except for an occasional special featuring rack of lamb, from restaurant menus as well.
Lamb was a staple of the American diet, especially in spring, until the West opened and focused on the cattle industry, which put a halt to the expansion of sheep herding. Cattlemen were possessive of the grass lands, because the two animals can't coexist in the same areas. Cattle yank high grass out by the roots and leave a barren area to re-seed itself. Sheep nibble the grass down to the ground. They leave a field looking like a mowed lawn. It needs only to re-grow; great ecologically, but impossible for cattle.
By the 1920s beef was more plentiful than lamb, and far less expensive. It became the "What's for dinner?" meat. In the '30s and '40s that was important. The 'flower-power' attitude of the '60s did a number on lamb too. 'Lamb' was depicted not as the full gown sheep it is in reality, but as an innocent, defenseless baby and considered politically incorrect to eat. In the late '70s or early '80s lamb made a brief comeback in the form of frozen legs from New Zealand, but they disappeared as well.
Recently, I heard a woman in her 40s admit she'd never tasted lamb, and her friend remarked that it had too strong a flavor for her. Apparently, it's been absent from the American table long enough to become an acquired taste and from the American kitchen to have a few facts of prepping it forgotten. It does have more flavor than beef but the strong taste comes from leaving too much fat on the cut to cook with the meat. Another reason to remove the fat is that lamb meat is protected by a thin silvery membrane called 'the fell' which must be removed or the cut will resist carving. My family also rubbed the lamb with cider vinegar, which mellows the flavor
There are several misconceptions about the terms applied to lamb. First, the 'lamb' on the plate, despite its label, is not technically a 'lamb'; it's a full grown sheep. 'Baby lamb' is an oxymoron, but the only places you'll find that served are, occasionally in Europe, and in the Middle East. Another misconception is the definition of 'mutton'. Mutton is not an old, tough sheep on its way to the glue factory. Mutton is a cut, usually a leg that has been allowed to hang long enough to become well 'aged'. Sometimes it's rubbed down with wine during the process, but it's always quite fatty, which accounts for its distinctive flavor. Any of the recipes for lamb can be used to cook mutton.
As to why lamb is about to make a reappearance on our tables, the answer is simple. It's a more sustainable meat source than beef and with current cattle raising and slaughtering practices, a safer one as well. Most of all, with the current situation, depletion of natural resources, global warming, climate change, loss of grazing land and extreme, disruptive weather patterns, sheep appear to be a solution.
They take up far less area, are less labor intensive and leave no footprint.
They mature faster
They produce meat and hides as do steers but also milk and an annual supply of wool, which has kept sheep farmers in business.
Sheep don't naturally produce E.coli
Sheep can thrive in many terrains, including mountains and marshes, surviving on the native foliage, weeds, reeds, lichen, and moss. It doesn't affect the texture of the meat but gives it nuances in flavor, much as flowers do honey.
With beef so high, the price is competitive
The very best thing about cooking with lamb is the wide range of recipes in different cuisines globally. Open any ethnic cookbook and you'll find numerous ways to serve it. Lamb is an ancient meat, probably the earliest, domesticated herbivore. It's a shame the American kitchen has neglected it for so long, because we too, in our comparatively short history, have a tradition in preparing it. An excellent collection of American recipes, many based on Continental classics is to be found in James Beard's American Cookery. It was written in 1972, but its informative material is timeless.
Because of the sheer number of ways to prepare lamb, and the various ethnic interpretations, I can't begin to select a mere 5 or 6 to relate here. So, instead I'm going to pass on the methods my Grandmother and Mother taught me for handling cuts of lamb. This will cover the basics, and then you can take off in any direction(s) you choose.
Roast Leg of Lamb or Mutton: 5-8 lb.
Trim the leg well and remove the fell (see above).Rub with cider vinegar, and drizzle a little over the leg after it's in the roasting pan. Roast in a 325 deg. oven for 25-30 min. per pound, until the internal temperature is 165-170 deg. for rare and 175-180 deg. for medium.
NOTE: French and Jewish chefs make slits about 1 inch long and ½ inch deep, 3-5 inches apart, over the surface of the meat and stuff them with mashed garlic and/or butter and/or rosemary to infuse flavor while cooking.
Traditionally, peeled potatoes and onions are added to the pan 1hr. before it's done. Another choice would be to add the onion stuffed potatoes I described in my post of 4/6 / 17. Be sure to baste them frequently. If the juice in the pan evaporates, maintain its level by adding beef broth. New potatoes in a variety of colors, with a strip peeled around the middle, are another attractive option.
GRAVY: Allow ¼-1/3 cup per serving. Measure quantity of beef broth needed, allow 1 tsp. mint sauce* and 1 Tbs. flour for each ½ cup fluid. If pan drippings are ½ cup or more, add one extra Tbs. flour. Remove roast to rest and add drippings to the pan. 1 tsp. of rosemary can add flavor too. Whisk the flour in the liquid to dissolve, place pan over medium high heat and continue stirring until sauce thickens, about 3 min. Add salt and pepper if needed, and I like a few drops of Kitchen Bouquet for color. Serve hot with the meat and pass mint jelly.
*MINT SAUCE: Per 1 bunch of mint; make as much as you want. Remove the leaves from a bunch of mint; cover with cider vinegar and add sugar until the taste is sweet-tart. Bring to a boil; simmer for about 5 min. correct taste cool and blend. Pour into bottles and seal tightly. Keeps for months in a cool dark place.
Lamb Stew
The quantities here depend on the amount of lamb leftover, but allow at least 1 ½ -2 cups of solids and ½ cup gravy per serving.
Calculate: 1 new potato, 1 small onion, ½ a large carrot sliced in 4, 1/3 cup tiny spring peas per serving. Quarter the onion and potato, and cook them, with the carrot, in beef broth to cover until tender. Remove from pot and make the correct amount of gravy, using the recipe for the roast. Include any leftover roast gravy. A pinch of rosemary may add flavor. When gravy is ready, return vegetables to pot, with peas and meat. Correct seasonings and heat through. Serve hot as soon as peas are tender.
Crown Roast of Lamb: 4-6 lb. Serves 6-7-Bake at 325 deg. 35-45 min. per lb.
A Crown Roast is double loins, with the chine bones split, attached end-to-end and tied into a circle by a butcher. To serve, cut between the bones into chops, allowing 2 chops per portion. The bones should be 'Frenched' or stripped of tissue, and can be decorated for presentation with grapes, grape tomatoes or paper 'panties'. Traditionally this roast doesn't have gravy but is served with mint jelly or mint sauce. The center is usually filled with a choice of stuffings; the most popular being
1) 2 lb. potatoes, ½ lb. onions, both thinly sliced, 3 Tbs. butter, salt and pepper. Parboil the vegetables and layer alternately, dotting each with butter, pressing down to pack tightly. Begin and end with potatoes. Garnish the center with ¾ cup lightly cooked new peas and decorate the bones as suggested above before serving.
2) Substitute quartered new potatoes, tiny pearl onions and baby carrots for the sliced vegetables, in optional quantities. Parboil about 2 min. Drain well and sprinkle with 1 tsp. rosemary. Proceed as directed above, dotting with 2 Tbs. butter. Garnish with 1 cup peas and suggested decorations.
3) Mashed potatoes, flavored with sautéed, diced onion, salt and pepper
Rack of Lamb: Serves 4-6
2 racks of lamb called a French Rack, because the bone ends are stripped and interlocked-about 12 chops
½ cup mint jelly
2 Tbs. orange or pineapple juice
SAUCE
2 Tbs. red currant jelly
2 Tbs. hot water
1/3 cup mint sauce
For sauce mix all the ingredients together and cook over low until warm through.
Place the racks bone side up in a pan. Mix the mint jelly and juice, using a microwave for a few seconds if necessary to dissolve and brush ¾ of the mixture over the racks. Bake at 375 deg. for 45-65 min. until internal temperature is 140 deg. for rare or150-155 for medium. Baste with the rest of the mint mixture and allow to stand for 10 min. keeping warm. Serve with sauce.
Shepard's Pie: Serves 4-6
it's claimed the colonial settlers brought this dish with them. Long regarded as a way to
use leftover roast lamb, its popularity with children has surely also contributed to its
endurance. In modernized form it's an easy casserole to make, even without leftovers!
1 lb. ground or minced leftover lamb*
2 large onions each in 8 pieces
(1) 10 oz. box frozen peas thawed
¼ cup mint sauce – See recipe above but Lea & Perrins and Hampshire House are good
1 envelope beef bouillon granules
½ envelope chicken bouillon granules
2 cups water – divided
2 Tbs. cornstarch
Kitchen Bouquet – as needed @ ½ tsp.
Cooking spray
1 box instant mashed potatoes – enough for 2 cups
Milk – as per box directions
1 egg
1 Tbs. butter
Pepper to taste
¼ cup grated Parmesan
Dried parsley and paprika to garnish
Spray a skillet with cooking oil, and over medium heat cook the meat until no longer
pink, with the onions until soft. Add 1 ½ cups water, bouillons and mint sauce. Dissolve cornstarch in ½ cup water, mix in and stir until gravy thickens. Remove from heat and add enough Kitchen Bouquet to turn the gravy deep brown. Stir in peas, and pour the mixture into an oiled ovenproof casserole. Make mashed potatoes according to directions, remove from heat and stir in egg. Spread the potatoes over the meat mixture, covering completely. Top with parmesan, paprika and parsley. Bake 350 degrees for 30 min.or until top is golden brown.
* This can also be made using ½ lb. ground lamb and ½ lb. ground beef OR ½ lb. ground beef and ½ lb. ground turkey
Lamb Burgers: Serves 4
1-1 ½ lb. ground lamb –I like the larger amount for 4. I lb. Meat handles 3 servings well
½ cup mint sauce (see above)
2 large onions – thinly sliced
1 Tbs. oil
Home-made mayonnaise(see above)
4 hamburger, or other favorite rolls –split and toasted
Saute the onions in the oil until soft and golden, keep warm; split and toast the rolls.
Mix the meat with the egg and form into 4 patties which will comfortably fit the rolls. Place the patties on an aluminum covered sheet; pour 1 Tbs. mint sauce on each. Turn patties and repeat with the other side. Bake in a 350 deg. preheated oven until cooked through, about 15-20 min.
Assembly: Optionally spread one side of the rolls with mayonnaise. Place a patty on each roll; top with onions and serve warm.
NOTE: The meat can be served as a regular dinner entrée, with sides. For this presentation, don't flatten the patties.