Amazing Back-To-School Dinners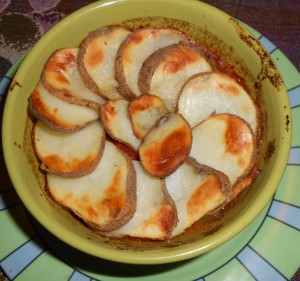 No matter a family's regular routine or demographic, the beginning of September is hectic. Summer is a relaxing season. The many hours of sunlight make the days seem longer, less rushed. For me, waking up to the sun, rather than feeling yanked awake in dark of night, is a plus as is the way the evening hours seem to flow together. If dinner is late, it's O.K. because it's still light out, still daytime.
September transitions so abruptly into fall. School starts and all activities must be moved to late afternoon or evening. Generally, fewer daylight hours feed an urgency to do things before nightfall, and an acute awareness that it's dark and time to wind up the day.
Dinner is often a casualty of the season change. A slot must be found to fit new schedules. Moreover, with cooler weather creeping in there's pressure to stop and make a hot meal, often stressing the person who does the cooking. It's tough to jump from work to kitchen, especially if one has to go out again.
Unfortunately, most quick recipes call for top of stove techniques sautéing, frying and boiling. I hate not being able to change and having to pay as much attention to not spattering my clothes as I do to what I'm preparing.
The quick solution is frozen dinners, but I like to know what goes into my meals and how they're prepared, to avoid chemical additives and control sodium, sugar and fat. I want healthy, whole foods cleanly cooked. As a personal chef I prefer to prepare and freeze several meals in advance, but that's not always possible, particularly when pressed for time.
So I'm listing several, fast, easy spatter-proof recipes, which have served me well over the years. One is cold for the nights that call for separate times or a quick pick-up. I've included suggestions for sides. Plain bagged frozen vegetables are good choices, as are simple boxed rice and pasta. These are only ideas of quick types of accompaniments that complement the dishes. You will want to serve your own favorites.
Tuscan Bean Salad; Serves 2—For more, simply double (leftovers make good brown bags)
(1) 6 oz. can of tuna- drained-solid or chunk white preferred—oil or water optional
(1) 15 oz. can cannellini beans – or navy or white beans – drained
2 Tbs. salad or canola oil
1Tbs. balsamic or red wine vinegar
1 Tbs. Dijon mustard
1 tsp. lemon juice
¼ cup fresh basil leaves-chopped or 1 tsp. dried
Oregano-to taste- optional
Whisk the last 6 ingredients in a bowl. Stir in the beans and tuna. Allow to sand a few minutes for the flavors to meld, or refrigerate up to 8 hrs.
Like most Tuscan recipes, this is wonderful served on a bed of spinach leaves. All it needs is a loaf of artesian bread.
A great dinner to have on hand for those nights when people have to eat at different times.
Penne With Ham and Peas in Creamy Sauce: 4 Servings
(1) 1lb. box of penne –I like the whole grain
2 cups frozen or fresh peas – not canned
4-5 oz. Sliced ham cut in 1 inch squares OR 2 cups leftover ham in ½ inch pieces ***
2 Tbs. oil
¼ tsp. garlic powder—optional
1 cup milk, cream or mixture of the two **
¼ cup pasta water
Shredded or grated Parmesan cheese.
Cook the pasta according to box directions until just al dente= about 8-9 min.. Drain over a bowl saving the pasta water. Return the pot to the stove. Add the oil and ham and stir over medium heat until ham pieces separate. Add peas and if using, garlic powder. Stir to dissolve powder and coat all ingredients with the oil. (3 min. total) Return the drained pasta to the pot. Add the pasta water and milk and/or cream. Raise burner temperature to high, bring contents to a full boil. Occasionally lifting the pot to prevent sticking, maintain at a boil, stirring constantly with a wooden spoon until a creamy sauce forms.( 4 min.) Remove from heat at once. Divide among plates and generously garnish with Parmesan. Serve
piping hot.
Suggested sides: Tossed salad and a good artesian bread.
*** Only heavy cream, half-and-half, and skim milk can sustain boiling without "breaking" or curdling.
Ever the calorie counter, I use skim milk. The Italians would insist on heavy cream, but half and half works well and adds a richness to the flavor
***Smoked turkey, turkey bacon, or turkey ham are all good dietary alternatives.
Potato and Bean Casserole: Serves 4
1lb. package hot dogs cut in ½ inch slices
1 onion thinly sliced
16 oz. can beans—suggested light kidney beans- partially drained
15 oz. can diced tomatoes with juice
12 oz. frozen cut green beans
1 envelope beef or chicken bouillon granules
1 Tbs. oil
Salt and pepper
3 white potatoes or 2 small sweet potatoes
Heat oil in skillet and sauté onions until soft about 5 min, add hot dogs and warm through, about 4 min.; add green beans and tomatoes and bring to a boil; add kidney beans. Turn off heat. Pierce potatoes several times with a fork and microwave on high just until tender, about 3 min. Cool and thinly slice. Turn bean mix into an ovenproof casserole dish or 4 individual crocks. Cover top(s) with potato slices in a circular pattern. Bake in a 400 deg. oven until potatoes are golden and mixture bubbles. Serve hot with a tossed salad.
This is a great meal to have made ahead. It gives you a chance to put your feet up while it bakes
.
Minute Steaks in Wine Sauce; Serves 4
"Minute Steak" applies to any piece of beef, about ¼ inch thick, that can be "pan fried" to acceptable doneness in about 1 minute. Because of the reduced cooking time, less tender cuts, such as Round, become an option or even the paper thin, "frizzled" beef, used for Philly Cheese Steaks. However, the real beauty of this recipe is that the sauce is made separately, and can be made ahead. Leftovers, regular sized steaks, or even sliced Deli beef can be used whole or julienned to serve over rice or pasta.
(8) Minute Steaks
2 Tbs. butter
2Tbs. oil
1 medium onion halved and sliced very thin
2 cloves minced garlic or 2 tsp. jarred
1 envelope beef bouillon granules
1 cup water
1 Tbs. cornstarch
¾ cup red wine
2 Tbs. brandy
Ground pepper
Kosher salt
1 tsp. tomato paste or Kitchen Bouquet
4 oz. fresh mushroom slices or (1) 4oz can stems & pieces (optional)
Melt butter in a skillet over medium heat. Sauté onion and garlic about 2 min. Add everything else but the meat, to the pan. Stir until sauce thickens, about 3 min add salt and pepper to taste. Add Kitchen Bouquet if the sauce lacks color. Pour sauce into a small saucepan and keep warm over low heat. Raise heat under skillet to high. Add steaks and brown quickly and evenly, about 1 ½ – 2 minutes. Do not over-cook. Plate steaks and top with sauce.
Suggested Speedy Sides: Minute rice cooked with a package of beef bouillon granules, or other seasoning.
1 lb. bag of a frozen green vegetable; peas, beans, broccoli etc.
Quick Chicken Saltimbocca: Serves 4—(All in the oven)
4 large boneless skinless breasts
4 slices Swiss cheese
4 Slices Deli ham or smoked turkey
4 fresh sage leaves or 1/4tsp. dried sage- optional
Using a can or rolling pin, place the breasts between 2 pieces of plastic wrap and roll to an even thinness. With skin side down, if using sage lay a leaf or sprinkle the dry herb on the meat then place a slice of ham and then a slice of cheese on each. Roll and fasten with string or a skewer. Place rolls seam side down on an oiled foil covered cookie sheet and bake in a preheated 400 deg. oven for 20 min. Serve whole or sliced.
Roast some canned whole potatoes or baby carrots, frozen Brussels sprouts or whole green beans lightly coated with oil and Balsamic vinegar and sprinkled with parsley or rosemary or thyme along with the meat.