Amazing, Affordable Stew In A Pumpkin- Dinner For 6 Under $20.00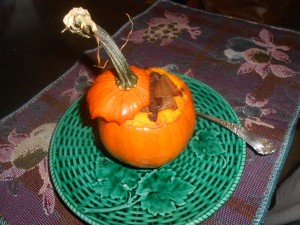 This recipe is a fitting end for those decorative pumpkins that brighten our homes in fall. I've come up with a version that I'm told tastes better than the original and it qualifies for my 'affordable entertaining' collection of entrees. I can bring it in for $16.00 to $20.00, serving 6-8. The price difference is the cost of the pumpkin or other squash. If you are using a pumpkin you bought earlier, then the lower price is yours. However, be sure that it is in good condition. If there are soft spots, it can still be used by cutting away the firm sections, cooking and mashing them as bedding for the stew or other dishes.
As pointed out in my postings of Oct.21 and Oct.28, 2015, winter squash are interchangeable in most recipes and they are here as well as far as taste is concerned, but not if the squash is to be used as a serving vessel. For that it must have a flat bottom and a skin thick enough to withstand heat and contain the weight of the stew, without cracking. It's also nice if it's large enough to hold the entire recipe. For that only the pumpkin will do. For smaller amounts, "pie" pumpkins, kabocha and turban squash would be options.
I offer my adaptation first and then the original recipe. I think you will see that any ingredient substitutions I've made are interchangeable with the originals, depending on your preference, but bear in mind the price will be altered. However, there was general agreement that using the pork was preferable to the beef. It not only seemed more seasonal, but the taste just seemed more compatible with the other ingredients. In today's market that's a big plus!
My Stew in a Pumpkin: Serves 6
1 large pumpkin
3 Tbs. oil
2 Tbs. butter
2 large onions cut in 1 inch pieces
2 ½ lbs. pork- in 1 inch cubes-butt or picnic recommended
28 oz. can diced tomatoes – 1/4 contents drained off and stored for other use.
3 large carrots- peeled, cut in 2 inch pieces
3 cups beef stock
1lb. bag frozen corn kernels
½ lb. dried apricots
4.5 oz. box of raisins
salt and pepper
1/8 tsp. ground allspice
2 Tbs. cornstarch – optional
As with the original recipe, replace 1 cup broth with 1 cup beer for a deeper flavor (optional)
Cut the top evenly off the pumpkin, low enough to give access to the cavity. Clean out seeds and membranes; rub outside with 1 Tbs. oil and reserve. In a large pot or Dutch oven, brown the meat in the remaining oil and butter. Add all the other ingredients except the cornstarch and simmer for 1 hr. If it seems too watery at this point, dissolve cornstarch with ¼ cup broth or water, stir in until stew liquid thickens. Cool, and ladle into pumpkin, place in a pan with 1 inch water, replace top and bake in a preheated 350deg oven for 1 hr. Carefully remove to a serving plate, and serve stew from pumpkin with a ladle, scraping the flesh from the sides to add to the plates.
The following menu suggestions are my own choice but can give you an idea of the types of things that will complement the stew. They can be served with either recipe and are included in the accounting below for my version of the dish.
Salad: I choose spinach salad with Creamy Vidalia Onion Dressing but Peppercorn or plain will do. The creamy taste goes well with the robust flavor of the stew.
Dessert: Because the stew is quite rich, I wanted a tasty but non-assertive dessert. Italian biscotti seemed a perfect choice, and The Moosewood Restaurant Cookbook has the most authentic recipe I've seen. They're easy to bake, keep for ages in tins and can be made in different flavors, but this is the most traditional one.
Biscotti; Yield – about 20
¼ cup butter
¾ cup sugar
2 eggs
1 tsp. vanilla
½ tsp. almond extract
2 tsp. grated orange peel
½ cup coarsely chopped almonds
2 ¼ cups flour
1 ½ tsp. baking powder
1/8 tsp. ground nutmeg
¼ tsp. salt
In a bowl cream first 2 ingredients, add eggs; add next 4 ingredients and mix well, fold in almonds. Sift remaining ingredients and fold into egg mixture with a spatula until dough holds together when pressed with floured hands. Scoop the dough onto an oiled baking sheet and form into a log about 12 x 3 inches. Lightly press down to flatten to a little over an inch of thickness. The finished log should be about 14 x 4 inches. Bake on an upper rack in a preheated 350 deg. oven for 20 min. until slightly brown. Remove and transfer to a cutting board until cook enough to cut into ¾ inch slices. Lay the slices on the baking sheet, return to the oven and bake 5 min. on each side. Cool on a rack and store air tight.
TO SERVE: Biscotti are very hard and dry and designed to be dunked to soften them for eating. Italians prefer Vin Santo, but any sweet wine will do, port, Marsala, even cream sherry will do, as will all hot beverages, tea, coffee, cocoa. Children usually are given milk or juice.
Original Recipe Stew in a Pumpkin; Serves 6
3 Tbs. butter
2 lbs. beef for stew cubed
3 Tbs. cornstarch
2 large onions diced
3 tomatoes chopped
2 Tbs. butter
¼ tsp. EACH salt and pepper
3 cups beef stock
½ lb. prunes
½ lb. dried apricots
3 sweet potatoes sliced
(2) 10 oz. packages corn –thawed and drained
1 pumpkin, top cut off and reserved, cleaned of pulp and seeds. Melt 3 Tbs. butter in a Dutch oven. Roll the meat in the cornstarch and brown. Set aside. Melt 2 Tbs. butter in a separate pan and sauté vegetables until tender. Add to meat with juices. Add all remaining ingredients except pumpkin, cover and simmer 1 hr. Preheat oven to 350 degrees. Ladle stew into the pumpkin; set in a roasting pan with 1 inch of water, and bake for 1 hr. Carefully transfer pumpkin from the pan to a serving dish and replace its top as a lid for garnish. Serve at once scooping out some of the pumpkin meat as you ladle out the portions.
NOTE: I save clean-up by sautéing the vegetables in the Dutch oven first and then browning the meat. It's one less pot. Also if you have it on hand, replace one cup of stock with beer. It deepens the flavor.
Expenditure; Normally regular pantry supplies, flour, salt pepper etc. and small amounts of herbs, spices and flavorings are not included in recipe estimates for articles. However, I'm figuring in the eggs, sugar and butter, because of today's prices. I also want to mention that the nuts and raisins were bought in The Dollar Store, or they would have been more expensive. Pumpkins this year averaged $4.00, and the price of 2 smaller squash of another variety would total about the same, so add that to the total below and it comes to $19.47 just under the $20.00 as promised. Of course the biggest saving in the 2 recipes is the difference in meat used, but substituting carrots for sweet potatoes and raisins for prunes cut cost too.
2 ½ lb. pork butt @ $1.28lb.                                       $3.20
Carrots                                                                              $0.88
Onions                                                                              $0.50
3 cups broth @$1.00 qt.                                               $0.75
3/4 can diced tomatoes @ $1.00 per 28oz. can      $0.75
1 lb. bag frozen corn                                                      $1.00
½ lb. dried apricots                                                      $2.49
4.5 oz. box raisins                                                          $1.00
————-
$10.57 Stew
9 cup bag of spinach 2/$3.00                                     $1.50
Dressing ½ bottle @2/$4.00                                     $1.00
_______
$2.50 Salad
2 eggs                                                                               $0.40
½ cup chopped almonds (1.25 oz.)                           $1.00
¾ cup sugar @ 4lbs/$4.00                                        $0.50
¼ cup butter                                                                 $0.50
————-
$2.40 Biscotti
TOTAL—– $15.47