A Look At Vegetarian And Vegan Recipes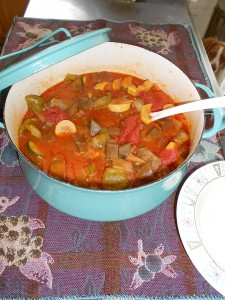 A friend emailed me a request recently asking for some fresh recipe ideas. She's a vegetarian, considering taking the next step and becoming vegan. Vegetarians don't eat red meat. They do eat dairy, some eat fish and a few will accept chicken and/or broth in a specific recipe. Vegans only eat plant based food. Dairy items are replaced by soy products, nut milks and oils and egg substitutes and/or flaxseed. It sounds restrictive, however, it need not be. There are still lots of possibilities to vary the menus.
These diets are not the fad, celebrity endorsed cosmetic goal oriented ones that get press coverage. They are long-term commitments which often result in a change in life-style. The goal is for better health and longevity through the elimination of chemicals, synthetics and other additives to the foods we eat. It has also been theorized that the drastic increase in food sensitivities and allergies over the past years is due, in part, to our high consumption of processed, preserved and junk foods. Therefore, recipes are made "from scratch" using only natural ingredients and "clean"cooking which means there is no heavy breading, deep frying or excess of fats in the preparation process.
To many this might seem to dictate a rather bland culinary existence, but that is far from the truth, as I quickly learned. To be honest, when I got my friend's request, I was apprehensive, because I don't advise on subjects with which I'm not familiar and vegetarianism and veganism are a bit out of my wheelhouse. I did research in the library and on the web but to my surprise, when it came to the actual recipes, I had more than I needed in my own cookbooks.
My readers know that I'm a "from scratch" cook who rarely adds processed ingredients to recipes. A home-made white sauce, which needs only 3 ingredients and 5 min., is much better than one based on a prepared ingredient such as canned soup, containing chemicals and sodium. Letting the true flavor of foods shine through is a major principle of good cooking. So the all-natural part of vegetarian recipes isn't difficult and makes sense.
The question of providing variety in these diets is answered just as simply. The American diet is outstanding for being meat-dependent. Most countries aren't geographically or climatically equipped to supply daily portions of meat for their populations without importing it. That wasn't possible when their various ethnic cuisines were being developed, so many evolved around the serving of meat on feast days and perhaps once a week. Consequently, a big chunk of the cornerstone of native cuisines is meatless meals featuring vegetables. Drawing from them can furnish enough variety to keep any menu from boredom.
As for flavor, the hallmark of a cuisine is it's special tastes, which are achieved through the use of herbs and spices many, of which are associated with geographic regions. It's the specific way each country uses them that distinguishes its cuisine. With so many countries, there's no end to the diversity of choices in flavor available. Nor are there any more truly natural ingredients to incorporate into a recipe. So once again, we see there is no reason for vegetarian or vegan dishes to lack interest and excitement.
Of course, one doesn't have to search the exotic to find satisfying meals which fit the vegetarian and vegan diet. I realized several of my soup and salad recipes qualified. In fact I made a great dinner last week using spaghetti squash and vegetables. While the squash roasted, I microwaved carrots, edamame, zucchini, onions, peppers, broccoli and green beans in a bit of oil, oregano, basil, garlic and lemon pepper. I added tomatoes at the end and tossed it all with the cooking oil and a little red wine vinegar, and served it with a loaf of warm artesian bread. That dinner reminded me that perhaps I should plan meatless ones more frequently.
As for my friend's request, following are a few of the recipes I collected while doing research for her. One of the most useful sources I discovered was the Moosewood Restaurant New Classics cookbook. It's loaded with wonderful recipes you don't have to be vegetarian to enjoy.
Ratatouille; Serves about 8 as a side, 4-6 as an entree
1 large eggplant, peeled and in 1 inch dice
2 large zucchini and/or yellow squash in ½ inch slices
2-3 bell peppers in 1 inch pieces
2 medium onions in 16ths
5-6 plum tomatoes, skinned and quartered OR (1) 28oz can peeled whole tomatoes
Salt and pepper to taste
Powdered garlic –optional
Cooking oil
8oz sliced mushrooms-canned or fresh—optional
Heat the oil in a soup pot or Dutch oven over medium heat. Add the tomatoes, onions, peppers and mushrooms and simmer uncovered 5-8mins. Add the zucchini and eggplant and simmer 10 min or until eggplant is soft, stirring occasionally. Add seasonings to taste. Simmer 5 min. more to meld flavors. Serve at once over rice or bulgur, or cool and chill, because it's better the next day. It is easily made into a dinner casserole by adding rice during cooking.
For the non-vegetarian this is excellent with any broiled or grilled meat or as a bed to bake fish.
Sweet Vegetable Curry; Serves 4
2 medium carrots—in 2 inch dice
1 medium sweet potato- in 2 inch dice (white will do as well)
1 medium parsnip –in 2 inch dice
2 medium onions-roughly chopped
1 medium green pepper – in 1 inch dice
6oz. small button mushrooms
1 small head cauliflower- florets separated
2 Tbs. oil
1tsp. each ground turmeric, coriander, cardamom and brown mustard seeds
1 ½ tsp. cumin seeds
¼ tsp. ground cloves
½ tsp. chili powder
2 tsp. grated fresh ginger
1 1/3 cups vegetable stock
¾ cup apricot nectar
2 Tbs. fruit chutney
¼ cup ground almonds + 1 Tbs. chopped for garnish
Sauté the onion in heated oil until soft. Add the spices and stir until aromatic-about 1 min.-Add the carrot, parsnip, potato, nectar, chutney and stock. Cook, covered over medium heat for 25min.occasionally stirring. Add the other vegetables and cook 10 min. more. or until all vegetables are tender Stir in the ground almonds and serve hot over rice.
Japanese Stuffed Eggplant* Serves 2
2 small Japanese eggplants –about 5 inches
½ cup +1 Tbs. dry sherry
2 cups cooked brown rice
1 cup of ½ inch cubes of tofu (about ½ a 3 inch cake)
¼ cup hijiki seaweed-softened by soaking in hot water 10 min.
1 cup chopped onions
1 large clove garlic – minced
1 Tbs. soy sauce
1 Tbs. oil
Sauce
1 Tbs. each dark sesame oil, rice vinegar, soy sauce and water
1 tsp. each grated fresh ginger, cornstarch
2 tsp. sugar
¼ cup dry sherry
Chopped toasted pecans, walnuts or sesame seeds for garnish
Halve the eggplants lengthwise. Place cut side down on an oiled roasting pan, pour over the ½ cup sherry, cover and roast at 375 deg. 35to 45 min. until golden. Mix the rice, 1Tbs. sherry and soy sauce in a bowl. Sauté the onion and garlic for 3 min. add the tofu and then the drained hijiki. Stir gently, cover and cook4 min. Stir in the rice mix and cook 1 min.more. Set aside.
When the eggplant is cooked, scoop out the flesh, leaving enough in the shell to hold shape. Mix the flesh with the rice and tofu and cook 2-33 min. to blend well. Refill shells. Garnish with nuts and serve hot. Pass the sauce on the side.
SAUCE:
Dissolve the cornstarch in the water. Combine all ingredients and cook over medium heat, stirring until thickened.
*A Moosewood Restaurant recipe
Greek Vegetable Lasagna
¾ cup grated carrots—about 1 large-divided
2 large zucchini
10 oz. box frozen chopped spinach- drained
½ cup coarsely chopped oil cured olives – kalamata
2 eggs beaten
2 cups cottage cheese
3 cups grated feta cheese – divided
1 tsp. ground fennel seeds
12 lasagna needles
1 tsp. dill weed
SAUCE
28 oz. can crushed tomatoes
14 cup grated carrot-from above
1/3 cup chopped raisins
2Tbs. oil
1Tbs each dried oregano and garlic powder
2 tsp. marjoram
Combine all the sauce ingredients in a pot and simmer over medium-low heat until flavors meld and raisins are soft. Cool.
Leave noodles uncooked. Halve the zucchini lengthwise, scoop out seeds and thin slice (on a mandolin) Mix with the ½ cup carrots and spinach. Mix eggs, cottage cheese 1 cup of feta and fennel.
Cover bottom of a 9 x13 inch lasagna pan with a thin layer of sauce. Cover sauce with 4 noodles, and add another layer of sauce. Top with ½ vegetable mix and then with half the egg mixture.
Add another layer of sauce. Repeat layers, ending with noodles, sauce and the reserved 1 cup feta. Sprinkle with dill. Cover with foil and bake in a preheated 375 deg. oven for 1 hour. Uncover and cook another 10 min. Allow to stand 10 min. before cutting.
Vegan Turnovers; Serves 4-6 2 pieces per serving *
16oz. firm tofu- pressed between plates for 20 min. drained and crumbled
1/3 cup sun-dried tomatoes-not in oil-reconstituted in hot water, drained and chopped
1cup chopped onions
¼ cup oil + 1 Tbs. oi1
1/4 tsp. dried thyme
4cups stemmed and chopped greens-spinach, kale, chard, collards –or a combination
2 cloves minced garlic
1.2 tsp. ground fennel seeds
1Tbs.lemon juice
1Tbs. chopped fresh dill or basil OR 1tsp. either dried
¾ lb. filo dough OR 1 package of puff pastry
Sauté onions in 1 Tbs. oil until translucent – about 8 min. Add the greens, fennel and thyme, cover and cook on low, stirring often, about 10 min. until greens are just tender. Drain. Process tofu, basil or dill, garlic and lemon juice until creamy. Combine with greens mix. Fold in tomatoes.
If using filo, working with 2 sheets at a time, stack them, brush with oil and fold in half lengthwise, brush again. Place ½ cup filling at the end and fold over forming a triangle. Continue folding flag-fashion for the length of the pastry sheet. Brush both sides with oil. Place on a lightly oiled baking sheet and proceed with the rest of the filo sheets. You will need 2 baking sheets. Bake at 350deg. for 20-25 min.in a preheated oven.
If using puff pastry, divide each sheet into 4 squares and roll each to a 7inch square. Put ½ cup filling in the center and bring corners up to meet. Twist into a topknot ain.nd gently crease sides.
Bake as directed for filo.
*A Moosewood Restaurant recipe
Crazy Cake; Serves 6
Double the recipe for a sheet cake or for layers. This cake stays fresh longer than regular cakes and has fewer calories. It's pulled me out of many a tight spot, and tastes so good that my family has long requested it for itself.
1 ½ cups flour
1 cup sugar
3 Tbs. cocoa
1 tsp. baking soda
½ tsp. salt
Sift above dry ingredients into an ungreased cake pan.
Make 2 holes in the surface and pour into
1. 3 Tbs. oil
2. 1 Tbs. white vinegar
3. 1 tsp. vanilla
Pout1 cup water over the top ,and stir with a fork until well blended. Bake at 350 deg.36-40 min.
Dust with powdered sugar, frost or make a glaze by combining 1/3 cups jam with 1 ½ cups melted semi-sweet chocolate chips. Orange marmalade is good too.