8 SPEEDY, AFFORDABLE 'FRESH'FISH RECIPES FOR LENT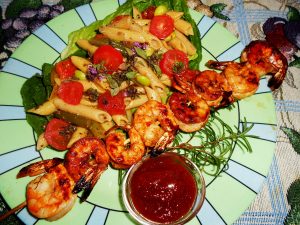 It's almost the middle of Lent which Christians traditionally observe with some type of fasting. The most customary and frequent choice is to forgo meat the first and last days , Ash Wednesday and Good Friday, as well as one day from each week for the duration of Lent. The popular substitute for the meat is fish, which can present a problem for busy people, especially working parents and anyone who shops one time per week.
Unlike meat, fresh fish can't be purchased several days ahead, it must be eaten within a day. Freezing, often, isn't an option either. Depending on geographical location and species of fish, chances are it was frozen or chilled to near freezing for transport to market. Re-freezing would render it inedible. If you want to know more about handling, choosing and using seafood, I have a book, All About Seafood, available on this site's bookshelf and on Amazon and Etsy.
There's a wide variety of frozen seafood available from shellfish to prepared dishes, but much of it may be expensive for a week night, be over dependent on bread for coating or filling, be an unacceptable recipe, or simply require too much time to prepare.
For those nights, I like the freedom of options supplied by the individually wrapped fish fillets sold in single servings and in 1 or 2 lb. bags. They are perfectly proportioned, so it's easy to take just what's needed. They thaw fast and cook quickly in different recipes allowing the cook freedom of choice. Although several species are packaged this way, the three most often in markets are Tilapia, Salmon and Flounder. I'm giving two recipes for each and two for shrimp, because it also fits this category.
These recipes suit a busy lifestyle, needing only about 30 min. to prepare, including prep time. Several even allow a bit of kick-back time while they're cooking, and none of them are in the splurge category, although a few are acceptable 'company fare.'
First though, I'm including a recipe that can be used to prepare each of the above items and most other types of seafood. This vegetable sauce can either be presented as a bedding for larger pieces of seafood or as a sauce containing smaller pieces to be served over pasta or rice. The actual ingredients can be changed, adding string beans or broccoli or omitting the celery or peppers according to whim, but the method and outcome remain the same—fast, easy and delicious.
MEDITERRANEAN STYLE FISH;
This is a delicious way to cook fish and a wonderful way to serve vegetables. Mackerel is originally recommended but I find the technique works well with almost any fish fillet, though I prefer a white fish like Tilapia or Flounder. I use a variety of vegetables, cut beans, broccoli, usually peppers and always onions. For the tomatoes, anything goes, leftover sauce, any type fresh or canned. I allow for at least 1 cup cooked vegetables, per portion. I like a dash of Tabasco or a sprinkle of cayenne added and maybe a touch of garlic powder too.
Microwave the diced raw onions, peppers and any raw vegetables you're using in a bit of oil for 1 min. Add any frozen ones and cook 1 min. more. Mix with any cooked items and the tomatoes or tomato sauce. Put in a pan, cover with the fish fillet. Lightly spray the fish with cooking oil and sprinkle with a little lemon pepper and paprika. Bake at 350 deg. 8 min. per 1 inch width of the fillet, on average about 20-24 min. until fish flakes and vegetables bubble. Serve at once while very hot.
COCONUT CRUSTED TILAPIA: Serves 4
4 Tilapia filets – about 1lb
1 cup plain Panko
½ cup sweetened coconut flakes – toasted
½ cup + mayonnaise
Lemon pepper
Step I- Preheat oven to 350 deg. Toast coconut on a piece of foil until golden, about 4 min. watching that edges don't burn. When cool mix with Panko.
Step 2 – Place fish on a lightly oiled cooking surface, a pan or baking sheet. Completely cover the tops with a thin sheet of mayonnaise, more like a veneer. Dust lightly with lemon pepper.
Step 3 – Sprinkle with Panko-coconut mix, and bake 8 min. per 1 inch width of filet, until top is golden, fish puffs slightly and edges bubble. Serve at once
Note: I put the breading mix in an empty herb bottle with a shaker top. It's easy to apply, and any extra can simply be stored in the bottle.
FUSUIN TILAPIA: Serves 4
4 large Tilapia fillets
3 bunches scallions – also called green onions- trimmed of roots and course green stems
1 Tbs. garlic powder
1 Tbs. powdered ginger
3 Tbs. butter – divided
2 Tbs. oil
2 Tbs. Soy Sauce
½ cup Cream Sherry
(1) 2lb. 4 oz. can sweet potatoes*
2 Tbs. brown sugar
Salt and pepper.
Drain the sweet potatoes. Using 1 Tbs. butter and the brown sugar, and if needed a bit of their own syrup, candy them, either in a skillet on the stove, or in a cooking oil sprayed pan in the oven, as per directions on the can. (I have been known to do this in the microwave, by melting the butter, dissolving the sugar in it, coating the potatoes well, covering and cooking on high for @ 3 min .in one minute intervals.)
Cut white and light green parts of scallions on and angle in 1 ¼ inch pieces. Set aside.
Melt 1 Tbs. butter and 1 Tbs. oil over medium heat, and gently sauté Tilapia, until it becomes white, adding more butter as needed. You may need to do this in batches. Remove to a plate. Add the remainder of the butter and oil then the garlic and ginger to the pan and stir quickly to avoid clumping. Add the Soy Sauce, Sherry and scallion pieces. Stir for 30 sec. Reduce the heat to medium low. Return the fish to the pan and simmer until heated through, about 2 min. Apportion the potatoes on the plates, in the center of each. Serve the fish decoratively leaning slightly against the potatoes. Spoon the scallions and sauce over the fish.
*NOTE: Sweet potatoes can be used straight from the can, leftover, fresh baked or cubed and boiled, even replaced by squash. It's a matter of preference and what's on hand.
Baked Flounder Meuniere: Serves 4- Tilapia can also be used
4 flounder filets-about 1 ½ lb.
¾ cup white wine
3 Tbs. butter- cut in small pieces
¼ cup chopped fresh parsley OR 4 tsp. dried
Put the fillets in a glass baking dish, close together but not touching. Pour over the wine and spread the butter pieces equally over the fish then sprinkle the parsley on top, 1 tsp. per fillet. Bake at 350 deg. 5-8 min. per 1 inch of width, basting twice, until fish flakes easily. Serve at once hot, with pan juices as sauce.
Flounder Veronique: Serves 4-Tilapia can also be used
4 large flounder fillets-about 24 oz.
¼ cup butter
¼ cup white wine
¼ tsp. powdered rosemary
Pinch lemon pepper
½ cup milk
1 tsp. cornstarch
1 cup seedless grapes halved-green is traditional
Saute the fish in the butter until it is begins to flake, about 8-10min.add the wine and seasonings, cover and cook over low heat 5 min. Remove fish to a plate and keep warm. Bring pan juices to a boil. Have cornstarch dissolved in milk and add to the pan. Simmer until thickened about 2 min. Add grapes and heat through. Serve fish with hot sauce and grapes over it.
Poached Salmon with Dill Sauce: Serves 4
4 salmon fillets or steaks – about 24 oz.
½ cup mayonnaise
½ cup sour cream
1-1 ½ Tbs. dried dill weed-depending on taste
Mix the mayonnaise and sour cream with the dill until smooth and chill at least a couple of hours in advance to meld flavors. Boil enough water to cover, in a skillet or pot that easily holds all the fish. Slide the fish into the water and poach 5-8 min. per inch of width until it is opaque, firm and a pale pink. Remove from pot one at a time, and run under cold water until cool enough to slip off the skin and, if using steaks, carefully remove the bones without tearing the meat. Plate and chill the fish, covered to prevent drying if being made in advance. When ready to serve, plate the fish and top with equal mounds of the sauce. Garnish with more dill or chopped chives.
Marinated Salmon: Per portion –to be multiplied as needed
(1) 5-6oz salmon filet – skinned
1 Tbs. oil
2 Tbs. maple syrup
2 tsp. balsamic vinegar
2 tsp. bourbon
Whisk the oil, syrup and vinegar and bourbon to combine well.  Pour the marinade over the fish in the baking pan, and turn the filet over a few times to coat both sides. Marinate in the refrigerator at least 1 hr. and up to 4 hrs.  Bake in a preheated 350 deg. oven for 8 min. per inch of width. Baste occasionally with pan juices. Serve at once, with any pan juices that remain and garnished with a sprinkling of freshly cracked black pepper.
Shrimp Kabobs: Serves 4
Cubes of Monkfish, Salmon steak, Swordfish, even Tuna steaks will work in place of shrimp:
2 lbs. extra large (26-30 count) raw shrimp, peeled and deveined, tails on
2 Tbs. olive oil
1 tsp. Tabasco
1 tsp. Worcestershire Sauce
2 tsp. chopped fresh rosemary or equal amount dried
3 cloves minced garlic
1 tsp. dried oregano
¼ tsp. allspice powder
2 lemons – one juiced one in quarters
Kosher salt to taste
Freshly ground pepper
Barbeque Sauce –l optional for dipping
Skewers
Mix all the ingredients but the salt and quartered lemon in a bowl large enough to hold the shrimp. Add the shrimp and marinate, covered at room temperature at least 1 hr. or several hours in the refrigerator. Thread shrimp head to tail on as many skewers as necessary – long metal ones require about 4. Preheat broiler or grill, and cook shrimp until pink and beginning to brown, basting frequently with the marinade. Sprinkle with salt. Serve with lemon quarters.
Shrimp Stew: Serves 4-One of the very few of my recipes using canned soup
1 lb. shrimp-preferably cleaned, raw, size optional -tails off-cooked can be used
2 cans condensed shrimp soup
½ cup milk or half and half
1 stalk celery sliced thin
1 medium-large onion –halved, halves quartered
1 Tbs. oil
1 cup frozen peas
4 oz. can sliced mushrooms- drained
Lemon pepper to taste
Parsley for garnish
Microwave the onion and celery in the oil about 2 min. until crisp tender. In a pot large enough to hold all the ingredients, whisk the soup and the milk until smooth over low heat; stir in the celery and onion with their juices. Stirring, add the peas and raise heat until nearly at a simmer but do not let it boil. Still stilling, add the mushrooms and shrimp and cook until shrimp is cooked-to opaque and pink. Add the lemon pepper to taste and serve hot garnished with parsley, in bowls or optionally over rice.